Event Hub
Craig Leon's reckless curves to Boston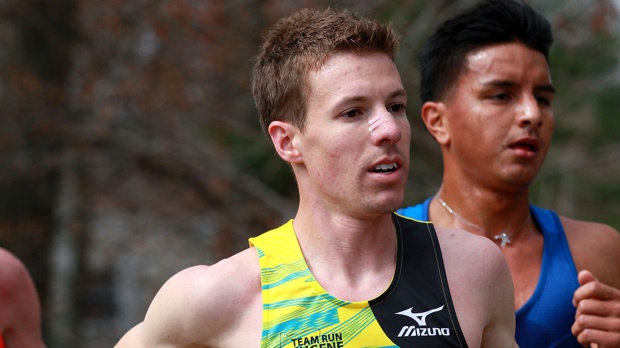 The road from the Boston Marathon in 2013 was magic for Leon, but he's running faster than ever.
by Jon Gugala
Last year, Craig Leon ran the Boston Marathon for the first time. He gobbled up stragglers on his way to a PR 2:14:38, finishing 10th and the third American, and he'd take the momentum of his race through the Chicago Marathon, where he'd set his current PR of 2:13:52. 
But as Leon, 29, approaches the 2014 Boston Marathon, he'll tell you a secret: last year, from Hopkinton to Boylston, he was scared as shit and distracted the whole time. 
"The first time you drive a route, you're tentative," he says. "But the next time you drive it you can do it without directions. You feel confident. I'm hoping that's the same feeling I'll have, being back out on the course."
The difference is aggression, the same way you push the gas around a curve you've driven before. It's the first and final curves, or the first and last 8Ks, that Leon is focusing on this year in Boston. "Everybody talks about the downhills and how much your legs get beat up, and just saving yourself for the race," he says. "[Last year] I found myself holding back. I wish I would have gone with how I felt that day." 
And last year, in the last 8K, Leon says he had the legs, but not the head. "I lost focus. Maybe I was just having too much fun taking it all in and not racing as hard as I should."
Boston, if you've ever run it, is different. "When you get through those hills," he says, or around 21 miles, "you're getting into the college neighborhoods. The crowds are a little more lively. A little more energetic. It is a very, very different experience than Chicago."
The Boston Marathon course starts packed in Hopkinton and teems by the time you reach Boston. And then there's the noise, the overpowering sound of hundreds of thousands of people screaming for you to go faster. "It was loud. Sometimes, when you're out running and there are only a few spectators, you can hear somebody say, 'Oh, you're in 10th place,'" he says. "But there was so much sound. It was this loud ringing."
When Leon starts to slip into last year's race, you hear his voice pick up. There's the thrill again, and it's obvious that though he ran faster than he's ever run before in Chicago, there's something special about Boston.
"You hear people talk about how there's just something about this race. And I had that feeling last year," he says. "I'm excited to go back and recapture some of the excitement and some of those feelings."
Leon comes into Boston 2014 with even more "emphasis on volume," hitting 150 miles a week and several others in the 140s. "I think my strength as a runner is being able to be out on my feet and put in a lot of miles," he says, and he's backed it up with a minimum 22-mile long run every week since January, even flirting with some overdistance, including a 28-miler. 
"You're always a race behind in your training, if that makes sense," he says, echoing a quote ascribed to 2:12 marathoner Jason Lehmkuhle, who said that he was a 2:12 marathoner three races before he actually ran a 2:12. Point being, it takes time to get the marathon right. And Craig Leon, approaching the 2014 Boston Marathon, has finally started getting it right. 
"I do feel like for the past year and a half I've been training at that level of 2:13 or slightly above," he says. "I felt like I was capable of doing it in the fall of 2012, and it wasn't until a year later that I was able to do it. I probably felt like I trained like a 2:12 person in Chicago, and I didn't run 2:12, but hopefully that's what sets me up for a better race this spring.
"I would be disappointed if I didn't PR." 
All of it is for Boston, to run those curves harder and feel out where his breaking point is. He might just break big again. "[The Boston Marathon] is not so challenging that you can't run fast," he says. "It's super helpful to have run the race before and to know what's coming up next, what's around the next corner."