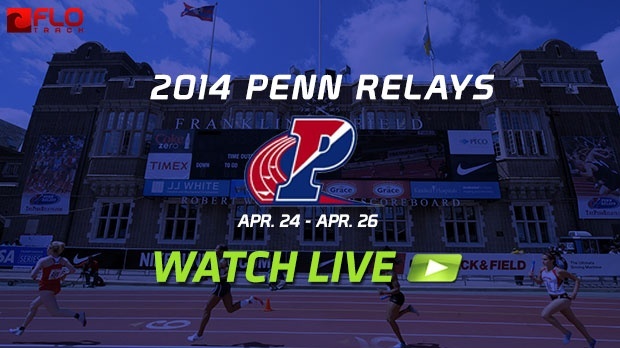 As we approach the beginning of the 2014 Penn Relays that will be hosted LIVE on Flotrack all weekend long, we wanted to preview a few of the races that we are excited about--mostly relays. 
The format for these previews will be simple. We'll run down the entries, give you the possible legs for each team that we think will be in the mix to win and provide a quick snapshot of what we think will happen. 
- Oregon- Mac Fleet (3:55.75)*, Brett Johnson (3:56.36)*, Trevor Dunbar (3:55.78)*, Jeramy Elkaim (3:59.18), Eric Jenkins (3:58.11)
- Dartmouth- Will Geoghegan (3:58.04- could be hurt), John Bleday (4:00.69), Steve Mangan (4:00.52), Tim Gorman (4:01.64), Silas Talbot (4:05.47)*
- Villanova- Jordy Williamsz (3:54.01)*, Sam McEntee (3:54.09)*, Robert Denault (3:59.24)*, Patrick Tiernan (4:04.3)*
- Stanford- Michael Atchoo (3:57.07)*, Tyler Stutzman (3:58.00)*, Marco Bertolotti (4:01.38), Joe Rosa (4:01.72), Justin Brinkley (4:03.26)*
- Iona- Matthew Gillespie (3:58.48), Chartt Miller (4:00.99), Daniel Clorley (4:00.30)*, Jake Byrne (4:05.87), Christopher Stogsdill (4:05.51)*
- Columbia- John Gregorek (4:00.47)*, Daniel Everett (4:00.58)*, Tim Cousins (4:03.13), Brendon Fish (4:03.25)*
- New Mexico- Peter Callahan (3:58.76)*, Elmar Engholm (3:58.91)*, Jake Shelley (4:00.47), Ross Matheson (4:01.06)*, Alex Cornwell (4:01.14)*, Luke Caldwell (4:01.01)
- Georgetown
- Providence
- Penn State
- Kentucky
- Duke
- Harvard
- Michigan
- Va Tech
- La Salle
- Indiana
- Texas
- Tennessee
These other teams listed may have some solid milers, but their overall depth is most likely not deep enough to keep them in this race long enough. Because I love Rorey Hunter it was hard not to think Indiana will be in the mix, but I just don't think they have a big enough stable of milers to keep them in it long enough for Hunter to do any damage. 
Oregon is obviously the team to beat as they won't have a guy on their relay who has not broken the 4 minute barrier. Gordon Mack is high on New Mexico and I don't blame him. Peter Callahan as an anchor is scary for every other team in this section. He just flat out wins--especially on relays. Villanova will be sneaky good and Stanford is the reigning distance relay champ after taking home the DMR title indoors. 
Oregon is too deep and they should win the 4XMile.