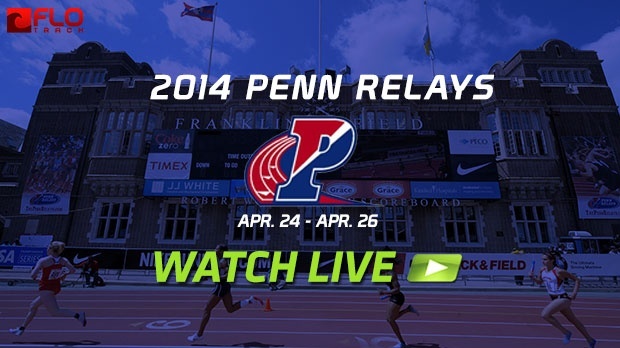 Seven of the twelve men's distance medley teams from the NCAA Indoor Track and Field Championships will contest the event one more time this year at the Penn Relays.
The quality of the seven is what you would expect at a Championship of America event at the Penn Relays. There's the reigning NCAA champions Stanford Cardinal, the respective runner-up and third place squads Oregon and Indiana, and the defending Penn Relay DMR champions, Penn State, who recorded the second-fastest mark in indoor DMR history this past winter.
Though the DMR gets no love throughout the year--even at the IAAF World Relay Championships--it all balances out this weekend in Philadelphia, PA.
It would be hard pressed to discount Stanford, who manhandled the nation's best not too long ago in Albuquerque, NM. The team that ran away with the NCAA title consisted of Marco Bertolotti, Steven Solomon, Luke Lefebure, and Michael Atchoo.
Among all twelve quarter-milers, Solomon had the fastest split of the field (45.75). It helps to have an Olympian on your squad.
Runner-up Oregon could send any combination of teams to the Penn Relays and still be in the hunt. Like we saw at NCAAs, a strong relay of Brett Johnson, Marcus Chambers, Boru Guyota, and Trevor Dunbar rallied hard to take second, but it may not be their best team, on paper.
With neither Mac Fleet, Mike Berry, nor Edward Cheserek running individual events this weekend, Oregon will once again be in the mix. The Ducks finished third at Penn last year.
Despite losing three of their four Penn Relay DMR legs, Indiana has returned with a stellar squad that posted the fifth fastest indoor mark in NCAA history this past winter. Jordan Gornall (the only returnee), Derrick Morgan, Tretez Kinnaird, and Rorey Hunter made up the Hoosier team that placed third at NCAAs.
In what seems to be IU's calling card, Hunter, like Andy Bayer not too long ago, had the fastest 1600-meter split at NCAAs with a 4:02.31 anchor.
The Columbia Lions are a tough team as well. Their anchor, Daniel Everett, made an ambitious charge to try and catch Stanford on the 1600-meter leg at NCAAs and hung on to finish fifth.
Then there's the enigmatic and electrifying Penn State Nittany Lions. The defending Penn Relays DMR champions made history at their home meet this indoor season, clocking 9:26.59. But despite having the fastest seed, PSU faltered at NCAAs, and finished back in 11th. A talented team of Wade Endress, Za'Von Watkins, Brannon Kidder, and Robby Creese could replicate PSU's 9:24.68 winning time from last year.
The one team to watch is Villanova. The Wildcats return all four relay legs that ran 9:28.80 last year at Penn Relays to take second. Sam McEntee, Samuel Ellison, Christopher Fitzsimons, Jordan Williamsz could all feature.
Don't count out a Georgetown team that ran 9:29.11 at the Boston University Last Chance meet, either. Though they had a disappointing NCAA Indoor Championships, the Hoyas could easily turn their luck around with a big performance from their anchor Ahmed Bile.
The College Men's Distance Medley Championship of America presented by PECO is set to go off Friday, April 25th at 2:25pm ET. You can watch all the action live on Flotrack Pro.