Kara Goucher to Skechers?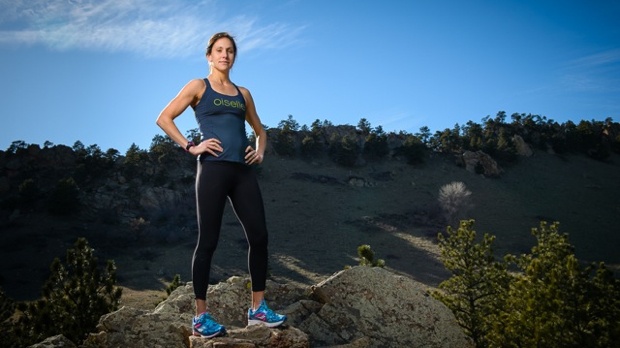 This is a part of our new, most likely short-lived series Dispatches from No Man's Land. Click here for an explanation to our madness.
The paradigm of sponsorship in track and field is changing. In terms of branding, the sport is slowly moving toward less monogamous, more polygamous relationships. Think NASCAR. In the last few months, athletes have declined umbrella apparel and shoe deals and instead, chose a title sponsor that would allow for an open relationship with a few other brands non-competitive brands.
Here we have Kara Goucher, who recently spurned Nike's offer to instead join the feminine fierce apparel company Oiselle. Goucher joins a recently established and select club that includes, but isn't limited to, Leo Manzano, Nick Symmonds, and Meb Keflezighi. The recent Boston Marathon winner is a good example to highlight: he may wear the Sketchers kit and shoes, but he cross trains on the ElliptiGO, rocks CEP compression socks, wears Oakley on his head, has Garmin on his wrist, drinks GenerationUCAN after a workout, and has a PowerBar before and after.
Other major companies limit an athlete's ability to market him or herself because of exclusive clauses. But this isn't the place to explain the intricacies of track and field contracts. This is Dispatches from No Man's Land.
Goucher has an apparel sponsor, a hydration sponsor, but is lacking perhaps the most basic one (unless Oiselle wants to join the footwear business): a shoe sponsor.
What brand will Goucher soon represent? We're under the impression that she'll sign with Skechers. It's not a huge leap of faith, but we've heard enough unsubstantiated rumors to get this through the editing process. 
I'll break each brand down into three tiers, from the least likely to the most probable.
---
The Oh Wait, You're Serious. Let Me Laugh Even Harder Zone

 Nike
Signing with the company she just left makes as much sense as a velociraptor driving a tank made of cake into outer space.
adidas
Did you not read that whole thing about major companies wanting an exclusive sponsorship deal? No? Well ignorance is bliss, I suppose.
Under Armor
They just picked up Nick Arciniaga. Baby steps.


---
The Logical Choices That Are Lacking That Je Ne Sais Quoi


Mizuno
An interesting choice that may go overlooked. Mizuno, who have a strong road already presence in Serena Burla, Renee Metivier Baillie, and Craig Leon, just to name a few, could be primed to add a huge star like Goucher to their roster.
The company is also fine with its runners represent more than just the brand. For example, on Craig Leon's blog, he lists five sponsors in addition to his marquee one.
Saucony
If you have some attention to detail, you'd notice that in Goucher's Oiselle promotional pictures, she's rocking Saucony shoes.
It could be a subtle nod to her future shoe sponsor. Or it could just be a coincidence. Again, Saucony isn't about that whole multi-sponsor sort of life.

New Balance


One of us, one of us...


Everyone here at the Flotrack HQ thought that Goucher would sign with New Balance. After all, Goucher was returning to Boulder, CO to once again train under coach Mark Wetmore, who coaches former CU standouts and New Balance sponsored athletes, Jenny Simpson and Emma Coburn.
The Boston-based company was also making yet another big push on the elite level as they picked up Mark Coogan from Dartmouth University to lead their Boston-based training group.

So what are they lacking? Again, exclusivity. The reason they're in this section is because someone in our office, who wishes to remain anonymous, thinks that New Balance would change their policy for Goucher. I'm not in favor of the whole "slippery slope" argument, so I won't make it; but I still disagree 100%.
They might not get Goucher, but they'll have a good shot at landing Abbey D'Agostino.

Brooks
While we here at Flotrack thought New Balance would be Goucher's big signing, a lot of you thought it'd be Brooks. Why not ride the Nick Symmonds wave and branch out from men's middle-distance to women's marathoning?
It's still definitely a possibility. Do they have enough equity, though. Does equity even matter at this point? Why aren't track and field contracts public knowledge?

Of the three companies in this tier, this one seems to make the most sense.


---
The "You've Got To Watch Out For The Quiet Ones" Zone

Hoka ONE ONE
Another brand that's been making big splashes in the track and field world. Known only for its trail and ultramarathon shoes, Hoka ONE ONE has broken into the shorter distances with signings of Leo Manzano and Mike Rutt.
Also, because there's no news of it anywhere, check the Payton Jordan Men's 1500-meter entries. Who's former NCAA champion Lee Emanuel competing under? Hoka ONE ONE.


If I were to tell you that Manzano would win a road mile in Hoka ONE ONE, would you believe me?
Newton
While we're talking about big splashes that have already made their ripples in the running community, what about one that's yet to hit the water?
Newton, which is based on Boulder, CO, has a growing group of elite athletes, but an elite like Goucher would really put it on the map.

What's not to like? Nothing, really. We know that one of their athletes, Stephen Pifer, promotes Power Bar in addition to Newton. Would they swing a shoe only deal?
Skechers
If you Google "skechers stock boston marathon," you'll see at least 84,200 results. We know that Meb was the actual winner of the Boston Marathon, but my stock market friends, who I can only presume said this while cackling and burning $100 bills as they lit their cigars, claim that Skechers was the real winner.
Skechers is kind of like the nerdy guy in high school who graduates, goes to Silicon Valley, makes a ****load of money (basic unit of measurement for wealth), comes back for his 10-year high school reunion, and, though it's not said out-loud, is the real winner of his graduating class.
And now, here's a list of the major burn centers in the United States.

Get it? Nike got burned? I'm here all week.
Skechers, who signed a Nike outcast on the margin and saw him become a national icon (again), is about to pull the same move twice, we think.
They not only have the available funds and provide the obvious multi-sponsor contract clause, but can offer incredible support and unparalleled reach for athlete(s) in their Skechers Performance Division.
I'm talking national visibility here. Before Meb's win, we saw him plastered over every Skechers ad we could find (and surprisingly, there were a lot of them).

But here's my favorite part. In February, before she signed with Oiselle, Goucher told Runner's World, 
"I'll just wear whatever I want! Maybe I'll wear a Oiselle top and a Saucony short and a Skechers shoe and a Nike sports bra."

Ha ha, hilarious, right? It's funny because it's sort of becoming true.

What about in March, post-Oiselle, when Runner's World asked 
Skechers Director of Sports Marketing 
George Van Cott 
if 
Skechers would consider providing just the footwear for Goucher:
"It's something we have talked about, especially in the past week. We are developing our apparel line, but we look at every case as a unique situation."
That was roughly one month ago. What about now? Could Goucher be their next major addition?
If she's willing to turn down make it rain money from major companies, then she's willing to take the emerging brand route. If you want to to make assumptions based on uncorroborated rumors, then sure, Goucher will soon be wearing Skechers.

This isn't about No Man's Land. No Man's Land is a miserable place of indecision, littered with terrible memories of hate for everything that's ever existed.
But it doesn't mean that No Man's Land isn't important. It is. Let's talk about the Loneliness of the Distance Runner. Let's talk about fight or flight. Let's talk about innate racing instincts. Let's talk what happens in No Man's Land.
Whichever decision you make (latch on for dear life with the leaders, slide back to the chase pack, drop out), the race will have an inevitable conclusion. It's what you do in No Man's Land that makes the difference.
Over the years, Flotrack has been sent plenty of information churned out by the rumor mill. Some of which was so ridiculous we thought we should start a satire section of Flotrack. Some of which was so ridiculous, that it was actually true.
So instead of keeping these stories in our office's break room, we want to share them with you, the world. These are the Dispatches from No Man's Land.