Aussie Attempts Beer Mile WR on Saturday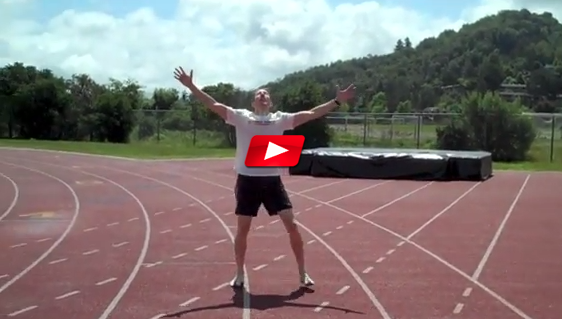 On Sunday, James Nielsen set a new Beer Mile World Record. On Monday, he went viral. On Saturday, he could be dethroned. Australian Josh Harris has been on the cusp of breaking the five-minute barrier for the past two years. His world record attempt will take place at the 2014 Autumn Classic, this Saturday in Melbourne. 

Flotrack caught up with Harris prior to his race against the clock for a quick Q&A. 

Chris Chavez: The last time most people heard about the beer mile was when Nick Symmonds announced he was going to chase the World Record in 2014. James Nielsen stuns everyone and drops a 4:57 on Sunday. What was your initial reaction to the news? 
Josh Harris: The news surprised me a bit, because the beer mile hasn't been in the news for a while. It probably surprised me more, because I had started my beer mile preparations just six hours prior. I am glad that it happened now, as it gives me something to aim for on Saturday. I would hate if I had broken the world record, only for James to come out and run 4:57 the next day! 
Chavez: Anything in the video surprise you?
Harris: It was remarkable how fast he drinks the second beer. That has to be less than 4 seconds! It would be nice if he tipped the first beer over his head, but I understand that he may have forgot in the moment. From my experience people are quick to criticize any faults in a beer mile video, so it would be nice for his sake if he'd done that.  
Chavez: We heard you'll be attempting your own World Record attempt this weekend. What's the game plan?
Harris: My race plan will be the same as usual; Drink the beers as fast as I can, and feel relaxed over the first 1200m. If I know I'm no chance of vomiting after the final beer then I will hopefully close the last 400m in about 58 seconds. I've hit 1,200-meters in about the same time as James, so if I can do that again and get the last beer open I will run fast.
Chavez: Anyone else in the race that can challenge you or push you to a faster time? 
Harris: There are several guys on the beermile.com top lists in the race with times in the 5:20-5:30 region. Personally, I'd like to be out on my own and feel in control of the race.
Chavez: You clocked a 5:04.9 in 2013, but BeerMile.com has it as a note about it that there was trouble with a bottle top. What happened and why don't some recognize it as the old world record?

 


Harris: The last bottle took over 10 seconds to come off, which ultimately cost me the sub 5. In 2012 I ran 5:02, which was deemed unofficial as we didn't pour the empty bottles over our heads, so I think this is why people think I didn't have the world record. The run in 2013 didn't get the publicity of the first one and so many people probably didn't know about it. 
Chavez: What do you think the potential is for Nick Symmonds in the beer mile with proper training?
Harris: If Nick can improve his last three beers then I think he has the potential to run somewhere between 4:40-4:50. I think I am capable of a 4:50, so I think a 4:35 is humanly possible by a runner at the elite level.
Chavez: We're coming up on the 60th anniversary of Sir Roger Bannister's Sub-4 Mile. Nielsen may be the first Sub-5 runner for the beer mile. What's the next barrier that needs to be broken? What's on your radar?
Harris: People are talking about a sub 2 hour marathon, but I think we are a very long time away from seeing this. With the recent increase in popularity for the beer mile, we will surely see several Sub-5 minute athletes in the near future. I'd love to see an official World Championship Beer Mile on the calendar. Apart from breaking five minutes for the beer mile, I am looking at finally breaking 30 minutes for 10km. I just need to find the last few seconds to get it done. 

Video of his attempt on Saturday will be posted soon after the race. Parkville BeerMilers will be live tweeting the attempt with #TweetTheBeerMile. 

Chris Chavez is a staff writer for Flotrack. He once beat Joey Fatone of NSYNC in a half-marathon. Feel free to to reach him with any questions, comments, or feedback on Twitter or by email.