Event Hub
Huddle and Conley testing the 10K waters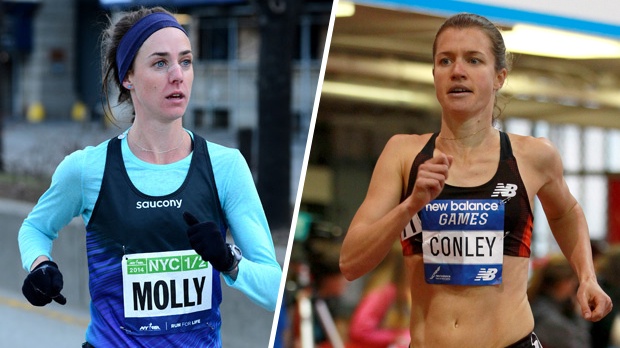 Is it really a coincidence if the writing is on the wall?
Heading into Stanford University's Payton Jordan Invitational on Sunday, 5,000-meter specialists Molly Huddle and Kim Conley are both entered in the Women's 10,000-meters.
While the two are both taking the opportunity to showcase their winter strength with the over-distance event, the move may not be temporary. Down the road, both Huddle and Conley can see themselves running the 10,000-meter at major championships.
"I'd like to use it as an opportunity to get a personal best in the 10K and see if it's an event that I can do next year at the world level," Huddle told Flotrack. "The Payton Jordan 10K is usually the deepest one of the year, outside of the World Championships. I want to take advantage of that."
Huddle is coming off a winter's worth of training that yielded personal bests in the indoor 5,000-meters (15:13.86), road 5000-meters (15:12), and a successful half marathon debut in New York City (69:04).
Maybe Huddle's training partners--marathoners Amy Hastings and Kim Smith--are finally rubbing off on her.
"They're great to have in the mix for workouts because their strength is a little bit my weakness. I'm getting more comfortable with it, though."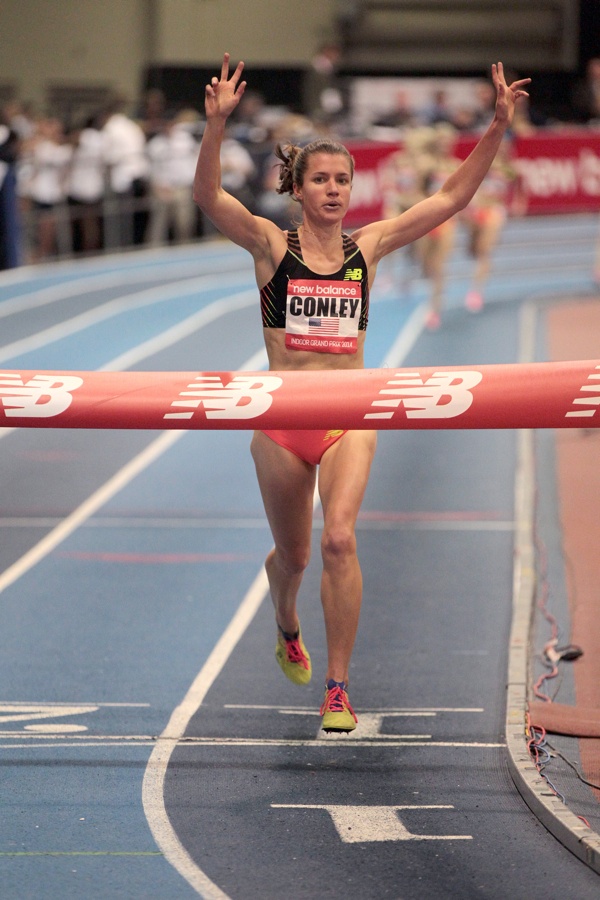 Huddle isn't the only American distance runner who had a marquee winter. Since late November, Conley has been on an absolute tear, setting personal bests across eight events.
But if you look at the octet of events, what's interesting to note is that the 5,000-meters was conspicuously absent from Conley's indoor schedule. With races ranging from the 800-meters to 10 miles, Conley has been working both polar ends of the distance spectrum--speed and strength--with the hope to become a more well-rounded, powerful runner.
"I wanted to take the winter to really develop my speed," Conley said. "I added a couple of training partners who are middle-distance based. It was kind of fun to jump to be able to jump in the workouts with them."
Conley's reasoning behind fine-tuning her kick is the same for any distance runner, even at the world-level. To be in the mix at any major final, an athlete not only has to be in contact with the lead pack with a lap or two to go, but has to have the ability to accelerate even further to have a chance at the podium.
From what she's seen in past world finals, Conley knows what it'll take to be competitive.
"Part of my thinking when I ran indoors this year and tried to really develop my speed was that I've watched those 10Ks where if I can get into a rhythm for a long time--and then you still have to be able to close so fast--so I wanted to kind of have that in my back pocket.
"I have run really fast and then over the next three years, I'd develop my aerobic capacity to be able to stay in the race long enough to actually use a kick because it doesn't really matter if I'm half a lap behind the rest of the field already."
While Huddle also notes the "winding-up" that occurs at the end of races, part of Huddle's decision to possibly make the move to the 10,000-meters is the idea that, compared to running one semifinal and one 5,000-meter final at a world championship, the 10,000-meters is a straight final.
"I noticed I struggle going from hard prelims effort and then into a final with enough laps to close as hard as I need to in a 5K," Huddle said. "The 10K, being a one-off race, I think it's been shown in history that that's a little bit better of a shot if you have a great kick that day."
In recent years, two Americans have made the podium in the 10,000-meters, but the Team USA warm-up kit has been absent during the 5,000-meter medal ceremony.*
In 2007, Kara Goucher captured a bronze medal at the World Championships with her 32:02.05 third place finish. Then a year later at the 2008 Olympic Games, Shalane Flanagan matched the medal with her 30:22.22 third place finish and American Record in Beijing, China.
When comparing the two American duos, there's some serendipity, of course. Below are Goucher and Flanagan's 5,000-meter personal bests before they won a bronze medal in the 10,000-meters and Huddle and Conley's 5,000-meter personal bests now.


| | | | |
| --- | --- | --- | --- |
| Kara Goucher | Kim Conley | Shalane Flanagan | Molly Huddle |
| 15:08.13** | 15:09.57 | 14:44.80 | 14:44.76 |

*While this is just the analysis of the American state of distance running, the improvement of Kenyan and Ethiopian distance running should also be considered for Huddle and Conley's future medal hopes. After all, West African distance running has vastly improved over the last seven years.
**Goucher did run 14:55.02 a month after the World Championships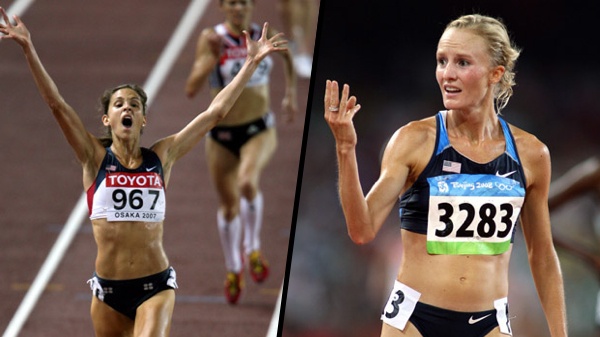 In what's still not a coincidence, the pair are both running the Rome Diamond League 5,000-meters, which comes before the U.S. Championships at the end of June. 
Where the two differentiate, though, is what event they'll be running in Sacramento, California. Huddle will continue to focus on the 5,000-meters at USAs while Conley, Payton Jordan pending, will run the 10,000-meters.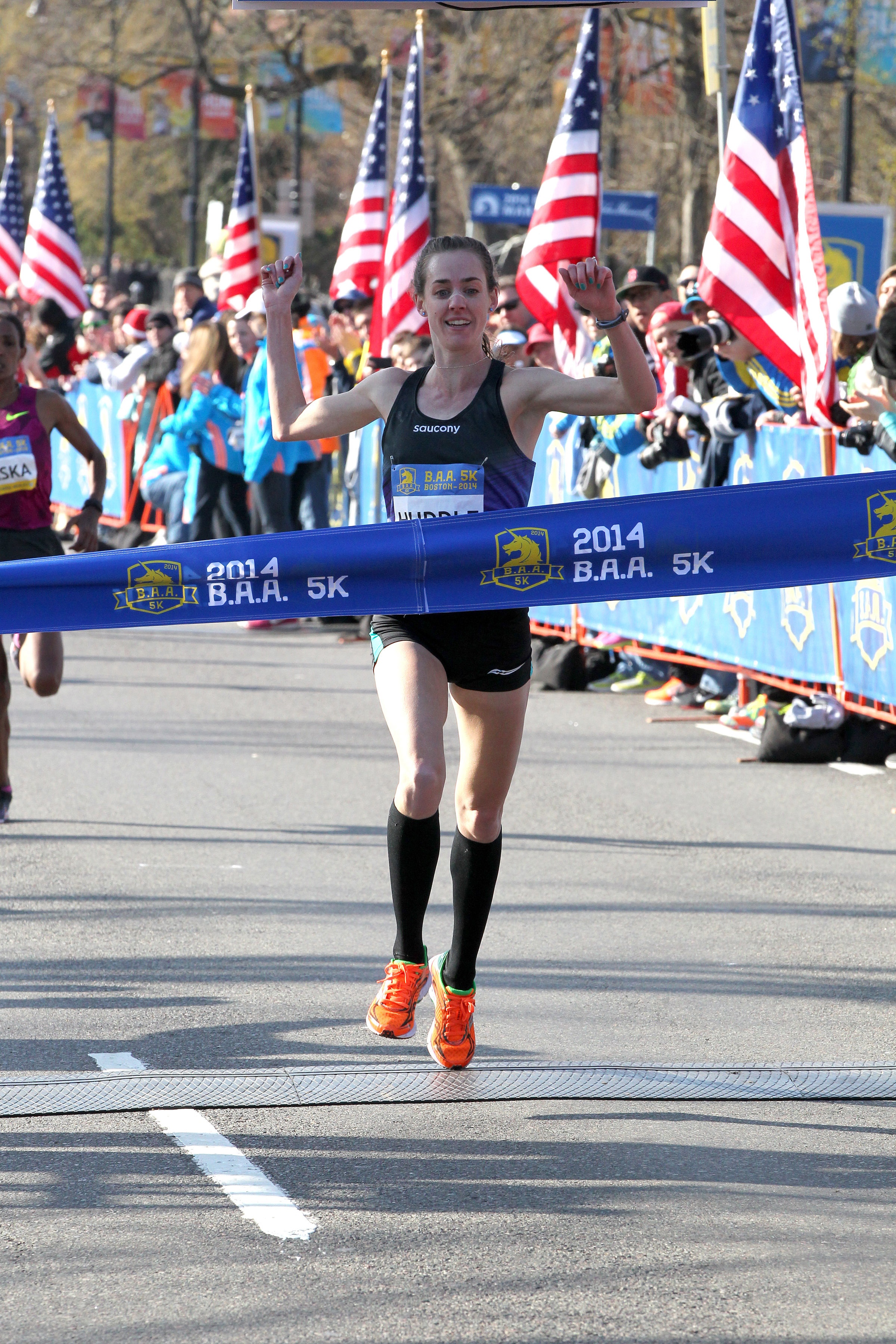 With this long-term plan on the table, their respective goals for Sunday's race are different as well. Back in March, Huddle told Runner's World that her goal for Payton Jordan was to break 31:00. That's still on the table, but Huddle believes that "you can't just be fit, but you need to feel good." In her previous 10,000-meter runs, Huddle has felt something "a little bit off" and struggled during the later stages of the race.
Her personal best is 31:27.12 from the 2008 Payton Jordan Invitational.
Conley's goal, while different from Huddle's, is almost too perfect to not be a coincidence. Conley notes that her personal best of 32:00.94 is just above the World Championship "A" standard of 32:00. The window to run the qualifier is now open.
"I'd definitely be happy to PR and take care of the 'A' standard. So, breaking 32:00, I would definitely say is my goal. If I can run faster than that, that would be great."
While Conley had an incredible indoor season, she did "hit reset" with her training and went up to altitude to start her base work. With no concrete indicators of her fitness, Conley wants to get her feet wet in the 10,000-meters while hoping to take care of business.
The Women's 10,000-meters is scheduled to go off at 9:18 p.m. Pacific Time.

Mitch Kastoff is the Senior Site Editor at Flotrack. Contrary to popular belief, he did not invent the high five. If you enjoyed these ramblings or have any comments, questions, or concerns, f
eel free to reach him on Twitter or by email.