NCAA Men's Biggest Surprises of 2014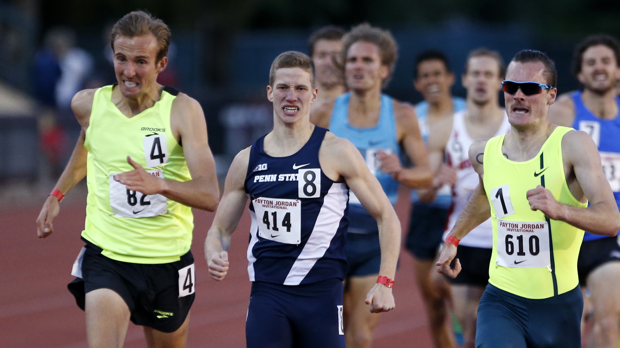 I bet a few of you are wondering what happened to the rest of the rankings that we had started earlier in the season featuring the top-50 middle distance to distance runners per gender in the NCAA. Due to a lack of time, there just wasn't time for them.
So I started thinking: Instead of ranking who we predict will do well, let's talk about those who have come out of no where and surprised us this year already. Some of these may not be huge surprises, but they have made giant improvements and we wanted to give them a shout-out. 
Here is our list of the biggest surprises on the men's side (the women's side to come later) of NCAA track and field so far this season. 
1. Brannon Kidder- Penn State
- Probably one of the least talked about races from the Payton Jordan Invite this weekend was Kidder's nasty 3:38.82 1500m. This was a HUGE race for Kidder.

After a bummer NCAA Indoor 800m prelim, some thought that he was suffering from a sophomore slump of some kind. Luckily, he bounced back and ran a solid 1:48.53 at the Crimson Tide Invite and was excellent at the Penn Relays.

But, did any of us think he was fit and ready to run 3:38? (that is only two seconds out of a top-10 all time 1500m mark).

With now the fastest 1500m of any man in the NCAA so far this season, Kidder is certainly not slumping, he keeps surprising all of us--just like he did as a freshman. 
2. Grzegorz Kalinowski- Eastern Michigan
- Who? Many of you have never heard of this Polish athlete running for Eastern Michigan, but he currently has the 12th fastest 1500m time in the NCAA having run 3:41.80. Now for Kalinowski and his teammates, he probably isn't surprised with his success. He did run 4:00.29 at the SPIRE Invite Mile last Indoor season and has run 3:45 several times.

The biggest surprise here is that his 3:41 has flown so far under the radar and the fact that he set a personal best of nearly four whole seconds to do it. A four second PR in the 1500 is absurd, and Kalinowski is carrying on the tradition of Eastern Michigan seemingly always having someone very good every year (i.e. Terefe Ejigu, Corey Nowitzke Jordan Desilets- 8:24 Steepler, Boaz Cheboiywo- 2 X NCAA Champ 10k and XC).  
3. Shadrack Kipchirchir- Oklahoma State
- This may seem like a stretch to some and to others a definite surprise to this season. Shadrack-or Shaddy- (is that really his nickname?) has been SO good this year. And I feel like he deserves much more attention for it. Beating
Kennedy Kithuka
in and of itself deserves giant praise. Remember when
Cheserek
did it, the NCAA world went crazy?
Kipchirchir ran the 9th fastest 10k in the NCAA all-time (according to
this list
from Track and Field News)-- 27:36.79.
Kipchirchir has also run 13:40 or better for 5k three times including indoor and was an All-American in Cross Country. Shadrack is always one of those guys that we consider to be in the hunt in every race, but certainly not good enough to beat Kithuka, right? Wrong. He proved us all wrong at Payton Jordan and Shadrack Kipchirchir is certainly one of the biggest surprises that shouldn't have surprised us this 2014 Outdoor Track season. 
4. Jason Witt- BYU
- Maybe one of the most underrated runners in BYU history, Jason Witt has stepped up huge this year for the Cougars in cross country, but especially on the track. After a good cross country season where he led BYU to a West Coast Conference Cross Country title, taking home the individual honors, Witt has been even better on the track.

Having been sick for a majority of the indoor and outdoor season, the fact that he ran 28:36 so early in the season and won the Stanford Invite 10k, taking some big scalps, is proof of his natural ability. Witt's race from Stanford has held up to be the no. 3 10k mark in the NCAA. Witt's kick is very underrated (ask anyone from the West Coast Conference who watched him somehow kick down three guys in 100 meters for the individual win) and should bode well for him, if he stays healthy later in the first round and the NCAA Championships. 
5. Ryan Rutherford- Illinois State
- Coming into this year's Stanford Invite, Rutherford's 10k PR was 29:51.66. That time is just good enough to help you be respectable in cross country and just out of the range of making the NCAA first round. I don't think anyone, including himself, saw coming what he did at Stanford.

Not only did he finish 5th in a loaded 10000m, he set a PR of over SEVENTY SECONDS. Rutherford beat guys like David Rooney, Scott Fauble, and Aaron Nelson (all previously top-20 men from NCAA XC). Rutherford currently has the 5th best 10k in the NCAA.

The best part about this is Ryan's 5k PR is 14:10, his 10k PR is 28:41--he ran that 5k PR only a month and a half before he ran 28:41.

Where did he come from? Where did THAT come from? Normal High School University High School in Normal, IL. What Rutherford has done this year is anything but normal.