Event Hub
Prefontaine Classic Women's 1500m preview
In a parallel dimension, Elise Cranny wins the 2014 Prefontaine Classic Women's 1,500-meter in a new American Record, is immediately inducted to the Track and Field Hall of Fame, Hayward Field is renamed in her honor, and she and Mary Cain rule the running world from now until humanity blinks out of existence.
In reality, there's a decent chance that none of that will happen. Instead, we're treated to the next best thing: the "
best ever
" women's 1,500-meters.
This Saturday's race will not only feature four sub-4:00 competitors, but will have all three medalists from the 2013 World Outdoor Championships, a red-hot American, one international World Junior superstar, and one absolutely talented American high school senior not named Mary Cain.
Like we did with the
men's field
, we'll breakdown each the 13 entrants in the women's race.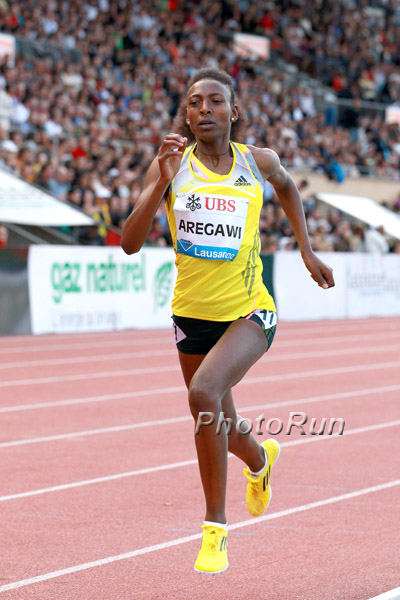 #1 - Abeba Aregawi
1,500-meter Personal Best: 3:56.54
1,500-meter Season Best: 3:58.72 (Shanghai, 1st place)
The only thing that can stop the reigning world indoor and outdoor champion is either a) herself or b) an
in-form
Genzebe Dibaba.
The Swede looked comfortable in her win at the Shanghai Diamond League Meeting, where she ran her world leading time of 3:58.72. That was her sixth fastest 1,500-meter ever and the seventh time she's dipped below 4:00.
It's not a bold prediction, but Aregawi for the win.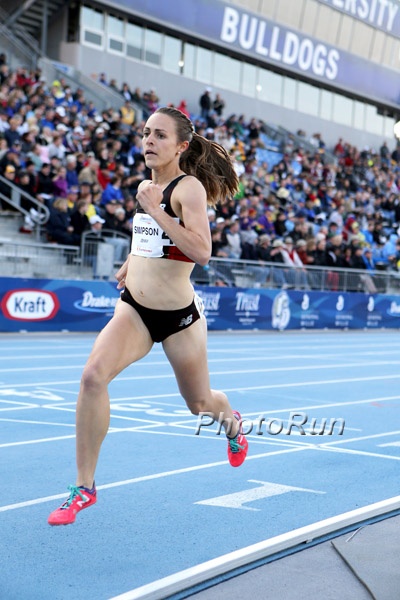 #2 - Jenny Simpson
1,500-meter Personal Best: 3:59.90
1,500-meter Season Best: 4:00.42 (Shanghai DL, 2nd place)
The Moscow 2013 silver medalist may have once again finished one place behind Aregawi in Shanghai, but Simpson came away with her second fastest 1,500-meter of all-time in 4:00.42. With that in mind, we'll forcast a storm brewing that will soon hit.
Let's not forget when Simpson set her 1,500-meter personal best back in 2009, it came from second place, too. Let's also not forget that it happened at her breakout party at the 2009 Prefontaine Classic.
If she's going to beat Aregawi, it's going to take something special. Something like, dropping her 1,500-meter personal best from 4:08.38 to 3:59.90 and almost upsetting Gelete Burka.
#3 - Hellen Obiri
1,500-meter Personal Best: 3:58.58
1,500-meter Season Best: 4:04.88 (Drake Relays, 1st place)
The defending Prefontaine Classic Women's 1,500-meter champion and Moscow 2013 bronze medalist is in the form of her life.
So far this spring, Obiri has notched wins at the Drake Relays 1,500-meters (4:04.88), ran a 2:00.6 and 4:10.0 double at altitude, was an integral part of Kenya's 4 x 1,500-meter relay at the World Relay Championships, and, but certainly not least, ran the unofficial official world record in the women's 3,000-meters at the Doha Diamond League Meeting.
We chronicle her run
here
, but 8:20.68 was a Kenyan National Record and the fastest time ever run by a non-
supposedly doped up
Chinese athlete.
We'll also add that Obiri's winning time last year (3:58.58) was not only a Hayward Field record, but the fastest 1,500-meters ever run on U.S. soil.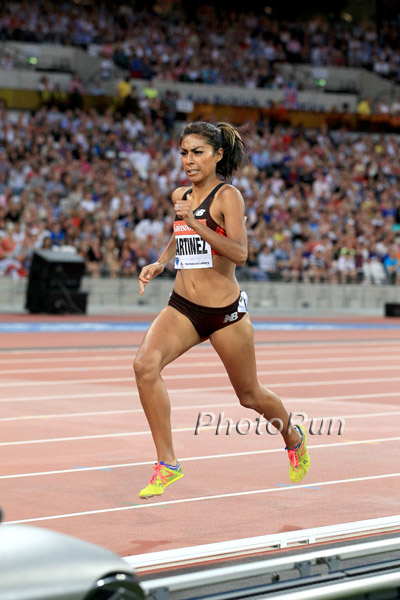 #4 - Brenda Martinez
1,500-meter Personal Best: 4:00.94
1,500-meter Season Best: 4:06.96 / 3:59.8
While we're excited for the entire field, Martinez wins the prize for most hype.
The IAAF broadcast said it best, but Martinez was "
absolutely brilliant
" at the World Relays. She not only ran an unofficial personal best on the 4 x 1,500-meter anchor leg (3:59.8), but doubled back to anchor the 4 x 800-meter squad in 1:58.68. Red-hot indeed.
But here's a pop quiz for you hotshot: what's Martinez' best event, objectively speaking?
I'm not talking which event will give her the best chance at winning a medal (it was clearly the 800-meters last summer), I'm talking her strongest event on paper.
Because we've been waiting, waiting for Martinez to pop yet another big 1,500-meters. Last year, that race came at the Monaco Diamond League Meeting, where she finished third in 4:00.94. Her personal best before that race was 4:04.86.
Now, we anticipate an official sub-4:00 performance.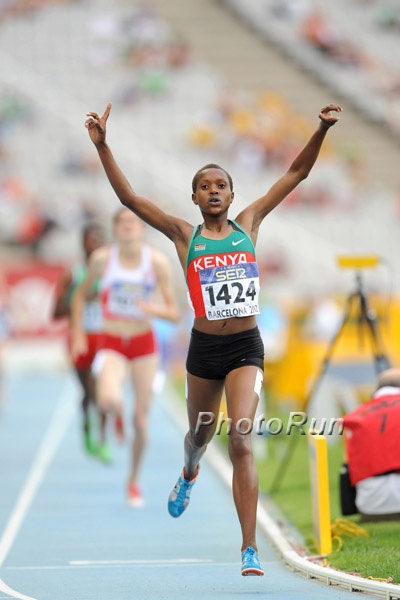 #5 - Faith Chepngetich Kipyegon
1,500-meter Personal Best: 3:56.98
1,500-meter Season Best: N/A
The 20-year-old World Junior phenom has range.

In meet record fashion, Kipyegon won both the 2011 World Youth 1,500-meter title and the 2012 World Junior 1,500-meter crown. Also, in a small step up in distance, she also won the 2011 and 2013 World Junior Cross Country titles. That's not a bad skillset.
And for the coup de grace, last year she set the World Junior 1,500-meter record of 3:56.98, which was also the fastest by a Kenyan athlete of any age for the year.
Kipyegon started her 2014 with three cross country victories (one of which was over Simpson), but has moved back to the track.
In that magnificent Women's 3,000-meters in Doha, Kipyegon came away with a third place finish in 8:23.55. Then, at World Relays, she ran a strong second leg for Kenya in 4:08.5.
What to expect of Kipyegon this Saturday? Nothing short of being in the hunt. Last year at the Prefontaine Classic, Kipyegon finished runner-up in 4:02.08, which is her second fastest 1,500-meter of all-time. We have her in fifth, but she could easily crack the top four.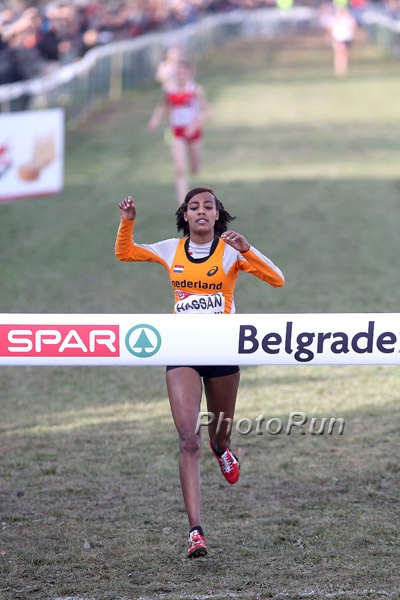 #6 - Sifan Hassan
1,500-meter Personal Best: 4:01.19
1,500-meter Season Best: 4:01.19 (Shanghai DL, 3rd place)
We've been telling you to keep an eye on the Dutch superstar and now she's finally arrived. Two weeks ago at the Shanghai Diamond League Meeting, Hassan shaved off more than 2-seconds from her 1,500-meter personal best to set the Netherlands National Record of 4:01.19.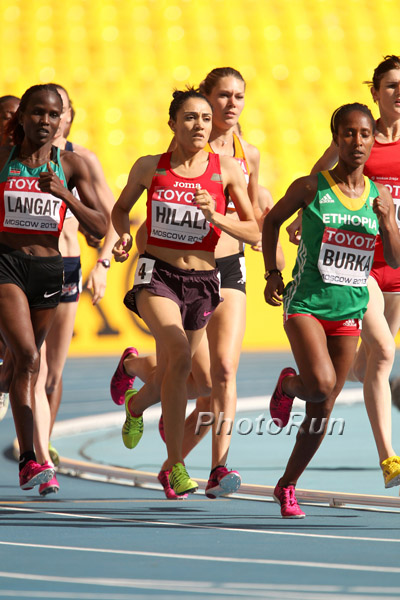 #7 - Siham Hilali
1,500-meter Personal Best: 4:01.33
1,500-meter Season Best: N/A
The Moroccan has been quiet since her fourth place (4:07.62) finish at the 2014 World Indoor 1,500-meter Championships. This Saturday will mark the start of her outdoor season.
Which, if you look at the trends of other athletes below, is totally normal. Her 2013 season's best came from this race last year, where she finished fourth in 4:02.16.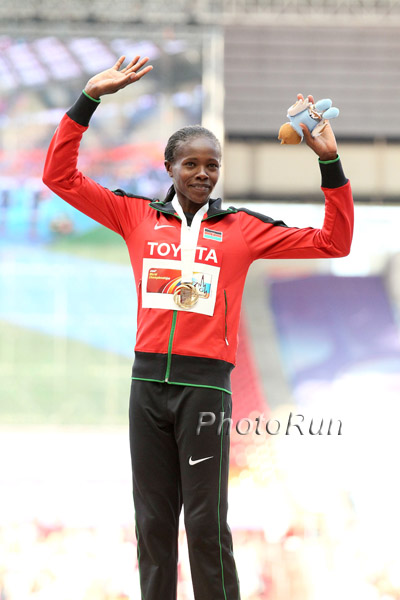 #8 - Eunice Jepkoech Sum
1,500-meter Personal Best: 4:02.05
1,500-meter Season Best: N/A
This is what I like to see. Sum, the reigning 2013 World 800-meter champion, stepping back up to the 1,500-meters. She's not bad at the distance, either.
Sum has run 17 1,500-meter races in her young career, dipping under 4:03 once with a 4:02.05 fifth place finish last year in Doha.
This season, she's stuck to her bread and butter and run five 800-meter races, with one being Kenya's second place 4x800-meter squad where she split 1:59.2.
While she most likely would not have had many athletes to run with in the 800-meters in Eugene, she'll have plenty of company in the 1,500-meters.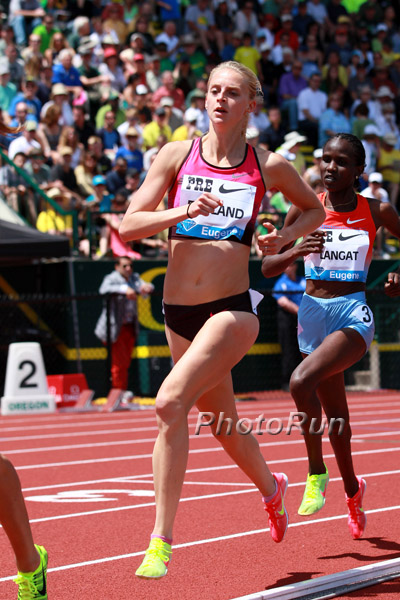 #9 - Hannah England
1,500-meter Personal Best: 4:01.89
1,500-meter Season Best: 4:07.82 (Oxy HP, 8th place)
The 2011 World Championships 1,500-meter silver medalist has only run one race in 2014, which is listed above as her season best. There's no cause for concern, though as this seems to be the norm for England. In 2013, she started her outdoor campaign in late May and continued all the way through late September, where she's become a regular at the 5th Avenue Mile.
She may not be among the fastest in the field, but you can never discount England. She kicked with Simpson in 2011 to a silver medal and just missed out on another world championship podium finish in Moscow, where she finished 4th in 4:04.98.

Her season best from 2013 came from this race, where she finished 8th in 4:03.38.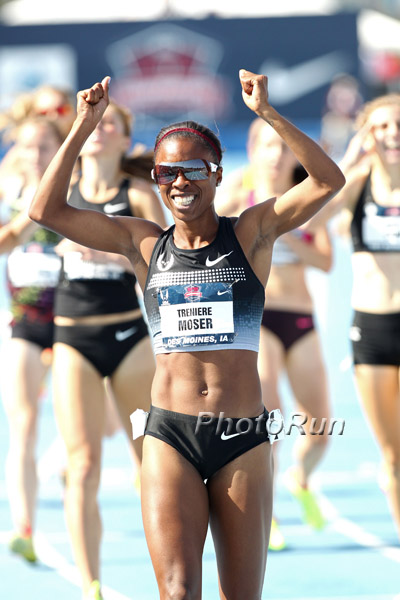 #10 - Treniere Moser
1,500-meter Personal Best: 4:02.85
1,500-meter Season Best: 4:06.38 (Shanghai DL, 8th place)
Moser had a solid indoor campaign, notching personal bests in the 1,000-meters (2:37.88), 1,500-meters (4:07.84), and mile (4:28.86). That's not to mention that in the DQ laden 2014 World Indoor 1,500-meter Championship, she finished in a strong fifth place.
She's been progressing well this spring, and if last year is any indication of how she'll fare at Prefontaine, then things are looking good. Last year, Moser entered the Prefontaine Classic having run 4:06.40 at the Stanford Invitational, which marked the beginning of her big resurgence.
Then, in Eugene, she ran her 1,500-meter personal best of 4:02.85 and finished fifth. That was the only time she's dipped under 4:03 for 1,500-meters.
Could it be more of the same this year?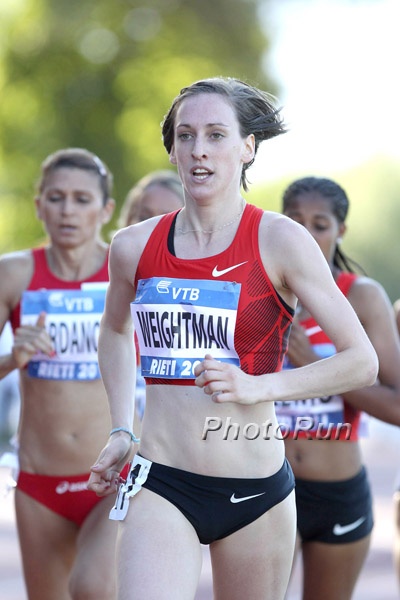 #11 - Laura Weightman
1,500-meter Personal Best: 4:02.99
1,500-meter Season Best: N/A
The other British athlete in the field has yet to kick off her 2014 campaign. Again, similar to England, Weightman likes to race well through the summer, so zero races this season comes at no surprise.
Last year, the Prefontaine Classic marked the start of her outdoor season, and was also her season's best. In that race, Weightman finished in 11th in 4:05.36.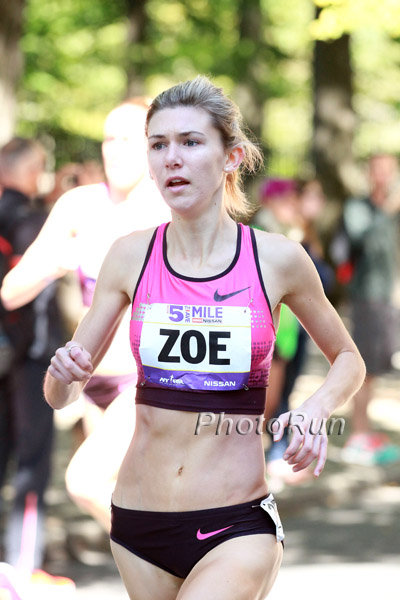 #12 - Zoe Buckman
1,500-meter Personal Best: 4:04.82
1,500-meter Season Best: 4:07.56 (Perth Classic, 2nd place)
I'm not going to talk about Buckman and Katie Mackey's collision at the World Relay Championships because it's in the past.
But Gordon Mack made this cool
sequence
for the intro to Run Junkie, and therefore I have to bring it up one more time.
Buckman has been been busy at the middle-distances this outdoor season. She's run four 800-meter races (the best being a 2:02.21 third place finish in Brisbane) and six 1,500-meter competitions (the best being listed above).
She's a tough competitor and the former University of Oregon Duck will surely receive a warm welcome when she returns to Hayward Field.
#13 - Elise Cranny
1,500-meter Personal Best: 4:10.95
1,500-meter Season Best: 4:10.95 (Payton Jordan, 6th place)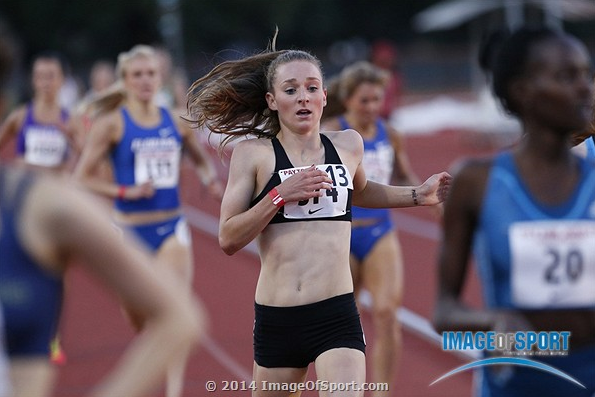 Finally, we reach the superb Elise Cranny. We have to give it up to Cranny, who has never shied away from professional competition. But the Prefontaine Classic is a different beast compared to Payton Jordan or the Portland Track Festival. This is truly world-class.
We've received quite a few emails asking us what we think Cranny will run this Saturday. A lot of the messages have had a Mary Cain-esque feel to them.
Alex Lohr said it best when he remarked, "Remember when Mary Cain ran 4:10 and everyone lost their ****?"
Yes Lohr, we remember.
Cranny's 4:10.95 at Payton Jordan this outdoor season did not go unnoticed, but had considerable less celebration around it. It looks like we're in a time period where a high school girl runs 4:10 for 1,500-meters and it's not front page news for days.
This must be the golden age, huh.
The reason that fans have been making the Cain-Cranny comparisons, for other than obvious reasons, it that prior to Cain's ridiculous 4:04.62 finish at Oxy HP, her 1,500-meter personal best was 4:10.77 from the Drake Relays.
I'm not saying that Cranny won't run that someday, but I'm saying that it's highly unlikely that two talented high school girls will follow the same exact historic progression.
It's funny to look back at the seasonal bests of the two, though. In successive years, Cain went from 4:23.59 in 2011, to 4:11.01 in 2012, and then to 4:04.62 in 2013.
Cranny, whose sky marks her limit, went from 4:56.26 in 2011, to 4:15.07 in 2013, and then 4:10.95 in 2014.
Remember when she
ran 4:40
and we knew that something special was happening? Now she's not just racing for the New Balance Indoor National title, but amongst the best in the world at the Prefontaine Classic.
So to answer everyone's question, what will Cranny run this weekend? A personal best would be fantastic, but that's a cop-out. If she has a phenomenal race, something in the 4:07 - 4:08 could be in the cards.
My only frame of reference for that prediction is Cranny and Cain's 800-meter personal bests prior to their big races. Cain had shown her wheels about a week before Drake Relays with a 2:01.68 fourth place finish at Re:RUN San Diego. Cranny, on the other hand, has run a US#1 2:04.81, which came at the Brooks Mt. SAC Relays.
Cranny likes to run aggressively and even though the pace at the front will be too much for her, she'll have some company at the back end of the chase pack.
Whatever the outcome, kudos for Cranny for even considering this race. We're in for a show.
The Women's 1,500-meters is scheduled to go off on Saturday, May 31st at 1:49pm Pacific Time.
Mitch Kastoff is the Senior Site Editor at Flotrack. Contrary to popular belief, he did not invent the high five. If you enjoyed these ramblings or have any comments, questions, or concerns, feel free to reach him on Twitter or by email.