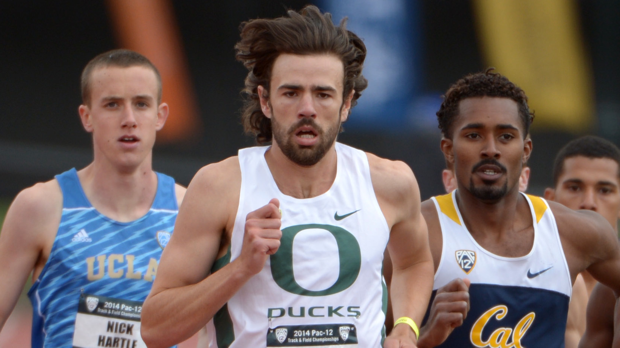 Fleet vs. Lalang vs. Callahan? 
The other night I had a dream that
Peter Callahan
of New Mexico ran 3:27.27 and won the NCAA 1500m. I'm not even kidding. Now I'm not saying that that won't happen, but it's not. What will happen in the 1500 meter final this weekend will be fascinating and I think it may be the most exciting race on the track all weekend. 
The heavy hitters go like this: Mac Fleet of Oregon, Lawi Lalang of Arizona, Rich Peters of Boston U., Peter Callahan of New Mexico and I'll throw Jordy Williamsz of Villanova (sorry for leaving you out of my East Regional predictions) in there because of his nasty 3:36 PR. 
Of these there are three types of runners. You have the go out and lead it from the gun types (Lawi and Mac (sometimes)) and you have the sit and kick and blow everyone's brains with your finish (Williamsz and Callahan and maybe Brannon Kidder of Penn State and Rorey Hunter of Indiana for that matter). 
The best part about this race is that anything can happen. I mean who would have predicted that Zach Perkins of Air Force would have been runner up to Mac Fleet last year at this race and then not even make the meet this year? 
I feel like Lawi Lalang is due for a big race as he struggled at NCAA Indoors, but has looked solid this indoor (out kicking Ed Cheserek for the Pac-12 1500m crown). Mac Fleet has a lot riding on this one as well as it is his final race in the Oregon uniform in front of the home crowd on the home track. 
Gordon Mack has been preaching Peter Callahan all year long and he may be right. Especially after the dream I had, who knows what he is capable of (obviously I'm kidding about the dream). His kick is so very lethal though and if you don't remember, ask anyone who anchored the mile in the NCAA DMR Indoors last year and they can tell ya all about it. 
In the end, I really feel like it will be an epic battle between Lalang and Fleet for the 1500m crown and just to make a prediction, Lawi Lalang is hungry for redemption from Indoors and will take home the "w." 

For reference here are the entries with their best 1500m mark (no mile conversions). 
Heat 1  Prelims
  1  Brannon Kidder                SO Penn State          3:45.72 (3:38.82)
  2  Adam Jones                    SO Samford             3:45.80 (3:44.89) 
  3  Sam Prakel                    FR Oregon              3:42.30 (3:42.30)
  4  Nick Harris                   FR Washington          3:45.71 3:42.84)
  5  Sam Penzenstadler             JR Loyola (Ill.)       3:45.88 (3:43.25)
  6  Rich Peters                   JR Boston U.           3:45.39 (3:37.67)
  7  Ben Saarel                    FR Colorado            3:45.58 (3:41.54) 
  8  John Gregorek                 SR Columbia            3:45.27 (3:42.72)
  9  Michael Atchoo                SR Stanford            3:45.11 (3:39.57) 
 10  Jeremy Greenwald              JR Georgia Tech        3:45.79 (3:44.57)
 11  Mac Fleet                     SR Oregon              3:44.67 (3:38.35)
 12  Alfredo Santana               SR La Salle            3:45.65 (3:43.21)
Heat 2  Prelims
  1  Thomas Joyce                  SO California          3:41.28 (3:41.28)
  2  Izaic Yorks                   SO Washington          3:42.29 (3:42.29)
  3  Joel Hubbard                  SO Syracuse            3:46.01 (3:43.12)
  4  Grant Pollock                 SR Virginia Tech       3:45.91 (3:40.77)
  5  Matt Hillenbrand              SR Kentucky            3:46.04 (3:41.48)
  6  Jordan Williamsz              SO Villanova           3:45.90 (3:36.74)
  7  Lawi Lalang                   SR Arizona             3:40.35 (3:33.20)
  8  Jake Hurysz                   JR Colorado            3:41.75 (3:40.63)
  9  Rorey Hunter                  JR Indiana             3:45.85 (3:44.59)
 10  Peter Callahan                JR New Mexico          3:40.40 (3:40.40)
 11  Grzegorz Kalinowski           SR E. Michigan         3:45.89 (3:41.80) 
 12  John Simons                   SR Minnesota           3:40.56 (3:40.56)