Event Hub
U.S. Championships Women's 800m preview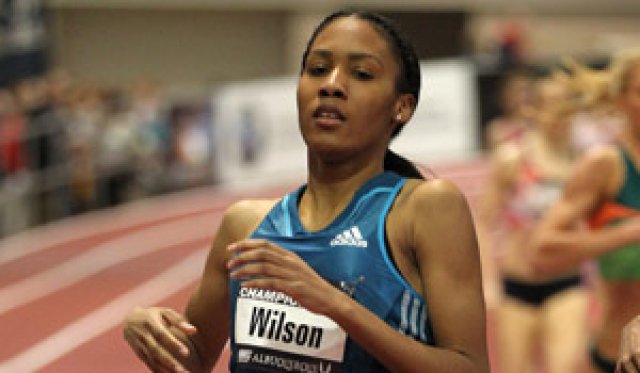 We're not sure if the upcoming U.S. Outdoor Women's 800-meters Championship is the best event to watch this weekend because of the world-class depth of the Americans, or the fact that the defending champion, four-time U.S. champion, and 
mother-to-be
Alysia Montano
is on the start list.
For Montano to win, it would take the Kick Heard 'Round The World. Kick, get it? Because she's pregnant? I'm here all week.
Maybe we're bursting with excitement because the upper echelon of America's female half milers are too hard to separate. It may not be great for their nerves, but it's great for the fans, and it's great for us to try and predict the winner.
Below, we'll tell you why five women do and do not have a chance at becoming the new reigning U.S. 800-meter champion.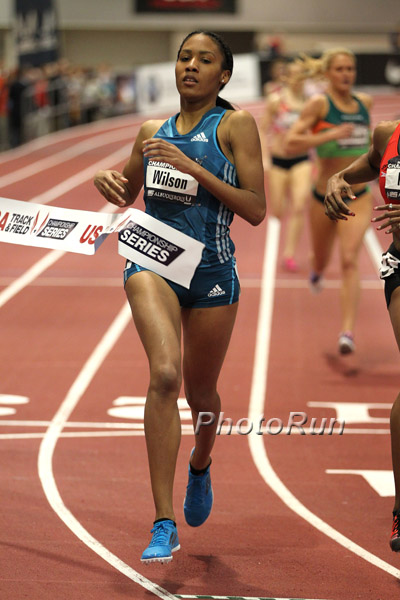 Ajee Wilson
Personal Best: 1:58.21 (6th, 2013 World Championships)
Seasonal Best: 1:59.68 (2nd, Oslo Diamond League)
Why She'll Win: This season, the 20-year-old sensation is consistently mixing it up with the world's best. At the Rome Diamond League, Wilson was 3rd in 2:00.18, only behind 2013 World Champion Eunice Sum and the 1:57-18-year-old Cuban Sahily Diago. Then, a few weeks later in Oslo, Wilson kicked well to finish second behind Sum in 1:59.02.
Not to mention, she nipped Chanelle Price this winter to win the U.S. Indoor 800-meter title. Considering all the weapons in her arsenal, Wilson is a complete half miler and is our favorite to win this weekend.
Why She Won't: She hasn't had a poor race all outdoor season, but was weirdly eliminated in the semifinals of the the 2014 World Indoor Championships. This is us grasping at straws.
Chanelle Price
Personal Best: 1:59.75 (2nd, Doha Diamond League)
Seasonal Best: See above
Why She'll Win
: It's been a career year for Price. The 23-year-old won the first-ever indoors or outdoors gold medal for the U.S. in the women's 800-meters,
signed
a three-year deal with Nike, and finally broke two minutes, and was on Team USA's gold medal 4 x 800-meter squad at the IAAF World Relays.
What more do you want? If you're Price, a U.S. title would be nice. 
We caught up with Price after her 2nd place finish at in the Prefontaine Classic National 800-meters (2:00.38). Looking down the road, Price noted that if she wants to win her first U.S. title, she'll have to do what she's been doing all year long: take it out hard.
What'll be the result in Sacramento, CA? It almost worked against Wilson this winter and Brenda Martinez, who'll we'll preview below, might not be able to hang with a fast, early pace.
Why She Won't: Price's race in Doha was full of celebration, but she didn't win -- Eunice Sum did. In that race, the opening 400-meters for Price was just under 60-seconds, with her and the world outdoor champion reaching 600-meters in 1:29.70. The slow early pace, for Price's standards, didn't do her any favors against Sum, who pulled away to take the win in the final 100-meters. There's no shame losing to the best female 800-meter athlete in the world, but if someone wants to beat Price this spring, they have an idea of how to do it.
If Price doesn't set the tone, then a ferocious kicker could steal it. Then again, like we saw
last year
between Martinez and Montano, a fast pace sometimes pays off at USAs.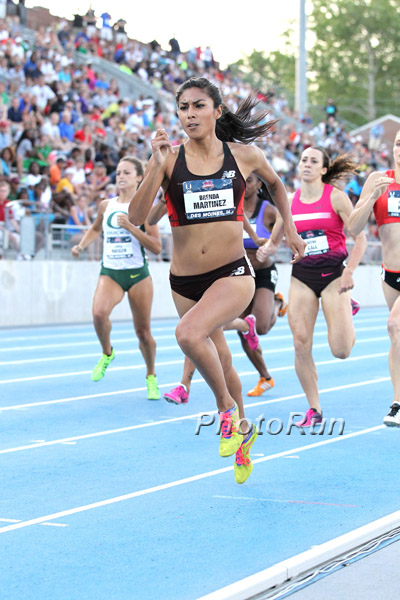 Brenda Martinez
Personal Best: 1:57.91 (3rd, 2013 World Championships)
Seasonal Best: 1:59.24 (1st, IAAF World Challenge Hengelo)
Why She'll Win
: Last year's runner-up at USAs and the 2013 World Outdoor 800-meter bronze medalist tops the field with her 1:57.91 personal best. She has the ability to kick off a fast pace, which we saw in Moscow
last summer
, when she intelligently stayed in lane one, passed three women in the final 100-meters, and snagged a medal.
Why She Won't: She hasn't picked a good time to have a dip in form. After opening her season with a 1:59.91 narrow win over Maggie Vessey at the Oxy High Performance Meet, Martinez anchored both Team USA's 4 x 800-meter and 4 x 1,500-meter squads at the IAAF World Relays, splitting 1:58.7 in the former race.
But after that, things haven't been great. Below are her results, in chronological order, following her return from the Bahamas:
June 5th - Rome Diamond League 800m - 5th in 2:00.44
June 8th - IAAF World Challenge Hengelo - 1st 1:59.24
June 11th - Oslo Diamond League - 10th in 2:02.27
June 14th - adidas Grand Prix - 8th in 4:06.42
It's a mantra that should be a framed tea towel in our office, but Alex Lohr's "What Have You Done For Me Lately" points to a poor U.S. Championships for Martinez. Though she has the aerobic engine to surprise, and could easily bounce back with some much needed rest, but careful with this pick.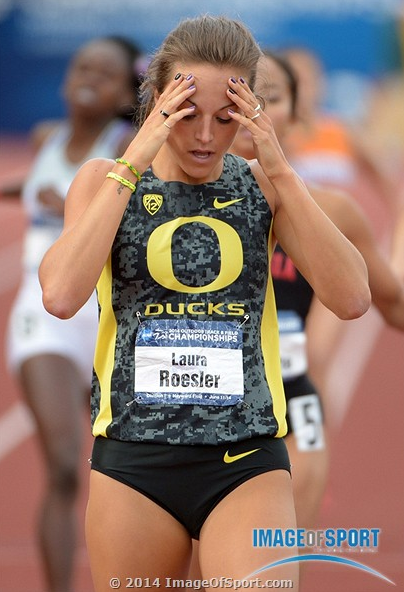 Laura Roesler
Personal Best: 2:00.23 (5th, 2013 U.S. Championships)
Seasonal Best: 2:00.54 (1st, Mt. SAC Relays)
Why She'll Win: We're just past Roesler's one year anniversary for when she set her personal best. I think it's time to celebrate.
In terms of clinical finishers, there are far and few Americans who can hang with Roesler.
At the NCAA Indoor Championships, Roesler absolutely destroyed the field in a flash, splitting 29.90 for the final 200-meters to take the win in 2:03.85.
Then, at the NCAA Indoor Championships, Roesler absolutely destroyed the field in a flash, splitting 28.90 for the final 200-meters to take the win in 2:01.10.

Deja vu, huh.
It's been mentioned a few times this outdoor season, but all that remains for the graduated Oregon Duck is to break two minutes. She's knocked on the door four times in past two years, but hasn't been able to get in yet.
Why She Won't: Roesler's two fastest marks are both from USAs last year, where she ran her old personal best of 2:00.54 to finish in the fourth auto-qualifying spot in her semifinal. Then, in the final, Roesler set another personal best, finishing in fifth in 2:00.23.
If this weekend's race was a straight final, we'd consider picking Roesler for the win. But, with three rounds looming this weekend, does Roesler have the strength to find her final gear in the final? A year later and a year older, we say yes.
Maggie Vessey
Personal Best: 1:57.64 (1st, 2013 Monaco Diamond League)
Seasonal Best: 1:59.86 (2nd, Oxy High Performance)
Why She'll Win: She's rounding into good form, has championship experience, and, if she's not too far off the back at the 600-meter mark, is a dangerous threat.
Vessey's last two races have both had narrow finishes. At Oxy High Performance, she finisher runner-up to Martinez, 1:59.96 to 1:59.91. Then, at Prefontaine Classic, she almost pipped Price, finishing in 2:00.48 to 2:00.38.
Why She Won't: Loses to Roesler and Gall at Mt. SAC and the aforementioned races at Oxy High Performance and rule her out.
The Most Important Question: What will she wear?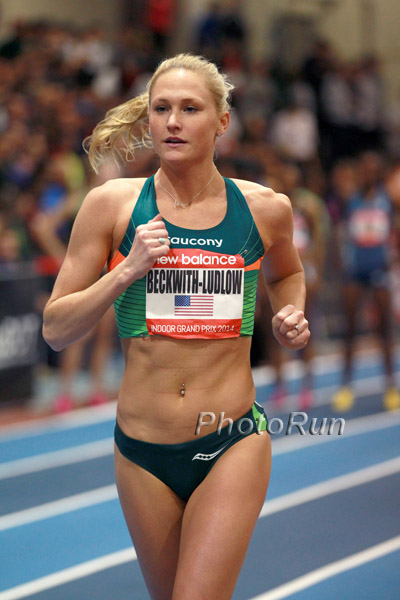 Molly Beckwith-Ludlow
Personal Best: 1:59.12 (3rd, 2011 Lignano)
Seasonal Best: 1:59.77 (2nd, Oxy High Performance)
Why She'll Win: In five consecutive races this outdoor season, Beckwith, who finished 4th at the 2012 Olympic Trials, has run 2:00.xx. We like the consistency.
Then, almost a week ago in Ostrava, she broke two minutes for the first time since July 2012 with her 1:59.77 seventh place finish. It's great to see her back on the national scene once again.
Why She Won't: A big lose to Wilson in Oslo hurts, but if you want to know her chances to make the podium, then we'll tell you that they're good.
Final Prediction
1) Ajee Wilson
2) Laura Roesler
3) Chanelle Price
The U.S. Championship Women's 800m final is set to go off on Sunday, June 29th at 1:30pm Pacific Time.
Mitch Kastoff is the Senior Site Editor at Flotrack. Contrary to popular belief, he did not invent the high five. If you enjoyed these ramblings or have any comments, questions, or concerns, feel free to reach him on Twitter or by email.