Event Hub
Stacked Mile Fields At USATF Champs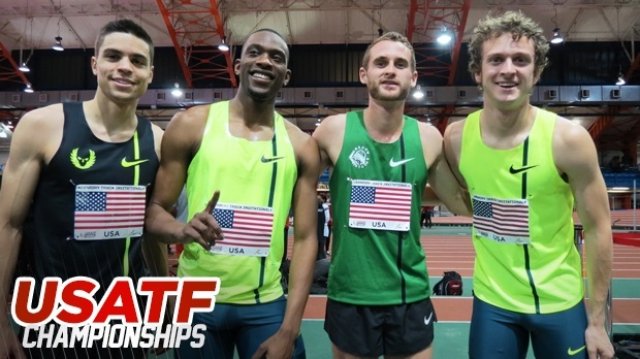 WEEKEND PREVIEWS:
ACC | BIG12 | BIG EAST | BIG10 | IVY | MPSF | SEC | USATF
CONFERENCE RESULTS | USATF RESULTS

The famous Reggie Lewis Track and Athletic Center will play host once again to the USATF Indoor Track and Field Championships this Friday through Sunday in Boston, with World and Olympic medalists dotting the line-ups for nearly every event. While a non-World Championship indoor year has deterred some athletes from making the chilly northeastern trek, the competition level in the premiere events is still expected to be remarkably high. Top American milers Matthew Centrowitz, Leo Manzano, and Shannon Rowbury will all be in Beantown, as will sprint stars Ryan Bailey and Trell Kimmons. The USATF is taking advantage of an off year to mix-in in some off-distances to the schedule, with deep fields slated to compete in the 300m, 600m, and 1,000m races as well.

6 EVENTS TO WATCH:

 

Men's Mile

Three of the hottest milers on the planet will stake a battle royale on Sunday afternoon. Wanamaker champion Matthew Centrowitz will look to bounce back from his disappointing finish in Birmingham, while either Ben Blankenship or Pat Casey could nab their first national championship if Centro is still off his game. 

 

Let's check out what these three have done in 2015: 

 

Matthew Centrowitz (SB 3:51.35)

Centro's lone hiccup on an otherwise flawless indoor campaign came last week at the

stacked 1,500m in Birmingham

. There, Centro faded with 400m to go and finished 10th in a disappointing time of 3:40.80. While we expected more out of him in Birmingham, jet-lag could have easily been the culprit. 

 

The rest of his season has gone flawlessly, as the 25-year-old led-off the Team USA DMR World record last month, and ran a world-lead 2:17.00 in the 1,000m in Boston on February 7th. The way he ran in winning the Wanamaker mile, aggressively chasing the pacer, shows that he is just as fearless as he is talented.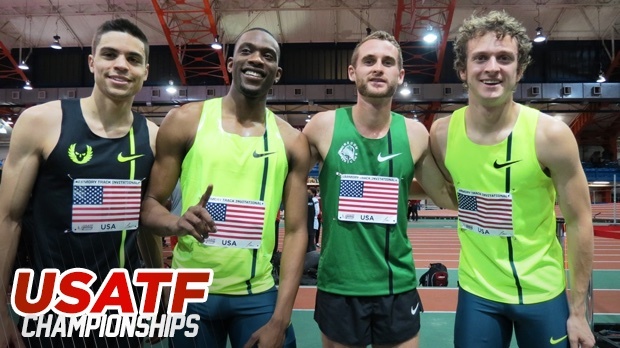 Ben Blankenship (SB 3:53.13)
Blankenship is on a roll. Just last week he became
the first man to break 4 indoors in Ireland
, running 3:56.75, then he placed fourth in the super quick 1,500m at Birmingham on Saturday, lowering his PB down to 3:35.28. The 26-year-old is running confident and has emerged as a legitimate contender to make the Worlds team in June.
Blankenship has proven that he can beat Centro, but the question is can he repeat that when the pace lags in a championship race? This will be a good test for the up-and-comer heading into outdoors.
Pat Casey (SB 3:54.36)
Casey had his breakout season last summer, but he hasn't suffered a sophomore slump in his second year as a pro. After finishing a surprising 2nd at USAs last summer, Casey has run like one of America's best this winter, anchoring the DMR World record in NYC before placing third in the Wanamaker mile two weeks ago on the same track. 
Casey did not jet over to Europe last week, so he will have the advantage of being fully rested, unlike Blankenship and Centro. 
Also lining up in Boston, Olympic silver medalist Leo Manzano, Lopez Lomong, Matthew Elliott, among others. 
Women's Mile
This race has a clear favorite in Shannon Rowbury, but there are nine other ladies in this field that aren't ready to give her the trophy just yet. Rowbury's NOP teammate Jordan Hasay has been impressive as well in 2015, while unheralded Stephanie Charnigo looks to build on her surprising third place finish in the Wanamaker mile.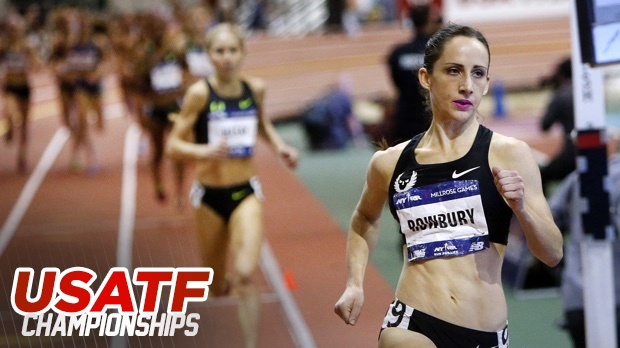 Shannon Rowbury (SB 4:22.66)
Rowbury's fantastic early season results have us excited for the 30-year-old's battles with Jenny Simpson later on this summer. Since Simpson won't be in Boston this weekend, track fans will have to wait for this heavyweight matchup until outdoors. 
Rowbury ran a scintillating 4:22 last month that led to American record (4:20.5) murmurs heading into the Millrose Games. She only managed a 4:24 in NYC, but Rowbury's dominance continued with a victory in the Wanamaker mile. A
close second to Axumawit Embaye in Birmingham
on Saturday won't shake her confidence.
Jordan Hasay (SB 4:28.27)
Just because Jordan Hasay considers herself a 10k runner doesn't mean she still can't roll with the speedsters in the shorter distances. The 23-year-old has run four PBs in 2015- 1k, mile, 3k, and two-mile, the most impressive her
8:50.21 3k last weekend in Birmingham
.
Hasay doesn't have the wheels to hang with Rowbury if this is an all-out race, but the chances for that are low as most US finals are very tactical. Anything can happen in a sit-and-kick affair. 
Stephanie Charnigo (SB 4:28.02)
A month ago, Charnigo would have been skimmed over when taking a glance at the entry list. Now, not so much, as the 26-year-old finished a surprising third in the Wanamaker mile, lowering her PB by more than three seconds. Charnigo was an also-ran before NYC, but she left the Armory having beaten Hasay and Mary Cain.
Charnigo will have her hands full this weekend in Boston. Outside of Rowbury and Hasay, the NJ/NY upstart will face stiff competition from mile studs Katie Mackey, Morgan Uceny, and Nicole Tully. 
Men's 60m
Olympians Ryan Bailey and Trell Kimmons will face off in a battle of the #2 and #4 fastest men in the world in 2015. Kimmons took the first round when the two raced in the heats at the New Balance GP, a meet that Kimmons eventually won. Don't forget about World indoor silver medalist Marvin Bracy, winner at the Millrose Games in 6.53. For a little preview, watch Bailey fly in this 40 yd dash:

Women's 600m
In a championship with no 1/2 mile race, much of the country's best 800m talent will drop down in distance to the rarely run 600m. Reigning indoor champion and current 800m world leader Ajee Wilson is undefeated in three races in 2015, and should be favored accordingly in Boston. Olympian Alysia Montano will do her best to dethrone her 20-year-old rival just six months after giving birth to her first child. 
Men's 600m
Cas Loxsom set the American record in this event earlier this season, his 1:15.58 set in Albuquerque. Even with his record, Loxsom will face plenty of heat in this field split between 400m and 800m specialists. Erik Sowinski has been excellent in 2015 thus far in the 800m, while unsigned 400m runner Brycen Spratling continues to exceed expectations in his first year as a pro, most notably with his 500m World record of 1:00.06 at the Millrose Games. 

Women's Pole Vault
NCAA record holder and current Stephen F. Austin athlete Demi Payne will face indoor World record holder and Olympic gold medalist Jenn Suhr. Payne has been untouchable in the collegiate ranks thus far in 2015, and is currently the #4 jumper in the world at 4.75m. Suhr set her 5.02m World record at USAs two years ago.