Why the U.S. should take a page out of Great Britain's book for success in 2013

In February 2011, Mo Farah shocked the track world by announcing that he would move to Portland, Oregon, to train under Alberto Salazar as a member of the Oregon Distance Project. Salazar's love of cutting edge training methods, emphasis on small, incremental, development, and strong record with protégée, Galen Rupp, proved too much for Farah to pass up as he looked towards the Olympics in his home nation of Great Britain.

The move meant Farah could literally train in Nike's backyard under the tutelage of one of America's finest distance coaches. By Farah choosing to go to the US for his Olympic build up, he was effectively endorsing the United States as the latest hotbed of distance running…or at least training for distance running.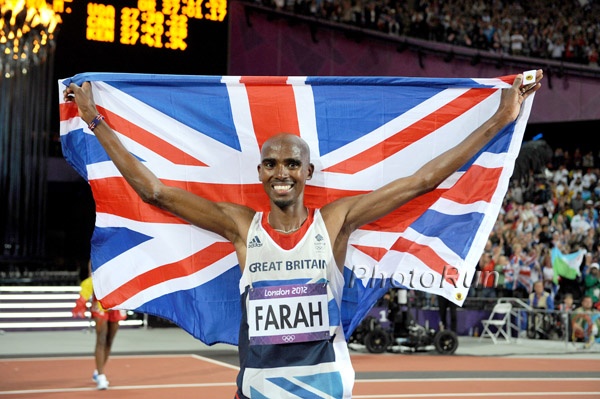 For Queen and Country (and Adidas and Nike)
The move proved to be a wise one as Farah went on an absolute tear in 2011, culminating in a silver medal in the 10K and a gold in the 5K at the World Championships in South Korea. The next year, Farah solidified his meteoric rise to the top of the distance running world by taking home double gold in front of an enthralled home crowd at the Olympics. Some viewed Farah's success as a signal that the US had indeed become the best place in the world to train.

But this blog isn't about listing why the US is great and why Mo Farah was smart to leave Great Britain. This blog is about how the US can be better by becoming more like Great Britain--the Britain of the 1980s in middle distance running. 
Farah's move is validation of the system we have in place in the United States. The U.S. boasts a variety of incredible training locales, tons of experienced coaches, unmatched facilities, and a huge base of athletes who are tested regularly in the high school and college systems. These resources allow us to surface enough talent to be relevant on the world stage, as we saw this summer with Galen and Leo winning silvers in the 10k and 1500, respectively.

Yet we are missing an element of drama, even desperation for achievement, that I believe will take us from relevance to prominence.

We need to take a page out of Great Britain's book and promote healthy domestic rivalries that allow us to sustain a high level of competition in non-Olympic years. Additionally, chasing records in the 'down' years will give US athletes tangible goals to pursue in the short run and create savvy, battle-tested, racers in the long run. I'm not saying US runners don't do this already, but Sebastian Coe, Steve Ovett, and Steve Cram took rivalries and record chasing to a whole new level.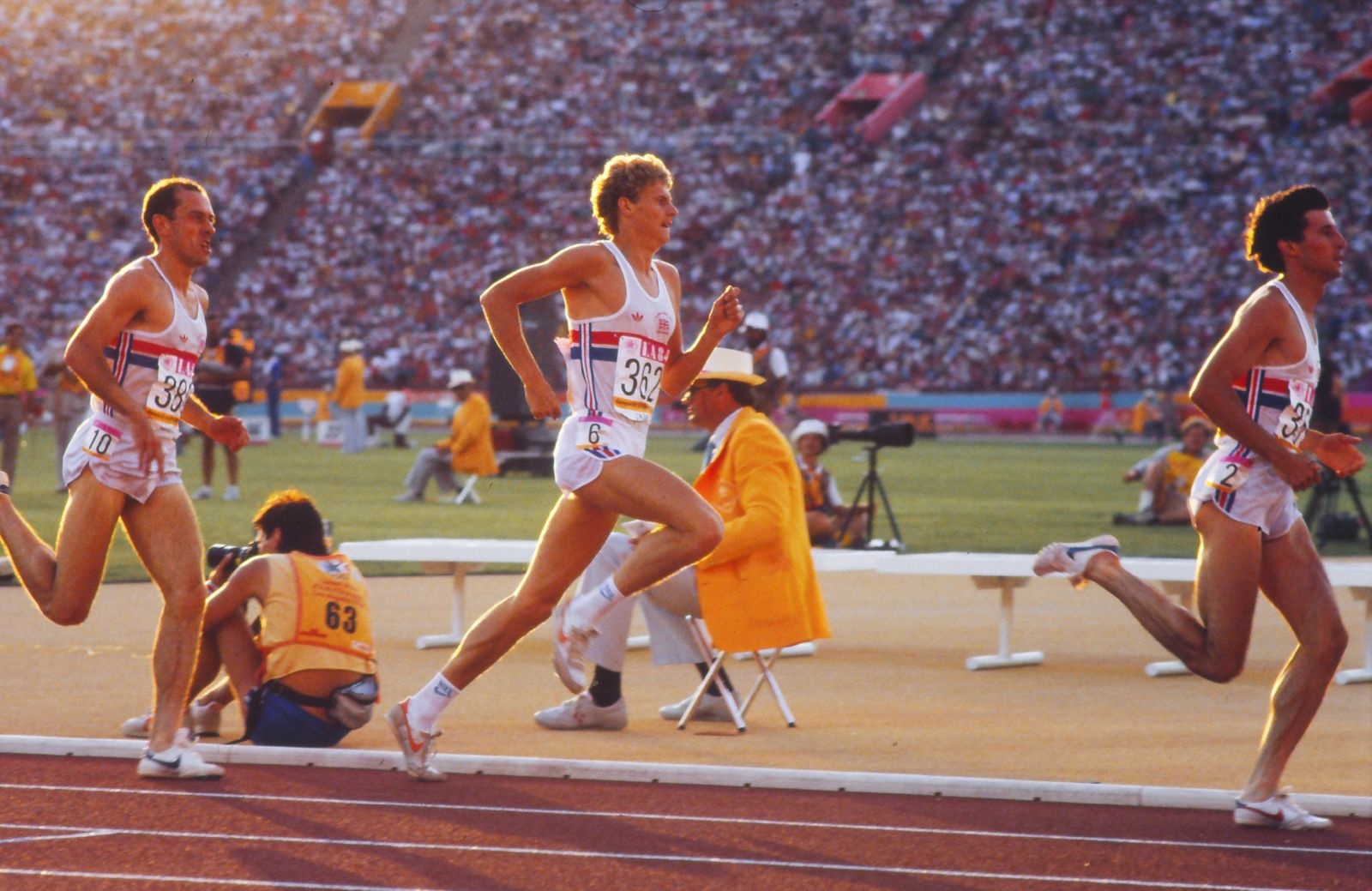 The Golden Era #nofilter
I want the label of best miler in the United States to mean something--too often US runners are content just to make the team. Coe, Ovett, and Cram embodied love of country and drive to be the best. The three traded world records seven times in a six year span (in the mile and 1500 alone) in pursuit of British middle distance supremacy.

This fierce domestic rivalry ultimately brought out the best in the athletes and allowed Great Britain to maximize its number of medals on the world stage.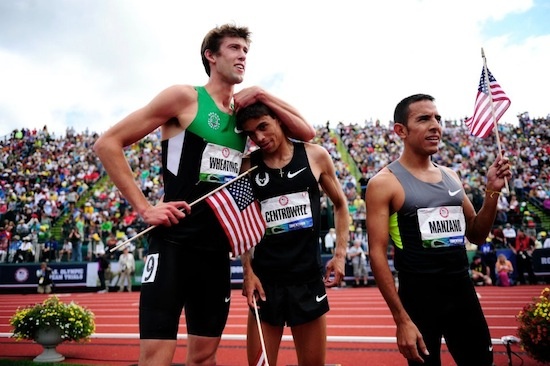 Too much love
So now the task of casting the Yankee versions of Coe, Ovett, and Cram. I'm nominating last summer's Olympic 1500 meter qualifiers: Matt Centrowitz, Jr., Leo Manzano, and Andrew Wheating. All three have different personalities, racing styles, and training groups--having separate coaches and teams is key because I don't want altruistic training partners conceding victories to one another for the good of the team. 
Role #1: Centrowitz as Coe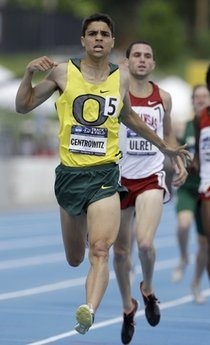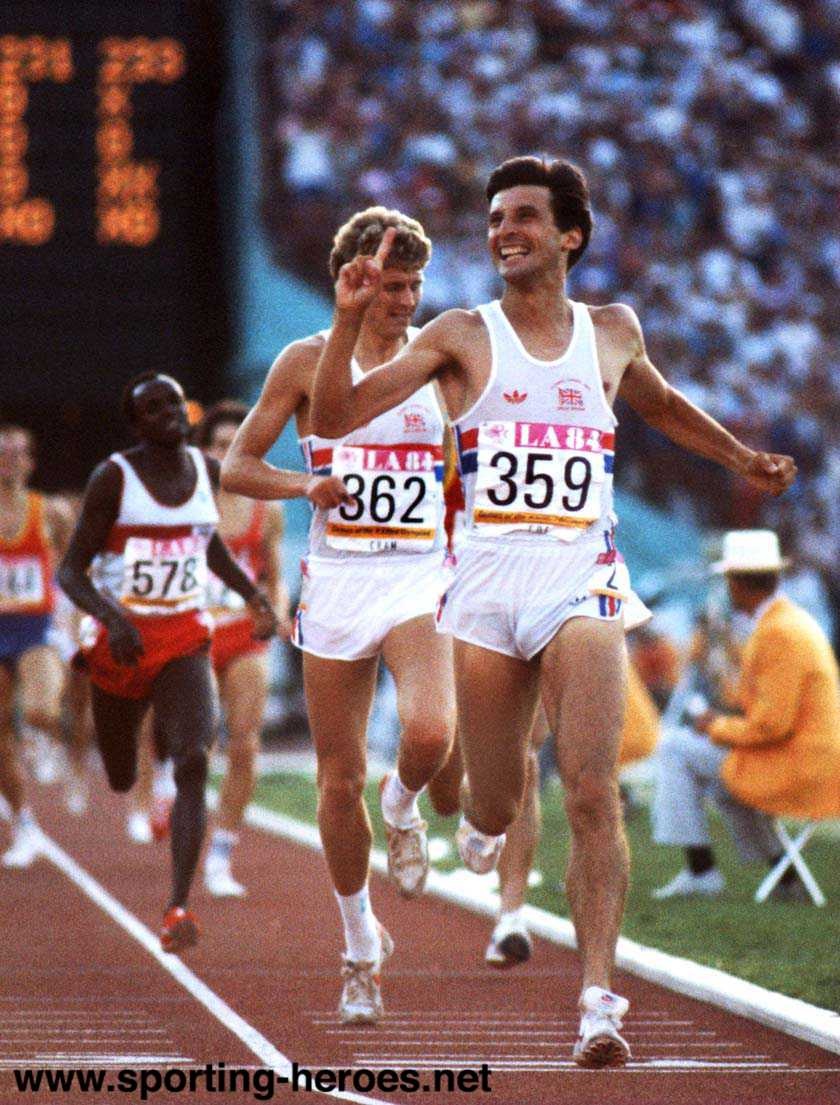 The Showmen
This comparison goes beyond the fact that these are two of the most relaxed, biomechanically-perfect, runners that the human race has ever produced. It's all about attitude. Coe epitomized guts and arrogance on the track, allowing him to set world records across a number of distances during one of the most competitive eras of middle distance running. Coe famously pushed away Cram and didn't even acknowledge Ovett (who was being carried off the track on a stretcher) as he gallivanted around the track for his victory lap in the '84 Olympics. Coe pouted for days in the '80 Olympics after losing to Ovett in the 800 and remained inconsolable until winning the gold (over Ovett) in the 1500. 
Centro is the only American who has a chance of matching up with Coe in terms of raw ability and showmanship. I loved when Centro put the exclamation point on his first NCAA championship with the iconic throat-slitting gesture at the finish line. That gesture single-handedly convinced me that perhaps track did have a chance at making it in the US market, and that Matt Centrowitz was going to make his mark on the international stage.

Well, maybe I didn't know that he'd have a shot at a world podium spot when he won NCAA's, but definitely when he beat Lagat a few weeks later to become US champion. 
Role #2: Manzano as Ovett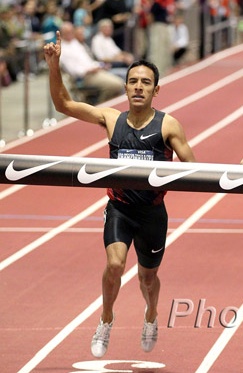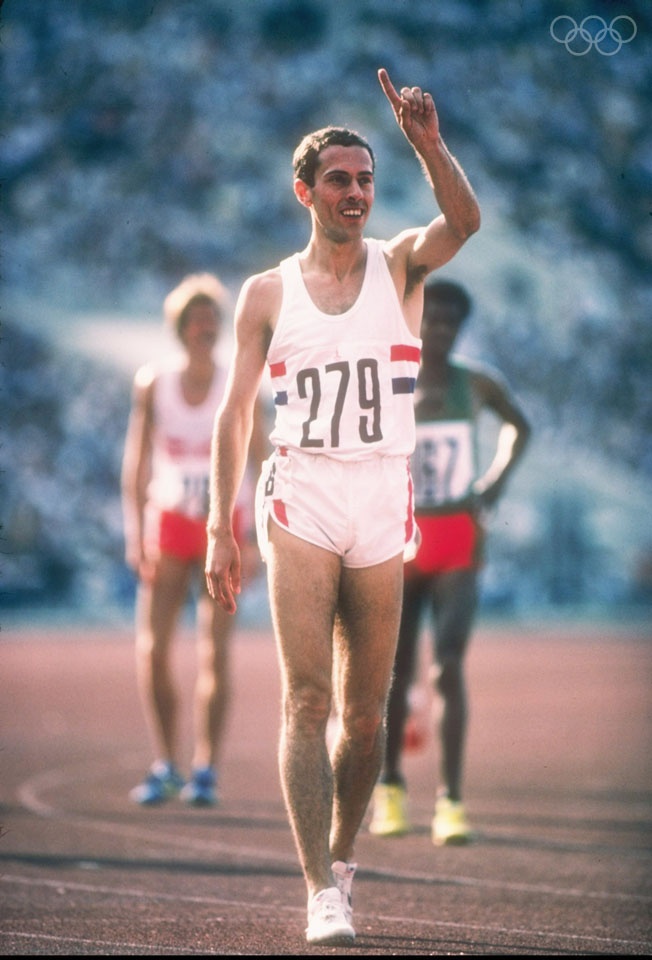 The Gamers
Ovett and Manzano are the master tacticians--talent combined with race intelligence. Ovett rose to fame in 1977 when he dusted Olympic 1500-meter champion, John Walker, by splitting a 25.1 second final 200 in the inaugural IAAF World Cup 1500. In 1981, Ovett and Coe exchanged world mile records three times in a ten day period. They also shared podiums on a number of occasions, just as I hope Centro and Leo will next summer in Moscow--the very site Coe and Ovett battled for Olympic glory in the 1500 and 800 in 1980.
Leo possesses the same type of finishing speed that makes him a threat in any race. With 200 to go at the Olympics this summer, it looked as if Leo would finish well outside the top three, until he "finished like a train" (gotta love the BBC) over the final 100 meters to secure silver. The diminutive Manzano is often lost in the crowd of younger, flashier, runners such as Centro and Wheating, yet his track record speaks for itself. Leo is infinitely more relatable than his cohorts--he grimaces, thrashes, and looks surprisingly mortal most of the time…until you read the clock. Although different in many ways, Manzano and Ovett are the same in their sound tactics, fearless racing styles, and lethal kicks.
Role #3: Wheating as Cram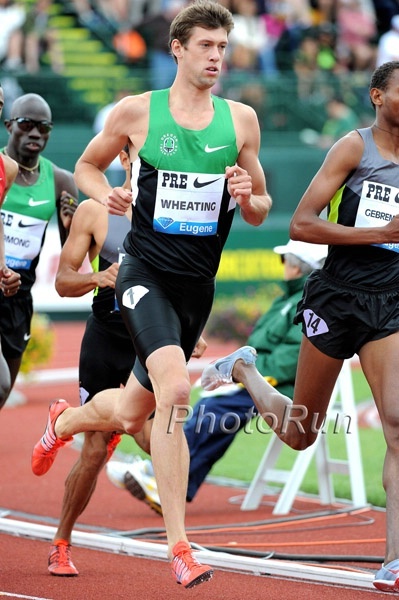 The Thoroughbreds
Young enough to miss many of the epic Coe-Ovett showdowns, Cram was the heir apparent to the British middle distance crown and carried on the British middle distance tradition in Coe and Ovett's twilight years. Cram possessed great 800 speed as evidenced by his evenly split 1:42 in 1985. This same year, Cram broke three records in the 1500, mile, and 2k in a 19-day span. His stride was powerful and "elegant", not unlike Andrew Wheating's.
Wheating has shown astonishingly bad tactics for a runner of his caliber over the past couple of years, which is really just a testament to his talent. If you look at Wheating's best races, they are generally 800's (where very few moves are made) or the 1500's that get strung out from the gun (see
3:30 in Monaco
). I predict Wheating will prove himself one of the greatest US milers of all time, and my money is on him to break Lagat's 3:29 American record.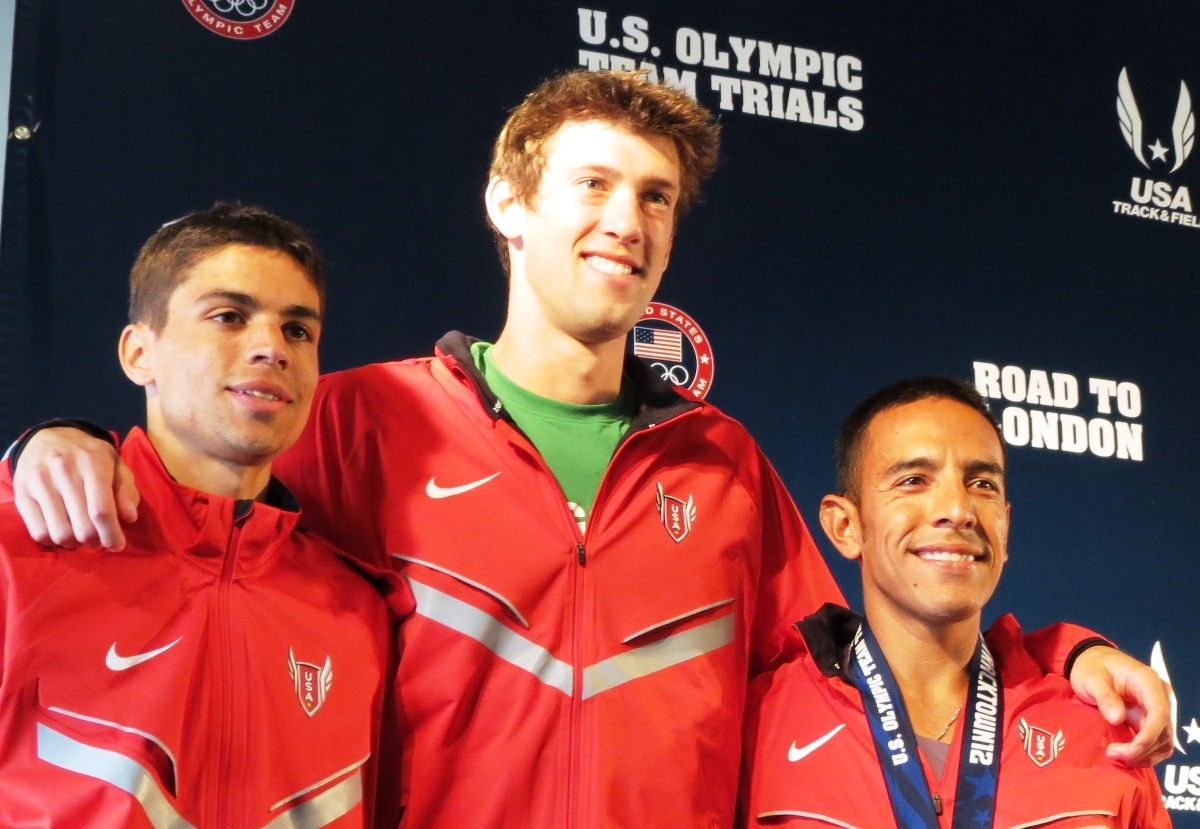 Moscow Podium?
All this is to say that the US has the cast to usher in our own golden era of middle distance running. Mo Farah came here because we have the system in place to maximize running talent--it's time to expect more of our own.

Being the best in the US is a worthy pursuit deserving of international recognition, just as being the best in Great Britain was one of the highest honors in the sport decades ago. Taking down US records must be the biggest priority in non-Olympic years so that eventually we can set our sights on loftier goals.

We have long been hearing about the running renaissance in the US; now it is time to make that a reality by adopting the same attitude as Great Britain 30 years ago. History can be our guide and rivalry our motivator. What elevated Coe, Ovett, and Cram to legendary status can do the same for the next generation of great American milers.