Event Hub
LIVE UPDATES: 2017 IAAF World Championships Day 9
Stay tuned to this page as Day 9 goes down in London!


Men's 4x100m Relay Final

The United States qualified all four relays (men's and women's 4x1, 4x4) to the finals this morning with the fastest times of the competition. Can they sweep all four? [UPDATE: USA just won gold in the women's 4x1, so we're one for one at the moment!]


The 4x100m final is Usain Bolt's proclaimed last-ever track race. Can he take back a bit of his glory, or will the Americans upset him again? Justin Gatlin and Christian Coleman are the best 1-2 in this field. The United States' biggest challenge isn't speed, though, it's simply getting that baton safely around the track. They haven't won this event since 2007. (Not counting World Relays).

Start list below: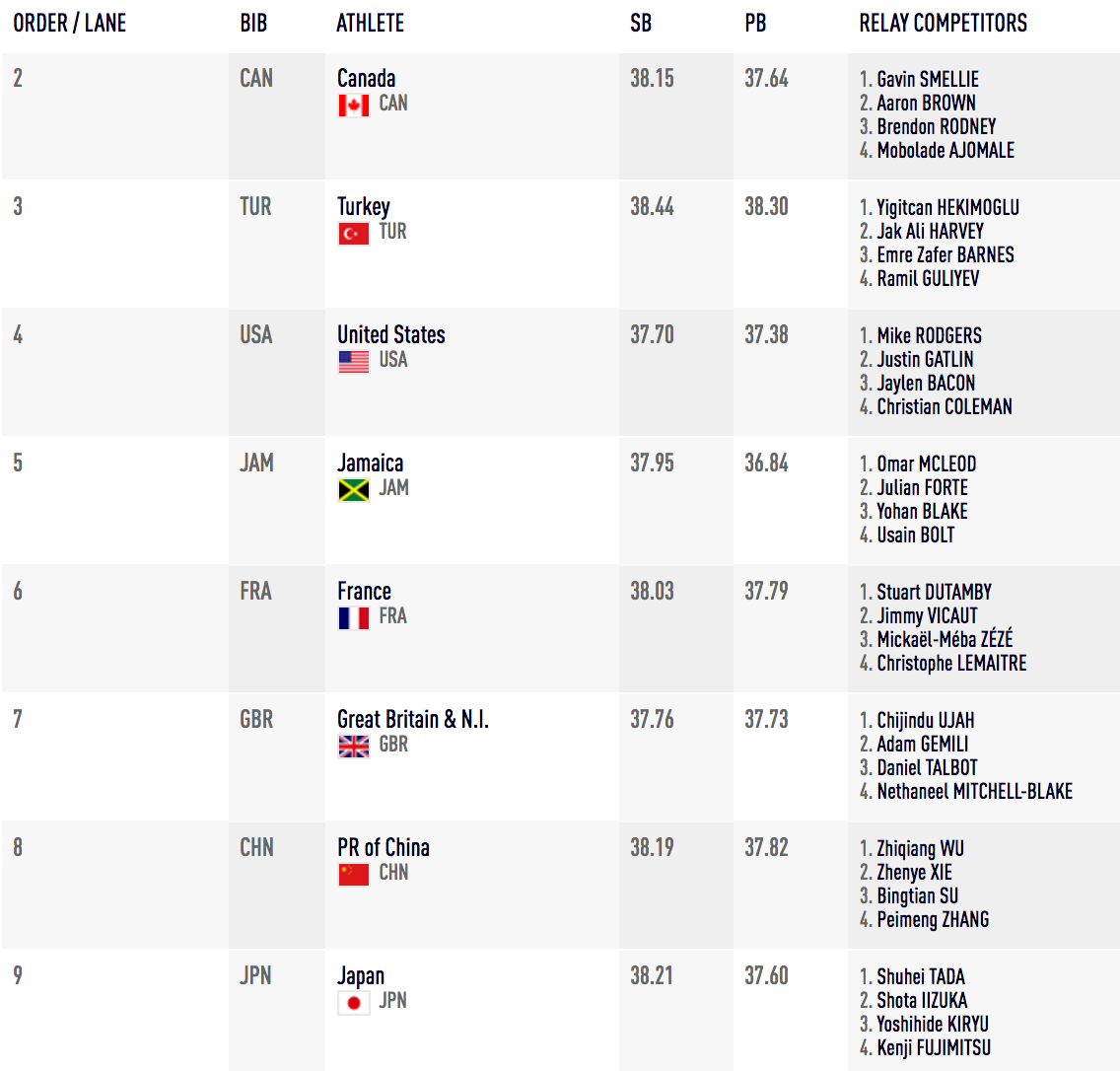 Bolt is still the man. The Jamaicans' intro is probably the best as the world record holder leads them in a snappy shoulder shimmy dance move. It's cool to see Omar McLeod, the 110m hurdles world champ, on the relay.

WOW! NOT THE U.S., NOT JAMAICA, BUT GREAT BRITAIN! Bolt goes down with 50 meters remaining with what appears to be a calf strain and Jamaica does not finish the race!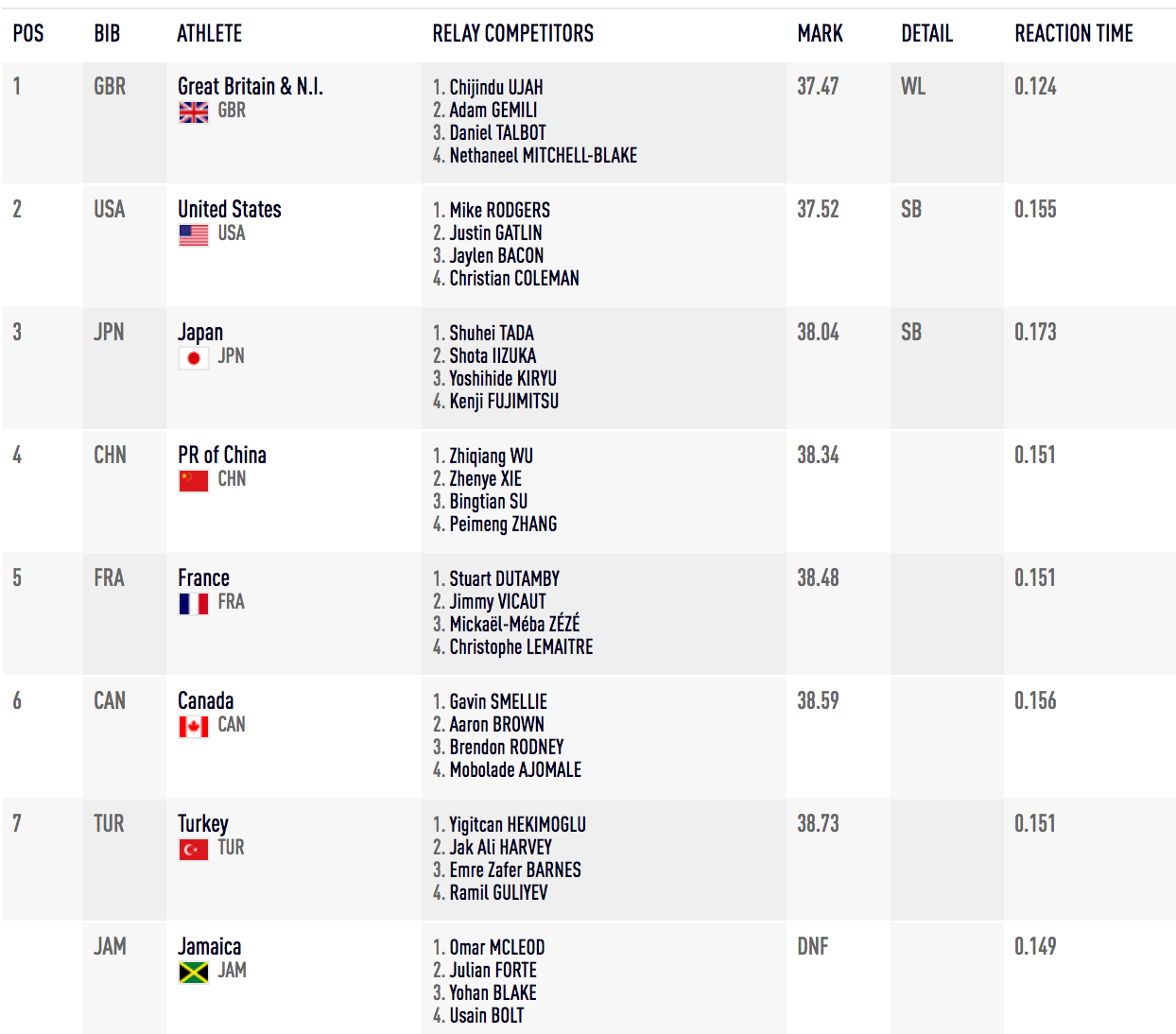 Women's 4x100m Relay Final


Women's 4x1 is up next, anchored by world champion Tori Bowie. There's also 400m bronze medalist Allyson Felix, who is likely going to pull 4x4 duty as well. Felix's bronze medal tied her with Merlene Ottey of Jamaica as the most decorated female athlete in World Championships history with 14 total medals. Expect her to pull ahead in those standings with a medal here and in the 4x4. 

The other two athletes racing for Team USA are Morolake Akinosun, who ran in the prelims in Rio, and Aaliyah Brown, who will lead off here in her first-ever World Championships appearance.

Here's the start list: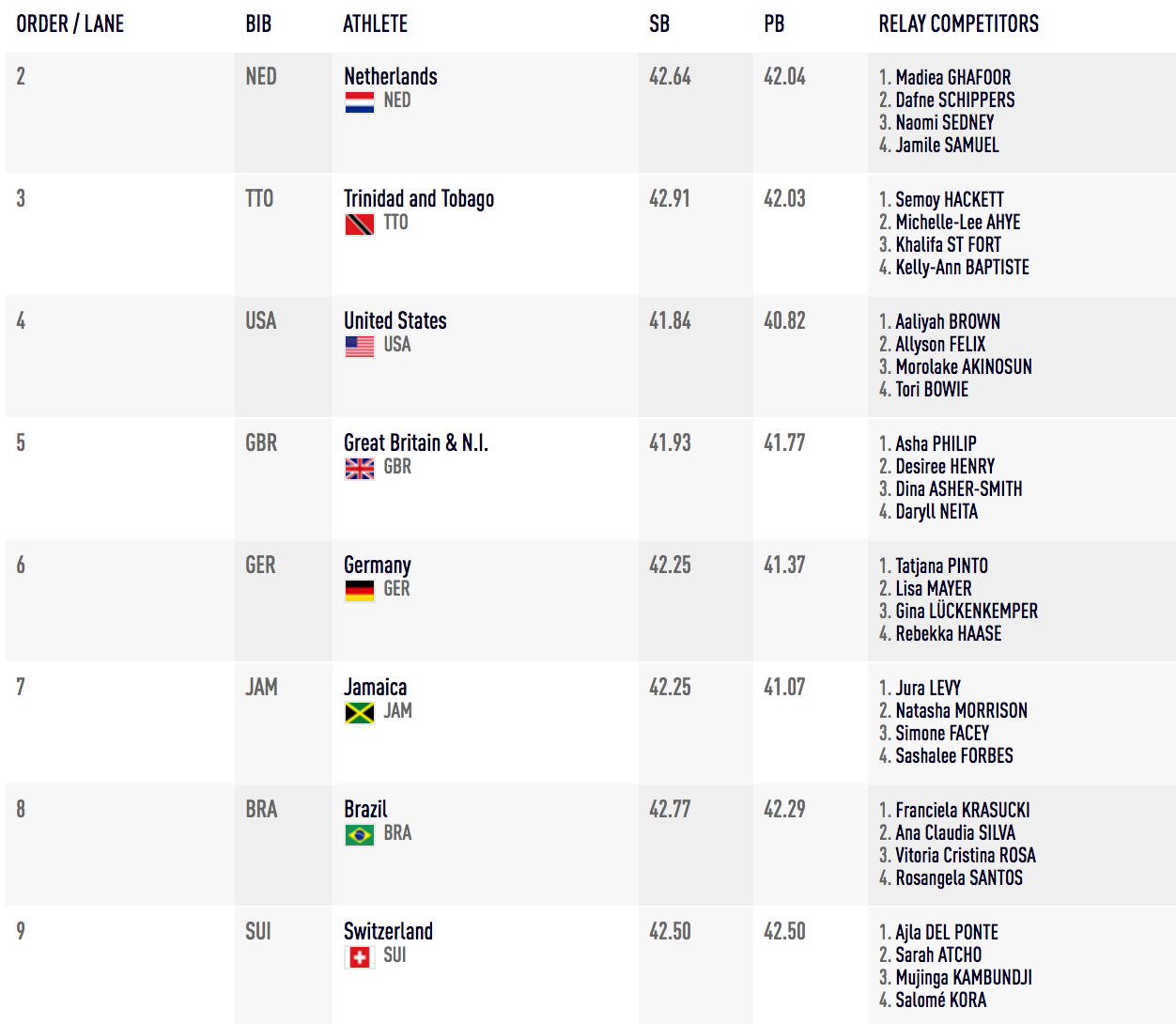 USA and Great Britain are dead even at the last exchange but that's when it pays off to have the world champ as your anchor! Tori Bowie makes it look easy and accelerates across the line in 41.82. Great Britain nabs silver in their home stadium while an Elaine Thompson-less Jamaican squad earns the bronze by edging out the young German team that won the IAAF World Relays in April.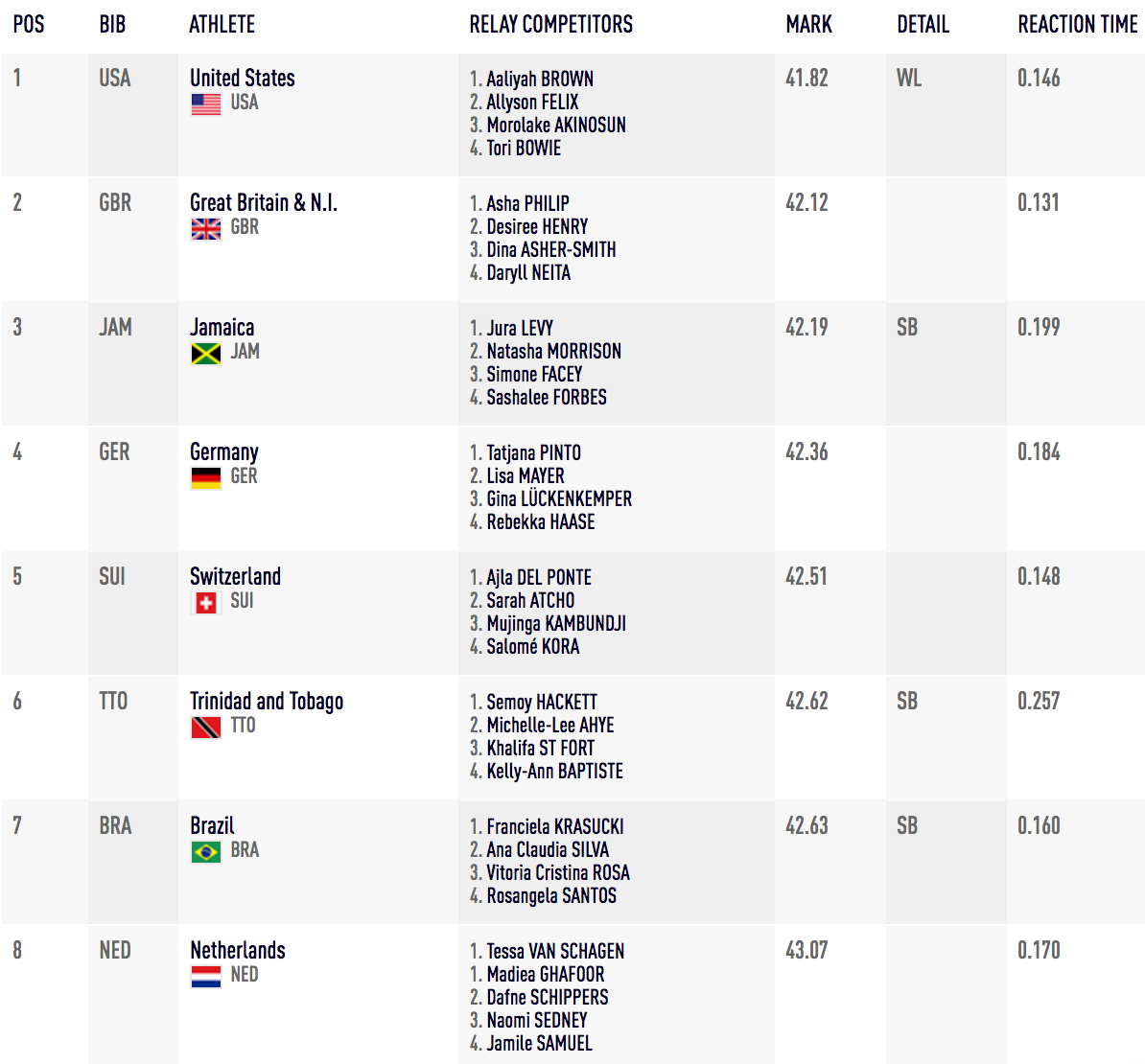 Women's 100m Hurdles Final

Pearson is out hard! Pearson is going to win this title! Upset city!!!! The Australian wins her first global title since 2012, since she won the Olympics in this very stadium. We guess London is lucky for her!

She looked like a boss in the semi-finals yesterday with a dominant win over Olympic silver medalist Nia Ali. 2008 Olympic champ Dawn Harper Nelson of the United States grabs silver here, after her own dominant win in the semis yesterday... just goes to show that semi-finals can be a pretty good predictor of what will transpire in the final, as world record holder Kendra Harrison got in on the skin of her teeth yesterday and ends her undefeated streak in fourth, just outside of the medals. So not quite the medal sweep we saw in Rio, but pretty impressive showing from Harper Nelson, who didn't make the final at the Olympic Trials last year.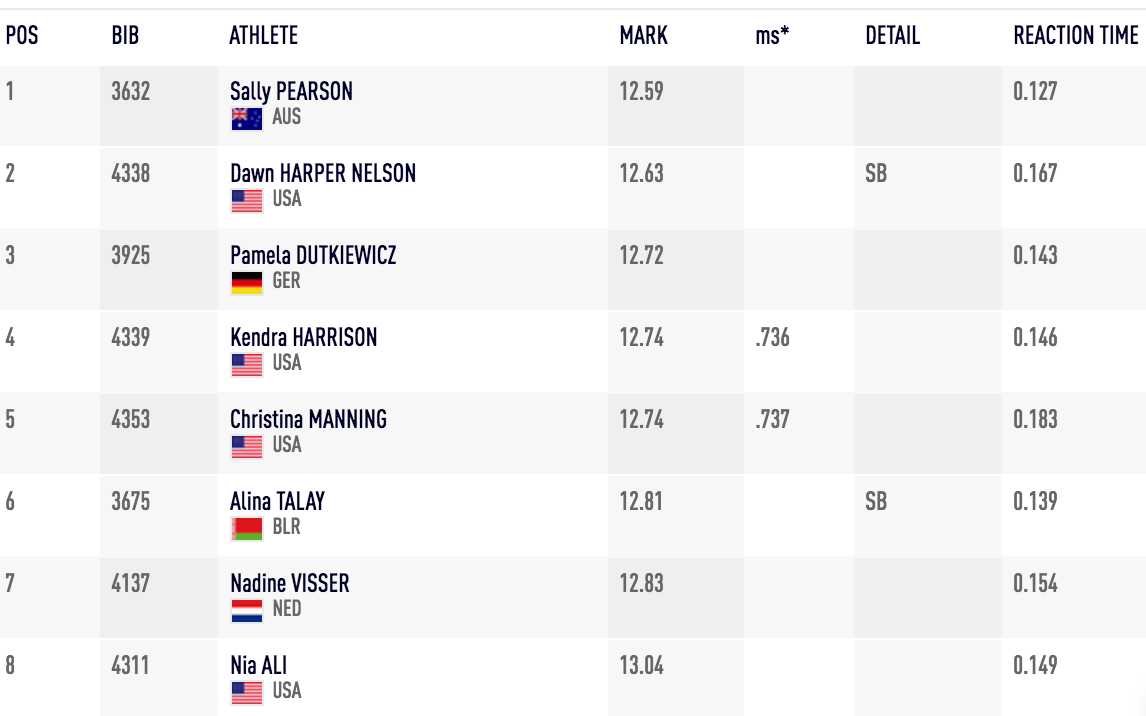 Men's 5K Final

Can Mo Farah make it 11 global titles in his final track race? I'm betting yes, but stay tuned...

Stadium is going crazy for Mo. He's ready to give them a show! Fellow Brit Andrew Butchart, sixth in Rio, is also getting some love. Can't wait to see what Chelimo has in store!

Kenya's Rutto straight to the front! Here goes Chelimo!!! He's going to pull a USAs move and try to lead this thing wire to wire. Farah tucked in second place.

400m: 1:02.25, Chelimo, Farah, Rutto, Ahmed
800m: 2:12.83 Chelimo, Ahmed, Farah now Butchart moving up!

~1K: Butchart is now in the lead with Farah on his outside shoulder, Chelimo tucked in on the rail in second place
1200m: 3:24.35 Butchart, Farah, Edris moving up to third now with Chelimo still tucked on the inside

Edris of Ethiopia now officially leading

1600m: 4:35.25 Edris, Farah, Ahmed.. the whole pack is right there though

2K: 5:48.05 Farah, Rutto, Edris, Chelimo

17-year-old Selemon Barega to the lead now! He's trying to break this thing open! Farah and Rutto running side by side leading the pack, they're gonna catch him again

2400m: 6:52.87 Barega, Farah, Rutto, Edris, Chelimo

Farah back to the lead! Rutto and all three Ethiopians lurking just behind

Chelimo making another move!!!

2800m: 7:59.13 Chelimo, Farah, Kejelcha

3K: Patrick Tiernan of Australia, the 2016 NCAA XC champion by way of Villanova takes the lead!
3200m: 9:03, Tiernan gapping the field! Farah and Kejelcha lead chase pack

3600m: 10:06.3 Tiernan still has a gap on Kejelcha, Farah, field

4K: 11:09.64 Tiernan, gap to Farah, Kejelcha

4400m: 12:12.21 Farah to the lead as the pack swallows up Tiernan! 

BELL LAP: The Ethiopians go by Mo! But he's still in it! Chelimo in sixth, fighting to get back to the lead! He's moving up on Mo!!

With 200m to go it becomes a four-man fight as Kejelcha, Edris, Farah and Chelimo battle for position but coming down the straight it's clear that Edris has slightly more gas left and surges away while Farah, Chelimo and Kejelcha fight for medals

Edris wins in 13:32!!! Mo pulls a jenny simpson and tries to kick on the inside, ends with silver ahead of Chelimo with bronze!


Wow, Edris just did the Mo Bot! This dude is savage. Ethiopia is so happy right now. Mo's wife looks pissed. Apparently he closed in 52.8 for the win. London will be remembered as the end of an era for two legends of the track in Usain Bolt and Mo Farah as neither has been allowed to close their careers with the storybook ending this week.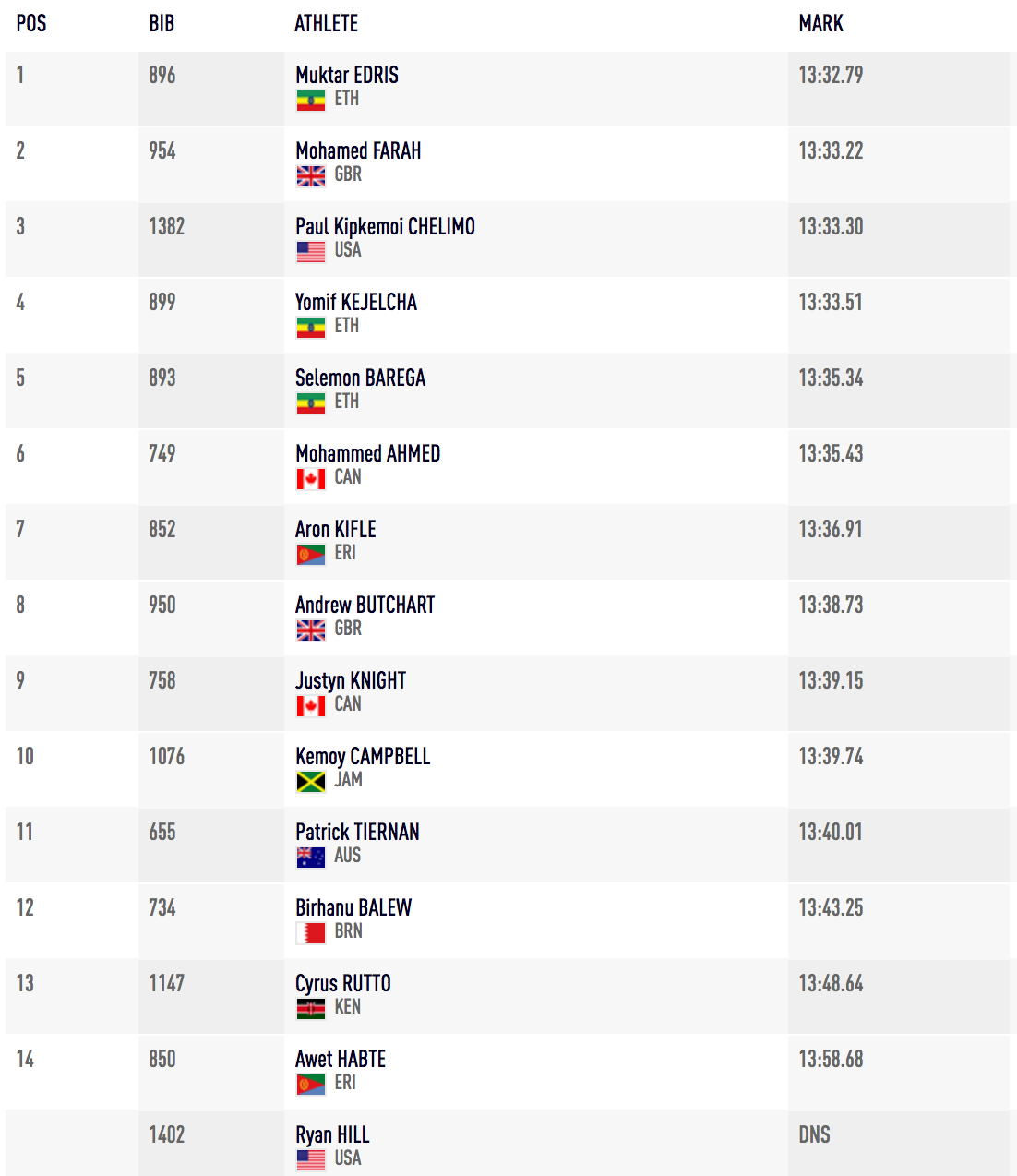 Women's High Jump Final

Americans Inika McPherson and Vashti Cunningham are out at 1.95m and will finish in ninth and tenth, respectively. Meanwhile, we have our first authorized neutral athlete world champion of the week in Maria Lasitskene, who clears 2.03m on the day. The defending world champion from Russia makes three attempts at 2.08m but is not successful.

We've been wondering all week what anthem would be played if a neutral athlete won. Hopefully they televise the award ceremony so we can finally find out...

[UPDATE: they're playing the IAAF anthem during the medal ceremony. I was hoping for some Despacito. Oh well.]

Yuliia Levchenko of Ukraine sets a PB of 2.01m for silver and bronze goes to Kamila Licwinko of Poland, who clears 1.99m.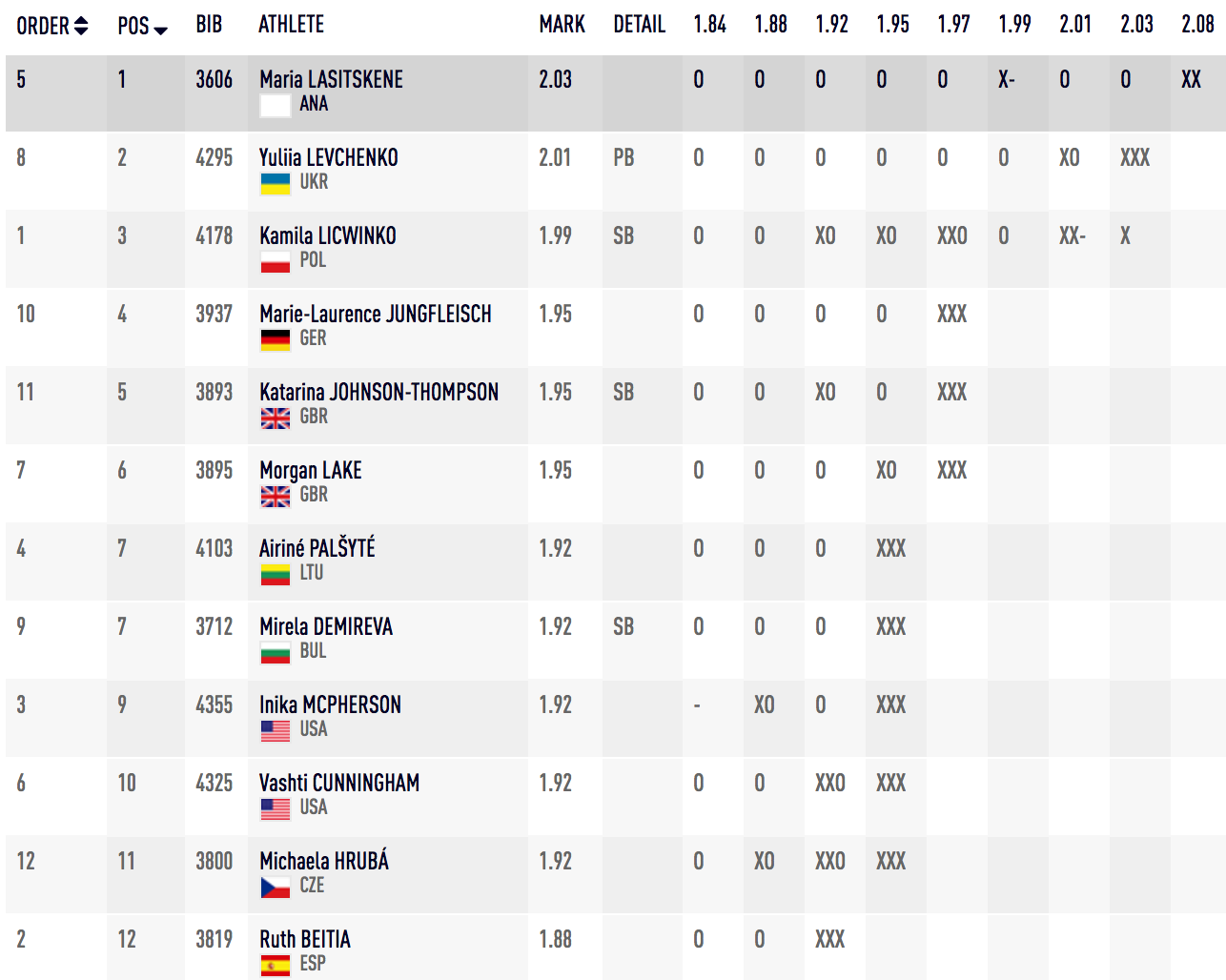 Men's Decathlon 1500m


There's only one American left in NCAA champion Devon Williams of the University of Georgia, who currently sits in ninth place with 7,411 points.

Decathlon standings prior to 1500m: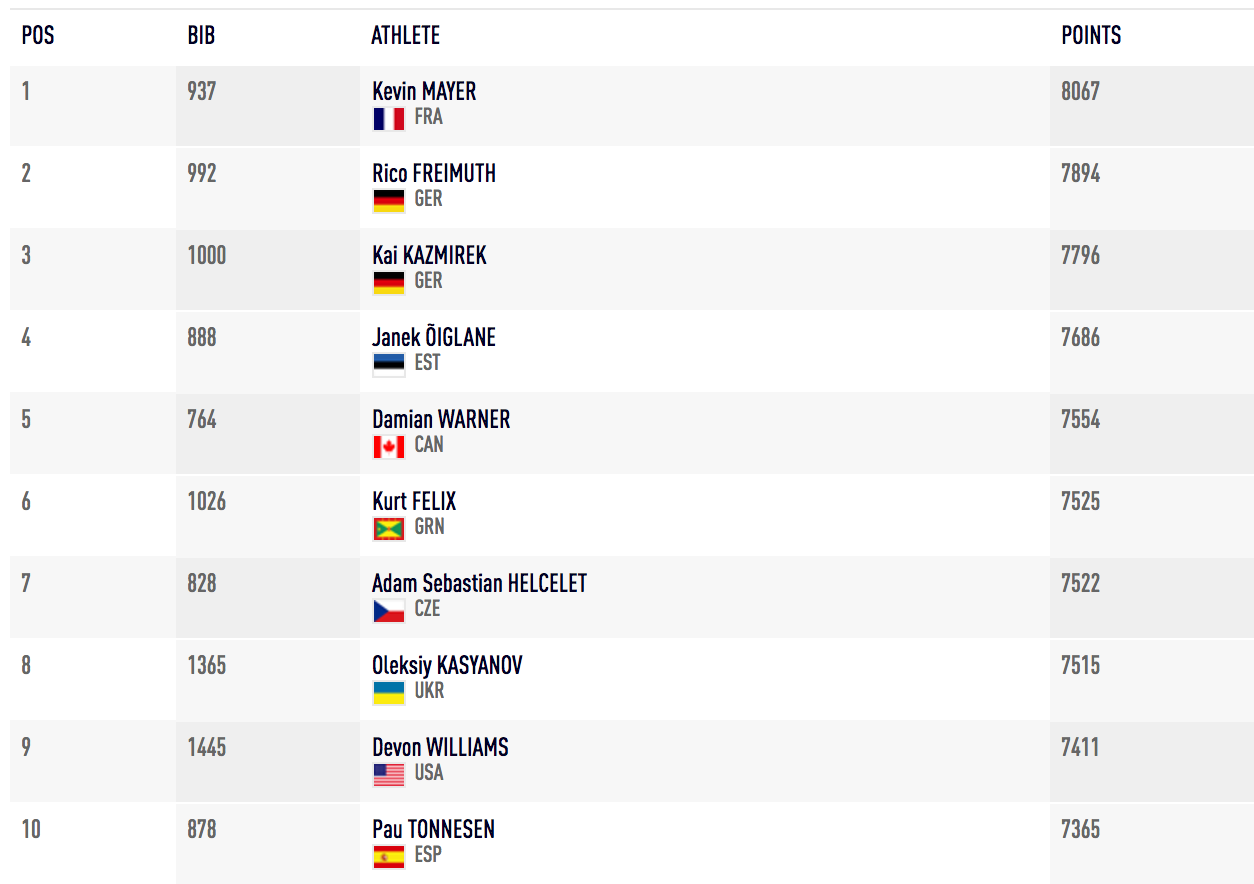 Nakamura of Japan runs 4:22.62 for the win and the top five placements are not affected. Devon Williams drops down to tenth overall with his 4:40.5 effort.

1500m results: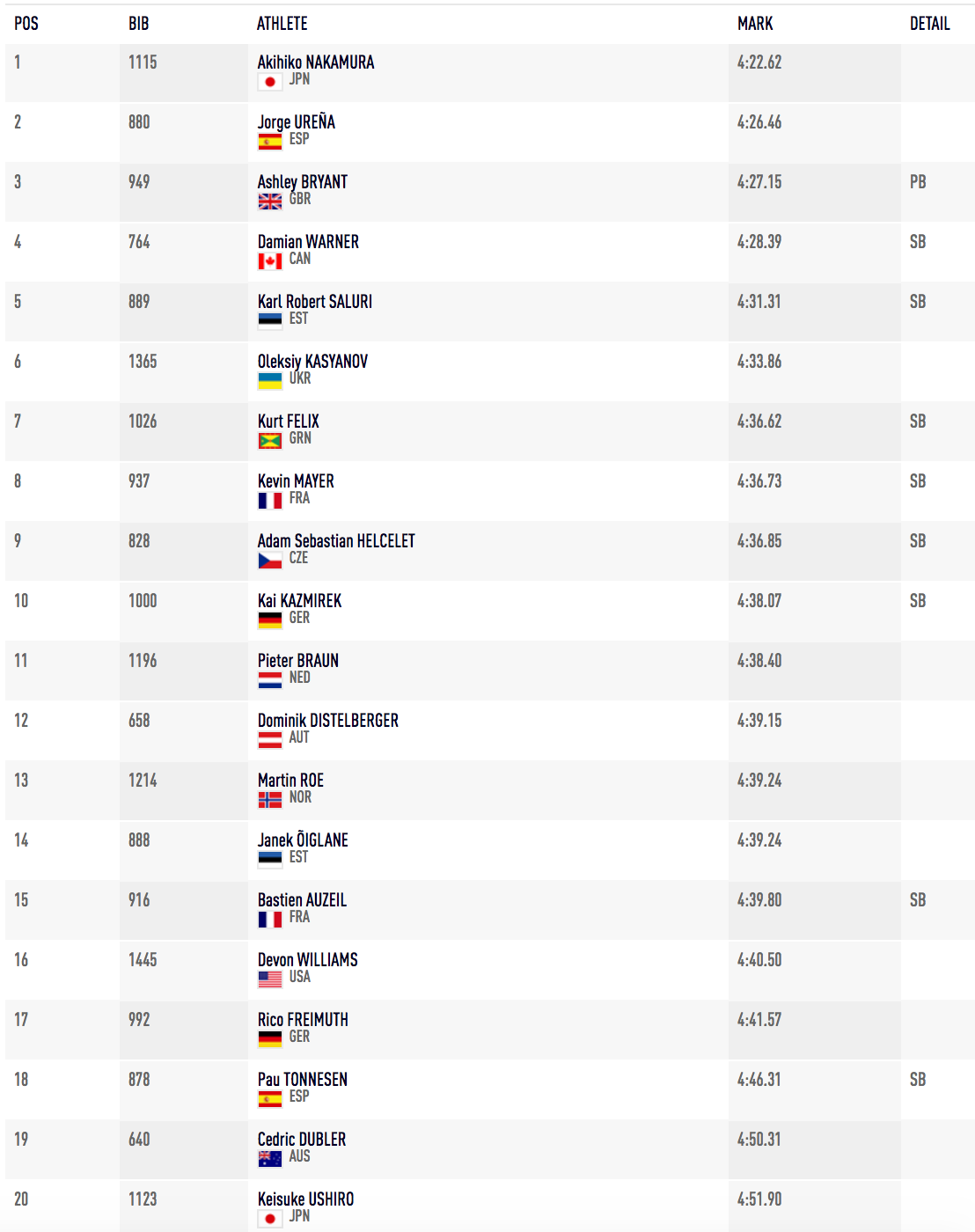 With the retirement of Ashton Eaton, Kevin Mayer of France steps up as the newest "world's greatest athlete."

To the IAAF, Mayer says, "I'm so, so tired. I just wanted to say that you are the most amazing public of all the world, and I thank you for that, very very much."

Final results of the men's decathlon: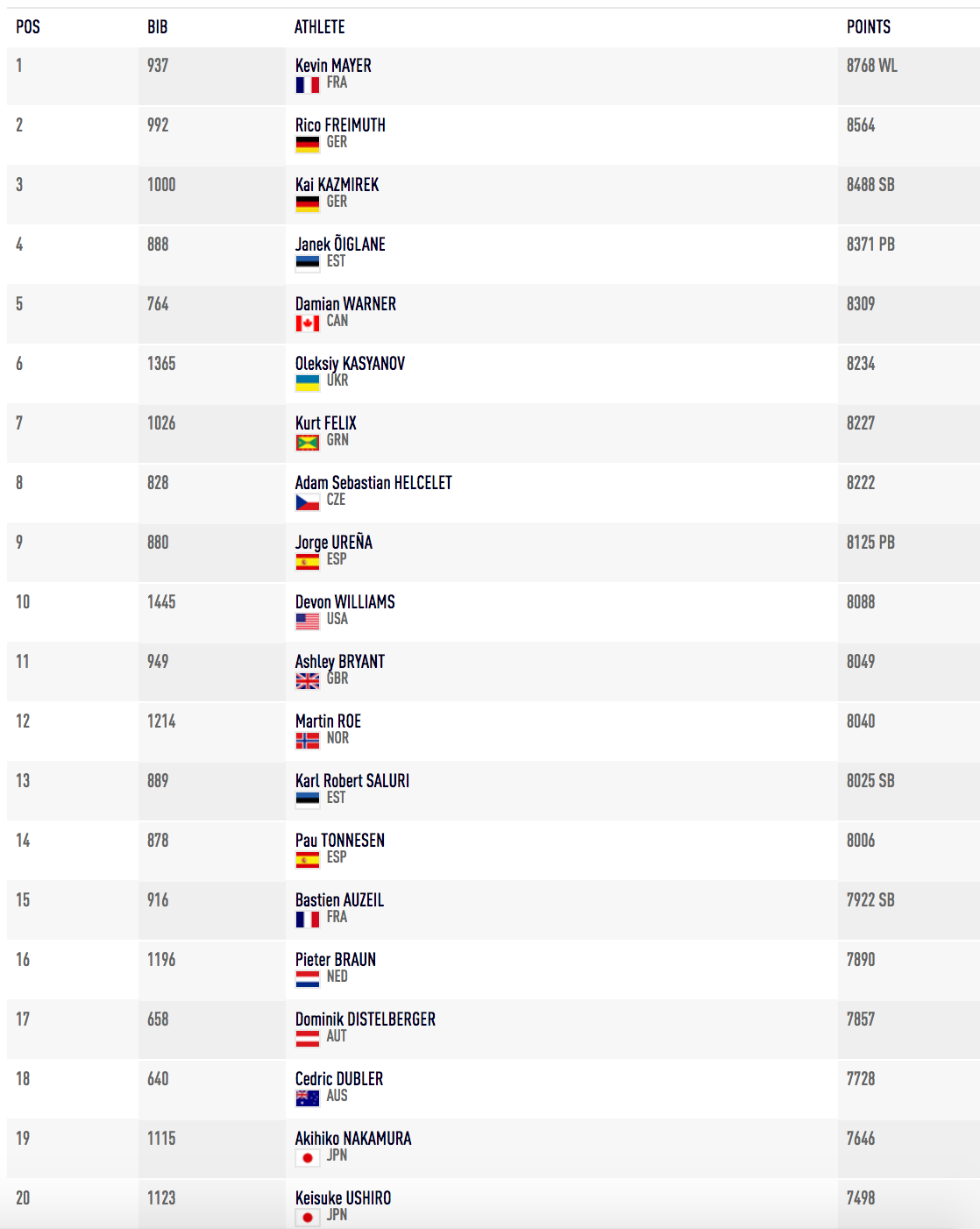 Men's Javelin Finals

There's no Americans in the final but this should still be an exciting event, as Germany's dynamic duo of Johannes Vetter and Thomas Röhler have battled each other all year and rank only behind world record holder Jan Zelezny on the all-time performer list. I wrote this sort of ridiculous article earlier this summer claiming that one of the two could break Zelezny's 11-year-old world record.

After three attempts, Vetter leads the competition with a best mark of 89.89m from his first throw. Jakub Vadlejch of the Czech Republic sits in second place with a personal best mark of 89.73m and Röhler, the reigning Olympic champion, sits in third with a best of 88.26m. He fouls on his third attempt. Defending world champion Julius Yego of Kenya sits in last place, with a best effort of just 76.29m.

Standings after three attempts: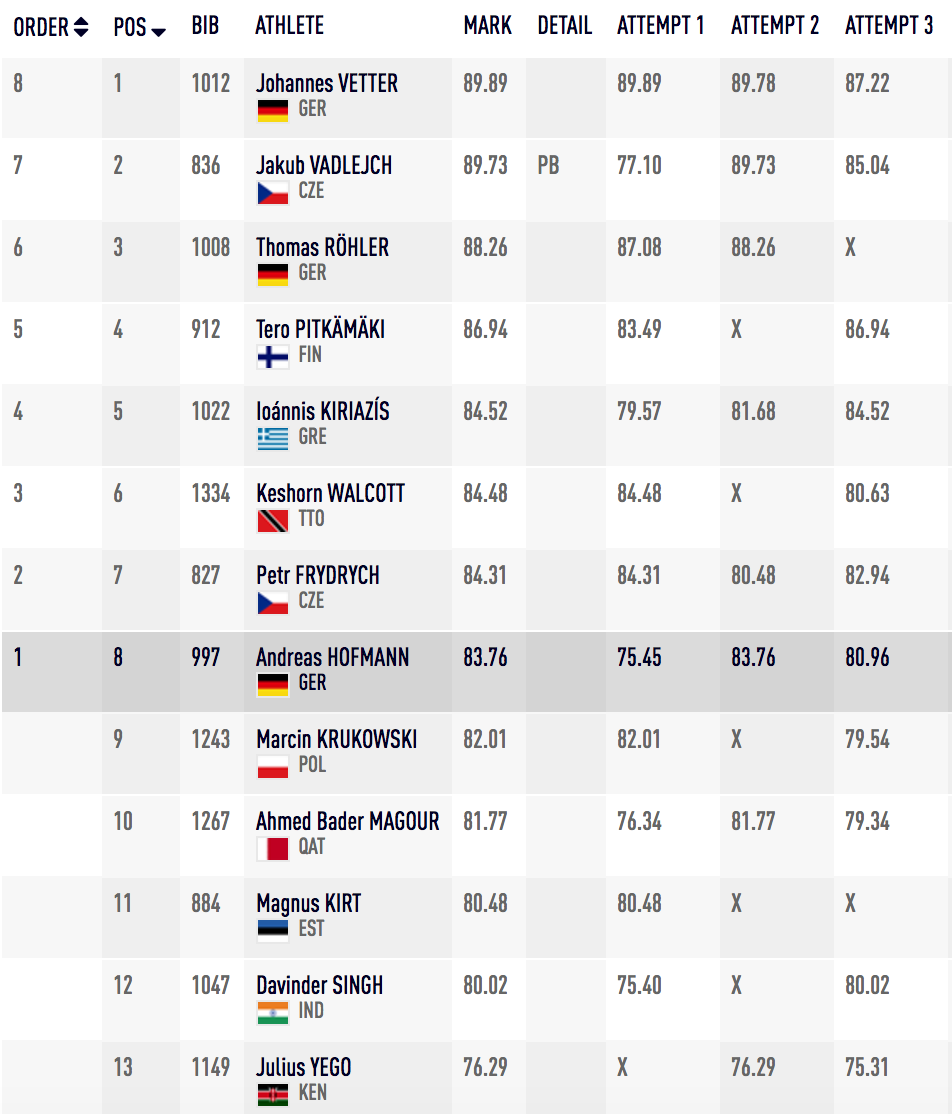 Attempt 4: Vetter, Vadlejch, Röhler are still in the medal positions and none have improved their best mark in the competition. Vetter fouls.

Checking back in here... instead of two Germans on the podium, it's two Czech athletes as Petr Frydrch heaves a massive 88.32m PB on his final attempt to knock Olympic champion Röhler out of the medals. Vetter, fourth in Rio, holds on to his top position and earns gold. Maybe we should have predicted it, based on the tweet below...


Final results: