Hey everyone!

Well, we're currently sitting in the Sea-Tac airport getting ready to head back to Provo after a pretty good weekend here in Seattle. Unfortunately, we're going to be here a little longer than we were planning on. There was a mix up on the itinerary that said our flight out of here was at 7:05 a.m. Apparently it's 10:25. So after getting here at 6 to check in and go through security, we were delighted to find we would be in the airport for four hours. Oh well. I guess now I have some time to let everyone know how the weekend went for us.

We had some really good performances from the guys. Most of us ran indoor bests and those who didn't still competed well. A few of the highlights were Miles Batty's 7:49 in the 3K, Jared Ward running 8:01 in the 3K, Rex Shields running a 4:03 in the mile (not bad for a 10K guy), and freshman Shaquille Walker outkicking Lopez Lomong to break 1:50 for the first time with a 1:49.99. Look out for Shaq in the future. This kid has wheels. His splits were 56.5 and then 53.5. What I'd really like to know is his last 200.

As for my race, I was pleased with the effort. I ran a 1:48.56, which is a new indoor PR and the BYU indoor school record. So as far as that goes, I can't really complain. But I was hoping to go a little faster this weekend. The hard thing was I was forced to lead the race, and I don't really feel that comfortable leading. As we came around the first turn and started to break for the inside, I noticed everyone around me slowing down looking for someone to lead. I knew that was likely to happen. Unless Charles Jock is in the race, people always seem to bunch up and run a slow pace. I didn't want to come to Seattle and just run a 1:50 so I decided to just take it. I didn't set a blazing pace, but I made it respectable. I took it through 400 in 53.8 and led until 200 to go when Mark Wieczorek passed me. I'm glad he did because I really don't feel comfortable leading so I needed someone in front of me to chase. After Wizo passed me, we had a good little race down the final stretch. I came up on him again, but ran out of room and finished five hundredths of a second behind him.

Overall, not a bad race. I feel like I have a lot left in the tank though which is good, because a lot of the other guys in the country flew this weekend! Hats off to them, running that fast so early in the year. It seems that in the past few years the 800 has really taken off in the NCAA and in the US. A few years ago, a 1:48.56 would have gotten me into NCAAs with an auto time. Now I don't think it will even be one of the top 20 times in the country by the end of the season. The progress of the event is really exciting and encouraging moving forward. Hopefully the US will be able to produce some guys to challenge the Africans in the next few Olympics and World Championships.

The races were good, but they never tell the complete story of the trip. You always learn some valuable things on your trips that help for the next time. The first thing we learned is it doesn't matter so much what you eat the night before a race as what you eat the day of. Justin Hedin and I didn't want to go to a sit down place the night before because we would have had to wait forever to get our food and we were hungry. So we voted for Chipotle. The freshmen couldn't believe we would sacrifice eating pasta the night before a race for a Mexican grill. We had to convince them their food would digest before their race the next day. They took some coaxing, but we got them to go along with us. So Chipotle didn't cause any problems, but Cheez-Its do. I was chilling in the hotel before my race reading a book and while I was reading I was munching on some Cheez-Its. I realized after about half an hour that I was kind of full. When I picked up the box I saw that I had eaten almost the full box, just two hours before my race. Not good. I have never thrown up after a race. The only time I have thrown up while running is in the Eggnog Challenge. But right after the race, I spent about 20 minutes leaning over the garbage can, letting those Cheez-Its go. So I'm going to start copying Batty and eating Wheat Thins the day of races instead of Cheez-Its.

A couple funny stories from the trip involved some of the bigger characters on the team. Shaq loves to ask questions. In fact, he never stops asking questions. Some of his questions are like, "If I run a 53 for the first 400 and then just kicked as hard as I could, what do you think my 600 time would be like?" Or, "How fast do you think I could run up that hill?" Or, "Will I be tired about 37 minutes after my race?" Or, "Will you be thirsty in like 40 minutes?" Or, "Do you think I could be that girl (he points to a random girl) in the 3K?" Trust me, the questions never stop. After dinner Friday night, we were getting back to the hotel and all got in the elevator. As we got in, Shaq turns to Hedin and asks him, "Justin, do you think you're brain is smaller than everyone else's?" Now Shaq is 5'10" and weighs 130. Hedin is 6'4" and weighs 185. Hedin gained a reputation last season for being a very aggressive racer. At NCAA indoors last year he passed some guys on the inside and bumped them out of his way. The announcer nicknamed him, "The Bruiser," and said, "He's getting from point A to point B and nobody's getting in his way." Another example was at regionals last year when he dove across the line and may or may not have pulled himself across the finish line. Look for yourself.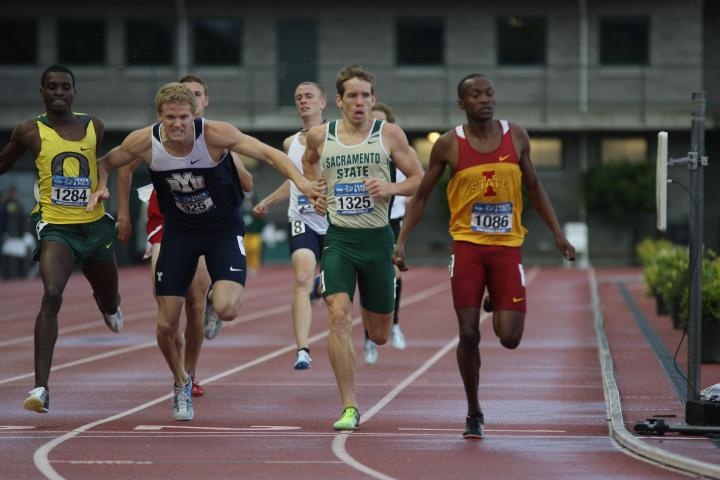 So asking him, "Do you think you're brain is smaller than everyone else's," probably isn't the brightest idea. I tried to hold in the laughter, but I could help it. Luckily Justin just ignored Shaq, or we might not have been able to witness that killer kick in his race the next day. I have a feeling Shaq would struggle in a fight against The Bruiser.

Another funny moment was walking down to the hotel lobby and seeing the picture on the desktop background of the lobby computer. Someone on the team changed the picture to a pic of one of our teammates from his sophomore year of high school. The picture was of Ryan Jones. Now, Jonesey is a good looking guy. He is goofy and awkward at times, but I think the ladies would agree that he's got charm. Take a look for yourself.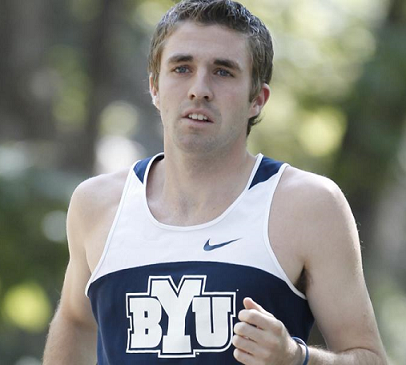 Now look at this picture from his sophomore year of high school that was on the desktop background.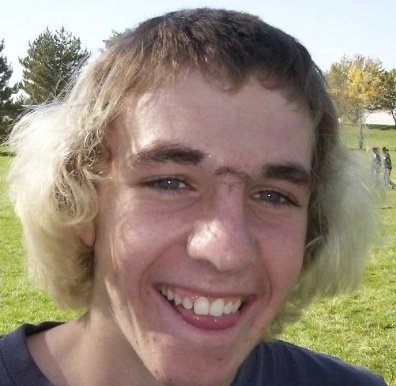 Gross.

Apparently he decided to grow out his unibrow, and then shave it into what he called the "tri-brow." Absolutely disgusting. And I haven't even talked about his hair yet. Why would you do that? When we left the hotel this morning, it was still on the desktop. I hope all of the old women who use the computer gasp every time they see the picture and think, "What are these kids thinking with these new hair styles?"

Next week most of the guys are heading to NYC to run there. A few of us will take the race of, including me and Batty. In two weeks, Batty will is heading to New York to run in the Millrose games and make an attempt at the collegiate record in the mile. We'll all be cheering for you Miles! The rest of us will be back here in Seattle trying to get a little faster, hit those auto marks, and get ready for the NCAA championships!

Until then, here's a shout out to all of the BYU distance guys. Follow all of us on Twitter to hear what's going in our training and hear some of the happenings of Provo.


Ryan Waite - @RyanWaite880
Miles Batty - @MilesBatty
Justin Hedin - @JustinHedin
Shaquille Walker - @ShaqWalk880
Ryan Jones – @RyanBJonesy

Go Cougs!