Johanna Olson and I are kindred spirits.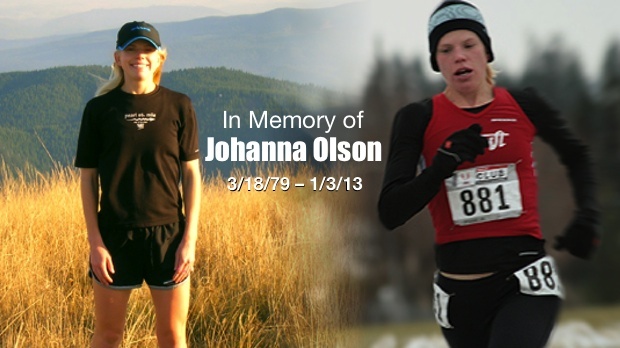 We both grew up in quiet, small towns in west central Minnesota about twenty-five miles apart. Even though she was seven years older than me, I knew who "Johanna Olson from Wadena-Deer Creek" was and looked up to her. We both grew up with a love of running and experienced some small-school successes. The running brought us both to collegiate teams where our promising careers, hers in 1997 as a freshman at Luther College, and mine as a senior at Minnesota in 2009, were wrinkled by discoveries of cancer. Johanna overcame surgery and treatments in 1997 and 1998 to become a two-time NCAA DIII National Champion and seven-time All-American. She went on to compete as an elite marathoner and ran in two US Olympic Marathon Trials. In 2009, when I was first diagnosed, Johanna's cancer returned. After surgery and treatment I became a NCAA DI runner-up and one-time All-American. And after another cancer diagnosis and surgery in 2010, I am still running and competed in my first Olympic Track & Field Trials in June. Johanna also kept running and most recently completed the Twin Cities Marathon in October. We have both been described as fierce. Tough. Determined.
I did not know Johanna personally. And although her story was very near to my heart from the beginning, our somewhat parallel paths unfortunately never crossed. But her positivity and vibrance were palpable from thousands of miles away. Even though Johanna went through much more than I did, I can still relate to her journey. Johanna, like me, knew what it was like to use running as therapy, and how it can be the one thing that makes you feel better -- or normal -- in the face of incredibly daunting news. She also knew that even in her fastest of finishes and highest levels of running success that the running itself, with all its challenges and charms, is the real reward. I am deeply inspired by Johanna's ability to live life to the fullest, and on her own terms, while battling a relentless disease.
Johanna's time here ended yesterday. And as I continue on this uncertain journey and trust in God's plan for my life, I hope I have even the smallest amount of 'Johanna' in me to love, live -- and run -- with unbridled hope for the future and the fearlessness to keep dreaming, just as she did.
Thank you, Johanna, for sharing your light and love with the world.
Johanna's Blog:
http://johannaolson.blogspot.com/
More on Johanna's story:
http://www.savejohannasbrain.com/blog/index.html
http://www.luther.edu/sports/headlines/?story_id=430192
http://m.startribune.com/sports/?id=172390871&c=y