Link to Info for ALL Conferences!

There's something special about championship season. The fact that years of work, sacrifice, and hope comes down to a single moment can unnerve most athletes. Some succumb to the pressure while others rise to the occasion. You'll remember your teammates, the course, the volumes of stories that can be told by just looking at your coach's face before the results are validated.

But championship season is a curious case for another more scientific reason. Apparently, late October and early November mornings do not obey the laws of thermodynamics.

When your team meets in the middle of an otherwise deserted grass field minutes before the starting gun, there's an anxious electricity in the air. With the exception of soft breathes of air, this dreadfully loud silence manages to slow down one's perception of time.

It's not chronostasis, but that would explain why the clock in every classroom you've ever sat in seems to slow down whenever you take a look up from a doodled notebook.

The sound of one faux-gunshot snaps everyone back to reality. It's time to show the worth of all that work, suffering, hope.



The most inspirational speech, ever

Conference weekend is the culmination of the season for some teams and the beginning of the postseason for others. Actually, those two qualifiers aren't even mutually exclusive. That's what cross country is all about.

What's the best men's race in the NCAA: Big 12s or Pac-12s

Big 12s

This race is being billed as a potential bloodbath. Ten teams enter, but only one will leave (well, not really). #1 Oklahoma State is the favorite going into the race, but they've still yet to run all-out. They ran as a pack at the Cowboy Jamboree and slowed it down after 400m at the Chile Pepper Invitational, so their full fitness is still unknown. They'll have to exert a much greater effort if they want to defend their conference title against #6 Oklahoma, #7 Texas, #25 Iowa State, and #30 Kansas.

#6 Oklahoma is looking to bounce back after a disappointing performance at the Wisconsin adidas Invitational. The Sooners were leading through 6k, but faltered in the last stage of the race to finish third with 166 points (23:53 team average).

The #7 Texas Longhorns are also looking to get back up from their race in Wisconsin. At least three Longhorns fell on the crowded course in Madison, which caused them to drop back to a distant fourth as a team. They finished with 267 points and a team average of 23:59.

Edit: In the commotion, we forgot to mention the other important individual in the race. Kennedy Kithuka from Texas Tech, who has run arguably the most impressive race so far this season, will attempt to capture his first Big 12 title.

The Oklahoma State men tested Kithuka at the Chile Pepper Invitational by going out far too quick for the first 400m. But when the Cowboys backed off the pace, Kithuka continued on ahead and did not look back.

While he let him go at Chile Pepper, Girma Mecheso is reportedly very fit and could challenge Kithuka if he's let off the chain this weekend.

Who to watch:
Individuals: Everyone on Oklahoma State, Patrick Casey (Oklahoma), Craig Lutz (Texas)
Teams: #1 Oklahoma State, #6 Oklahoma, #7 Texas, #25 Iowa State, #30 Kansas

Pac-12s

While Big 12s boasts three of the seven top ranked teams in the nation, Pac-12s has three in the top eight. We'll be able to see #2 Colorado duke it out with #3 Stanford and #8 Oregon in the beautiful Santa Clarita, CA.

Colorado opened the pen gates and left the Buffaloes run wild at the Pre-National Invitational. #2 Colorado had their top seven in the top thirty-five , averaged 23:29.30 for 8k, and scored 72 points to second place BYU's 127.

If you scored their #6 and #7 runners instead of their #4 and #5 guys, they still would have won. Even still, Joe Bosshard and Ammar Moussa did not run.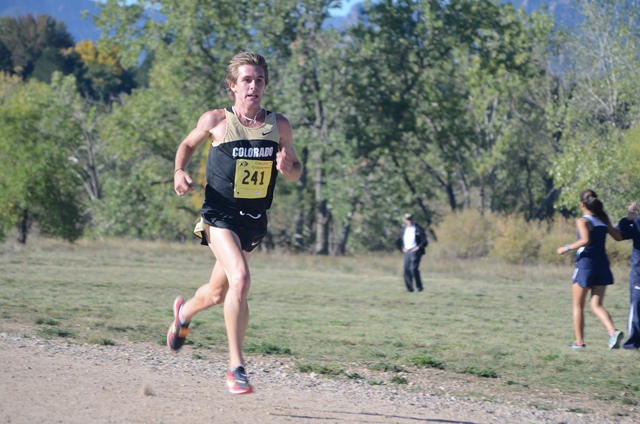 Jake Hurysz will have more company this weekend

They'll be challenged by another team who have quickly risen through the national ranks in Stanford. The #3 Stanford looked questionable at their home invitational when they just beat out Adams State 34 to 40, but that was not the case in Wisconsin. The Cardinals closed down in the last 2k in Madison to come away with the team title.

Their total score of 135 points and 23:50 team average was attributed to a 16-second spread from Jim Rosa (#1) to Benjamin Johnson (#5).

Even without a clear number one runner, Stanford seems to be able to make pack running work even when facing top teams.

#8 Oregon also beginning to make strides at the perfect time of the season. While they were well-handled by BYU at the Bill Dellinger Invitational, they closed the gap on the Cougars at Pre-Nats. Even though the Ducks lost 127 to 152, there are more positives to take away.

At Bill Dellinger, BYU put ten guys in front of Oregon's #5 (BYU put six in front of Oregon's fifth at Pre-Nats). At Bill Dellinger, BYU had a team average of 23:54 compared to Oregon's 24:00 (Oregon actually had the faster team average at Pre-Nats with 23:45.36 compared to BYU's 23:46.92).

This brings us to another point: What if cross country was scored via total team time and not points? This would better reward guys who run the fastest time of the day, but only receive one point for their effort. Just a thought.

If the team race wasn't enough for you, the Arizona duo of Lawi Lalang and Stephen Sambu will be there.

Who to watch:
Individuals: Jake Hurysz (Colorado), the Rosa Twins (Stanford), Trevor Dunbar (Oregon), Lawi Lalang (Arizona), Stephen Sambu (Arizona)
Teams: #2 Colorado, #3 Stanford, #8 Oregon, #15 UCLA, ASU, Washington, WSU, Arizona, Cal


The Best Preview for Nationals: The women's Pac-12 championship

Pac-12s

If watching four of the six top women's teams in the nation duke it out for the Pac-12 title isn't enough, you'll have to wait until nationals to add Florida State and Iowa State to that mix. #3 Oregon, #4 Stanford, #5 Arizona, and #6 Washington finally all go head-to-head in what should be one of the best conference races of the weekend.

The national coaches' poll is almost too perfect. Sometimes math is crazy.

The #3 Oregon Ducks look to regain the Pac-12 title after losing out to Colorado last year. Oregon has been on the rise since their debut at the Bill Dellinger Invitational due to help from "new" and old faces. So far this season, Alexi Pappas has lead the Ducks to a first place finish at Bill Dellinger and a second place finish at Pre-Nats.

Freshman trio Allie Woodward, Annie Leblanc, and Abby Leonardi have certainly helped solidify the Ducks for the next few years. They were the Ducks' number three, four, and seven runners at Pre-Nats.

The most important catalyst to Oregon's success is Jordan Hasay. We're used to seeing her vie for the individual title in most races, but she's been a bit lackluster so far this season.

While her fifth place finish at Pre-Nats is much improved performance compared to what happened at Bill Dellinger, there is more in the tank for Hasay. Last year, Hasay took third at Pac-12s but took second at Nationals. Don't lose faith.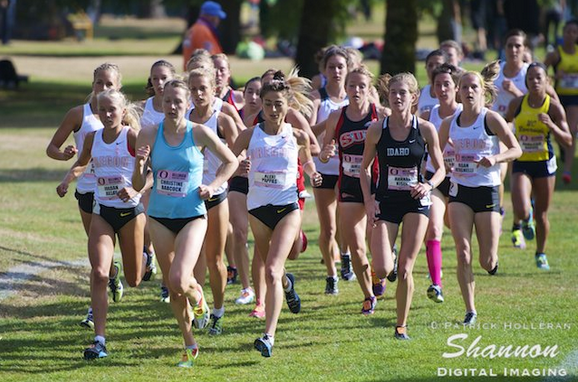 #4 Stanford was well-ahead of #5 Arizona at Wisconsin, but they shouldn't be looked behind them at Pac-12s. The only way they'll be able to catch Oregon is if someone can step up into that all-important fifth position. Right now, that person looks to be Marissa Ferrante.

Here are the results from Wisconsin:

  1      5  Kathy Kroeger        SR   19:46

  2     14  Cayla Hatton         FR   20:02

  3     18  Jessica Tonn         JR   20:05

  4     25  Aisling Cuffe        SO   20:08

  5    119  Marissa Ferrante     JR   20:55
Stanford is very similar to #2 Iowa State. If cross country meets only scored the first four runners, Iowa State and Stanford would have tied at Wisconsin with 62 points. But in reality, that's not the case.
#5 Arizona have had #6 Washington's number so far this season. Arizona beat Washington at both the Greater Louisville Classic (71 to 80 points) and at Pre-Nats (242 to 252 points). They've looked strong behind Elvin Kibet so far this season. Kibet took first at Louisville in 16:51.71 and seventh at Wisconsin in 19:53.
There have been some musical chairs in Arizona's team order, but it looks like it's been settled after Wisconsin. Seniors Jennifer Bergman and Elizabeth Apgar should follow behind Kibet after finishing 23rd and 46th respectively at Wisconsin.
The most important question is whether Apgar will be included in the results this time.
The most peculiar team in the group is the #6 Washington women. The Huskies only lost one runner (Christine Babcock, who is running very well at the moment) from their second place finish at Nationals from last year.
So what's going on in 2012?
The Huskies finished second behind Arizona at Louisville and fourth behind Iowa State, Stanford, and Arizona at Wisconsin.
The rationale behind this is twofold: Washington loves to catch their stride late in the season (rightfully so) and they're without All-American and Stashies at Nashies Champion Megan Goethals. Reports are that Goethals was on crutches earlier this season and has now returned to training. If she's healthy, she'll be a big help come Pac-12s. If not, she'll hopefully be ready in time for Nationals (assuming Washington makes the meet. Should this even be a question?).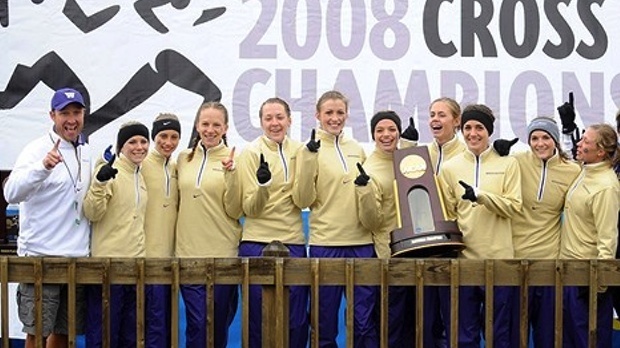 Not featured: Anyone on the 2012 Washington Huskies
#21 Colorado are the defending champions, but it will take a lot for them to repeat.
Who to watch:
Individuals: Jordan Hasay (Oregon), Alexi Pappas (Oregon), Kathy Kroeger (Stanford), Cayla Hatton (Stanford), Katie Flood (Washington)
Teams: #3 Oregon, #4 Stanford, #5 Arizona, #6 Washington, #21 Colorado, #24 UCLA, ASU, Cal


The Mysterious Ones: Big East, ACCs, and Big 10

Big East
The last three women's national champions have come from the Big East. Villanova earned that honor in 2009 and defended their title in 2010. Last season, Georgetown managed to walk with the the trophy. However, this year may be weakest link on the ongoing chain of national championships.
One year later, the story is the same but the Big East is a bit different. The title race is between #9 Georgetown, #10 Providence, and #22 Villanova.
#9 Georgetown took second at the 2011 Big East Championship, but won Nationals a month later. It's a common trend for top teams, but the Hoyas have had a slow start to this season as well. They took 3rd while handicapped at Paul Short and then 4th (still handicapped) at Pre-Nationals.
Mystery: Where's Emily Jones?

#10 Providence was the team Dark Horse pick in the first release of the FloAwards and they are living up to their name. The Friars were sixth at both the Paul Short Run and the Wisconsin adidas Invitational. Freshman Sarah Collins has been wonderful for the Friars as she's lead the team in both races.
Mystery: Is Emily Sisson healthy? The All-American has been absent all season. Will we see her debut as the Big East Championship?

Who to watch:
Individuals: Sarah Collins (Providence), Emily Lipari (Villanova), Annamarie Maag (Georgetown)
Teams: #9 Georgetown, #10 Providence, #22 Villanova
,
Notre Dame, Connecticut
ACC
This is a peculiar conference race. Two weekends ago, this was Florida State's race to lose. The Seminoles finished 4th at Pre-Nats with 275 points and a team average of 275. But even after that type of performance, the race was no longer FSU's to lose.
Duke has made it a real battle for the team title. After finishing 5th at the UVA Panorama Farms Invitational, the Blue Devils went into hiding and remerge to take 7th behind FSU at Pre-Nationals. But take their loss at Pre-Nats with a grain of salt - Duke lost to FSU by 12 points with a total team score of 287.

If that wasn't enough, Virginia has been inadvertently flying under the radar. The Cavaliers finished way back in 7th place at Wisconsin, but the results were skewed. UVA held out
Mark Amirault (13:45 5k), Kyle King (13:55 5k) and Chris Foley (14:03 5k). We've been waiting all season for Amirault to make his debut; is ACCs the place?

Mystery: Who's the real deal?
Who to watch:
Teams - #14 Florida State, #18 Duke, #21 Virginia Tech, Virginia, North Carolina, NC Stat

Big 10

The Conference mysteries finally end in East Lansing, MI for the Wisconsin men. After weeks of speculation, Coach Mick Byrne announced that Mo Ahmed and Reed Connor would both run Big 10's this weekend.

This means that Wisconsin will legitimately try and capture their 14th consecutive Big 10 team title. But while the defending national champions were on their sabbatical, other Big 10 teams rose to usurp the top spot in the conference.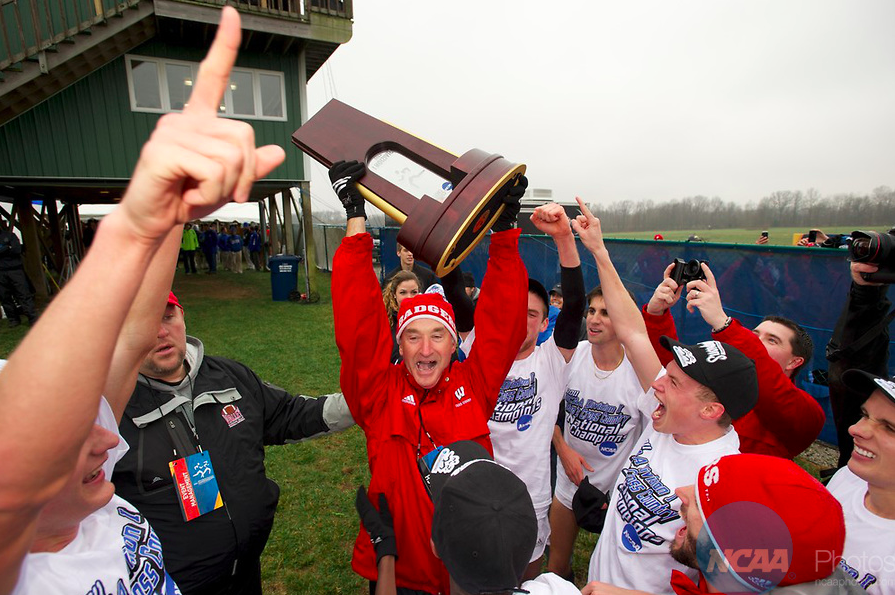 It's still a longshot even with Ahmed and Connor

#11 Michigan look to claim their own conference title and break the Badger's streak. The Wolverines have also gone through a discovery period where they were trying to sort out their travel roster, but the squad appears to be set. Michigan took 7th at Wisconsin with 338 points and a 24:05 team average.

Dan Lowry lead the Big Blue with an impressive 11th place at Wisconsin in 23:37. Show him some love here.

Who to watch:
Individuals: The Wisconsin Top Three (Mo Ahmed, Reed Connor, and Maverick Darling), Dan Lowry (Michigan), Zach Mayhew (Indiana), Andy Bayer (Indiana)
Teams: #11 Michigan, #20 Wisconsin, #24 Indiana

Rapid Fire Conference Preview Action: Ready, GO

Big East (Van Cortlandt)
Men - #16 Syracuse, #25 Villanova, #27 Georgetown, Notre Dame, Cincinnati

The Big East title will provide some consolation for one of these teams who have been slipping in the national coaches' poll. At Wisconsin, Syracuse finished 11th and Notre Dame finished a disappointing 26th. Over at Pre-Nats, Villanova and Georgetown went 8th and 9th respectively.

Watch out for Jeremy Rae (Notre Dame), Mark Dennin (Georgetown), Ernest Kibet (Louisville).

Southeastern Conference (Nashville, TN)
Men - #9 Arkansas, #28 Georgia, #29 Texas A&M, Florida
Women - #12 Arkansas, #28 Vanderbilt, #30 Florida, Georgia, Miss, Alabama, Tennesee, Miss St

It's the Arkansas show, featuring Henry Lelei from Texas A&M.

Atlantic Coast Conference (Blacksburg, VA)
Women - #1 Florida State, #11 Duke, #26 Boston College, NC State, North Carolina, UVA, Clemson

Is first and second a lock at ACCs? Florida State is the obvious pick for the winner (we went out on a limb here), but is Duke an equal lock? The Blue Devils took 7th behind Juliet Bottoroff at Wisconsin. Also, don't sleep on Lianne Farber from North Carolina. The sophomore took 17th as an individual at Wisconsin.

America East Conference (Durham, NH)
Men - Albany
Women - Stony Brook, New Hampshire, Vermont

The absence of Boston University opens the door for Albany.

Atlantic-10 Conference (Philadelphia, PA)
Men - Butler, La Salle, Saint Joseph's, Duqesne, Temple, Richmond
Women - La Salle, Duqesne, Saint Joseph's, George Washington

If I were a betting man, and I am, I would not place a bet on A-10s. This should be a great battle in both the men's and women's races. However, the men might want to concede the team title to Richmond to give them a last hurrah and maybe stick certain finger to their administration.

Big 12 Conference (Austin, TX)
Women - #2 Iowa State, #14 Texas, #27 Oklahoma State

Easy win for the Cyclones in the women's Big 12 championship race. The Texas women should pick up a well deserved but distant second.

CAA (Boston, MA)
Men - William and Mary, George Mason
Women - #18 William and Mary, James Madison, Delaware

While the William and Mary men have done 12 consecutive CAA team titles, JMU has won the last two on for the women. This year, it looks like it'll be another W&M sweep.

Ivy League Heps (Princeton, NJ)
Men - #10 Columbia, #23 Princeton
Women - #7 Cornell, #22 Yale

Perhaps the most intense conference championship race in the NCAA will be decided in Princeton, NJ. Hopefully the weather will be a bit better than last year. Both Columbia and Princeton have had incredible seasons so far this fall and look to continue that trend at Heps.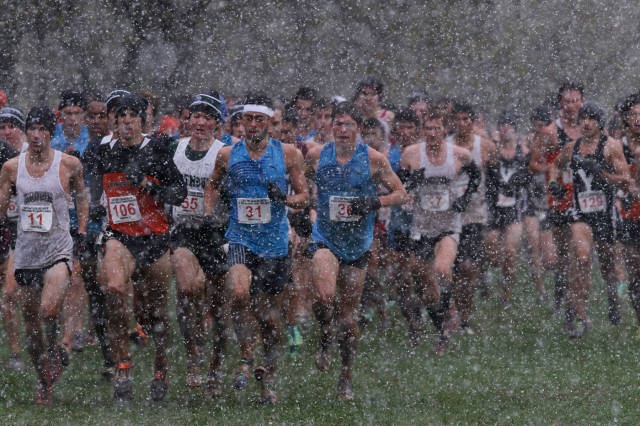 Two ends of the spectrum for Kyle Merber: Snow in Princeton or the heat in Texas

Mid-Eastern Athletic Conference (Princess Anne, MD)
Men - Norfolk State
Women - Hampton

Metro Atlantic Conference (Lake Buena Vista, FL)
Men - #4 Iona, Marist
Women - Iona

Iona look to complete the double while on vacation in Florida.

Northeast Conference (Smithfield, RI)
Men - Central Connecticut State
Women - Quinnipiac and Sacred Heart

Both the Central Connecticut State men and Quinnipiac women have won the NEC titles for the past three years. Based on this year's results, it looks like history will repeat itself.

Patriot League (Hamilton, NY)
Men - Lehigh, Navy, Bucknell, American
Women - Navy, Bucknell

Although Navy will want to repeat as the champions in both races, Lehigh may change those plans. The Mountain Hawks finished 24th among the nation's best at Pre-Nationals and should have the confidence that they can win the team title this weekend. Tyler Mueller should be noted for his 54th place finish in 24:05 at Pre-Nats.

Big 10 Conference (East Lansing, MI)
Women - #7 Michigan, #13 Penn State, #15 Michigan State, #25 Minnesota

Michigan earned their #7 rank with an impressive 3rd place finish at Pre-Nationals. Over in Wisconsin, Penn State and Michigan State finished 8th and 9th respectively.

Big West (Riverside, CA)
Men - Cal Poly, UC Santa Barbara, UC Irvine
Women - UC Davis, Cal Poly, UC Santa Barbara

Laura Hollander returns to action as she tries to capture her first Big West Cross Country title. Cal Poly could sweep both races, but they'll face stiff competition from UC Davis on the women's side.

Mountain West
Men - #12 New Mexico, Air Force
Women - #17 New Mexico, Air Force, Colorado State

Easy wins for New Mexico. Sean Stam and Josephine Moultrie lead the way for the Lobos. Rumor has it that there may be Stashie previews...

West Coast Conference
Men - #5 BYU, #17 Portland
Women - #31 San Francisco, BYU

The men's WCC team title will feature an awesome duel between BYU and Portland. At the beginning of the season, BYU looked like a championship caliber team, but they've underperformed in that regard. Will Rex Shields return for the Cougars? The Pilots also had high hopes at the start of the season, but finished a disappointing 12th in Wisconsin.

Conference USA
Men - #19 Tulsa, UTEP
Women - Tulsa, SMU

The Tulsa men picked up a huge win in Notre Dame earlier this season and finished 7th at Pre-Nats where they averaged 24:07. They're hoping to run that course again at Nationals.

However, Tulsa sat out their top runner and new cross country runner extraordinaire Chris O'Hare. If he runs, he'll be challenged by cross country newcommer Anthony Rotich, who won Pre-Nats.

Championship season is the most wonderful time of the year. It's not only an opportunity to seek revenge from last year, showcase your improved fitness, or continue your winning team's winning tradition - it's a time to show your mustache.

Shave those beards, run fast, win titles, and remember - this is what cross country is all about.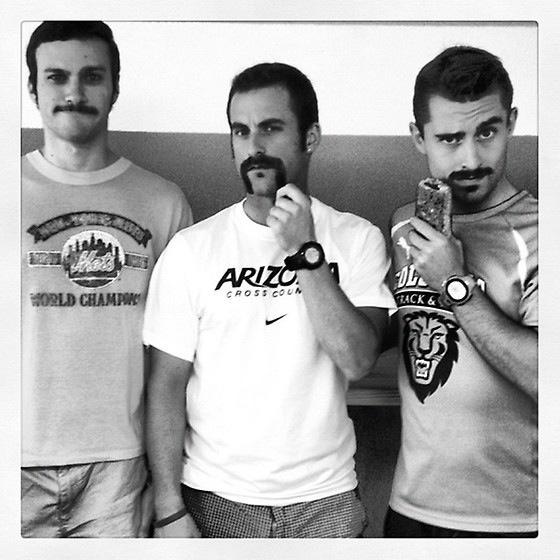 Updated on May 13, 2013, 3:20am