Weekend Results

College is a time of transition for many students. It's the first period in one's life where he or she has total independence and self-sufficiency. Although initially terrifying for some, college is one of the best, if not the best, four (plus or minus) years of your life.

Through experience and maturation, there are some rules that every student comes to accept. Actually, these "rules" are more "universal laws," like Newton's Law of Universal Gravitation or the moment you need something extremely important, it'll go missing (Murphy's Law. Not to be confused with Muphry's Law).

Excluding championship season, this Friday and Saturday was the most exciting and captivating cross country racing weekend of the year. Teams had one of two choices to make this weekend (well, three if you count the Chile Pepper Invitational): race at the Wisconsin adidas Invitational in Madison, WI or the Pre-National Invitational in Louisville, KY.

It's simply a matter of what each team needed to accomplish before entering conference weekend. Do they need points for the Kolas Calculator? Have they raced on the course for Nationals? Do they want to skip the suspense and race their competition now? Since the teams attending each meet were comparable (Wisconsin had the better field), the decision was simple (Occam's Razor is a stretch).

Although there were only two races, the results were unbelievable. I'm not talking the literal race results, but the implications that arose from what had transpired in less than an hour at each location. Almost everything we knew about cross country is a lie and it's going to make for one crazy finish in November.

There are Four Laws of College that were cited this weekend. Certainly, there were more than four that were quoted (I'm looking at you, guy who just said "I'm Never Drinking Again), but these are the four that pertain to what we hold near and dear: cross country.

Embrace Freshman Year

When mom and dad drive away, everything changes. You're now in charge of your own studies, habits, and life. Make the most of it. Embrace this precious gift of freshman year.

Freshmen get a bad rap for their naivete. Though it is usually warranted, sometimes freshmen can produce things so beyond their limited experience, one has to wonder if they're even freshmen at all.

It's unusual for freshmen to be an integral component of any cross country team. Their expectations are to usually finish the season, gain valuable experience, and try to not embarrass themselves.

This freshman class is the exact opposite. Without freshmen, the results from weekend would have been a lot different. Listed below are all the top freshman finishers from Wisconsin and Pre-Nats.

Freshmen at Wisconsin

Men (Note: no freshmen in the top five until the 8th place team)
| | | | |
| --- | --- | --- | --- |
| Place on Team | Name | School | Place at Meet |
| #2 | Futsum Zienasellassie | NAU | 33 |
| #5 | Elmar Engholm | New Mexico | 140 |

Women

| | | | |
| --- | --- | --- | --- |
| Place on Team | Name | School | Place at Meet |
| #1 | Laura Hollander | Cal Poly | 1 |
| #1 | Sarah Collins | Providence | 6 |
| #2 | Cayla Hatton | Stanford | 14 |
| #3 | Crystal Nelson | Iowa State | 26 |
| #2 | Kelly Lakowske | Duke | 50 |
| #1 | Elena Burkard | San Francisco | 52 |
| #1 | Natalie Shields | BYU | 54 |
| #3 | Hannah Jumper | Vanderbilt | 59 |
| #3 | Molly Seidel | Notre Dame | 78 |
Freshmen at Pre-Nats

Men

| | | | |
| --- | --- | --- | --- |
| Place on Team | Name | School | Place at Meet |
| #1 | Anthony Rotich | UTEP | 1 |
| #1 | Ernest Kibet | Louisville | 18 |
| #4 | Pierce Murphy | Colorado | 22 |
| #2 | Elphas Maiyo | UTEP | 31 |
| #1 | John Mascari | Indiana State | 34 |
| #7 | Connor Winter | Colorado | 35 |
| #2 | Robert Denault | Villanova | 53 |
| #3 | Jordan Williamsz | Villanova | 57 |
| #6 | Matt Melancon | Oregon | 65 |
| #2 | Japhet Kipkoech | Louisville | 67 |
| #2 | Darren Fahy | Georgetown | 70 |

Women

| | | | |
| --- | --- | --- | --- |
| Place on Team | Name | School | Place at Meet |
| #3 | Allie Woodward | Oregon | 18 |
| #1 | Emily Stites | William and Mary | 19 |
| #4 | Annie Leblanc | Oregon | 27 |
| #2 | Carrie Verdon | Colorado | 37 |
| #7 | Abby Leonardi | Oregon | 52 |
| #6 | Shannon Osika | Michigan | 56 |
| #6 | Georgia Peel | FSU | 63 |
| #3 | Meghan McGovern | William and Mary | 71 |
Some freshmen lead their team, while others added necessary depth to the team's roster. If you were thinking that Oregon may not be as strong in the next few years because they're graduating an incredible senior class, look again. Allie Woodward, Annie Leblanc, and Abby Leonardi were in the top seven for a team that nearly dethroned the #1 team in the nation.

Laura Hollander

In the past, the winner of the Wisconsin adidas Invitational has needed no introduction. That accolade has consisted of perennial powerhouses, national champions, and the who's who of what's what in cross country. But in a matter of 19 minutes and 33 seconds, everything we know about cross country changed. NCAA, meet Laura Hollander.

Hollander ran for Marina High School in Huntington Beach, CA. She placed 27th at Nike Cross Nationals and took second at the Arcadia Invitational in 10:10.51. She now attends California Polytechnic State University (Cal Poly).

When you first watch the race video, the storyline is one that we've seen time and time again. An unexperienced or overly confident athlete takes the lead early on in a race only to fade later in the race and stagger across the line.

That's not what happened in Wisconsin. There are uncanny similarities between this race and the 1981 Oslo Dream 1500m. If you've never seen this race, I urge you to spend four minutes watching something that rarely unfolds in the professional racing circuit.

If you chose to not watch the race, the pacemaker won one of the most prestigious middle-distance races in track and field. Tom Byers beat a field that included world record holders, Olympic Champions, and the best milers in the world.

The difference between Byers and Hollander is that Hollander meant to win. The rest of the field in Oslo lets Byers escape because they thought that he was going to drop out because he wasn't supposed to finish. But they let him get away and Byers picked up the most historic win of his career.

It's been said before, but athletes that run records have two mindsets during the race. They either set out to run the perfect pace to break a record because they are confident that they can do what no other athlete has done before, or they don't care for the records and accidentally break the barrier.

Yelena Isinbayeva was known for her incremental world record vaults. When Kyle Merber ran a personal best of seven seconds and set the American collegiate record for 1500m, he said, "I don't know what happened... I just didn't get tired."

Hollander is in the latter category. In her interview, she talks about how she threw her prescribed race strategy to the wind when she felt good early on in the race. She not only lead from the start, but was clear from the field early on.

While her win is impressive in its own right, the manner in which she won is mind-boggling. The former course record was 19:59.4, set by the two-time cross country national champion, Sheila Reid. Reid has run 15:23.64 for 5k, which is 4:57 mile pace. Again, Hollander's two mile personal best is 10:10.

When she set the course record, Reid ran 10:32 for the first 3k and closed in 9:27. Hollander went out 32-seconds faster in 10:00 and closed in 9:33. That's about equivalent to her two mile personal best en route to 6k.

If you're wondering how this happened, a quick glance at Hollander's progression should answer some questions. She's clearly found something that works (from Letsrun.com):

800m
2011 Outdoor - 2:32.10a
2012 Outdoor - 2:24.30a

1600m
2011 Outdoor - 5:17.76a
2012 Outdoor - 4:48.86a

3200m
2011 Outdoor - 11:29.51a
2012 Outdoor - 10:10.51a

If that's not enough, here are some the accolades of the other finishers in the race:

Betsy Saina - 9th in 2012 XC, National Champ Indoor 5k, 31:15.97 10k PR (*better than current collegiate record of 31:18, but she was redshirting)
Amber Henry - All-American 3k steeple
Meaghan Nelson - 17th in 2012 XC, All-American at the indoor 5k, 4th in the 10k
Kathy Kroeger - 21st in 2012 XC, 6-time All-American
Elvin Kibet - 6th place indoor 5k, 11th at 5k outdoors, 8th at 10k outdoors
Juliet Bottorff - 2011 NCAA 10k champion

Laura Hollander just does not give a darn (warning: language).

Anthony Rotich

Not to be lost in the mix is Anthony Rotich of UTEP. Rotich won Pre-Nats over a studded men's field, which also included individuals who are expected to challenge for those top spots at Nationals. In our meet preview, we said that Paul Chelimo's stock would only decrease at Pre-Nats and Rotich's win asserted that claim.

Rotich has run 8:41.14 for the 3k steeplchase, 13:57.09 for 5k, and 3:50.53 for 1500m. Last spring, he became the youngest winner of the Drake Relays Men's 5000m. A lot has changed over the course of a few months. Here's yet another freshman from Kenya who will challenge for an All-American spot.

Sometimes You'll Study for a Test and Fail

You knew this test was going to be tough, but you prepared for it. No cramming, daily study sessions, and you deleted your entire iTunes library to include the audio version of the textbook. You're ready to ace this test.

You fail miserably. When you look at your grade, you cannot find the words to explain why there's a zero missing from your grade of 10. Maybe you overloaded on information, drank too much coffee, or just missed a scantron bubble and ruined the rest of your test.

Some teams this weekend unexpectedly did not run well this weekend. But when you look at the big picture, it's only the Twelfth of October. Here are the teams that need to analyze what went wrong this weekend and adjust in the next few days.

Wisconsin

Men

| | | | |
| --- | --- | --- | --- |
| Rank | Team | Previous Race | Place at Meet |
| #5 | Portland | N/A | 12th |
| #10 | Syracuse | 1st at Toledo | 11th |
| #13 | Notre Dame | 3rd at Notre Dame | 26th |
| #18 | Minnesota | 1st at Roy Griak | 22nd |
| #30 | Missouri | 4th at Louisville | 31st |

It's the unknown unknowns that will surprise you. Each team took a step back and will look to regroup after this weekend. If you're an optimist, the silver lining for Notre Dame is Jonathan Shawel. Shawel was Notre Dame's ninth man at their invitational and finished as their third man at Wisconsin. If everyone can click on the same day, they'll bounce back.

Women

| | | | |
| --- | --- | --- | --- |
| Rank | Team | Previous Race | Place at Meet |
| #12 | Vanderbilt | 6th at Louisville | 18th |
| #20 | San Francisco | 2nd at Toledo | 20th |

Pre-Nats

Men

| | | | |
| --- | --- | --- | --- |
| Rank | Team | Previous Race | Place at Meet |
| #23 | William and Mary | 2nd at Paul Short | 14th |

The results from Pre-Nats are mostly positive for the top ranked teams. Perhaps it was the smaller field size that lead to more normal performances, but it was difficult to scrounge up teams that did not run well.

The lone team in this category is the William and Mary men who were included not because they bombed, but simply because they underperformed in regards to everyone else. If you look at the teams that beat William and Mary, it will make some sense.

Maybe it's not that W&M underperformed, but that everyone else rose to the occasion.

Underperformed, but were missing top individuals

| | | | |
| --- | --- | --- | --- |
| Rank | Team | Previous Race | Place at Meet |
| #1 | Wisconsin | N/A | 17th* |
| #9 | Tulsa | 1st at Notre Dame | 7th |
| #29 | Virginia | 3rd at Virginia | 27th |
| #3 | Washington (women) | 2nd at Louisville | 4th at Wisconsin |
Tulsa was without Chris O'Hare while Virginia again held out Mark Amirault (13:45 5k), Kyle King (13:55 5k) and Chris Foley (14:03 5k). One of the top women's teams, Washington, did not run Megan Goethals (Coach Metcalf cited recovery from a "stressy thing"). The big mystery that was half-answered is the Wisconsin men. As our intel predicted, Wisconsin did not run Mo Ahmed and Reed Connor ran unattached. The #1 ranked defending national champions finished a disappointing 17th.

If you're saying, "Well they held out their two best runners. It would have been different if Mo and Reed had run," check the stats. If you score Reed, Wisco scores 333 points for seventh. If Mo Ahmed runs and finished third (and don't score Reed), the Badgers would again be seventh with 320 points. Throw both in the mix and the team drops the score considerably to 182 points, but still only finishes fourth. This result is concerning for the number one ranked team in the nation.

Will they find the puzzle pieces to be contenders at nationals or will they rest their top guys for next year?

Sometimes You Think You'll Fail a Test and Ace it

There's no way you're going to pass this test. You've decided to skip studying and calculate the lowest possible grade that you'll need in order to not have to retake the class. You zealously head to the library and either leave a few hours later after you've accepted your inevitable fate or pull an all-nighter with the glimmer of hope that you've absorbed all the necessary information through osmosis.

You get your test back and you don't understand why there's an extra zero next to your 10. You did it; you aced it. Congrats, you've ruined the curve for the rest of us. Maybe you just filled in all B's on your scantron (B's are the new C's, especially on freshmen survey course True and False tests).

Wisconsin

Men

| | | | |
| --- | --- | --- | --- |
| Rank | Team | Previous Race | Place at Meet |
| #8 | Stanford | 1st at Stanford | 1st |
| #19 | Arkansas | 2nd at Virginia | 5th |
| #17 | Columbia | 2nd at Louisville | 5th |
| #24 | Michigan | 4th at Virginia | 7th |
| #27 | UCLA | 2nd at Pac-12 Preview | 10th |
| #28 | New Mexico | 6th at Notre Dame | 8th |

Women

| | | | |
| --- | --- | --- | --- |
| Rank | Team | Previous Race | Place at Meet |
| #28 | Providence | 6th at Paul Short | 6th |
| #30 | Yale | 4th at Paul Short | 13th (one pt behind Toledo and ND) |
| NV | UCLA | 4th at UCLA | 15th (beat BC and Minn) |
| NV | Duke | 9th at Louisville | 7th |

While the Stanford men were expected to perform well, not many predicted that they were going to win. However, if you predicted that they were going to do so in our Running Warehouse Prediction Contest, congratulations as you're either Nostradamus or a big Stanford fan.

The surprises on the women's side came from teams who were mostly looking to pick up Kolas Calculator points. Teams that either had a low rank or did not receive votes in the national poll stepped up their game at Wisconsin and will make regionals all the more exciting.

Pre-Nats

Men

| | | | |
| --- | --- | --- | --- |
| Rank | Team | Previous Race | Place at Meet |
| #7 | Colorado | 1st at Colorado | 1st |
| #15 | Oregon | 2nd at Oregon | 3rd |
| #37 | Florida | 1st at West Carolina | 10th |
| #38 | Virginia Tech | 1st at Charlotte | 6th |
| NV | Duke | 5th at Virginia | 5th |

Women

| | | | |
| --- | --- | --- | --- |
| Rank | Team | Previous Race | Place at Meet |
| #4 | Oregon | 1st at Oregon | 2nd |
| #33 | Texas | 1st at UCLA | 5th |
| #34 | Florida | 1st at Saint Leo | 9th |

We knew they were fit, but not this fit. Colorado put 7 in the top 35 and they were all under 24:00. Even still, their #5 guy Ammar Moussa did not run. He ran unattached at the Rocky Mountain Shootout and now did not run in Louisville. It's a recurring theme, but we'll know more in the next few weeks.

It looks like the transfer from UNC is paying off in spades for Jake Hurysz. Shout outs to freshmen Pierce Murphy and Connor Winter (listed above) for stepping up their game as well. Now if a healing Joe Bosshard (24th at 2012 NCAA XC) can get thrown back into the mix, you better watch out.

The women's team race heats up as #1 Florida State was challenged by #4 Oregon. FSU won Pre-Nats with 72 points while Oregon took 2nd with 87. FSU looked unbeatable at Notre Dame, but once again, Oregon makes their point that they should be in the conversation.

Why is that?

This Too, Shall Pass

A bad grade or race is not the end of the world. You may go home crying, watch a bunch of episodes of Gossip Girls, and eat a pint of ice cream (girls will do this too), but you'll be alright.

Conversely, things and moments that bring happiness are fleeting. You may have aced one test, but that doesn't mean you should slack off and celebrate. Be relentless in your studies, running, and life.

The phrase "This Too, Shall Pass" originates from a Persian fable about a king who was humbled by a few words. Although it's disputed where the phrase truly originated from, the meaning remains the same.

Jordan Hasay may have had a disappointing race at the Bill Dellinger Invitational, but we're starting to see her old self again. Hasay took fifth at Pre-Nats in 20:03.4. It's not the place and finish we're used to see with her, but you can never count her out in November. Maybe it's the change in her diet?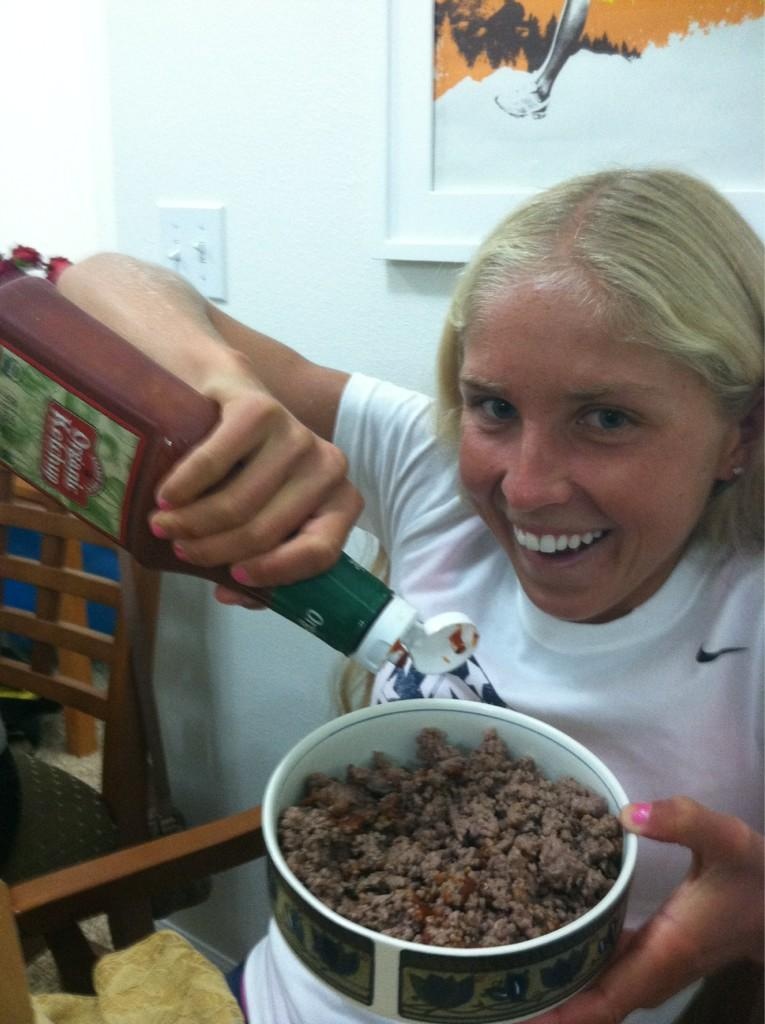 (Photo: Alexi Pappas, @AlexiPappas)

"Meat has iron and ketchup has vitamin C. She must be anemic," said every Oregon conspiracist... but seriously...

Lawi Lalang and Stephen Sambu went stride for stride and once again, Lalang was victorious. Coach Li had instructed the pair not to run each other into the ground and instead pull away late in the race. Even though the pair went through 3000m 22-seconds slower than last year, Lalang still broke his course record by seven seconds with his time of 23:03.

How good is he?

Although he's 0-2 this season, Sambu has been very close to beating Lalang. Lalang should relish in his successes because Sambu has to be hungry for a win. When the two run all-out at Nationals, you can't guarantee that the result will be the same.

It was madness in Madtown and craziness in Louisville. Whether facts become more concrete or more questions are raised, we learn something new every weekend.

Sometimes it's about teams, sometimes it's about individuals, and sometimes it's just about college.
Updated on May 17, 2013, 9:38pm