Watch Mt. SAC LIVE Friday and Saturday

The state of California not only has the highest population in American, but the biggest cross country meet as well. Known for it's unimaginable size, legendary course, and nationally ranked competitors, the 65th Mt. SAC Cross Country Invitational is this Friday and Saturday.

When Mt. SAC claims to be the biggest cross country of the year, they're not kidding. Last year, a record 23,000 participants competed over a span of two full days of racing. Even though the course has been altered over the years, names like "Reservoir Hill," "Valley Loop," "Switchback," "Airstrip," and "Poop Out Hill" evokes nostalgia from older athletes and excitement (or complaints) from younger ones.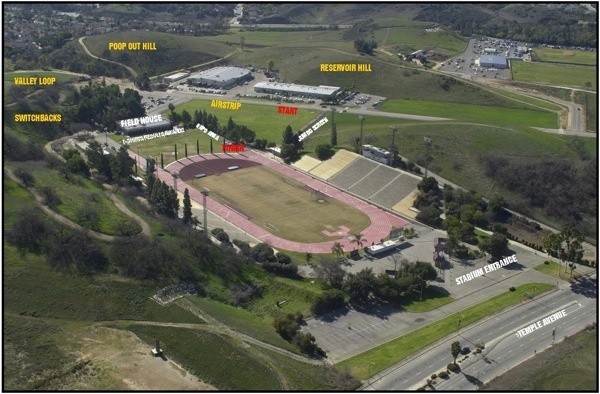 In the last week of high school competition, runners have competed in the Pantheon and Parthenon and of cross country courses.

The east coast is home to the Pantheon, Van Cortlandt Park. In ancient Rome, the Pantheon was constructed by the Romans as a temple to the seven Gods. The Pantheon is also the burial ground for many famous historical figures. Van Cortlandt Park embodies both of these qualities.

In terms of quality, last Saturday was the norm for the Reebok Manhattan Invitational.

The course itself has its own storied sections. Runners let the white tortoise paintings guide them through the "Cow Path," "Freshman Hill," "The Bridge," and "The Back Hills."

Van Cortlandt Park is dubbed the "Pantheon" because one its most iconic sections, "Cemetery Hill," is named after a most legendary death.

The west coast is home to the Parthenon, the Mt. SAC Cross Country Course. The Parthenon was a temple built by the ancient Greeks for the goddess Athena. It is the most surviving building of Classical Greece.

While the Parthenon is the enduring symbol of Ancient Greece, the Mt. SAC Course is the symbol for cross country in California. Its parallels to Van Cortlandt Park and the Reebok Manhattan Invitational continue as the caliber of the field matches the size of the meet.

Individuals - Girls

#5 Sarah Baxter

Mt. SAC, California State Meet, and NXN champion US#5 Sarah Baxter of Simi Valley returns this Saturday. She's only run one race this season, but started slow last year and it paid off in spades come December.

Baxter won Woodbridge Cross Country Classic with a time of 16:12. Last year at Mt. SAC, Baxter ran 16:59 in the Team Sweepstakes. Baxter has also run 16:41 at the 2010 Mt. SAC Invitational and 16:44 at the CIF SS Finals (on the same course). You can check out her Elite 50 Profile here.

Sarah Baxter interview from the 2011 Team Sweepstakes at Mt. SAC 2011

Anna Maxwell

San Lorenzo Valley junior Anna Maxwell is also familiar with the Mt. SAC course. She ran 17:44.0 last year at Mt. SAC to win the Division 4 Sweepstakes race and placed 24th at the Foot Locker Finals with a time of 18:14.5. Earlier this season, Maxwell won Nike Pre-Nationals in Portland, OR with a time of 17:37.38. She's made a big jump in her fitness and should be ready to break into the all-time course records at Mt. SAC.

Anna Maxwell interview following her 2011 Mt. SAC win

In cross country (and life), freshmen are always wildcards. Watch out for freshman Mikayla Sodersten from Clovis High School. Sodersten posted a winning time at the Golden West Invitational and took second at the Asics Clovis Invitational in 17:41.

Teams - Girls
#2 La Costa Canyon High School

It would be a disservice to this incredible team to profile its top individuals in the section above. The #2 La Costa Canyon girls from Carlsbad, CA look to improve on their second place finish in the Mt. SAC Team Sweepstakes from last year.

The squad is lead by junior Emma Abrahamson and senior Kelly Lawson, who are both on the national watch list for individuals. Other members from the team that averaged 18:21 last year is Rebekah Bosler, Ellie Abrahamson, Julie Steigerwald, and Alex Fromme.

Emma Abrahamson 2012 track and field highlights

| | | | | |
| --- | --- | --- | --- | --- |
| Distance | Place | Time | Meet | Date |
| 1600m | 1 | 4:53.20 | Avocado West League Finals | 5/11/2012 |
| 3200m | 8 | 10:24.86 | Arcadia Invitational | 4/7/2012 |

Kelly Lawson 2012 track and field highlights
| | | | | |
| --- | --- | --- | --- | --- |
| Distance | Place | Time | Meet | Date |
| 1600m | 2 | 4:54.80 | Avocado West League Finals | 5/11/2012 |
| 3200m | 1 | 10:40.84 | Escondido Invitational | 4/27/2012 |

#6 Great Oak High School

#6 Great Oak High School from Temecular, CA does not shy away from tough competition. They took second to #3 Xavier College Prep (AZ) at the Desert Twilight XC Festival, but that was one month ago. Ashley Helbig leads Great Oak this year after her second place finish at the Desert Twilight with her time of 18:07.3. Helbig ran 18:15 at Mt. SAC last year.

From their fourth place last year (18:25 team time average), the team returns sophomore Maiya Larsen, senior Kim McNamee, senior Miranda Kewley, and senior Alexis Messerly.

#16 Simi Valley

Sarah Baxter may lead #16 Simi Valley, but she's not alone in the national rankings. Simi Valley absolutely crushed the team race sweepstakes at Mt. SAC last year. They totalled 55 points (La Costa Canyon had 105) and posted a team average of 17:56.

Even though they graduated their #2 and #4 runners, Simi Valley is still among the top teams at Mt. SAC. Other returners from their win last year includes senior Rachel Vinas, sophomore Sarah Riggs, sophomore Desirae Jones, and Madelyn Vorgitch.

Individuals - Boys

Bryan Fernandez from Dos Pueblos High School has been undefeated so far this season. He took first at the Seaside Invitational (14:05.77 for 3m), the Woodbridge Cross Country Classic (14:19 for 3m), and the Asics Clovis Invitational (15:09 for 5k).

The summer must have been full of trials of miles, miles of trials for Fernandez. Below are his track and field highlights from 2012.
| | | | | |
| --- | --- | --- | --- | --- |
| Distance | Place | Time | Meet | Date |
| 1600m | 2 | 4:18.70 | Dos Pueblos/Ventura Dual | 4/12/12 |
| 3200m | 3 | 9:14.55 | CIF-SS Divisional Finals SS | 5/19/12 |

He is looking to improve on his 30th place finish (16:00) from last year at Mt. SAC.

Estevan De La Rosa

Since you're only as good as your last (big) race, you cannot discount De La Rosa. He began his season with a 7th place finish at the Bob Firman Invitational in 15:46.90, but that was just the start. A week later at the Stanford Invitational, De La Rosa beat an impressive field with his finishing time of 15:06. Similar to Fernandez, he is looking to improve on his 52nd place finish from last year (16:07).

Teams - Boys
#6 Arcadia High School

Whether you call it Boxcars or Midnight, we've got two #6 nationally ranked teams at Mt. SAC. Even though they graduated four senior from their second place team from Mt. SAC last year, they're back and mean business.

Arcadia killed it three weekends in a row to move them up in the national rankings. They won the Woodbridge Cross Country classic with 54 points (second was 144), took second to #4 North Central at the Bob Firman Invitational with 127 points, and stormed back at the Stanford Invitational to win with 83 points.

Their team average at Woodbridge was 14:44 and 15:47.80 at Stanford.

All-Time Course Performances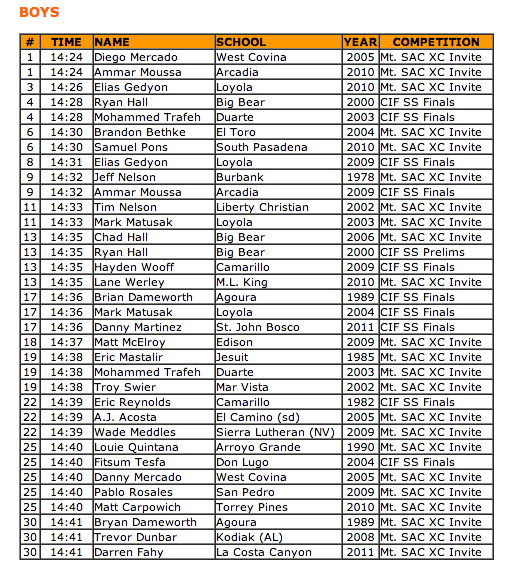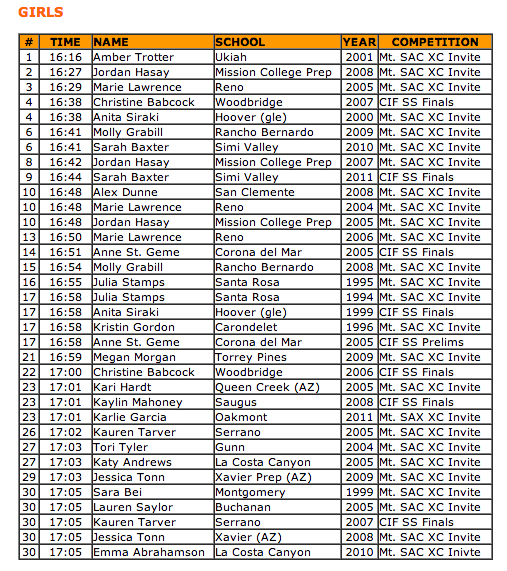 We've seen how the east coast does it, but just now it's the on the west coast. Just like the pioneers who believed in Manifest Destiny, Flotrack will be at the 2012 Mt. SAC Cross Country Invitational all-day Friday and Saturday.

Check back for our LIVE stream, interviews, and race videos from one of the most historic cross country meets in the U.S.
Updated on May 20, 2013, 12:12pm