Trey cools down his speed session with med ball back toss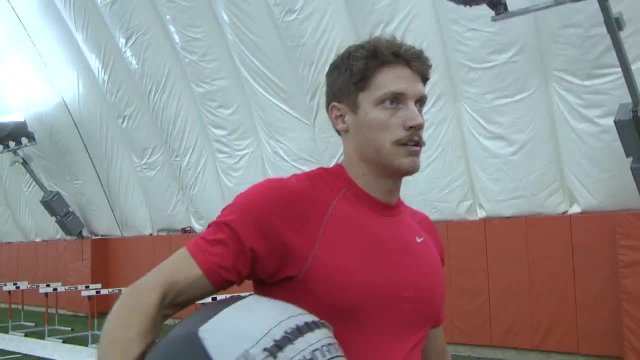 This is a Full Access To The Best Running Videos On The Planet! video. Sign up to watch this video!
For his cool down, Trey likes to do med ball throws. During this part of the season, he does not have a set number of throws that he goes for, but he does mention that during heat of the season, he does regimen this med ball workout more and more. Trey throws the med ball over his head as far as he can to work his posterior chain. This helps him to work on his power, explosiveness. Workout: Trey will be doing 12x 40 meter accelerations out of blocks, with every third acceleration incorporating sled pulls. The rest between reps is approximately 3 minutes. This session has 15 pieces in total as Trey walks through the session. See the rest of videos in this session: 1. Trey explains workout and purpose 2. Trey warms up with build ups before main workout 3. Trey's advice on how often to wear spikes in workouts 4. Why you may shorten your warmup before a workout 5. How Trey sets up his blocks for speed session 6. Why its important to experiment with setting up your blocks 7. Analogy to remember out of the blocks, broomstick vs. cooked noodle 8. Trey explains sled pulls and when they started to use in workouts 9. How a two time World Champ clears his head in the blocks 10. Trey calls on body to fire towards end of workout 11. Last sled pull and post-workout analysis 12. Cooling down with med ball back toss up 13. SLOW MO: Trey block starts from 4 angles 14. SLOW MO: Trey sled pulls from 3 angles 15. Just for fun, Trey tries to beast a 20yd med ball toss!