Simon Bairu
Simon Bairu
May 28, 2010
by Christopher Kelsall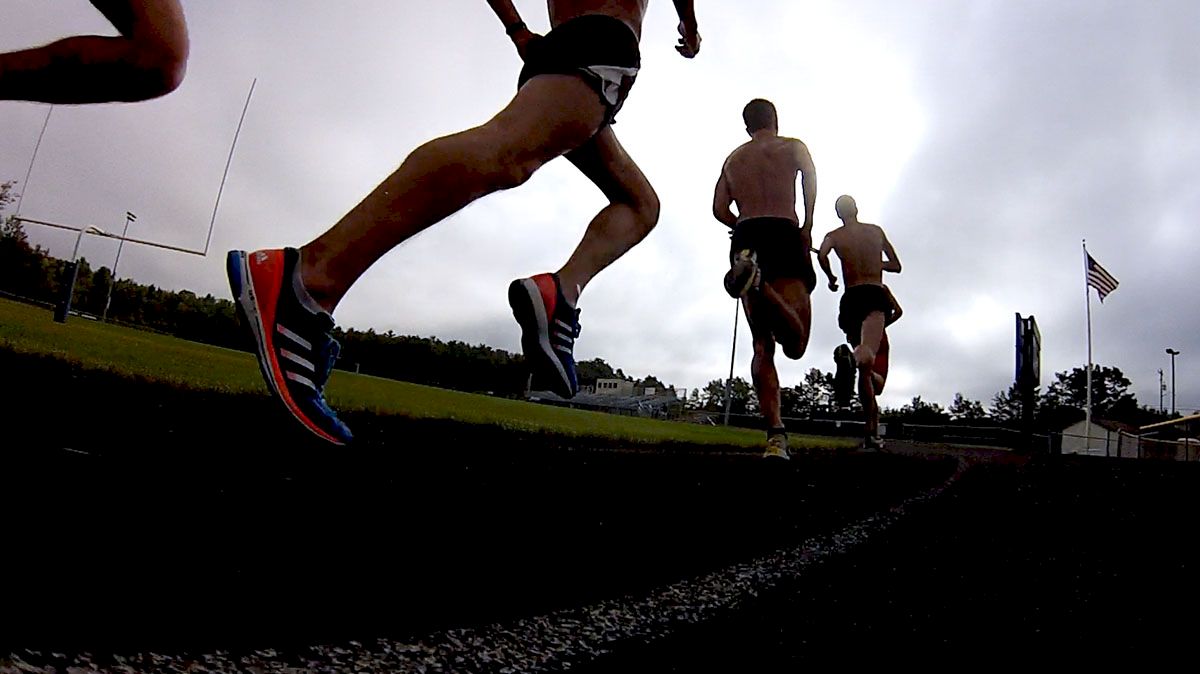 © Copyright - 2010 - Christopher Kelsall
Simon Bairu of Regina, Saskatchewan who is currently being coached by Jerry Schumacher, is one of the greatest distance runners in Canadian history and he is on one heck of a hot streak.
Amongst the vast wealth of athletics prognosticators, it appears that it is a foregone conclusion that he will take down the long-standing and and slightly soft (by today's standards), Canadian marathon record time of 2:10:08, set by Jerome Drayton at the 1975 Fukuoka Marathon.
Bairu currently owns the Canadian 10, 000m record, which he recently accomplished at the Stanford University track during the annual Payton Jordan Cardinal Invitational. He ran the race in 27:23'63, finishing behind his Kimbia Athletics training partner Chris Solinsky who, in that same race, took the American 10, 000m record with his 26:59.3.
Bairu caused as much of a stir amongst the sleepy Canadian running community accomplishing his newly-minted Canadian record as he did a few years ago when he pronounced that the record of 6 Canadian Cross-Country Championships won by the legendary Paul McCloy is as good as gone. He was good on his word, as he surpassed the 6 national titles. His streak ended in 2007 at 5, just like McCloy, which includes 1 junior title (stopped due to injury) before reigniting the streak a year later, which includes two more wins in 2008 and 2009, for a total of 7 Canadian Cross-Country Championship titles.
Does his dominance suggest something about the state of Canadian distance running? No it doesn't. He is just that good. For example, he accomplished a 13th place finish at perhaps the most competitive foot race on the planet, the IAAF World Cross-Country Championships; Bairu was 44 seconds from gold.

He also won the Rock 'n Roll Half Marathon in Arizona, with his course record finish time of 62:47. Some suggest that this would be a good time for Bairu to attempt to take all Canadian records from 5000m to the half marathon and perhaps even the marathon however, he has bigger fish to fry. Perhaps that fish will come garnished with a big apple.

The Interview
Christopher Kelsall: What was the sports scene like growing up in Regina? In your youth, I assume hockey and curling's Sandra Schmirler dominated the local news.
Simon Bairu: Yup, that's pretty much it; curling and hockey with some love for the Saskatchewan Roughriders (Canadian Football League) during the summer and fall. I on the other hand couldn't skate 'till maybe 7th grade and even then I would just fall over every time I wanted to stop because I didn't know how to slow down and stop; I got banged up pretty quickly. I played baseball from the age of 8 to about 14.
CK: What positions did you play?
SB: Shortstop and pitcher mostly. The coach would throw me in the game as a closer and I would strike everyone out because my pitch was slower than the usual pitcher and they couldn't get the timing right and would swing early. Plus half the time the ball would land right on home plate so I'd like to think I had a mean sinker pitch!
CK: Ever had the mound charged, by an angry batter?
SB: No one ever did, which really surprises me thinking back, even though I was one of the smallest guys on the team, I used to heckle the opposing team a lot. I believe it's called "Little Man Syndrome".
CK: How old were you when you discovered running?
SB: I was probably 9 or 10 when I discovered running. Every year in early spring we would have a school meet and I would do everything from shotput to the 800. But back then you would drink a root beer and eat a bag of chips 15-20min before you competed, it was awesome! The summer going into 9th grade was probably when I really started to be involved more with running. It all started because I got into a fight the spring of my 8th grade year. I punched a kid in the face and my 8th grade teacher pulled me aside and gave me a choice: either I get suspended for a week or I join a track club for two weeks. For a second I actually thought about taking the suspension because in my mind getting the belt would have been a lot less painful! However, I decided to try the track thing and so I decided to go out and buy a pair of shoes to run in and I knew if I was going to be the best I needed the best shoes out there and that's why I got my dad to buy me a pair of Air Jordans to run in! One minor injury and $150 later I bought a pair of running shoes.
That first week had me regretting my choice, but I made it through the two weeks and by the end of the second week there was an 800m race in which I finished second. I was excited with my finish I thought I was hot stuff for getting second but my dad just said to me "Bairu's don't finish second!" and so I promised myself I would stay with it 'till I beat that guy. Eventually I beat him and then my dad and club coach told me the goal was to win provincials and the rest is history. Come to think of it there's probably a good chance I wouldn't be in the sport right now if I had won my first race.
CK: Why did you punch the other kid in the face and did he go down?
SB: Long story short we were on the two-hand touch football team and he wouldn't pass me the ball, so I decided the next logical step was too punch him in the face. It would be fair to say I wasn't a well-behaved child. He didn't fall, but I made him cry! I still remember kids in the neighborhood telling me they can't hang out with me because their parents don't want them mixing with the wrong crowd. Funny related story, while I was at Wisconsin my parents would get random calls from parents from the "old neighbourhood" asking if the Simon Bairu in the paper is the same Simon Bairu they use to know. My parents always got a kick out of that.
CK: To quote you from a Canada.com article, "I'm definitely a mud runner and that made it easier for me,'' Bairu said. "You have to go through the same thing as everyone else but running in the mud is my strength. I just seem to have that extra gear at the end of a race.''
Is your strength in mud, born from the sheer joy of running in mud – something as organic as that or do you train specifically for challenging conditions?
SB: I'm from Regina, Saskatchewan; 9 out of 12 months consists of running in "challenging conditions". I think my childhood just made me tough, I still remember doing workouts in Madison in mid-October and the entire team would be all dressed up in full tights and a couple of long sleeve shirts, while I would be running in just shorts and gloves. But a part of it is definitely me just enjoying running on grass and mud.
CK: You are on quite a roll over the previous 12 months, with your 13th placing at IAAF World Cross Country Championships, Canadian 10, 000m record with your 27:23 and a 62:47 half marathon win - a personal best. Which of these are you most proud of?
SB: I would say I am most proud of the record for two reasons; The first reason is the fact that 3 or 4 years from now nobody is going to remember who won the Rock & Roll Half Marathon or who got 13th at World XC. The second reason is that it was the hardest of the three for me. Running on the track has always been my weakness compared to XC and road racing. I hope this doesn't come off as arrogant but Jerry and I knew going into the two other races I would do what I did or come close to it. Whereas with the record, even though I knew I was fit enough to get it I knew there was a good chance I would start off over my head and blow up. Last year I thought the record was in the bag but not only did I not get the record but I didn't even qualify for Worlds.

CK: In your Flotrack video interview with Ryan Fenton, directly after your Canadian record performance at the Payton Jordon Cardinal Invitational 10,000m, you said that the result came from consistency in training and getting the mileage in. Did the consistency come from being injury free or was it more about working with Jerry Schumacher and getting all the right direction?
Read the rest of the interview at
Athletics Illustrated
Scroll down for comments section
Contact Chris: chriskelsall@flocasts.org