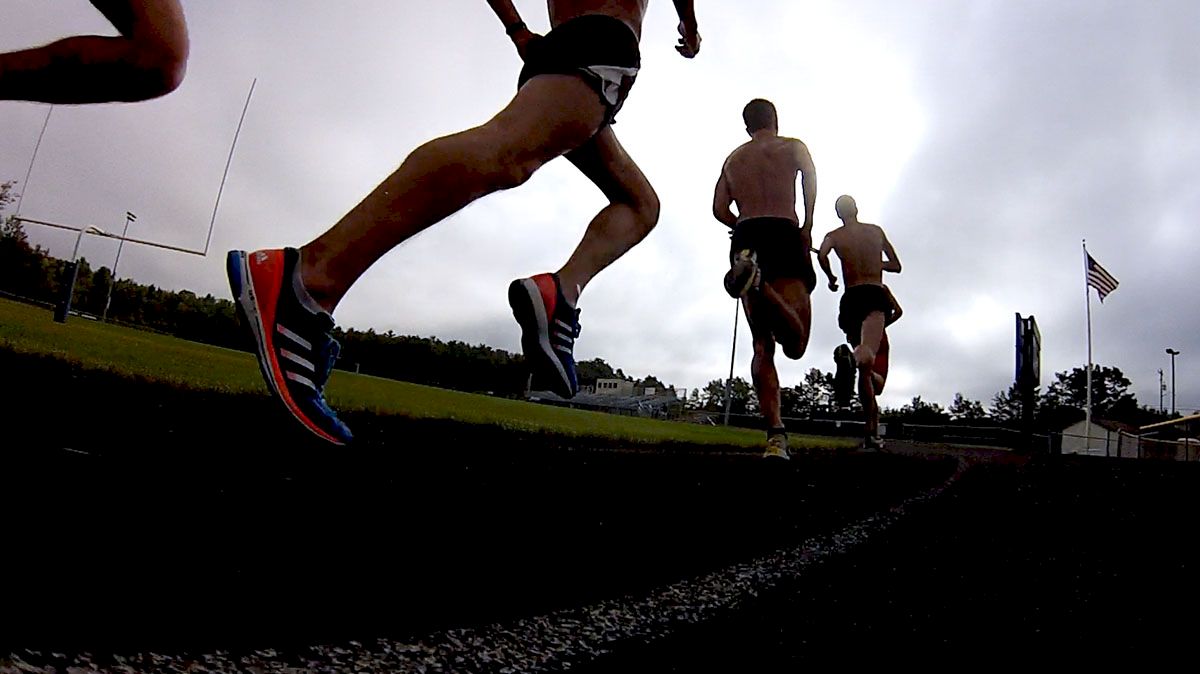 Wisconsin Cross Country: A Study In Pressure

(Note: This article is nothing more than my own observations from as subjective of an outlook as I can provide. Unfortunately I never climbed higher on the totem pole than eighth man, but I still felt every bit apart of the great tradition that the Wisconsin Badgers represented. Some former Badgers might disagree with me on this little hypothesis, however I'd like to present my opinion regardless as I feel it is a very valid one.)

I didn't understand Mick Byrne when he first came to Wisconsin. Having already spent two years under one of the country's best coaches, I was used to doing things a certain way and had truly come to believe that given the results they were the absolute correct way to do things. But given some time and experience, my opinion has shifted.

When I think back on the time I spent under Jerry Schumacher, most of my memories pertain to the pressure. On the first day of cross country practice in September, there was a palpable attitude in the locker room that seemed to carry throughout the whole season: here sits the best team in the country…now what's going to go wrong this year? This was a team that had seen the bad side of a few championship upsets and in response became very weary of repeating such mistakes.

Jerry would refer to it as tweaking out. Somehow when those teams boarded the bus for nationals, they went from a cool, collected group of athletes to a team with something to lose. Heavy is the head the wears the crown for any amount of time before November 21st.

Now, to be clear...This is not intended to drag Jerry's name or any of the former Badger squads through the mud. Nor is it intended to place blame on someone for my own lousy collegiate career (which was, as with every athlete's, no one's fault but my own). What I'd like to impart to those reading is the most valuable lesson I ever learned about coaching from Mick and Jerry.

One of the best things about Jerry as a coach was that you always knew he was right there with you. In many ways, he almost seemed like more of a teammate than a coach. He could hammer out 6:00 miles with you on an easy Tuesday run, he wasn't shy when it came to locker room antics (he'd laugh as hard as anyone when Chris would put Simon Bairu into a trash can), and when it came to traveling to meets, his purpose there was as decisively clear as your own.

In the days of Jerry, there was no pre-race banquet for Wisconsin. No need to celebrate qualifying for a meet that the team already knew it would be playing a pivotal part in. He didn't come to Terre Haute for the social gathering at the hotel: just like his athletes, he came to win a championship.

And for as much as I loved knowing the sincerity of his commitment, I can't help but think now that it's the very thing that held him back.

Mick, by contrast at first seemed a bit out of it. He'd spend most of the day with his wife whom he'd barely seen since he uprooted his ambitions to the Midwest. And god forbid an Irishman to pass up a good pint. On occasion, he's even confessed to just sitting down in the middle of the field at the Lavern Gibson cross country course and waiting to see where things stood with 2k to go. It was a jarring change really, and as someone privy to observing the competitive passion of Jerry Schumacher, I truly couldn't understand it.

But again, given the proper time and perspective, it all began to click.

The days spent in a hotel room before a championship race can be daunting on the mind of an athlete. When all one wants to do is think about something besides the race, the options are typically limited to cards, homework, and cable television. There is no escape from the wait.

Now add to that fidgety mindset a coach who is every bit as anxious for that gun to go off as you are. In other words, Jerry's own worries, the well-founded observations that he'd learned from years of coaching, the same ones that kept him up at night as he cautiously calculated who was on or off their game, had a habit of trickling down to his athletes. He was at times too attached to the race and its result and as athletes tend to do, they followed suit.

Mick on the other hand seems to have it pretty figured out these days. After spending over 20 years in the NCAA, those trivial concerns don't seem to plague him as much any more…and if they do, he's savvy enough to keep them to himself. And the good spirit and genuine excitement Mick brings around is contagious. It's the same spirit that Mick's athletes have felt confident and calm with all season long, the same one that has seen them have one of the most dominant regular seasons of any collegiate team ever. But how will it all end?

For Monday, I have two hopes…

The first

I hope this year's team is having as much fun on the trip as we did last year. We enjoyed the banquet, making cracks at the goofy suits around the room, eyeing all of the cute runner girls, taking in the wisdom that Joan Benoit Samuelson had to offer about enjoying the experience of a championship event. Back at the hotel, we played ping-pong in the lobby (something that would have been cause for fret in the late Schumacher era). We laughed as little kids staying at the hotel would ask silly questions about running and what brought us to Terre Haute (they were just psyched that there was a pool!) We got ice cream and watched an anonymous alternate drool over the girl behind the counter. It surely remains my fondest memory of my time coaching.

The second

Whether it's Oklahoma State or the Badgers in the end, I hope it comes down to an absolute dog fight that last k.

Go Badgers.