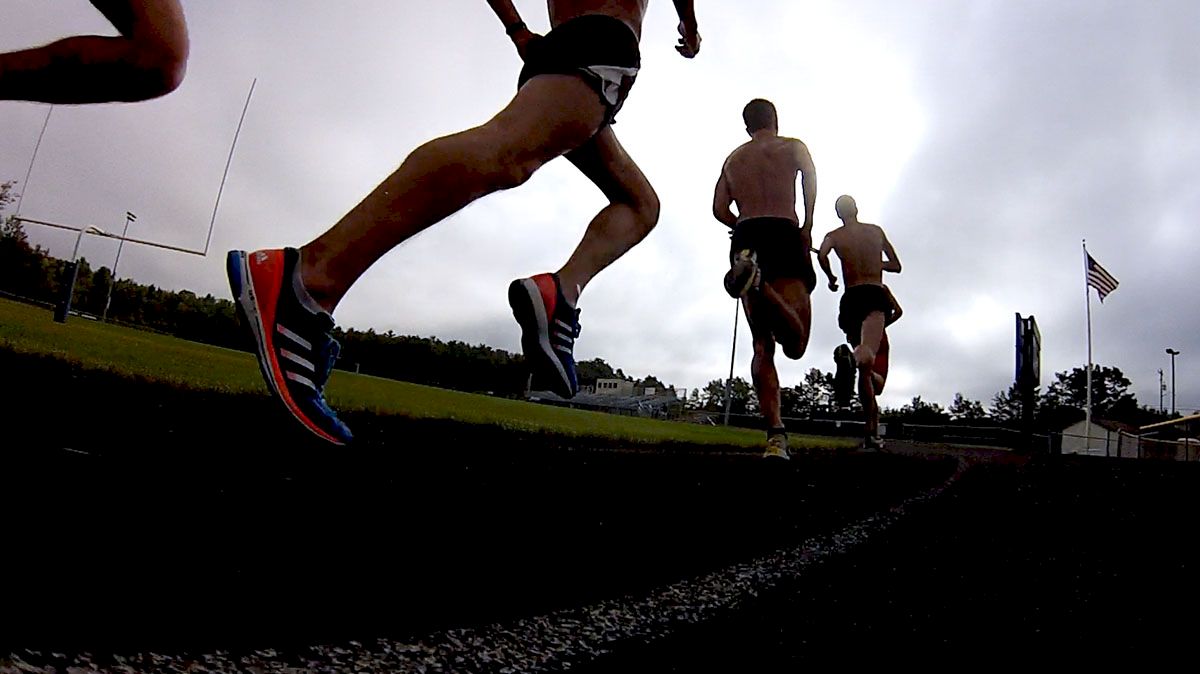 Baylor's Robert Griffin III, a.k.a. RG3, has been announced as the
2011 Heisman Trophy award winner
. He has some pretty impressive stats, but you have to really read deep to see where it all started...
- 3,998 passing yards (#6 in NCAA)
- 36 passing touchdowns (#4 in NCAA)
- 72.4% completion rate (#5 in NCAA)
- 192.3 passer rating (#1 in NCAA)
- only 6 interceptions thrown
- 644 rushing yards
- 9 rushing touchdowns
- 2008 Olympic Trials 11th place
- 2008 NCAA All-American, 400H (3rd Overall, 49.46 - as a frosh)
- 2008 Big 12 Champion, 400H
- 49.22 PR in 400H
- Texas High School State Champ & Record Holder (110H and 300H)
- #2 ranked all-time in HS 400H (49.56)
- #4 ranked all-time in HS 300H (35.33)
In the spring of 2007 RG3 won both the 110 High Hurdles and the 300 Hurdles at the Texas UIL State Championships, Griffin was only a junior. His time of 13.55 in the 110s was a new TX 4A record while his 35.33 was an overall TX record and at that time only .01 off the national record. Less than a week later a guy named Jeshua Anderson ran 35.28 at the CA state meet to set the new national record. Griffin also broke 50 seconds in the 400 hurdles as a junior and ran 46.9 in the open 400. Check out Robert's state championship races below, thanks to Cate Westenhover for digging these out of the archives!
(refresh the page if you can't see the videos)
During his senior year in high school, Griffin graduated in December and enrolled at Baylor in January - a half a year early!
RG3 began running track for Baylor
under Clyde Hart where he concentrated on the 400 hurdles. He had instant success winning the 2008 Big 12 Championships in the event and finishing 3rd at the NCAA Championships. During his first and only the collegiate season on the track, Griffin ran under 50 seconds in the event five times. He ran under two more times at the Olympic Trials, running 49.74 and 49.38 to advance to the semi-finals in Eugene. Pretty impressive for a guy that was technically only a high school senior.
Only a junior at Baylor, RG3 becomes Baylor's first Heisman Trophy winner, picked the winner from
five finalist
for the award. Keep those good vibes going for the former track star....and Robert just know.....if it doesn't work out in the NFL someday, we'll gladly welcome you back on the track. ;)
Griffin wins 110H, sets 4A record - 13.55.
Watch more video of 2007 UIL Texas State Championships - Race Footage on flotrack.org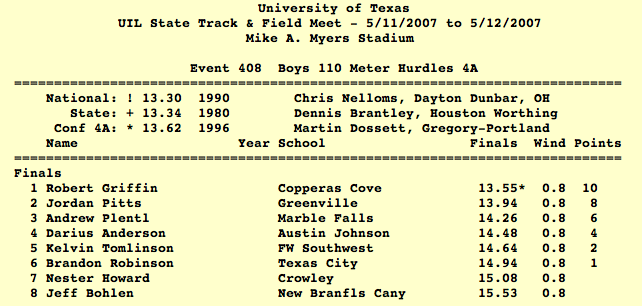 Griffin runs #2 all-time in the 300H at the time, 35.33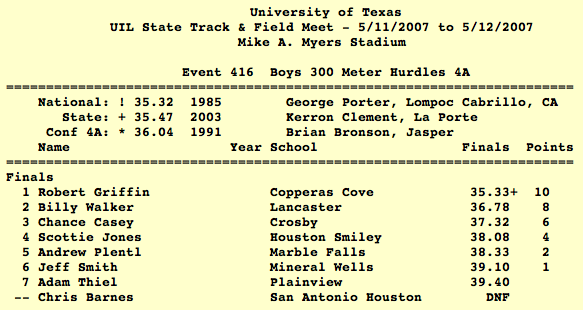 Griffin interview after winning 300H with Flowrestling's Martin Floreani.

A couple more videos to check out:
- Interview with Robert Griffin III after the 300H/before the 4x400.
- Griffin splits 45.7 unofficially in the 4x400 anchor leg at TX UIL 4A State Meet.

Griffin's Stat as early frosh at Baylor: