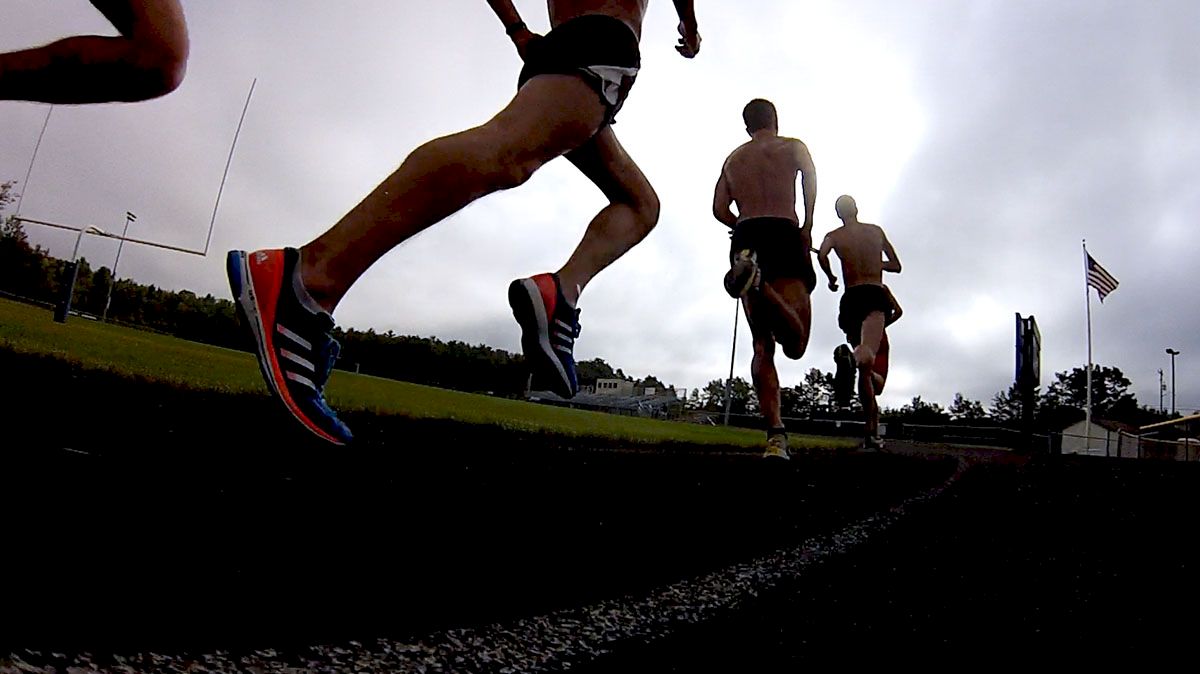 DAVILA, HALL PREDICT RECORD BREAKING TIMES AT TRIALS MARATHON
By David Monti
(c) 2011 Race Results Weekly, all rights reserved. Used with permission.
(14-Dec) -- Desiree Davila and Ryan Hall, the athletes with the fastest qualifying times for next month's USA Olympic Marathon Trials in Houston, predict that record breaking times will be needed to both win and finish on the podium. The top-3 athletes earn provisional berths on the USA Olympic team in the world's only one-day selection race which picks an entire Olympic Marathon squad.
"I will say that the top-3 guys will all be under 2:10," Hall told reporters from his home in Redding, Calif., during a conference call hosted by USA Track & Field (USATF), something which has never happened in the history of the Trials.
Hall, 29, who has a career best time of 2:04:58 set at Boston last April, is already the Olympic Marathon Trials record holder. In New York's Central Park in 2007, he clocked a remarkable 2:09:02 off of a slow first half, roaring back in the second half in 1:02:45 to win by over two minutes over Dathan Ritzenhein (2:11:07) and Brian Sell (2:11:40).
Although most observers see the self-coached Hall, who has posted 11 qualifying marks for the Trials in both marathons (sub-2:19) and half-marathons (sub-1:05), as a favorite to repeat his victory from 2007, Hall said that the addition of strong athletes who have yet to finish a marathon, like Mo Trafeh (1:00:39 half-marathon PB), Brent Vaughn (1:02:04), and Brian Olinger (28:07.52 10,000m), will make sizing up early leaders more difficult. Under USATF rules, all of the 158 male qualifiers are considered "A" qualifiers, meaning all of their travel, lodging and meal expenses will be paid by the Trials Hosts, the Houston Marathon Committee. There is essentially no risk for qualified athletes to go to Houston and at least start the race.
"That's a great question," he replied when asked about the effect of the debutants. He continued: "I don't know. A lot of that depends on how I'm feeling at the moment. I think you've got to have respect for everyone. That's the answer for that question."
Davila, 28, who like Hall recorded the fastest-ever marathon at Boston last April by an American (2:22:38), predicted that the Trials record of 2:28:25 set by Colleen De Reuck in St. Louis in 2004 will be crushed. Indeed, she predicted that bettering De Reuck's time would be required just to get on the podium.
"I'd say on the women's side, you're looking at 2:24 for the win, and I think 2:28 would land you on the team," said the straight-talking Davila who races sparingly under the coaching of Kevin and Keith Hanson. She also said: "It's just completely different this time around (as compared to 2008 when she placed 13th in her first Trials). "That's the team you want to be a part of. If you make the team in Houston, that's the kind of team you want to be a part of."
When Davila ran the 2008 Trials, it was only her second marathon. She said today that she is now "a completely different athlete," and that she made "rookie mistakes" in 2008 that she is unlikely to make again. She now has run a total of six marathons, and has brought her 10,000m time down to 31:37.14 (it was just 33:20.7 prior to the 2008 Trials).
"When I think about all of my marathons, that was definitely my biggest learning experience," Davila said from her winter training base in Davenport, Fla., southwest of Orlando. About her 2004 race she added: "I just openly panicked when I found myself in the hunt."
The Trials in Houston will be the first ever in the United States where men and women will run on the same course at the same time (the men get a 15 minute head start; not enough time for the male leaders to catch the women's race on the three-loop course). Observers feared at first that the women's race would be overshadowed by the men's, but based on the quality and volume of qualifiers, the women's race could be even more compelling. Seven women have sub-2:30 qualifying times --Davila, Kara Goucher, Magdalena Lewy Boulet, Amy Hastings, Shalane Flanagan, Stephanie Rothstein, and Clara Grandt-- while 16 have run 2:33 or better. Moreover, USA record holder Deena Kastor (2:19:36 PB) is also entered (she's only the 25th qualifier on time), as well as 70-minute half-marathoner Serena Burla, whom Davila mentioned today by name.
"I'd say one name which hasn't come up much who has a great shot is Serena Burla who is just as tough as can be," Davila said of the 2:35:08 marathoner who runs well despite having a cancerous tumor removed from her leg in 2010. "She's run some really quality times."
* * * * * *
The USA Olympic Marathon Trials will take place in Houston on Saturday, January 14, one day ahead of the Chevron Houston Marathon. The Trials are free and open to the public, and will select the first six athletes for the USA Olympic track team. Complete information about the race, including a spectator guide, is available at
http://www.houston2012.com/
. Also, a handy qualifiers guide is available at
http://www.marathonguide.com
.