2012 USA Olympic Marathon Trials Houston
MEN'S HOUSTON UPDATES - 2012 Olympic Marathon Trials Mile by Mile Updates
MEN'S HOUSTON UPDATES - 2012 Olympic Marathon Trials Mile by Mile Updates
Jan 11, 2012
by Ryan From Flotrack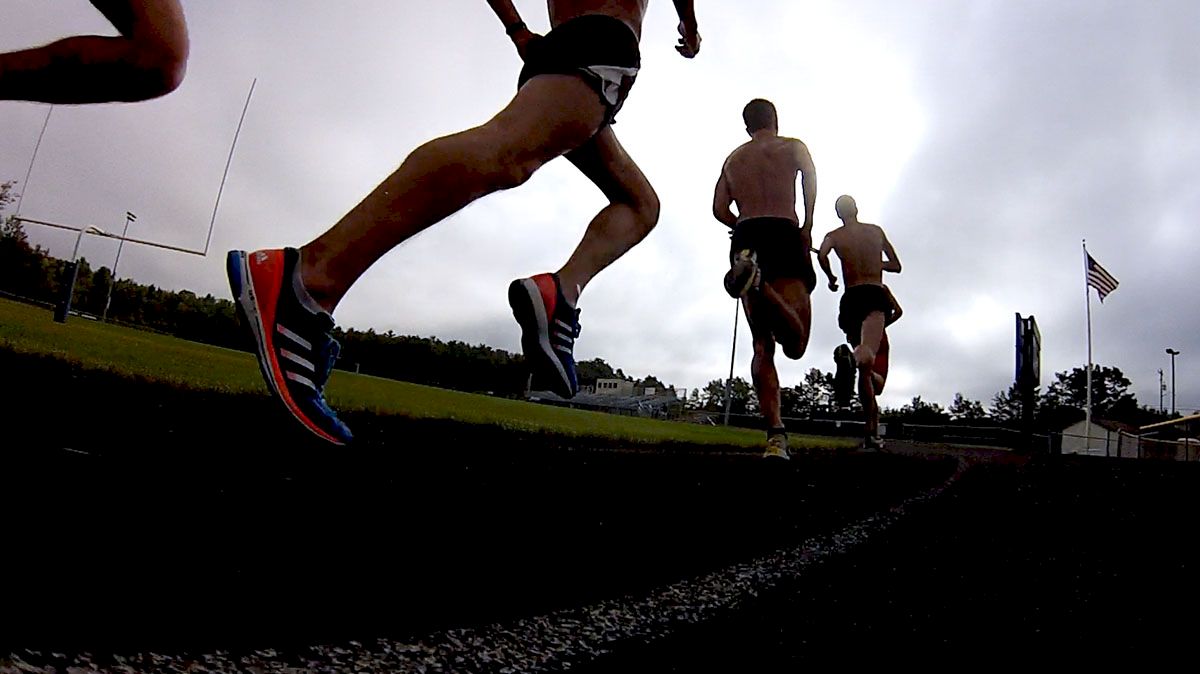 LIVE Houston 2012 Olympic Marathon Trials
Men's Mile by Mile Race Updates


Mile 1
Split:4:50
Pace: 2:06:43
Leader: Hall - Abdi then Ritz
Starting line at 7:20AM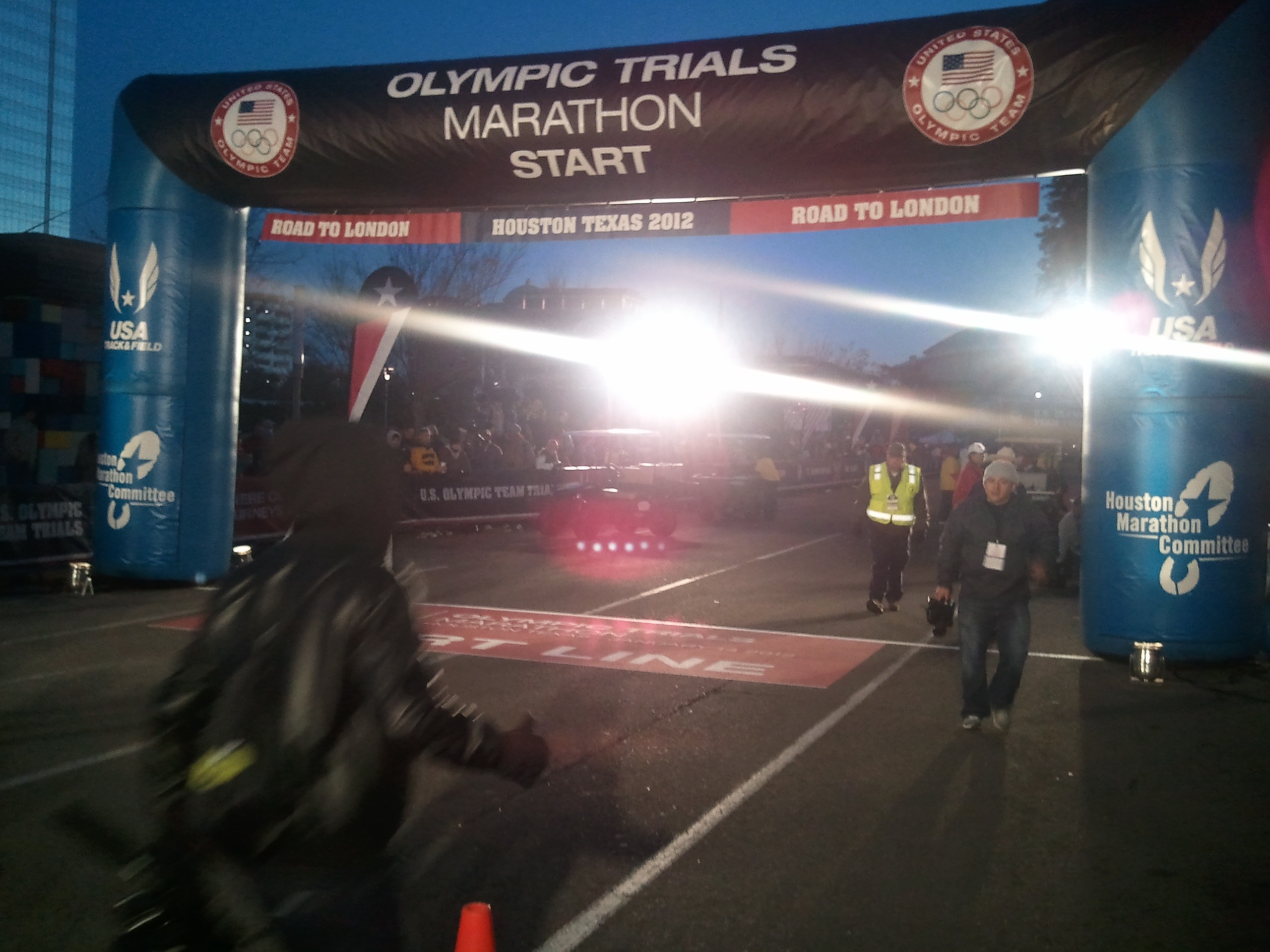 Men you better be ready because Ryan is gonna make you earn it!
---
Mile 2
Split:4:51 (9:42)
Pace:2:07:09
Leader: Hall
with Ritz, Meb, Olinger, abdi, etc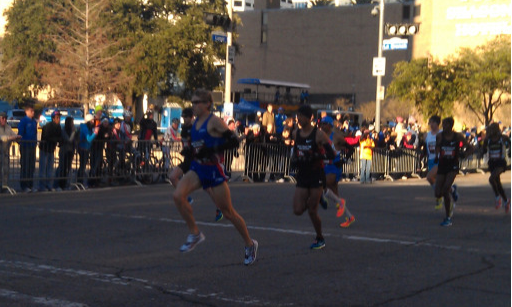 ---
Mile 3
Split:4:51(14:33)
Pace:2:07:09
Leader:Hall
In the pack of 7 is Ritz, Mo, Abdi, Meb Olinger
Chase pack at 3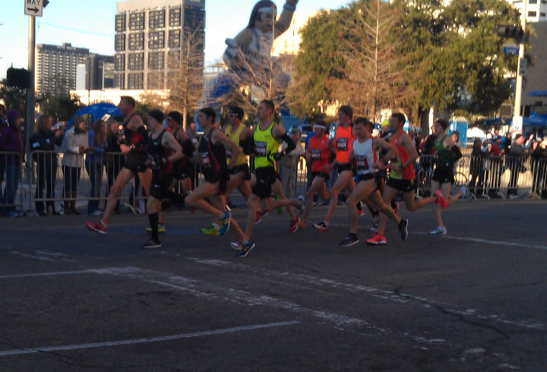 ---
Mile 4
Split:4:48
Pace:
Leader:Hall

Still 7 in the lead pack and Ryan Hall is pushing the gas



---
Mile 5
Split:4:43
Pace:
Leader:Hall
The pace is getting faster and Ryan keeps leadding. We still have Mo, Ritz, Abdi, Meb Olinger (the Surprise) and Chirlee!
---
Mile 6
Split:4:56
Pace:2:06:08
Leader:Hall

10K is at 29:53

Hall leading at 10k on the screens in the media room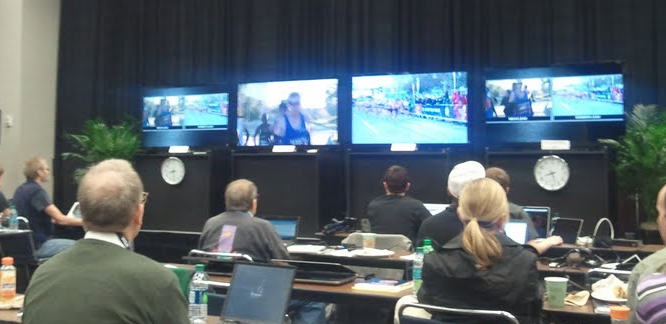 ---
Mile 7
Split:4:52
Pace:
Leader:Hall
Hall has lead every step of the way and now he has lost his hats and arm sleeves. There are a total of 7 in the lead pack and I belive for 6 of them this will be a death march at the end. Meb, Abdi, Ritz, Mo, Olinger, and Chirlee.
Meb has just taken the lead at 7.5 miles
Chase pack is 40 secs back with Jason Hartman, Nick Arcianaga and Brett Gotcher so there is a an Mcmillan stradgey going on. THey have caught Chirlee who was in the lead pack.
---
Mile 8
Split:4:44
Pace:
Leader:Meb

Meb took the lead from Hall for a little and now Hall is back in the lead, but the pace quickened and now the pack is 6 with Chirlee dropping off. Olinger has now passed the longest race of his life so we will see how he holds up.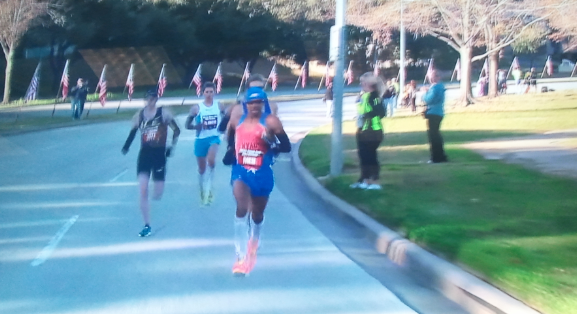 ---
Mile 9
Split:4:49
Pace:
Leader:Hall
So in this mile we have seen two people drop off the hot pace of Ryan Hall. Ryan said in the pre-interview that people would need to ear a win and he was not lying. THey are near 2:06:30 pace and now there are 5 oin the top pack. Hall, Meb, Abdi, Mo and Ritz are in the pack. THe Black Cactus has taken the lead for a couple strides in this mile.
Chase Pack:It is 40 secs back
Jason Hartman
Nick Arcianaga
Brett Gotcher
---
Mile 10
Split:4:52
Pace:
Leader:Hall

Mile 10 was all about the big boys and dropping the pretenders. We are getting in real here with Hall not given up the lead for more then a few strides. I still think that some of the 5 might bomb so that chase pack needs to be in striking distance, which they are as of right now about 40 secs back.

Ritz looks very smooth so all those Ritz-hispers were right.

Meb looks like he is laboring a little.

Abdi looks great.

---
Mile 11
Split:4:49
Pace:
Leader:Abdi
Abdi took the lead at the water station, but only for a moment. As of right now I would say Ritz, Hall and Abdi look the best.
Chase Pack has Andrew Carleson, Gotcher, Symth...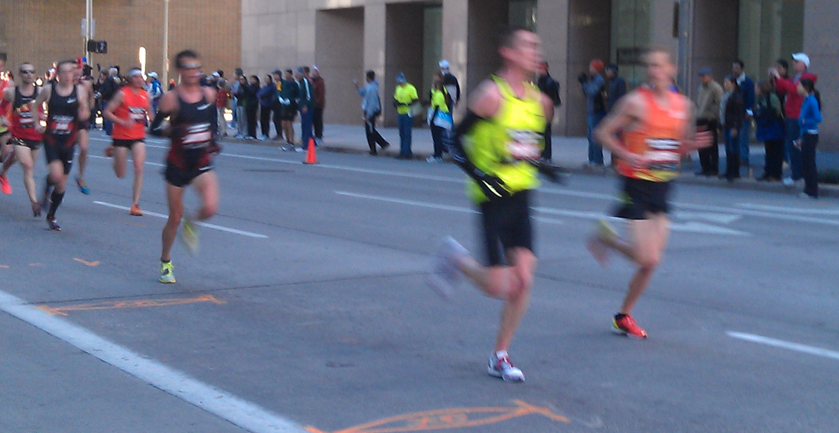 Lead pack with Meb hiding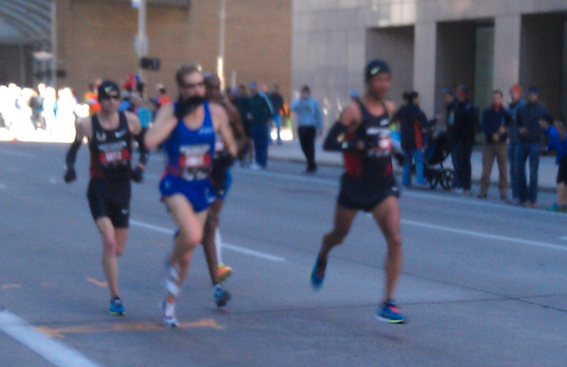 ---
Mile 12
Split:4:57
Pace:2:06:39
Leader:ABDI


RYAN HALL IS TRENDING ON TWITTER

Alex said Ryan Hall and Abdi were talking at mile 12 and he thinks he will throw down.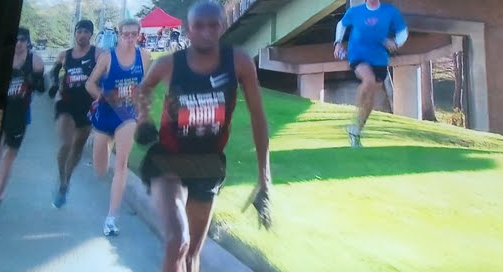 Ryan Hall ran 59:30 for 12 miles in November - Will the Men's field be at Ryan's Tempo Pace?


---
Mile 13
Split:4:56
Pace:
Leader:Hall
Abdi took the pace and actually had a couple stride lead, but Ryan reeled him in. Mo, Meb and Ritz are sto
HALF MARTHON PACE
1:03:25
That is 2:06:50 pace for the full marathon.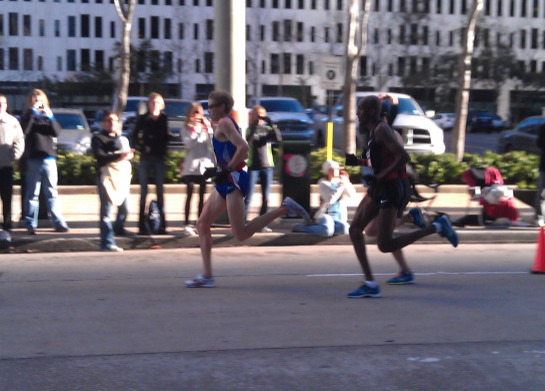 ---
Mile 14
Split:4:55
Pace:
Leader:Meb and Hall

Abdi and Hall having been trading the lead and we have a Meb siting at the front of the pack. Meb has been hiding and he took the lead halfway through this mile and it looks like he wants to widdle down the pack. Meb does not want 5 guys up there. They all took fluids at the water station and there is a line of three athletes with RITZ AND MO KIND OF FADING 10 STRIDES BACK!
---
Mile 15
Split:4:56 (1:12:47)
Pace:Just over 2:07
Leader:Hall and Ritz
Mile 15 was all about the breaking Ritz and Mo to make it a 3 man race. Ritz and Mo fell back about 10 strides and you could see Meb and Abdi getting excited about that possiblity, but then Rits said, "NO WAY!" and he caught the leaders. Ritz and Abdi COLLIDE and RITZ almost went down! He stays on his feet and it slows down the pack and Mo gets back up for a bit, but then falls back again.
It looks like MO is Gonzo out the back door to leave 4 in the lead pack! One of these guys (Ritz, Hall, Meb and Abdi) will not be going to London and they know it.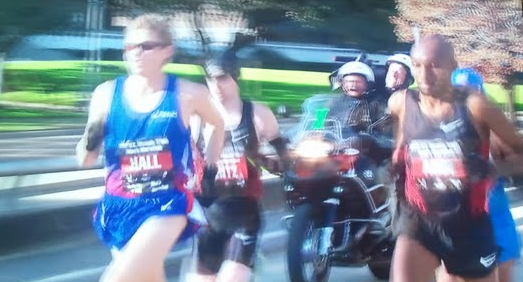 ---
Mile 16
Split:4:52 (1:17:40)
Pace:Just over 2:07
Leader:Hall

This mile was all about keeping Mo out of range from the top 4 and the Leaders did this. It looks like the top 3 will be coming from the lead pack and if you wanted a chance to make this team you needed to go with them.

Ritz is only in his 3rd race since 2010, but he is looking good.



---
Mile 17
Split:4:59 (1:22:39)
Pace:2:07:30
Leader: Meb and Ritz
THE SLOWEST MILE SO FAR
More of the same throught the first half of this mile. All men took fluids and Ryan Hall gave the camera a snot rocket to get a little lighter. Abdi and Hall have been doing most of the work.
During the second half of this mile Ritz and ABdi took the lead and the first time all day Ryan Hall does not try to take it back.
Ryan is in third, but did the early pace leading hurt him?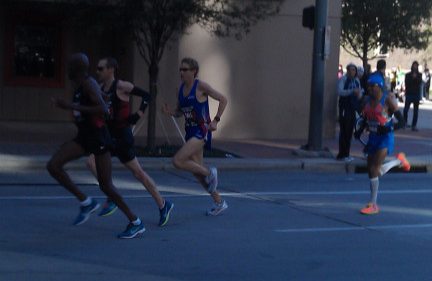 ---
Mile 18
Split:4:53
Pace:
Leader:ABDI The BLACK CATUS

Mile 18 was all about THE BLACK CATUS - He has taken the lead and started throwing up his hands to get people pumped. I think I heard him saying "REMEMBER ME!!!?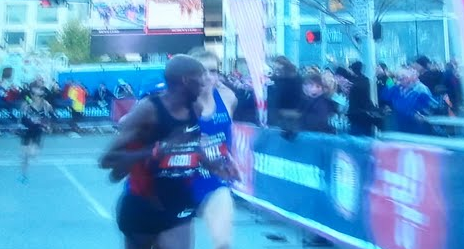 Andrew Carleson has moved into 5th place - Can he make up the difference in the last 8 mile loop?

---
Mile 19
Split:4:56 (1:32:19)
Pace:2:07:38
Leader: ABDI
Mile 19 was all about dropping Ritz and staying on your feet.
Throughout this mile the top 3 of Meb, Ryan Hall and Abdi have been loking back to see, to their relif, RITZ falling back. Dathan Ritz is about 30 meters back as they climb the slight up hill
Hall and Abdi collide! Abdi almost falls but stays on his feet!
Sean Houseworth, Air Force alum, in 5th place!! wowzer! gotcher, carlson follow #houston2012
---
Mile 20
Split:5:00(1:37:30)
Pace:
Leader:ABDI

Mile 20 was not to eventfull other then it was the slowest of the day. Does that mean they are feeling the pace and the chase pack of Gotcher, Carelson can catch up.

RITZ has fallen to about 40 meters back.



Team MN has been training together since Sept and this is the biggest race of their lives. Will they be in the mix at 20 miles?


---
Mile 21
Split:5:01
Pace:2:07:59
Leader:Hall and Abdi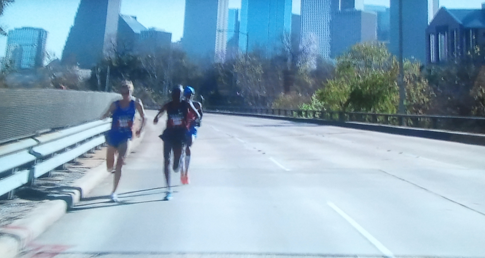 RITZ is 24 secs back
Chase pack - 2 mins back
---
Mile 22
Split:5:07 (1:47:39)
Pace:2:08:22
Leader:Hall

Mile 22 was the slowest of the race for the leaders. That early pace is starting to hit the runners. Terrence Mahon once said, "20 Miles is halfway". We will see if anyone can get back to the lead pack. This is getting tense as their pace begins to slow.

---
Mile 23
Split:5:05
Pace:
Leader:MEB
Mile 23 looked a lot like mile 22 until about halfway through the mile when Ryan Hall started to drop the hammer and picked up the pace. Ryan made a move but Meb and Abdi responded, Meb more so then Abdi but they are in contact with each other.
Ryan hither turns hard and wants to drop Meb and Abdi, but out of Meb takes the lead from Hall and drops Abdi. Abdi is 10 strides back and not looooooooking good.
Gotcher has moved into 5th place
---
Mile 24
Split:5:01
Pace:2:08:40
Leader:MEB

Mile 24 was all about dropping ABDI the BLACK CACTUS. Abdi has dropped back to about 25 meters back and now you have to wonder, where is Ritz, Gotcher?
Abdi is looking back can he hold on!!!!?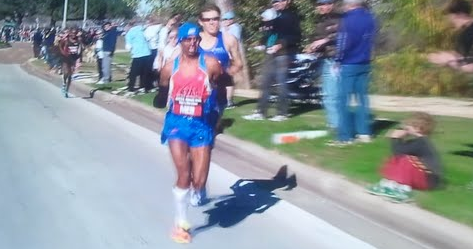 ---
Mile 25
Split:5:03
Pace:
Leader:MEB
MEB DROPS HALL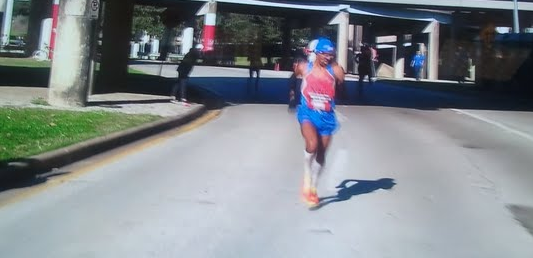 Meb has dropped Hall and is now in place for the win!
---
Mile 26
Split:
Pace:
Leader:

MEB contiunes to push the pace and it looks like he will be the winner unless something crazy happens. Meb is lapping womena nd Hall is no where to be found. Hall ran a gusty race and pushed the pace, but it looks like Meb ran a smarter race and will get the win. Meb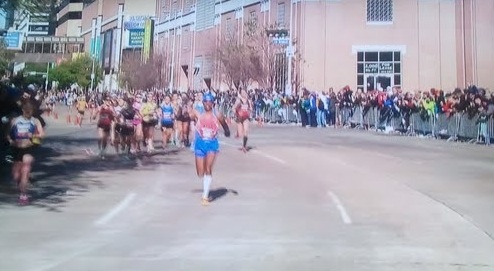 Meb - 2:09:08 PR
Hall - 2:09:30
ABDI- 2:09:47
Ritz just missed! 2:09:59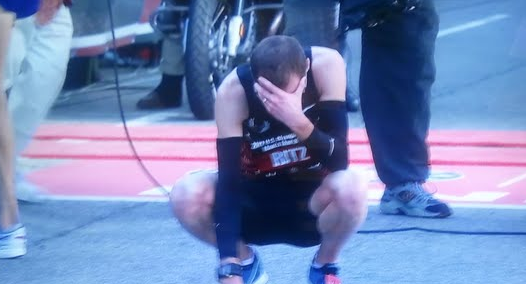 Gotcher 5th in 2:11
---
FINAL NOTES:

Meb is your Winner!
Hall second
Abdi third
Stay tuned for the interviews

Complete results here .
MEN'S RESULTS
Women's Race Updates
Houston Video Coverage
More notes here