New Balance Indoor Grand Prix Preview
New Balance Indoor Grand Prix Preview
Feb 2, 2012
by Ben Enowitz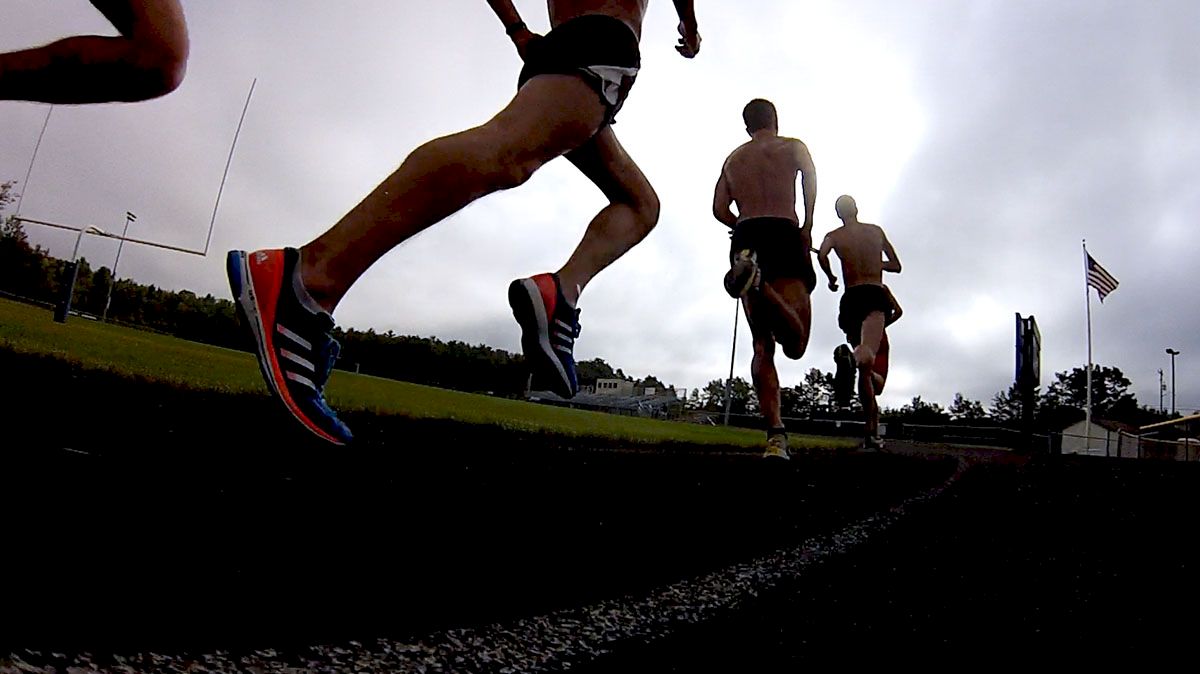 New Balance Indoor Grand Prix
"Nothing says better, better than Boston." This certainly rings true when talking about the New Balance Indoor Grand Prix (NBIGP), which will take place at the Reggie Lewis Center in Boston, MA this Saturday. This event features 15 star-packed events in a timely 2 hours and thirty minutes. Add in thunder sticks, a boisterous crowd, and numerous World/Olympic medalists and you have one hell of a track meet.
MEN'S MILE:
The men's mile is stacked and headlined by Mo Farah. Farah is fresh off a 3:39 1500m win over Augustine Choge last week. Farah's biggest challenge will probably come from his training partners, Galen Rupp and Ciaran O'Lionaird. Rupp is making his indoor debut, but has had great success at the Reggie Lewis Center, having run 7:44 for 3000m in 2009 and 13:14 for 5000m in 2010. In addition, it will be interesting to see how O'Lionaird, a finalist at the 2011 World Championships in the 1500m, performs for the first time under the tutelage of Alberto Salazar. Britain's James Brewer will also pose a major threat. Brewer was second at the mile at the New Balance Games at the Armory and closed hard to run 3:57.92.
The NBIGP defending mile champion, Russell Brown, is opening his season at this meet as well. Brown won this meet last year over Alan Webb and Nick Willis in a time of 3:54.81. In addition, Kenya's Daniel Kipchirchir Komen and Haron Keitany should also be considered co-favorites. Komen is a two-time World Indoor medalist and Keitany won the bronze medal at the 2010 World Championships in the 1500m.
MEN'S 3000m:
The 3000m run might prove to be the highlight of the day. Many will have their eyes set on the 2011 World 1500m bronze medalist, Matthew Centrowitz. Centrowitz says he has been feeling strong after a series of strong 10ks in the fall. However, his path to victory must go through Dejen Gebremeskel of Ethiopia. Gebremeskel is the 2011 Bronze Medalist in the 5000m and, like Centrowitz, is 22 years young. A shoeless Gebremeskel actually beat Mo Farah in this very event last year, running 7:35.37 to take the title. To make this field even more ridiculous, Silas Kiplagat, who owns a 3:29.27 PB in the 1500m, will also toe the line. Kiplagat was 2nd at this year's World Championships in the 1500m. Moreover, Cam Levins, a senior at Southern Utah, was a late addition to the field. Levins has been lighting up the track this winter, running 7:48 and 13:42 for the 3k/5k double last weekend.
Britain's Andy Baddeley should also be in contention. Baddeley won the New Balance Games at the Armory in 3:57.22. In addition, American Ben True, a 13:24 5k'er, should be near the front of the pack.
WOMEN'S 3000m:
Similar to the men's side, the 3000m will be the premier event for the women. World 1500m Champion Jenny Simpson, who is also the American Record holder in the 3k steeple, will step up to a familiar distance and challenge Ethiopia's Meseret Defar. Defar is an absolute beast, having PRs of 8:58.58 (World Record) for the two mile and 14:12 for the 5k. However, Defar is still trying to round into her old form after "only" managing to get bronze in the 5k at the most recent World Championships. American Shannon Rowbury will also be in the action. Given that Rowbury is a former World 1500m bronze medalist and has posted some solid times at the 5k distance (15:00), she should excel at the 3k distance (she is currently the 3rd fastest American at that distance with a PR of 8:31).
Sara Hall and Canadian Megan Wright (8:52 at last year's event) will probably lead the chase pack. This event has a slew of foreign competitors as well including: Btissam Lakhouad (MAR), Marina Muncan (SRB), Gotytom Gebreslase (ETH), and Mardrea Hyman (JAM).
WOMEN'S 2 MILE:
For some unknown reason, there will also be a 2 mile race. Tirunesh Dibaba, also known as the "Baby Faced Destroyer", will be competing. Dibaba has done very well at this event in the past, winning the 5k in 14:44.54 in 2010 and running a stunning 8:33.37 in the 3k in 2008. Dibaba sports PRs of 14:11 in the 5k (World Record) and 8:29 in the 3k. The competitor list for this event is currently unavailable on the NBIGP website.
WOMEN'S 1000m:
The women's 1000m is being labeled as an American Record attempt. The current AR is 2:34.19 by Jennifer Toomey. 2011 World #1 ranked Morgan Ucency and teammate Anna Pierce will join forces to try to take down this record. Uceny, with PBs of 1:58.37 and 4:00.06, and Pierce, with PBs of 1:58.80 and 3:59.38, seem to have the perfect combination of speed and strength to challenge the record.
WOMEN'S 800m:
The Women's 800m should be a solid mid-distance race. 1:57 runner Maggie Vessey is the favorite on paper. Vessey will be joined by high school phenom, Ajee Wilson and Latavia Thomas, the former LSU Tiger. Thomas was just edged out by Phoebe Wright at the New Balance Games at the Armory, running 2:02.71 and Wilson was second at the US Open running 2:09. Sub 2:00 runner Fantu Magiso from Ethiopia should not be counted out (800m winner at the US Open) nor should the versatile Canadian Nicole Sifuentes.
MEN'S 400m:
The men's 400 will be an epic dual between Kirani James, the 2011 World Champion, and the 400m hurdles medalist Bershawn Jackson. James has the third fastest indoor 400m time in history (44.80). Jackson won this event in 2010 in a time of 46.86 and was the bronze medalist in Beijing in the 400m hurdles. Other competitors include: Tabarie Henry (ISV), Michael Tinsley (USA), Renny Quow (TRI), and Johnny Dutch (USA).
MEN'S 60M HURDLES:
After being upset in the 50m hurdles at the US Open, David Oliver will look for his first win of the season. Oliver, an American Record holder in the 110h, will be challenged in the 60m hurdles by a host of American competitors including Aries Merritt, Jeff Porter, Ty Akins, Dominic Berger, Ryan Wilson, and Omo Osaghae.
WOMEN'S 300M:
Another seldom-contested event is the 300m dash. This race will probably come down to a dual between Americans Bianca Knight and DeeDee Trotter. Trotter, more known for her 400m prowess (sub-50), will meet Knight, primarily a 100m/200m specialist, in the middle in what should be an exciting showdown. Jasmin Chaney (USA) and Dominque Blake (JAM) will also be in the action.
OTHER:
The field events should also be entertaining to watch as Christian Cantwell is competing in the shot put and Jenn Suhr in the pole vault. Also, check out some exciting prep action as the NBIGP features a boys' 4x800m relay, girls' 4x400m relay, boys' mile, and girls' mile.
Not all event start lists have been announced at time of print. Check here for updates: http://www.flotrack.org/article/10374-START-LISTS-2012-New-Balance-Indoor-Grand-Prix-Boston
Also, go here to see all of Flotrack's coverage: http://www.flotrack.org/coverage/247829-2012-New-Balance-Indoor-Grand-Prix