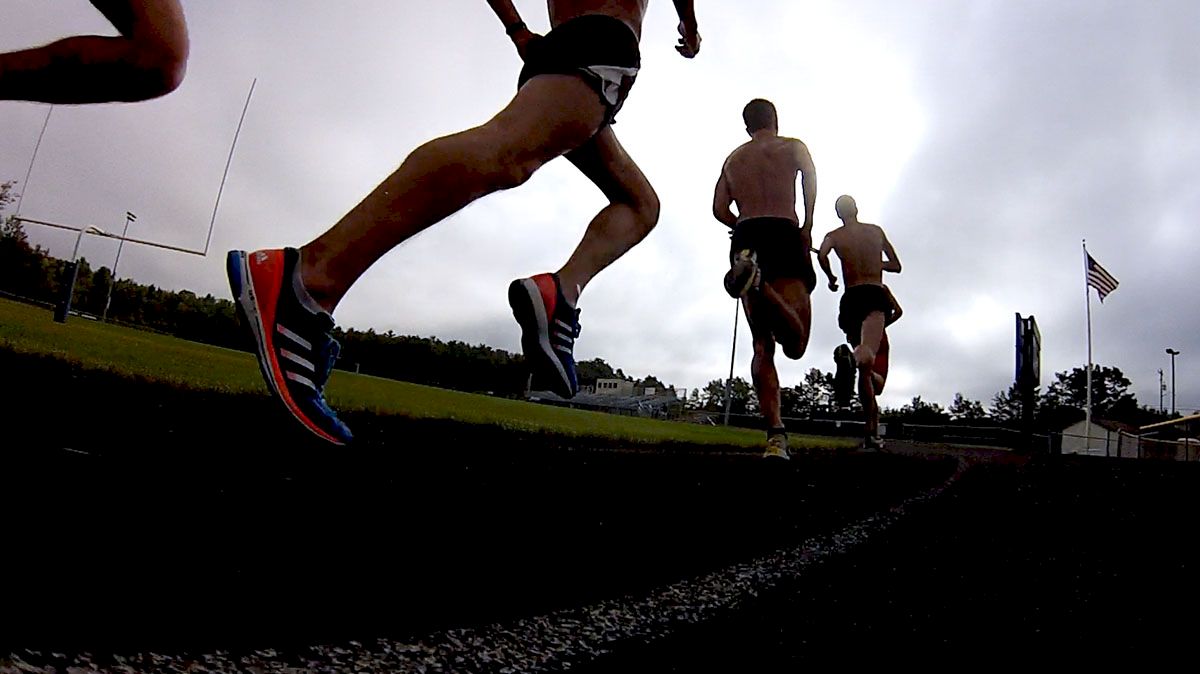 After the men's 5000 at Saturday's Pre Classic, Matt Tegenkamp moved through the media area without stopping to talk about his disappointing 12th place finish, running 13:24.74. Matt later posted a message on Twitter saying "I walked through the media w/o giving an interview & n other sports I would be fined. Send ??(if any) And I will respond tomorrow. #roughday". We contacted Matt to follow up. We appreciate Matt's openness and wish him the best at the Olympic Trials.


Matt Tegenkamp Q&A:

KS: What were your expectations going into the 5k?
MT: First, compete well within the race and hope to be in the "fight" over the last 1k. Thinking if I did that then the result would be a performance close to the 13 barrier. Workouts had been going great, legs felt really good and bouncy, and really felt like I had made a big jump since Payton Jordan!

KS: You were in the mix until about 1k to go? What do you think went wrong and how did you manage those difficult laps?
MT: My entire career I have run from the back, the race usually doesn't start until the last 1k and I hate wasting energy fighting for position when everyone is only a second apart. I always knew that if I didn't let go of the lead pack I was fine! I knew Pre was going to be very fast and I was going to stick to my normal game plan. Though 6 laps I was on the train, able to cover moves, and happy with the my overall feeling (that soon came to an end). Over the next three laps I could tell the "wheels" were coming off but I was too stubborn to listen to the body (I race to be in the fight)! I had been in this position so many times in the past and reminding myself to be willing to hurt and the body will adjust to the pace and find that rhythm again! Unfortunately, the moves became harder to cover but I was telling myself to stay as close as I could because I knew there would be a classic "4th kilometer slowdown" for the build to the finish kick. The slow down happened but I had already burned everything up and couldn't get myself to latch back on.

From that point on it was pretty lonely; there were thoughts about dropping out, trying to figure out how this pace used to feel so comfortable and now I blowup every major 5k I run. Again, being stubborn, I realized there was more at stake for the bigger picture (Trials 10k) and needed to suffer as much as possible and get through this race.

KS: Looking back at yesterday, does a tough tune up race have an impact on the target meet (Olympic Trials)? How do you move on from Pre?
MT: The race at Pre Classic was not what I was hoping for but I truly believe it will payoff in 3weeks time. It was a grueling effort, I suffered, and it will help me make another jump in fitness as the Olympic Trials near. I move on from Pre by focusing all my energy to making my second Olympic Team.....This time in the 10,000m.

KS: You were in a long conversation with your coach after the race? What was the theme of that discussion?
MT: This exact "race" has been happening the last 18 months and I could not figure out what I was missing....You can be sure there where many talks/arguments with Jerry! I never questioned Jerry's long term plan, how could I, my career resume is one of the best for an American distance runner. Athlete's always think they are doing everything asked of them and more and I was no different.....I was always looking to Jerry to fix the problem. Little did I know, or want to accept until today, I was 30! I was not 25, 26, 27 anymore and how the body felt in those days does not come easy anymore. Being the oldest in the group and being surrounded by younger guys helps the mind stay young but it is easy to forget they physical age!

I used to be so fresh all the time, there were times of tough training but I would recover so fast, the legs were always bouncy and ready for whatever Jerry through at me. The talk after Pre was discussion about the realization, on my part, that the old man "bell curve" is starting! I am not saying that I cannot PR in the 5k anymore but it is going to take a very special race with all the stars aligning. Jerry has seen this coming for awhile and tried to get the "lightbulb" to go off but I always thought he was speaking a foreign language.....I could not process what he was saying and really thought he had lost faith in my abilities. Today, I know he was trying to prepare me for the next chapter, as sensitively as possible! I have always believed that athletes can receive as much advice from as many different sources that have been through a particular situation and still have to figure it out on their own....This was the case for me.

During the discussion, the talk of 13:10-13:15 keep coming up as potential times I could run at any given time during the year. As I thought about it more it is amazing that I am pissed about those times. Running the 5k in that manner will be hard for me to accept, as I always want to race to be in the fight, but it is pretty awesome to know I can always be in that fitness. Furthermore, what will that mean for the 10k.....Exciting to think about!

KS: After a night's rest, what are your thoughts on the Olympic Trials? Will you be doubling?
MT: The easy answer is my focus will be squarely on the 10,000! Pre was a very tough pill to swallow but I will be better for it and will give me better perspective going into the trial. Since turning professional I have not missed an "Outdoor US Team" and I can promise you I don't plan on that happening in an Olympic year. I know my fitness is great, I believe I have a lot of room to improve in the 10,000 and I am looking forward to the challenge! A new chapter is starting; 3:34.25, 7:34.98, 8:07.07, 12:58.56 may very well be set in stone but the 10,000.....So much room for improvement.....HERE WE GO!