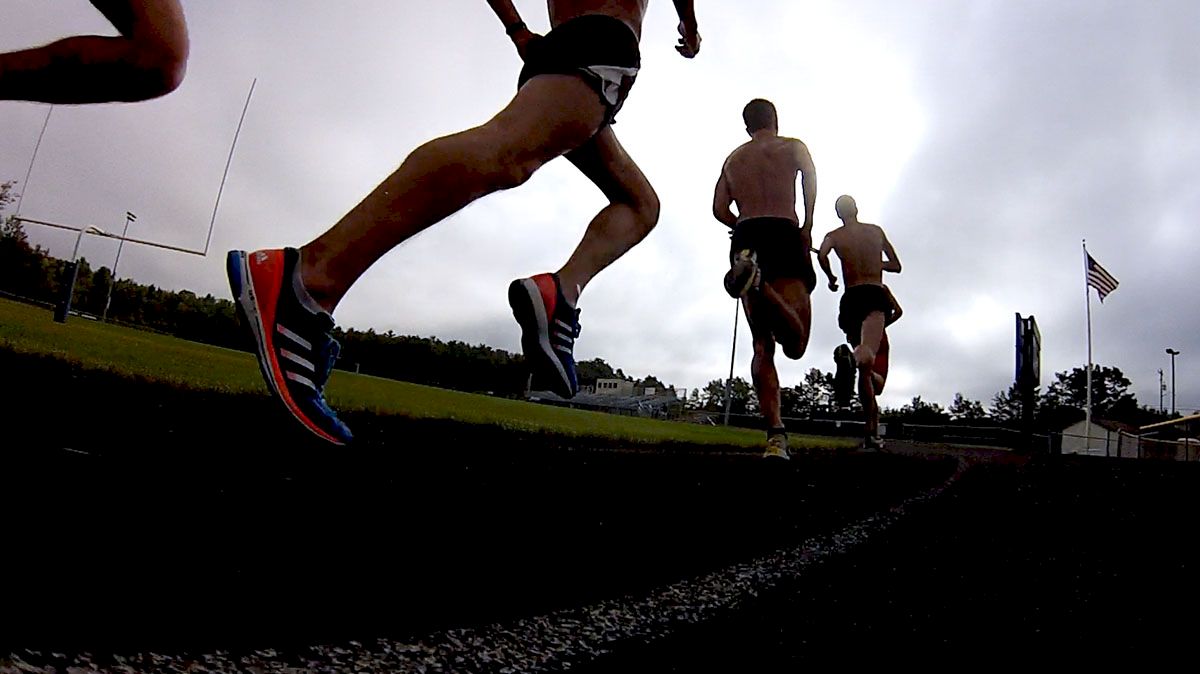 Her Biggest Fan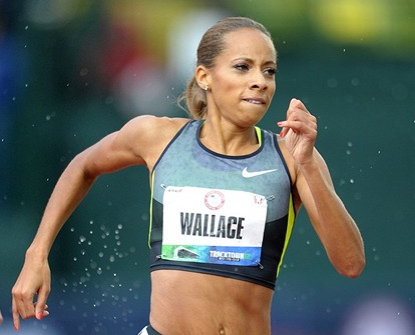 The starting line was ready for the women who would soon run heat 2 of the 800 meters. There was a slight drizzle falling from the Oregon sky as the athletes did their final strides on the track of Hayward Field. The anticipation was mounting for the athletes who had just watched heat 1 tear down the track, officially determining who would compete in the final at the 2012 Olympic Trials. Those that qualified to toe the line on this cloudy Saturday afternoon were fighters, women battling to represent the United States at the greatest track meet in the world. Some were teammates but for the next two minutes, none of these women would be friends. They knew their lane assignments, they knew their race plan, and they were ready to do whatever it took to be in that top three. Nothing could stand in their way.
Lane 1 was Lea Wallace, a Nike athlete of the Austin Track Club, who was about to toe the line. Suddenly she was met by fellow competitor Katie Palmer who was scheduled to run in lane 6. Palmer embraced Wallace with a sympathetic hug minutes before the gun would start the battle for those three coveted spots. It was a hug that meant more to Wallace than anyone could possibly know.
The weeks leading up to and during the Olympic Trials were possibly the most difficult weeks of Wallace's life. She suffered from a retinal hemorrhage during a routine workout a week before the Trials, causing her to lose vision in her right eye. The most heart-breaking loss however, occurred when Wallace's father passed away the night before her 800 semi-final in Eugene.
"It's incredible, the love of the athletes at the Trials despite the high level of competition. It was crazy you know?" Wallace said explaining her amazement at Palmer's gesture, "It's the biggest meet I've ever competed at in my life, the most is on the line, and you're hugging your teammate, not even a teammate, I don't even train with these girls."
Wallace is a middle-distance runner who is fairly new to the post collegiate track world. She graduated from Sacramento State in the spring of 2011 and joined coach John Cook's group, the Austin Track Club, in fall 2011. She had a break out senior season at Sacramento, where she earned All-American honors by finishing 6th in the 800 and 9th in the 1500 at the 2011 NCAA Outdoor Track and Field Championships. Wallace continued her hot streak this year by hitting a huge personal best of 2:01.33 in the 800 at the Victoria International Track Classic.
"I started to gain positive momentum in Canada. I set a PB (personal best) there in Victoria and I got back really excited about life and how I was doing," said Wallace when explaining her experience gearing up for the Trials.
Two weeks before the Olympic Trials, Wallace was feeling confident about her racing ability. She returned to Austin where she resumed her training schedule. During a routine training session, Wallace suffered from a retinal hemorrhage and the loss of vision in her right eye while doing push-ups in a general strength workout. She was rushed to the hospital after passing out and having a seizure, where the doctors told her that she could still run in the Trials under strict medical supervision. It was during this time that Wallace's father was admitted to the hospital in her hometown of Napa, California. Because he had been admitted before Wallace was not terribly concerned, but his condition continued to get worse as she prepared to leave for Eugene.
"When I toed the line, I had to try to brush it all off and leave as much at that hotel room as I could," Wallace said while remembering her arrival in Eugene and preparing to race.
When Wallace arrived in Eugene, she called her parents in California to check on her father and learned that his condition had gotten even worse. She had a decision to make. Would she stay in Eugene and compete at the Trials or would she fly home to be with her father? When the idea of flying home was brought up, her parents immediately told her to stay and compete, and that is what she did.
"My dad was my biggest fan ever," said Wallace as she described the proud father that he was, "It was a dream that he shared with me."
On Friday June 22nd, Wallace ran in heat 3 of the preliminary round of the women's 800. Her family in California had gathered in the living room of their home to watch her compete for a spot in the semi-final. As her father watched from the television back home, Wallace emerged with a qualifying time of 2:02.94. Later that night, after Wallace called home to speak with her family, her father passed away from congestive heart failure and renal failure.
"He knew nothing about track, but he knew that he loved to see his little girl run fast," said Wallace when recalling memories of her father.

Wallace decided to run in the semi-final the next day where, after a sleepless night, she finished fifth in heat 2 with a time of 2:04.14. Despite failing to qualify for the final on Monday, Wallace was very pleased with her performance.
"Knowing that it was what my dad wanted and that nothing could've made him happier or more proud, was one of the few things that was comforting to me in that situation. I went and I ran and I didn't qualify for the final but it's probably the race I'm proudest of most in my life. I've never left the track feeling like I couldn't have done anything differently. I just didn't have it. I just ran out of gas, but I knew he would have been really proud and that's all that really mattered," said Wallace.
Wallace plans on spending time with her family by going back to California this summer, but she has big plans for her running career in the future. A year from now, Wallace sees herself competing at the 2013 National Championships. Her ultimate goal is to secure a spot on the Olympic team in 2016.
"I think next year will be good. After everything I went through this year, I know that I can make it through anything. There's nothing that can break me, and as much as going through these things sucked, I know that they will help me be the best that I can be."