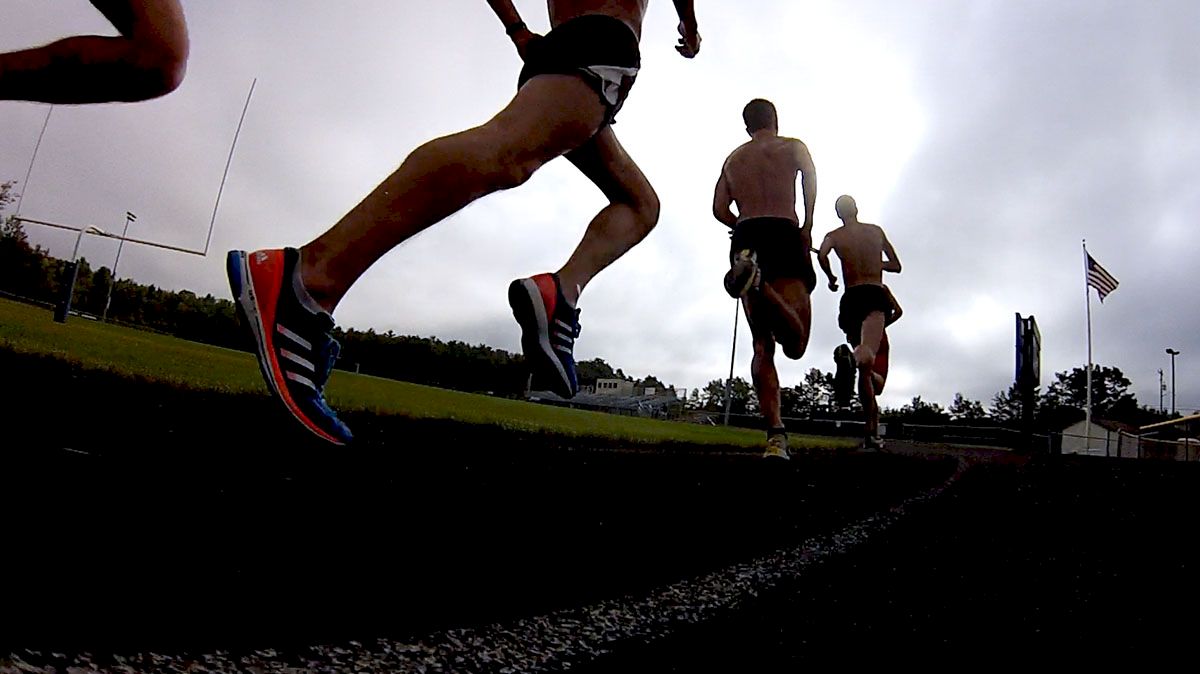 It's finally here! The track and field portion of the Games of the XXX Summer Olympiad begins on Friday.
The three big events to watch are the first day of the heptathlon and the finals of the men's shot put and the women's 10,000 meters – and the 10k will be aired live on NBC. Also worth noting are the heats of the men's steeplechase and 1500 meters.
TV Schedule
(all times Eastern)
NBC
10:00 AM to 10:30 AM
Qualifying rounds from Day 1 of Track & Field.
NBC
11:30 AM to 12:00 PM
More qualifying rounds from Day 1 of Track & Field.
NBC
4:30 PM to 5:00 PM
LIVE coverage of the women's 10,000 meters final
(Eastern time zone only)
NBC
8:00 PM to 12:00 AM
Swimming finals include the men's 100m butterfly,
plus Track and Field's opening night, Diving,
the U.S. women's Volleyball team faces Serbia,
and the men's Trampoline final.
NBC
12:35 AM to 1:35 AM
Qualifying rounds in the women's discus and
Day 1 of the heptathlon, plus track Cycling finals.

Day 1 results

Day 1 Event by Event Updates
Olympic Track & Field Schedule
(all events covered live at NBCOlympics.com)
Let's look at the main events one at a time.
Men's Shot Put
Qualifying round at 5:00 AM ET
Final at 3:30 PM ET
This event is one of Team USA's best chances for gold, and a medal sweep is very possible. Trials champion
Reese Hoffa
has a nice win streak going and is
Track and Field News'
favorite to come out on top. Trials runner-up
Ryan Whiting
is the reigning World Indoor champion, and while he hasn't thrown terribly far this year his bests have been at championship meets – the Trials, the World Indoors, and the US Indoors. Possibly the most-ignored medal threat is Trials third-placer
Christian Cantwell
. He was bothered for most of the year by a bad back, but it's better now and he proved it by throwing a massive 73' 2½" (22.31 meters) at the Gill Field Fest in July, the world's best distance in more than two years.
However, we have seen many recent championship meets in which multiple American shot putters entered as favorites and yet failed to deliver. Last year, Germany's
David Storl
upset the formcharts to win the Worlds. He's not quite up to last year's form, though, so consider him an underdog. Poland's
Tomasz Majewski
is a very consistent performer, and won Olympic gold four years ago in a big upset, and probably represents the single best chance for a non-American. The other man to watch is Canadian
Dylan Armstrong
, whose coach is known for getting his charges to do their best when it counts the most.
Women's 10,000 meters
4:25 PM ET --
LIVE
on NBC
This race is expected to be a war between Kenya and Ethiopia, specifically
Vivan Cheruyiot
and
Tirunesh Dibaba
. Cheruiyot won the Worlds 5,000 and 10,000 meter double last year, and the Worlds 5,000 two years before that. However, these were won in the absence of Dibaba, the defending Olympic champion at 5,000 and 10,000 meters, who missed some 16 months with injuries but who appears to be back somewhere near full force. This promises to be a titanic battle, and we should be glad that NBC finds the 10k so boring that they will broadcast it live instead of saving it for prime time tape-delay.
The consensus pick for bronze is
Sally Kipyego
, the Kenyan who ran for Texas Tech and now runs for the Oregon Track Club. Those expected to battle her for that medal include teammate
Joyce Chepkirui
, Ethiopians
Belaynesh Oljera
and
Worknesh Kidane
, and Russia's
Yelizaveta Grechishnikova
. The only U.S. runner picked for a top-ten finish by
Track and Field News
is
Amy Hastings
, but
Janet Cherabon-Bawcom
and
Lisa Uhl
might be capable of getting up there as well.
Women's Heptathlon
100m Hurdles at 5:05 AM ET
High Jump at 6:15 AM ET
Shot Put at 2:00 PM ET
200 meters at 3:45 PM ET
The favorite in this event is Britain's
Jessica Ennis
, both in the sense that she's expected to win and that she is probably Britain's most popular athlete in track and field. According to decathlon/heptathlon expert Frank Zarnowski, she will be facing massive pressure but can handle it. But Russia's
Tatyana Chernova
will be breathing down her neck, and so Ennis doesn't have much room for error. One projection I've seen has the final margin of victory at a mere 20 points.
Ukrainian
Natalya Dobrinska
and Russia's newfound star
Kristina Savitskaya
will likely battle it out for bronze, but Canadian
Jessica Zelinska
and Team USA's
Hyleas Fountain
both stand a decent chance as well. The other Americans,
Sharon Day
and
Chantae McMillan
, are not expected to contend.
The multi-events are fun to follow because each athlete has strengths and weaknesses, and ultimately each athlete is competing less against each other and more against their ideal selves. So whether Ennis is ahead or behind Chernova at any particular point isn't as important as by how much. In particular, Ennis is so strong in the first day's events, and Chernova so strong in the second day, that Ennis probably needs to exit today with a lead of at least 250 points if she is to win. Here's how I see it:
After 100m hurdles: Ennis should have a lead over Chernova of about 75 points
After high jump: Ennis should pick up more than 100 points and be ahead of Chernova by about 180 points
After shot put: Ennis should pick up another 25 or so points and be ahead by more than 200 points
After 200 meters: Ennis should pick up another 50+ points and be ahead by 250 to 260 points
Remember, Chernova's second day is so strong that she can eat up a lead of 250 points, so Ennis will really need a big cushion.
Other events to watch
In the
men's steeplechase heats
(8:00 AM ET), the three Americans are split evenly between the three heats. The qualification is brutal, with only four from each heat and three time qualifiers getting to Sunday's final.
Running in heat 1, new American record holder
Evan Jager
will be running the sixth steeplechase race of his life. While he ran a stunning race in Monaco a few weeks ago, he's still got his hands full to get to the final; five of the top ten in Track and Field News' picks are in his heat--Abel Kiprop Mutai (KEN), Mahiedine Mekhissi-Benabbad (FRA), Tarik Langat Akdag (TUR), Benjamin Kiplagat (UGA)--and, of course, himself.
Kyle Alcorn
will have to run a great race to get out of heat 2, and
Donn Cabral
also faces a stiff challenge to get out of heat 3.
The
men's 1500 meters heats
(3:05 PM ET) will eliminate only 20 of the 44 entrants, and it should be a little easier for our favorite athletes to get through. The three heats each have fourteen or fifteen runners, and the top six will qualify plus six more on time.
Heat 1 features Kenyan star
Asbel Kiprop
along with Team USA's
Leo Manzano
and Australia's
Ryan Gregson
. Others to watch include
Taoufik Makhloufi
(Algeria) and
Mekonnen Gebremedhin
(Ethiopia), whose 2012 best times are 3:30.80 and 3:31.45 respectively.
Heat 2 features the other Kenyan star,
Silas Kiplagat
, along with Team USA's
Andrew Wheating
and Canada's
Nate Brannen
. Wheating has reportedly had plantar fascia issues and it's hard to tell how things will go for him. Brannen appears ready to roll. Besides Kiplagat, their main competition should be
Amine Laalou
(Morocco) and
Hamza Driouch
(Qatar).
Heat 3 has team USA's
Matthew Centrowitz
, New Zealand's
Nick Willis
and Ireland's
Ciaran O'Lionaird
. They face off against the third Kenyan,
Nixon Kiplimo Chepseba
, along with
Abdalaati Iguider
(Morocco). Willis, the 2008 Olympic silver medalist, recently set a new PR. Centro and O'Lionaird have both been battling some niggles, but it appears that this may be the easiest heat to qualify from.
For an extensive event-by-event preview, check out my blog at
tracksuperfan.com
.
---