2012 London Olympic Games
Bekele Photo Timeline-Can he bounce back?
Bekele Photo Timeline-Can he bounce back?
Aug 3, 2012
by Justin Britton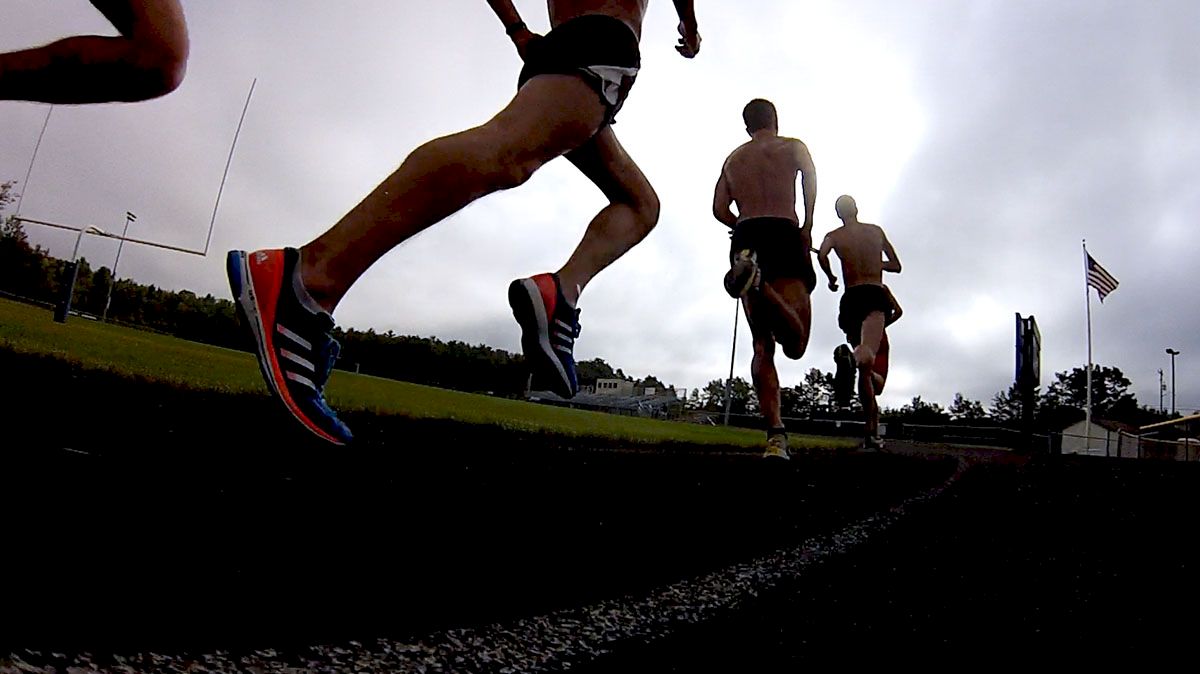 Kenenisa Bekele, World Record holder in the 2000/5000/10000m on the track, has won multiple World XC Titles and is shooting for his 3rd straight Olympic Gold Medal in the 10000m in London. IAAF broadcasters have said during Beijing in 2008, "This is probably the best distance runner we've ever seen". If Bekele can pull it off again, they may just be right.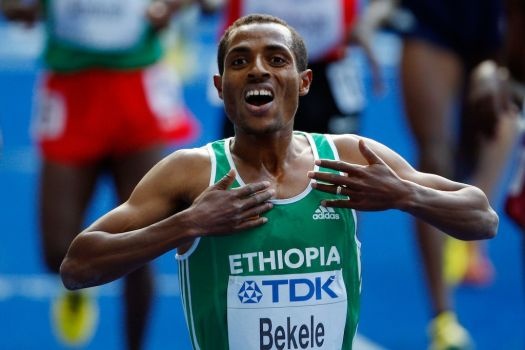 In his 4th year of competitve running, Bekele gets the World Jr. Record for 3K in Brussels running
7:30.67s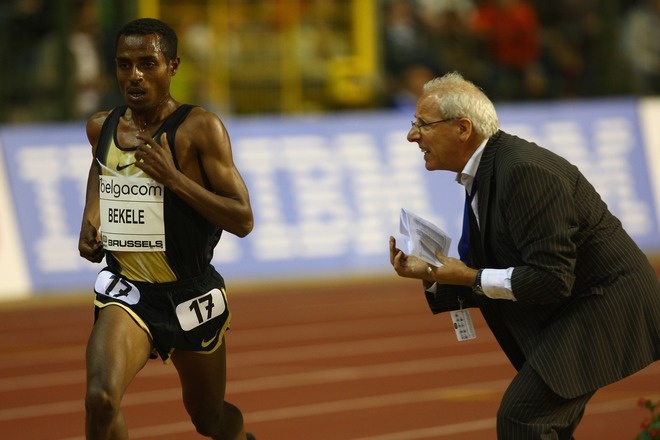 Here he's in a mob of Kenyan's as he tromps on the field at the 2003 World XC Champs, by winning both the short & long courses (4k&12k).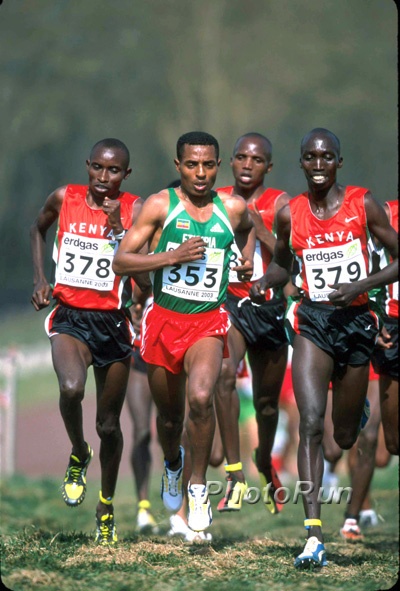 Kenenisa took on Eliud Kipchoge of Kenya and Hicham El Guerrouj in the 5000m at the 2003 World Championships, but ended up 3rd after he had won the 10000m in
26:49.57s.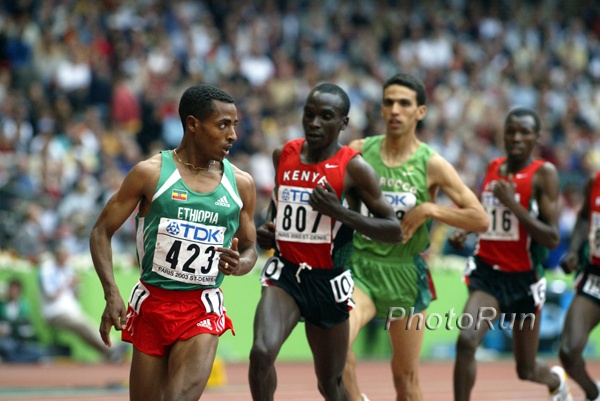 Make that 2 in a row, completes back to back World XC victories in 2004 in both the 12k & 4k courses!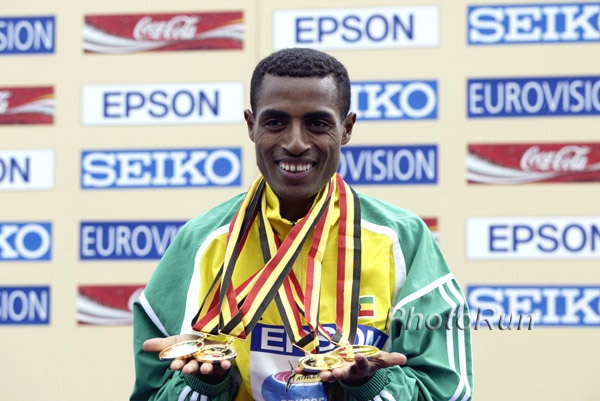 2004 really started to be his year, in late May he set a WR in the 5000m in Hengelo-
12:37.35s
, broke the 10000m WR in Ostrava-
26:20.31s
and was voted the IAAF World Athlete of the Year.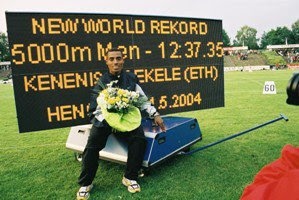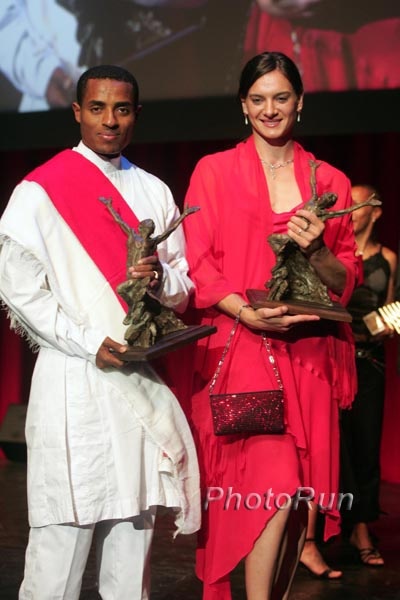 Athens, Greece in the 2004 Olympic Games, Bekele takes the 10000m(on right) title but comes up short again as he finishes 2nd to El Guerrouj in the 5000m (on left).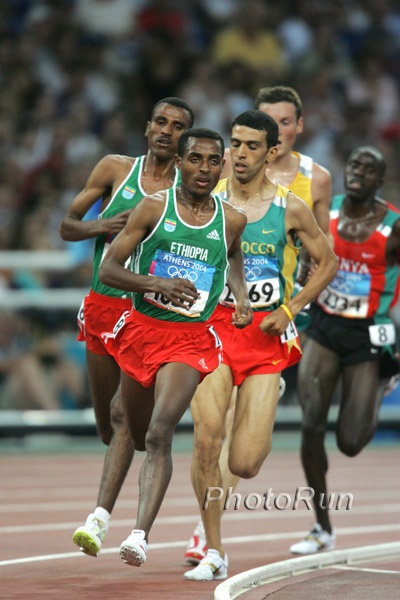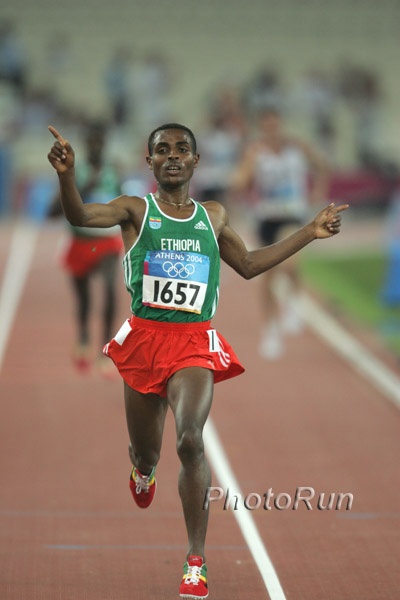 The man is pumped! After a quite start to the 2005 season (although he still won both World XC Titles) he comes back to win the 10000m title at Worlds and then breaks his own 10000m WR in Brussels, both occuring in August.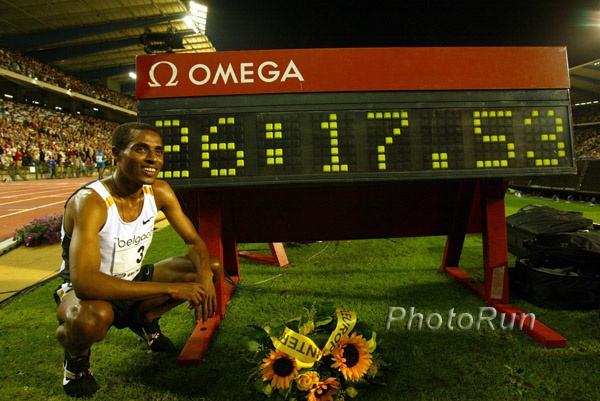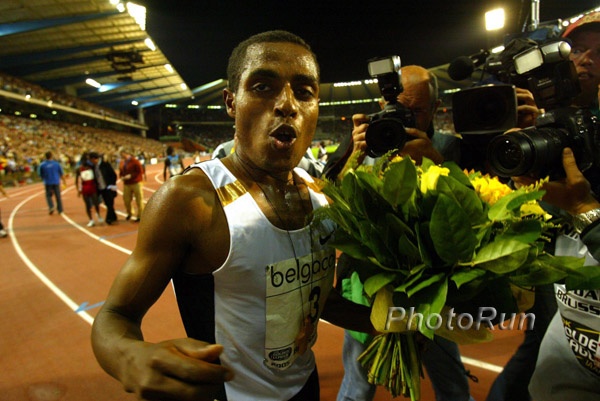 After winning the 3K at the 2006 World Indoor Track Championships in Russia, Bekele becomes the 1st ever athlete to win both the Olympic, World Indoor/Outdoor and World XC Titles. Pictured here with his little brother Tariku Bekele.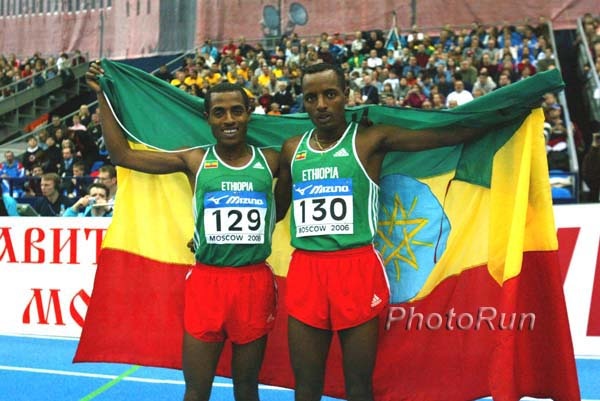 Bekele conquered a tough road during his outdoor campaign in 2006, winning 5 out of 6 IAAF Golden League 5000m races.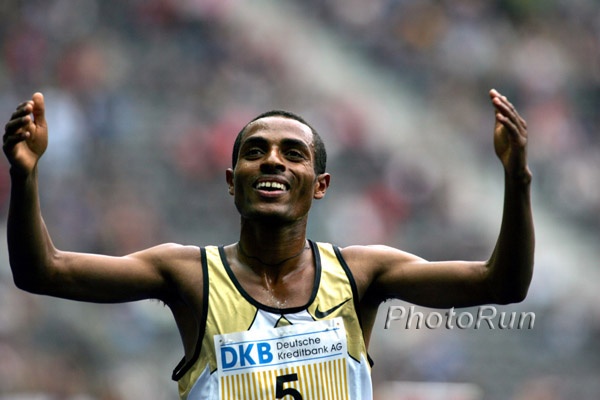 Summer of '07, pictured here is Bekele stalking Tadese of Eritrea as he takes another 10000m World Title, getting vengence on Tadese as he broke his streak of consectutive World XC titles earlier in the year. Also following Worlds, Bekele got married!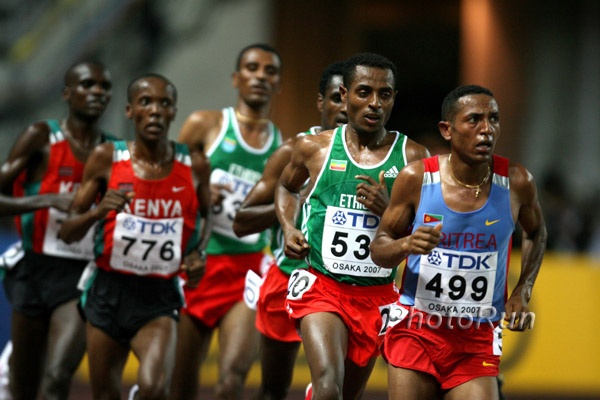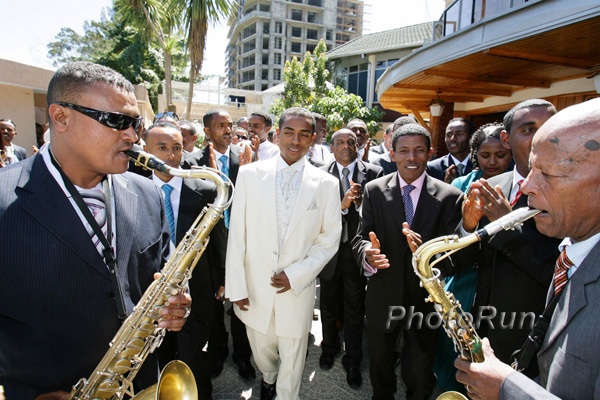 Kenenisa pictured here with his best-buds after his record breaking 6th World Cross Country Title, which took place in Scotland 2008.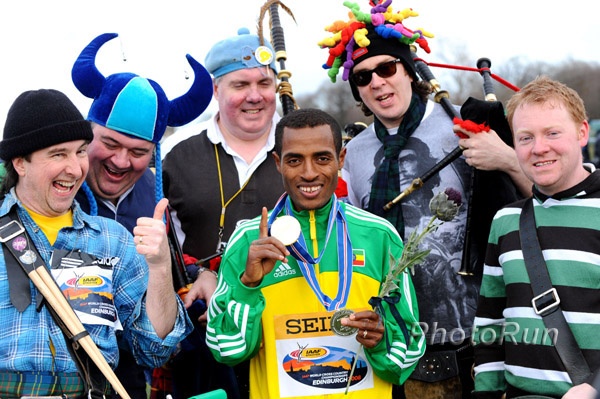 "Can Bekele win another 10000m track title!?"
(I'm sure this is what his manager was asking him as he cruised to victory at the 2008 Pre Classic)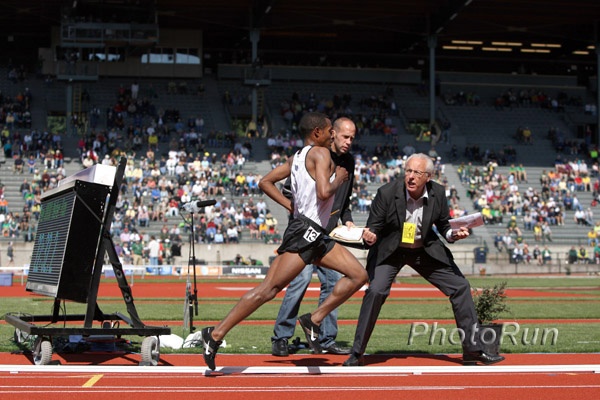 Well, the question was answered for us as Bekele won another Olympic 10000m title and then came back to take the 5000m title as well, just happy as a plum. (Sporting his Bolt impression).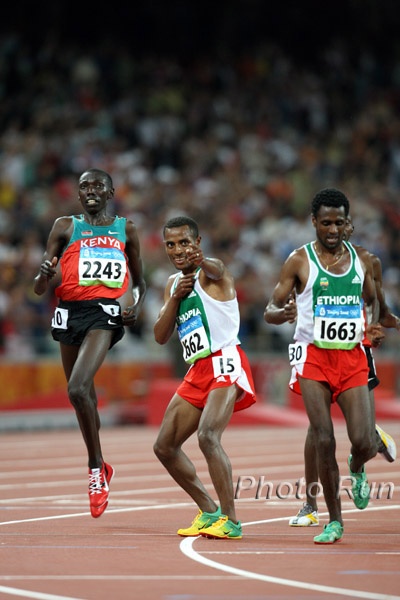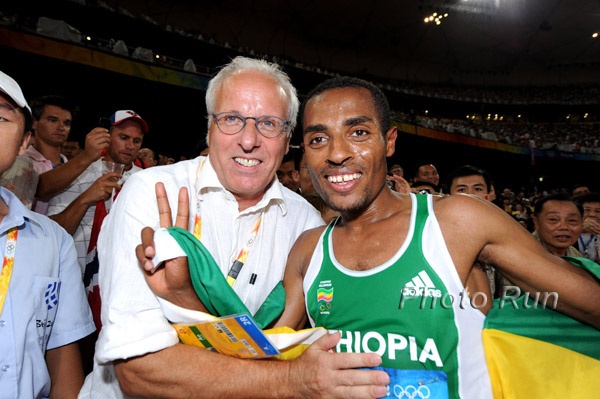 Full of joy as we move towards Berlin, the site of the 2009 World Outdoor Championships, Bekele won 10000m and then held off Bernard Lagat to take the 5000m again!
21
World or Olympic Golds for Bekele.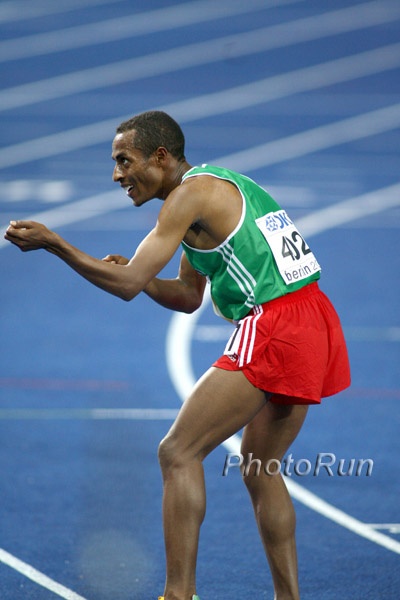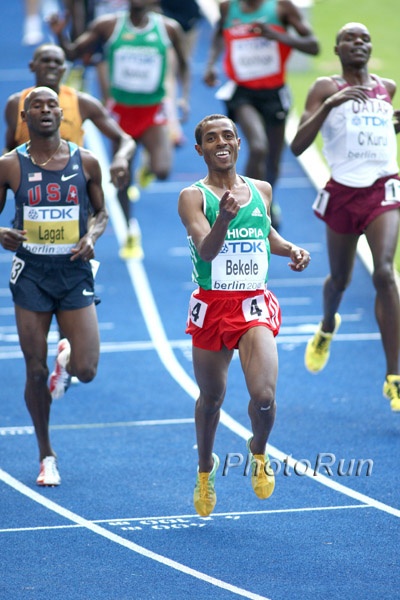 Rough times come for the golden boy of distance running in 2010, as he is upset at the Great Edinburgh XC Run, finishing 4th.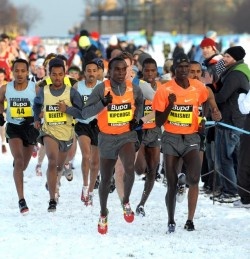 After suffering from a ruptured calf muscle, Bekele missed several months of racing/training and has been questioned about whether or not he was the same runner that we all knew. Photo 2011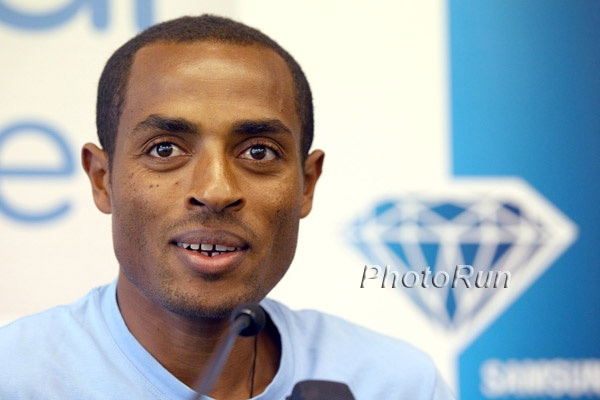 Bekele DNF'd at the World Outdoor Championships in 2011 but bounced back posting the WL time in the 10000 a month later.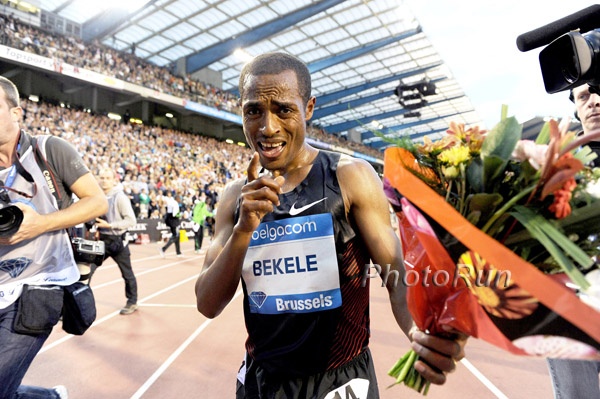 He has been off to a slow start again in 2012, trying to recover from being a bit banged up but he is feeling great as he moves towards the 10000m in London and WANTS another Olympic title.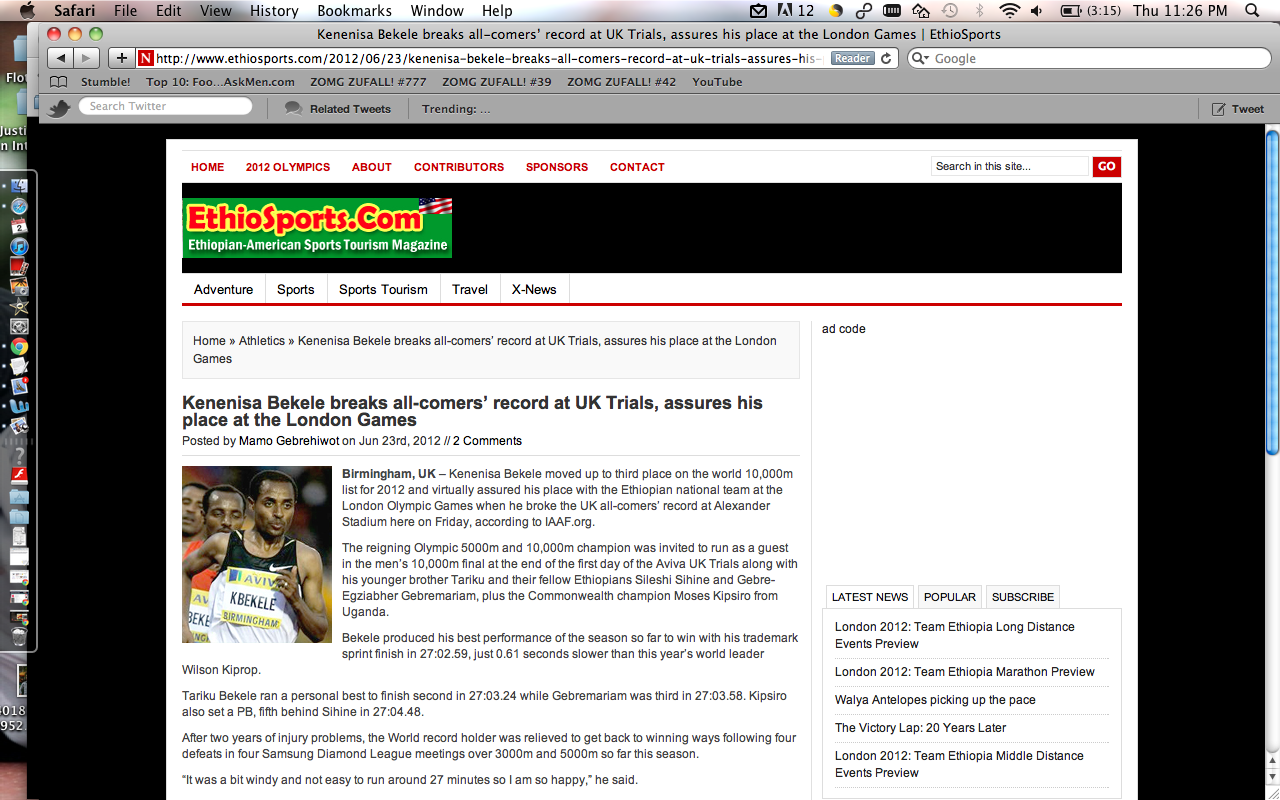 We know one thing, if he can win another 10000m title he will definitely cement himself as one of the greatest, ever-period.