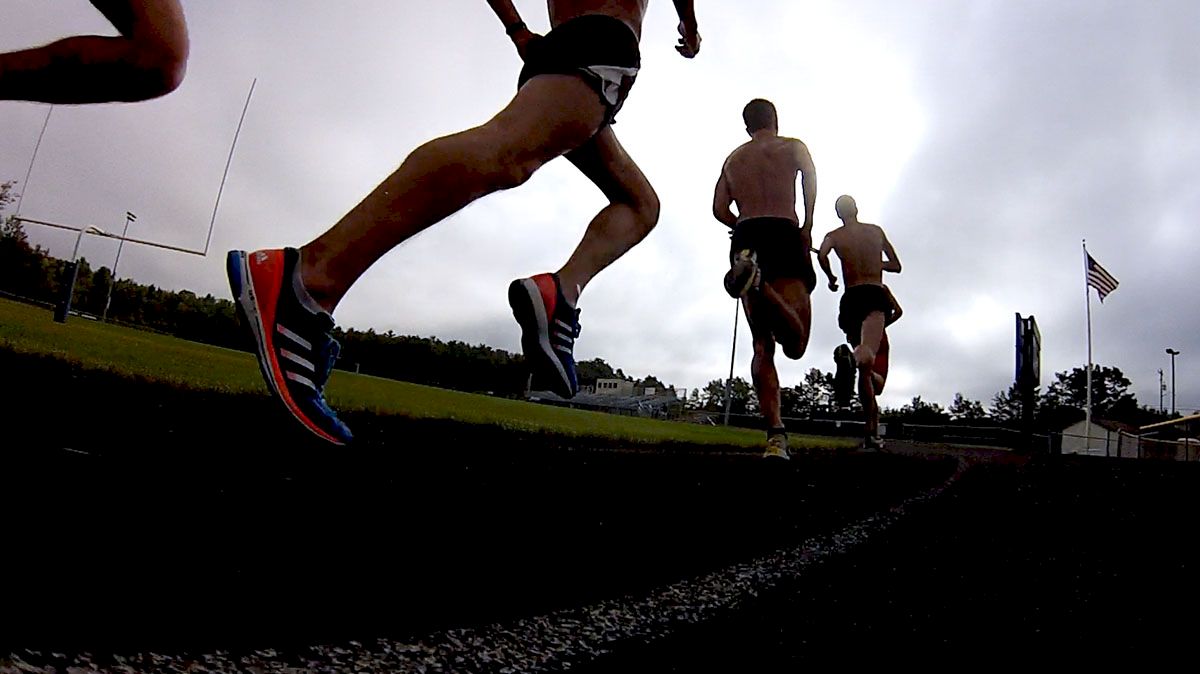 Before the race, it was pure speculation. Steps before the line, it became a reality.

At the Armory on Friday night, Lopez Lomong stormed home to win the men's 5000m in 13:07.00 and in the process, nipped Bernard Lagat's American record of 13:07.15.

13:06.99 is what happens when Lopez counts the laps right.

— Kevin Liao (@RunLiao) March 2, 2013

Race Splits for the Leaders
31.7 200m
64.8 400m
2:07.5 800m
3:10.7 1200m
4:14.4 1600m
6:19.0 2400m
6:49.9 2600m
7:21.1 2800m
7:53.7 3000m
8:25.1 3200m
8:56.9 3400m (rabbit off at 3500m)
9:29.0 3600m
10:01.3 3800m
10:32.5 4000m
11:03.3 4200m
11:34.1 4400m
12:05.1 4600m
12:36.4 4800m
13:07.00 5000m

The original race goal for Team Schumacher was to obtain the IAAF "A" standard of 13:15.00. The rabbits, Dan Huling and Travis Mahoney, were scheduled to run a consistent set of 63.6-second quarters.

As the race progressed, the pace was near immaculate. It wasn't until Huling stepped off the track around 3500m that pre-race murmurs hinting at the American record turned into thousand-yard stares and crazed yelling from the Armory crowd.

Initially, Chris Derrick would take the lead, but not for long. Lopez Lomong surged to the front at the 4000m mark and for the second time in three weeks, the Armory's spotlight shined on him.

You could visibly see the strain on his face each time he came down the homestretch, but his legs would not tire. A string of 31-second two-hundred meter splits turned the Armory arena into a deafening cathedral where records come to die.

Then we started having flashbacks. "Oh, he's going to do it," Flotrack said over its live feed for Galen Rupp's indoor mile American record attempt. Maybe we jinxed it, maybe it was premature, but we didn't care.

With 200m to go, "He's going to do it!" was yelled so often that the Flotrack HQ became an echo chamber for the running obsessed. No one jumping out of their seat expected an answer or a response - we were all just hoping that he'd make it to the line in time.

His last lap was not smooth, but the end was an incredible sight.

13:07.00.

Not too long ago, Bernard Lagat held all five American indoor records from the 1500m to the 5000m.

Over the last week, he's managed to lose two. The 3000m indoor record was the first to go with Galen Rupp's 7:30.16 win in Stockholm, Sweden.

The second was tonight.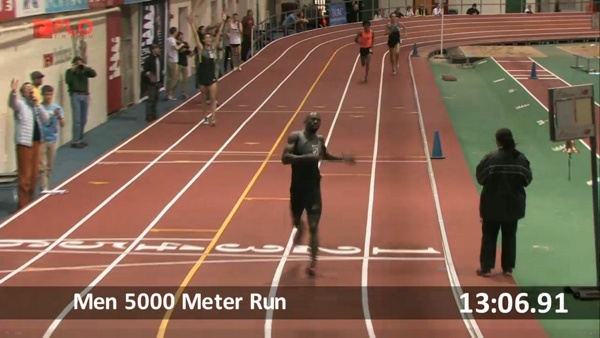 Men's 5000m run
=========================================================================
    Name                    Year School                  Seed     Finals 
=========================================================================
  1       Lomong, Lopez          Nike                           13:07.00  
  2       Derrick, Chris         Nike                           13:12.00  
  3       Bumbalough, Andrew     Nike                           13:23.68  
  4       Heath, Elliott         Nike                           13:33.22  
  5       Jager, Evan            Nike                           13:33.37  
  6       Tegenkamp, Matt        Nike                           13:35.46  
  7       Mecheso, Girma         Oklahoma Sta        13:57.06   13:45.61  
 --       Huling, Dan            Nike                                DNF  
 --       Mahoney, Travis        New Jersey-N                        DNF  

1k split
  1       Mahoney, Travis        New Jersey-N                    2:38.88  
  2       Huling, Dan            Nike                            2:39.14  
  3       Jager, Evan            Nike                            2:39.40  
  4       Derrick, Chris         Nike                            2:39.63  
  5       Lomong, Lopez          Nike                            2:39.89  
  6       Bumbalough, Andrew     Nike                            2:40.10  
  7       Tegenkamp, Matt        Nike                            2:40.31  
  8       Heath, Elliott         Nike                            2:40.53  
  9       Mecheso, Girma         Oklahoma Sta        13:57.06    2:40.78 

2k split
  1       Heath, Elliott         Nike                            5:16.67  
  2       Huling, Dan            Nike                            5:16.92  
  3       Jager, Evan            Nike                            5:17.17  
  4       Derrick, Chris         Nike                            5:17.40  
  5       Lomong, Lopez          Nike                            5:17.67  
  6       Bumbalough, Andrew     Nike                            5:17.89  
  7       Tegenkamp, Matt        Nike                            5:18.13  
  8       Mahoney, Travis        New Jersey-N                    5:18.37  
  9       Mecheso, Girma         Oklahoma Sta        13:57.06    5:18.64 

3k split
  1       Huling, Dan            Nike                            7:53.46  
  2       Jager, Evan            Nike                            7:53.71  
  3       Derrick, Chris         Nike                            7:53.94  
  4       Lomong, Lopez          Nike                            7:54.18  
  5       Bumbalough, Andrew     Nike                            7:54.39  
  6       Tegenkamp, Matt        Nike                            7:54.70  
  7       Heath, Elliott         Nike                            7:55.05  
  8       Mecheso, Girma         Oklahoma Sta        13:57.06    8:01.03  
 --       Mahoney, Travis        New Jersey-N                        DNF 

4k split
  1       Lomong, Lopez          Nike                           10:32.64  
  2       Derrick, Chris         Nike                           10:33.26  
  3       Bumbalough, Andrew     Nike                           10:35.11  
  4       Jager, Evan            Nike                           10:35.82  
  5       Heath, Elliott         Nike                           10:44.68  
  6       Tegenkamp, Matt        Nike                           10:45.08  
  7       Mecheso, Girma         Oklahoma Sta        13:57.06   10:53.16  
 --       Huling, Dan            Nike                                DNF  
 --       Mahoney, Travis        New Jersey-N                        DNF

Full Friday Results
WATCH RACE VIDEO