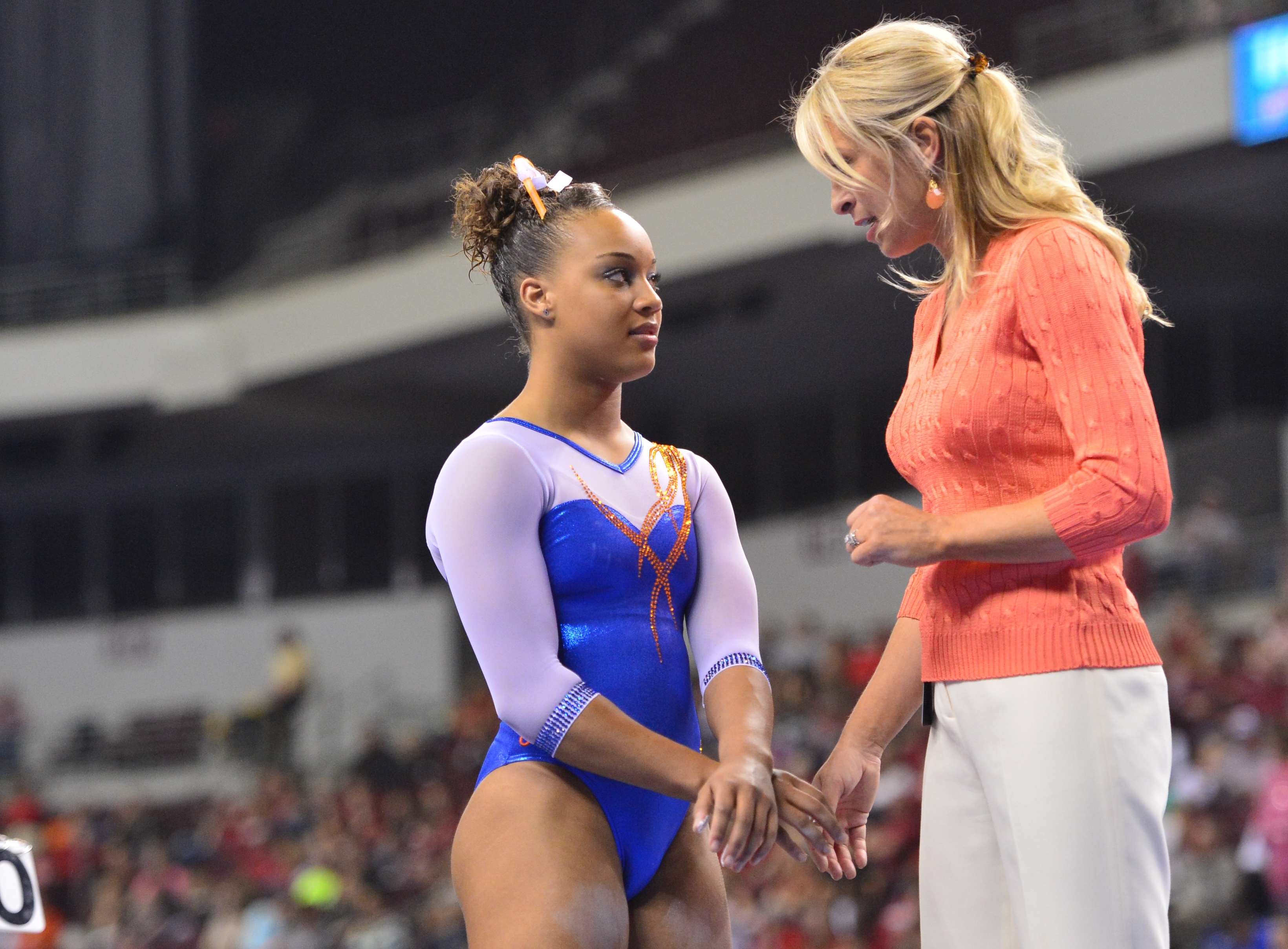 It wasn't pretty, but the #1 ranked Florida Gators won 2014's most anticipated season opener at #4 UCLA. In a dramatic 196.650-196.625 finish, the Gators handed the Bruins their very first defeat in a season opener at home.
With surprising falls and slip ups throughout the competition, it was a tight race coming down to the final routine. After uncharacteristic falls on vault and floor earlier in the night, Florida senior Mackenzie Caquatto delivered a 9.90 on beam in the anchor position to secure her team's first victory of the season.

Florida junior Kytra Hunter won the all around title with a 39.375. She also won the floor title with a 9.925 thanks to her powerful tumbling including a massive double layout opening pass. Gator sophomore
Bridgette Caquatto broke into the lineup on three events tonight and tied for the uneven bars title with UCLA's Olivia Courtney (9.90). Courtney also won vault after stucking her yurchenko layout full for a meet high 9.975 (watch here). The competition was also highlighted by the return of 2008 Olympian Samantha Peszek. After sitting out the entire 2013 season with an achilles tear, Peszek returne on three events tonight and won the beam title with a 9.925 (watch here).

The highlight routine of the night, however, had to be Danusia Francis' daring beam routine for the Bruins. Francis made NCAA history by becoming the first gymnast to compete a unique dismount combination, a standing aerial sideways across the beam right into a back layout with a full twist. Francis was awarded a 9.90 and a standing ovation from many impressed fans inside Pauly Pavilion (watch here).

If you haven't seen her daring dismount yet, watch it below:


Watch more video of 2014 NCAA Gymnastics Season Openers on Gymnastike
Watch video interviews from the event:
AA Champ Kytra Hunter, Florida
Bridget Sloan, Florida
Coach Rhonda Faehn, Florida
Olivia Courtney & Danusia Francis of UCLA
Funny behind the scenes moment: Bridget Sloan interviews UCLA team members Olivia Courtney & Danusia Francis

Former Bruin Alyssa Pritchett reveals she's still training!
2014 UCLA at Florida Meet Results
Team Standing

| Place | Team | Score |
| --- | --- | --- |
| 1 | Florida | 196.650 |
| 2 | UCLA | 196.625 |
UCLA (Top)
Head Coach: Valorie Kondos Field

| Gymnast | Vault | Bars | Beam | Floor | AllArr |
| --- | --- | --- | --- | --- | --- |
| Sadiqua Bynum | 9.725 | | | 9.850 | |
| Angi Cipra | 9.850 | | | 9.850 | |
| Olivia Courtney | 9.975 | 9.900 | | 9.900 | |
| Ellette Craddock | | 9.775 | 9.575 | | |
| Sophina DeJesus | | 9.850 | 9.475 | | |
| Danusia Francis | | 9.850 | 9.900 | 9.875 | |
| Dana McDonald | 9.775 | | | 9.800 | |
| Hallie Mossett | | 9.750 | 9.775 | | |
| Samantha Peszek | 9.850 | 9.875 | 9.925 | | |
| Sydney Sawa | 9.900 | | 9.250 | 9.900 | |
| Team Totals | 49.350 | 49.250 | 48.650 | 49.375 | 196.625 |
Florida
Head Coach: Rhonda Faehn

| Gymnast | Vault | Bars | Beam | Floor | AllArr |
| --- | --- | --- | --- | --- | --- |
| Claire Boyce | | | 9.850 | 9.825 | |
| Bridgette Caquatto | 9.750 | 9.900 | | 9.750 | |
| Mackenzie Caquatto | 9.150 | 9.875 | 9.875 | 8.400 | 37.300 |
| Bianca Dancose-Giambattisto | | 9.875 | | | |
| Kytra Hunter | 9.900 | 9.800 | 9.750 | 9.925 | 39.375 |
| Alaina Johnson | 9.800 | 9.875 | 9.800 | | |
| Bridget Sloan | 9.925 | 9.875 | 9.225 | 9.850 | 38.875 |
| Rachel Spicer | 9.600 | | 9.825 | 9.825 | |
| Team Totals | 48.975 | 49.400 | 49.100 | 49.175 | 196.650 |
Vault Results

| Place | Gymnast | Team | Score |
| --- | --- | --- | --- |
| 1 | Olivia Courtney | UCLA | 9.975 |
| 2 | Bridget Sloan | Florida | 9.925 |
| 3 | Sydney Sawa | UCLA | 9.900 |
| 3 | Kytra Hunter | Florida | 9.900 |
| 5 | Angi Cipra | UCLA | 9.850 |
| 5 | Samantha Peszek | UCLA | 9.850 |
| 7 | Alaina Johnson | Florida | 9.800 |
| 8 | Dana McDonald | UCLA | 9.775 |
| 9 | Bridgette Caquatto | Florida | 9.750 |
| 10 | Sadiqua Bynum | UCLA | 9.725 |
| 11 | Rachel Spicer | Florida | 9.600 |
| 12 | Mackenzie Caquatto | Florida | 9.150 |
Uneven Parallel Bars Results

| Place | Gymnast | Team | Score |
| --- | --- | --- | --- |
| 1 | Olivia Courtney | UCLA | 9.900 |
| 1 | Bridgette Caquatto | Florida | 9.900 |
| 3 | Samantha Peszek | UCLA | 9.875 |
| 3 | Bianca Dancose-Giambattisto | Florida | 9.875 |
| 3 | Bridget Sloan | Florida | 9.875 |
| 3 | Mackenzie Caquatto | Florida | 9.875 |
| 3 | Alaina Johnson | Florida | 9.875 |
| 8 | Danusia Francis | UCLA | 9.850 |
| 8 | Sophina DeJesus | UCLA | 9.850 |
| 10 | Kytra Hunter | Florida | 9.800 |
| 11 | Ellette Craddock | UCLA | 9.775 |
| 12 | Hallie Mossett | UCLA | 9.750 |
Balance Beam Results

| Place | Gymnast | Team | Score |
| --- | --- | --- | --- |
| 1 | Samantha Peszek | UCLA | 9.925 |
| 2 | Danusia Francis | UCLA | 9.900 |
| 3 | Mackenzie Caquatto | Florida | 9.875 |
| 4 | Claire Boyce | Florida | 9.850 |
| 5 | Rachel Spicer | Florida | 9.825 |
| 6 | Alaina Johnson | Florida | 9.800 |
| 7 | Hallie Mossett | UCLA | 9.775 |
| 8 | Kytra Hunter | Florida | 9.750 |
| 9 | Ellette Craddock | UCLA | 9.575 |
| 10 | Sophina DeJesus | UCLA | 9.475 |
| 11 | Sydney Sawa | UCLA | 9.250 |
| 12 | Bridget Sloan | Florida | 9.225 |
Floor Exercise Results

| Place | Gymnast | Team | Score |
| --- | --- | --- | --- |
| 1 | Kytra Hunter | Florida | 9.925 |
| 2 | Olivia Courtney | UCLA | 9.900 |
| 2 | Sydney Sawa | UCLA | 9.900 |
| 4 | Danusia Francis | UCLA | 9.875 |
| 5 | Sadiqua Bynum | UCLA | 9.850 |
| 5 | Angi Cipra | UCLA | 9.850 |
| 5 | Bridget Sloan | Florida | 9.850 |
| 8 | Claire Boyce | Florida | 9.825 |
| 8 | Rachel Spicer | Florida | 9.825 |
| 10 | Dana McDonald | UCLA | 9.800 |
| 11 | Bridgette Caquatto | Florida | 9.750 |
| 12 | Mackenzie Caquatto | Florida | 8.400 |
All Around Results

| Place | Gymnast | Team | Score |
| --- | --- | --- | --- |
| 1 | Kytra Hunter | Florida | 39.375 |
| 2 | Bridget Sloan | Florida | 38.875 |
| 3 | Mackenzie Caquatto | Florida | 37.300 |
Results link