BU John Thomas Terrier Invitational 2014
Galen Rupp breaks American 2-mile record
Galen Rupp breaks American 2-mile record
At the John Thomas Terrier Invite, Galen Rupp broke Bernard Lagat's indoor 2-Mile record of 8:09.49, running a blazing 8:07.41. This makes Rupp the 6th fas
Jan 25, 2014
by Isaac Wood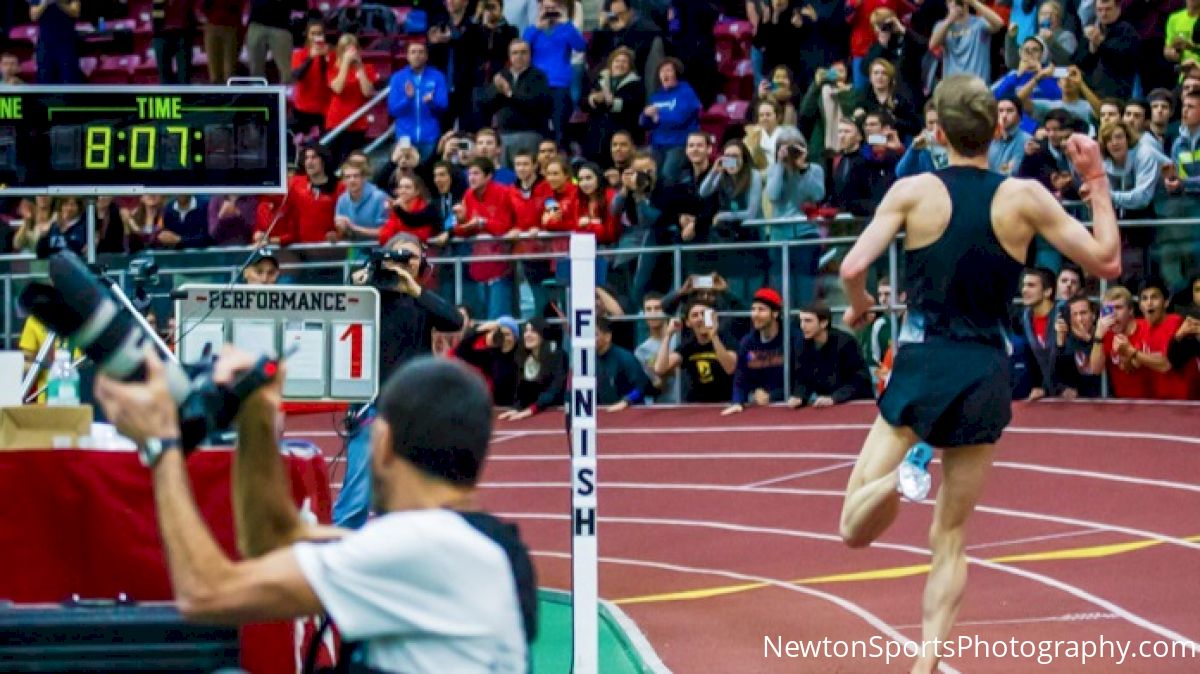 At the John Thomas Terrier Invite, Galen Rupp broke Bernard Lagat's indoor 2-Mile record of 8:09.49, running a blazing 8:07.41. This makes Rupp the 6th fastest indoor 2-miler of all-time behind Kenenisa Bekele, Haile Gebrselassie, Paul Koech, Hicham El Guerrouj, and Eliud Kipchoge. Behind the excellent pace work of Taylor Gilland, Patrick Casey, and Bethwell Birgen, Rupp maintained a world record pace for the majority of the race. Gilland led Rupp through the first 1600 in 4:01.6, well faster than American Record pace and near-world record pace. Here are six quick takeaways from Galen Rupp's 2-Mile American Record setting race.
1. Taylor Gilland is the next Matt Scherer of distance running
There were a few common denominators between Rupp's two American records in back-to-back weeks. The most interesting one was Gilland taking Rupp through in outstanding metronomic-like splits. Just like we mentioned in the preview, the pacing was going to be crucial and Gilland took care of business on his end both weeks. He is the next best thing in pacing.
2. Rupp and Birgen were really bunched up for the first mile and change
From the onset of the race, Rupp and Birgen were quite close to each other and Birgen looked to almost be in Rupp's path to some degree. Obviously, I don't think that it impacted Rupp in any negative way, but just like Alex Lohr said on the broadcast, Rupp and maybe Salazar's biggest concern early was just not to fall or trip on Birgen.
3. Bethwell Birgen looked good through 2400 meters
I was impressed with Birgen for the majority of the race. In fact, he looked, at some points, better than Rupp and I wouldn't have been shocked if he actually finished the race. I did enjoy his quick little wave to Rupp as he passed him, clearly understanding his role in the event. He also did a terrific job pacing.
Side note: I do feel bad for Patrick Casey because he didn't really get to pace that much.
4. If Rupp runs this later in the season with a little more base and strength underneath him, does he break the World Record?
Going through the 1600m in 4:01.6 was incredibly impressive. Now what does this mean? Was Rupp feeling the 5k from last week? Could he have produced a better second half if he wasn't as fatigued?
Also, think about his splits: he ran 7:34.6 for 3k, only 4 seconds off of his PR and the American record he set last season. Granted I don't think it makes sense for him to attempt the 2-mile world record again this year as he should be prepping for Worlds (depending on his decision on what race to focus on in Poland).
5. I predicted that Galen Rupp would run 8:07.10
Everyone gets lucky once in a while...
6. Rupp ranks 7th on the all-time performance list
Here are some of the 2-mile greats and where Rupp stands after his American record in Boston.
1  8:04.35 Kenenisa Bekele      ETH  13.06.82  1 Birmingham 16.02.2008
2  8:04.69 Haile Gebrselassie   ETH  18.04.73  1 Birmingham 21.02.2003
3  8:05.12 Kenenisa Bekele      ETH  13.06.82  1 Birmingham 18.02.2006
4  8:06.48 Paul Kipsiele Koech  KEN  10.11.81  2 Birmingham 16.02.2008
5  8:06.61 Hicham El Guerrouj   MAR  14.09.74  1 Liévin     23.02.2003
6  8:07.39 Eliud Kipchoge       KEN  05.11.84  1 Birmingham 18.02.2012
7  8:07.41 Galen Rupp           USA  08.05.86  1 Boston     25.01.2014
8  8:08.07 Mohamed Farah        GBR  23.03.83  2 Birmingham 18.02.2012
9  8:08.16 Moses Kipsiro        UGA  02.09.86  3 Birmingham 18.02.2012
10 8:08.27 Tariku Bekele        ETH  21.01.87  4 Birmingham 18.02.2012