USATF Outdoor Championships
USA Sprints: The Championship's Best Match-Ups
USA Sprints: The Championship's Best Match-Ups
Jun 25, 2015
by Meg Bellino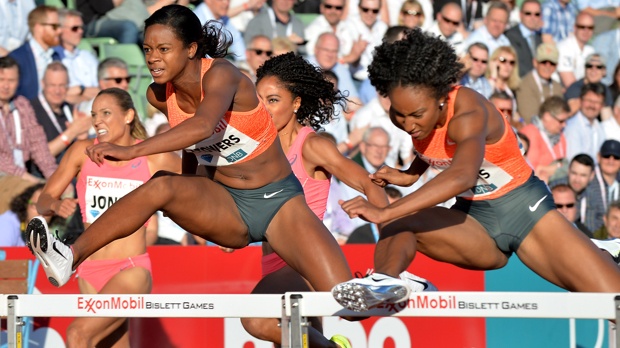 Jasmin Stowers leads Bri Rollins, Queen Harrison and Lolo Jones at the Bislett Games
Women's 100 Hurdles
The reigning World Champion and 2014 Diamond League Champion will toe the line with the three fastest in the world for 2015. Here's the fact: This is the
HARDEST
team to make. Don't believe me? Here are the current Americans featured in the world rankings:
1. Jasmin Stowers 12.35
2. Kendra Harrison 12.50
3. Sharika Nelvis 12.52
5. Dawn Harper Nelson 12.58
8. Brianna Rollins 12.63
10. Queen Harrison 12.71
11. Kristi Castlin 12.72
Numbers do not lie and the U.S. is home to seven of the top-11 fastest women in the world. It gets even more tricky for someone like
Dawn Harper-Nelson
, whose DL victory last season would constitute as an automatic bid to Beijing, but get trumped by
Bri
Rollins
' World title for the automatic bid. The U.S. can still send four to the World Championships, but which three will join Rollins?
Jasmin Stowers
and
Sharika Nelvis
have been having outstanding professional year debuts. Stowers had three-straight wins at the Drake Relays, Jamaica Invite, and Doha DL. Her 12.35 from Doha is No. 7 world all-time and a massive PB for the LSU grad. Nelvis, a 2014 Bowerman Award finalist, won Ostrava, Rome, and the adidas Grand Prix, with her 12.52 from Rome cementing her new PB. Most interesting, both won their most recent races going into headwinds. Nelvis won in New York in 12.65 (-1.7) and Stowers won in Bislett in 12.84 (-1.4).
Will recent Kentucky grad and NCAA Champion
Kendra Harrison
spoil the party? She's entered in both hurdles this week and could make both squads.
Diamond League Champion and 2008 Olympic Gold Medalist Harper-Nelson knows how to make teams, as she has been a World Champs finalist three time, earning the bronze in 2011. It's a shame she doesn't get the auto bid because of Rollins, but this will make this event oh so much sweeter to watch.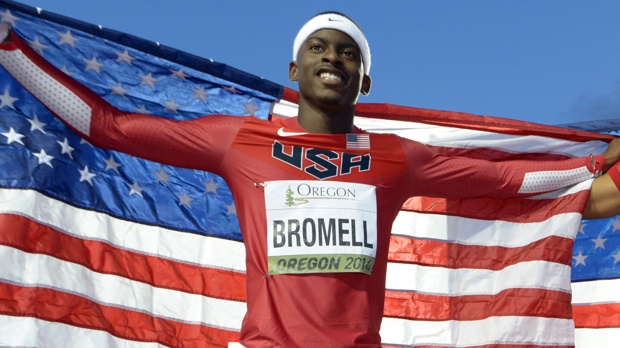 Trayvon Bromell finished second in the 100m at the World Junior Championships in 2014
Men's 100m
With 2014 Diamond League Champion
Justin Gatlin
focusing on the 200m at this weekend's U.S. Championships, this 100m race could go to a 19-year-old.
Baylor's
Trayvon Bromell
may have not walked away an NCAA Champion a few weeks ago, but that doesn't mean we didn't notice him. His 9.90 (1.7) in the prelims makes him tied for the fifth-fastest man in 2015 (excluding wind-aided marks) and fourth in the U.S. behind Gatlin,
Tyson Gay
and
Mike Rodgers
. Can he become a U.S. Champion after only two years of college? It's possible. Rodgers is the defending champ, but in weaker 2014 competition. Gay ran a wind-legal 9.88 to win the Pre Classic and 10.12 (-1.7) to win the adidas Grand Prix, but has yet to race the likes of Bromell or even Gatlin.
It's going to be hot and likely windy in Eugene. A repeat of the NCAA Championships perhaps? Gay holds the Championship record of 9.77 from 2008.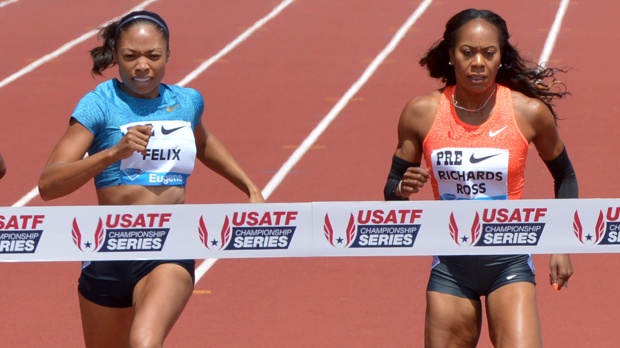 Allyson Felix beat Sanya Richards-Ross at the 2015 Pre Classic
Women's 400m
The U.S. is in an excellent phase of women 400m runners dominating on the world stage, as
Francena McCorory
,
Sanya Richards-Ross
, and
Allyson Felix
are world-ranked 1-2-3 heading into the U.S. Championships. Felix, the 2012 Olympic Gold Medalist over 200m, has an automatic bid in the 200m after her Diamond League win last season. After winning the Pre Classic in 50.05, however, Felix is testing her quarter miler skills at the U.S. Championships to evaluate which event to run at Worlds. Competing in both of these events in Beijing is unlikely (as they are about 70 minutes apart) and Felix has said she will focus on one event in 2015, possibly doubling at the 2016 Olympics.
2013 saw McCorory and
Natasha Hastings
make it to the final, but no medals were brought back from the championships. With a healthy Richards-Ross, and potentially lethal Felix, a 1-2-3 sweep in Beijing is a possibility for the U.S. One question mark is whether collegiate record-holder and Texas athlete
Courtney Okolo
will be in the mix. Though her 50.99 season best ranks her the eighth-fastest in the world, she scratched from the NCAA Championships with injury. Maybe that rest will be what she needs to perform with these women in Eugene.