Nike's John Capriotti Threatened To Kill Brooks Beasts Coach Danny Mackey
Nike's John Capriotti Threatened To Kill Brooks Beasts Coach Danny Mackey
Aug 13, 2015
by Joe Battaglia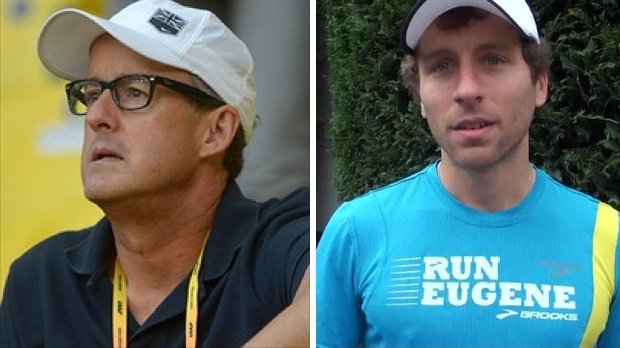 According to a University of Oregon police report, Nike's global director of athletics John Capriotti threatened to kill Brooks Beasts head coach Danny Mackey in front of a number of coaches, athletes and agents during the USA Outdoor Championships.
In the verbal harassment complaint, which Mackey sent to FloTrack, Mackey told police that he was speaking with Dorian Ulrey, one of his athletes with the Beasts, after heats of the 1500m when Capriotti approached him aggressively near the medical tent.
Mackey stated "he felt Capriotti grab onto his right arm and pull him," almost lifting out of his seat. When Capriotti demanded that the two talk now and Mackey asked him to wait until he finished his conversation with Ulrey, things escalated.
Capriotti allegedly began poking Mackey in the chest with two fingers, pushing him back, before beginning an expletive-laced tirade.
According to the police report, this is the conversation that followed
(warning the following contains strong language)
:
Capriotti:
"Well then we'll go outside mother fucker."
Mackey:
"John. Relax. I'm gonna finish talking with Dorian."
Mackey then states Capriotti knelt down and got in his face.
Capriotti:
"You know what you fuckin' did. I'm gonna fuckin kill you."
Mackey (now standing chest to chest with Capriotti):
"I don't know what you are talkin about John. You are going to kill me? For what?"
Capriotti:
"Don't you fuckin' lie to me."
Mackey:
"John. I don't know what you are talking about. You need to relax."
Capriotti:
"Pussy. Liar. Scumbag. You are a shitty person. Let's go outside and fuckin' deal with this."
Mackey:
"Outside? You are going to fight me for what? You need to relax. Leave."
According to the complaint, this yelling match which "lasted several minutes," was witnessed by Nike employee Llewellyn Starks, Ulrey, Will Leer (who runs for Nike), Stanford head coach Chris Miltenburg, World Athletics Center coaches Dan Pfaff and Kyle Hierholzer, athlete trainer John Pierce, agents Dan Lilot and Peter Stubbs, and Nike sprint coach John Smith.
No criminal charges were filed.
According to a
report on LetsRun.com
, which broke the story early on Thursday, Leer believed there was something strange occurring when he saw Capriotti storming through the athlete warm-up area behind the media tent.
"Cap[riotti] blew right by me charging across the infield," Leer told LetsRun. "I'm like, 'That was weird, you don't usually see those guys back here.' And in quick succession, [fellow Nike employees] Llewellyn Starks and Ben Cesar were sort of hot on his heels trying to catch him… They all had serious look on their face. Serious and sort of troubled."
What triggered Capriotti's rage is not known. Mackey, who worked for three years in Nike's sports research lab before becoming coach of the Brooks Beasts, told police that Capriotti made statements eluding to Mackey's involvement in the fallout from the
doping allegations against the Nike Oregon Project,
coach
Alberto Salazar
and Olympic 10,000m silver medalist
Galen Rupp
.
Below is the full police report filed by Mackey: