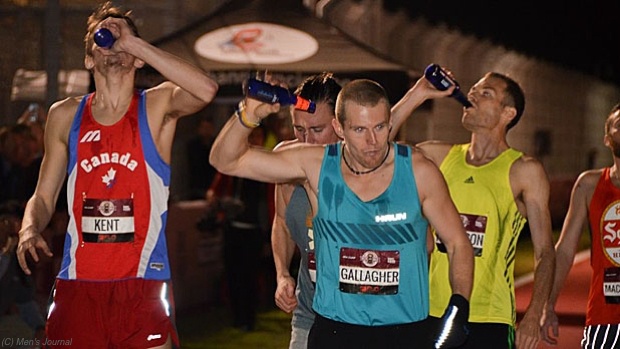 Finlayson (yellow singlet) competes at the 2014 FloTrack Beer Mile World Championships.

Former beer mile world record-holder Jim Finlayson has beaten the odds once again with a new personal best of 5:07 at 43-years-old. The Canadian distance runner and coach took to the track on September 5th to break his previous personal best by two seconds.
If verified by the experts at BeerMile.com, Finlayson's mark of 5:07.3 stands at No. 12 on
BeerMile.com's all-time performance list
, behind Lewis Kent (5:05.6) and Brian Anderson (5:05.2). The Victoria, British Columbia native is No. 2 on the masters list, behind James Nielson's 4:57 from 2014, and No. 1 on the Super Masters (40+) list.
Finlayson competed at the inaugural FloTrack Beer Mile World Championships at the Circuit of the Americas last December, where he finished third overall in 5:21.44. The performance was done just days after finishing second in his age group at the Canadian Cross Country Championships. Finlayson has also
battled Multiple Sclerosis
since 2004, but remains in good health with the help of a Paleo diet and healthy lifestyle.
Finlayson will look to improve on his new beer mile personal best at the 2015 FloTrack Beer Mile World Championships this December.