New York City Marathon
Kenya's Mary Keitany Looks To Continue Ascent At TCS New York City Marathon
Kenya's Mary Keitany Looks To Continue Ascent At TCS New York City Marathon
Oct 23, 2015
by Joe Battaglia NEW YORK – It was a typical late morning for young Mary Keitany. The second lesson of the day had concluded which meant it was break time.
She sprinted around outside of the Kanjulul Primary School, chasing classmates in a spirited game of tag as a thin cloud of red clay dust kicked up from all of the trampling little feet and shrouded the yard.
A far-off roar in the sky stopped Keitany in her tracks. She gazed up, squinting through flares of akawapofoa asubuhi jua – blinding sun – to catch a glimpse of the source of this jarring sound.
"I remember I was something like 13 years old," Keitany recalled. "I looked up and saw an airplane flying above us at school. It was an amazing thing for me. I thought, 'One day, one time maybe, I might get to be inside the airplane.'"
The image of jetting off to exotic locales on a plane stuck with Keitany for almost three years, and, all the while, had her contemplating how she was going to get from her subsistence life on a farm to soaring new heights that only seemed real in her dreams.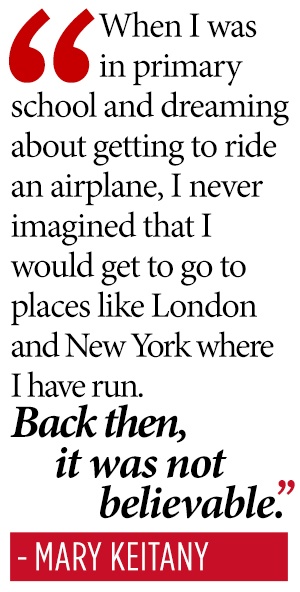 Like so many of her Kenyan counterparts, she found the answer in long-distance running.
Inspired by some of her country's all-time greats, Keitany set out on a quest to see where running could take her. That journey took her away from her parents and family in their rural village to Nairobi and then to Iten, the Rift Valley's Home of Champions.
Eventually, talent and dedicated training took Keitany to road racing, where she has carved her name in the record books alongside the fastest runners in history. "Queen Mary" will continue her journey to greatness in the Big Apple where, on Sunday, she will look to successfully defend her title in the TCS New York City Marathon (#TCSNYCMarathon).
"When I was in primary school and dreaming about getting to ride an airplane, I never imagined that I would get to go to places like London and New York where I have run," Keitany said. "Back then, it was not believable."
Humble Beginnings
Keitany, 33, was born the fourth of six children of Kalenjin descent in the village of Kisok in Baringo County in the Rift Valley Province of Western Kenya.
The economy of the region is primarily agrarian-based, with the main food crops grown being corn, pigeon peas, beans, Irish potatoes, sweet potatoes, sorghum, cassava and finger millet. Cattle, mutton and honeybees are among the most common livestock raised.
Subsistance farming is a difficult existence, as Keitany experienced growing up.
"My parents, both of them, are farmers," Keitany said. "They have cattle to raise and they have a farm to dig and do the plantation. They grow maize, beans, and other vegetables. It was not easy growing up because my parents work hard but basically have nothing."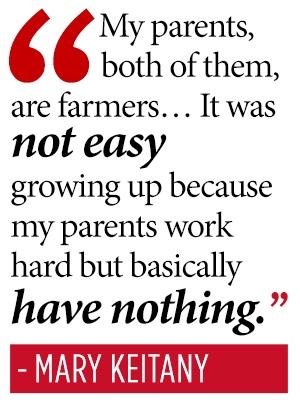 Those tough times impacted Keitany. When she completed class eight at Kanjulul Primary School, there was no money for her to be able to move up to secondary school. She worked for a year on the family farm in Koibatek, and appeared destined to take up the family burden.
But running was about to present her with the first of many opportunities.
Keitany was inspired to take up running by an older sister who competed at the national championships as a school-aged athlete but was forced to give up the sport due to familial circumstances. Fate was kinder to Keitany, whose victory in a local race provided her a way out that her older sibling did not receive.
"I ran one race in a town called Kabarnet (the largest town in Baringo County) and my name appeared in the newspaper," Keitany recalled. "My sister was married and (her brother-in-law) was in Nairobi. When he saw my name, he said, 'Oh, Mary won a race and she was nobody. Why doesn't she come to this school that luckily pays for those kids who make well when they run, or those who have a great talent?"
Running Away From Home
In 2002, Keitany enrolled in the "The National Hidden Talents Academy" at the Dagoretti Corner, a rehabilitation center for neglected orphans and impoverished youth. The center was founded in the slums of western Nairobi in the late 1990s by charismatic Pastor Enos Oumo, a refugee from Uganda whose life's passion is helping children hit hardest by poverty.
The center provides shelter, education, guidance and counseling for almost 500 children ranging in age from 5 to young adult. The National Hidden Talents Academy was started to support the most talented students to insure that they could succeed both academically and athletically despite being dealt poor socioeconomic circumstances.
"It was difficult for me," Keitany said of the move. "I was thinking, 'Wow, I am going away and I don't think my parents will be able to go from home to Nairobi because it is vey far.' But I knew if I stayed at home, there would be no secondary school for me for sure. So I said, 'Let me just go and do well in everything there.' I was going to work hard to become successful."
Keitany spent three years at The National Hidden Talent Academy following a strict regimen. Typical days began before sunrise with a training session, followed by classes, a break that allowed for optional track sessions, late-morning lunch, afternoon classes and then a final training session before dinner and bedtime.
Competitions would range from four to five per semester, advancing from local competition, to Divisions, Districts, Nationals and then Kenyan Trials. Keitany ran 4Ks during cross-country season and 5000m on the track, achieving moderate success.
"When it came to Trials, I was coming in maybe fifth- or sixth-place and they were only selecting three to the team," Keitany said. "I remained in school until I finished my studies but after that, my focus was to go for the training and to try and go out on the roads."


Where Rubber Met The Road
Upon finishing secondary school in Nairobi in 2005, Keitany decided that if she was going to make it as a road racer she needed to elevate the level of her training, so she moved to Iten, the mecca of Kenyan distance running.
"When I was growing up, my heroes were Paul Tergat, Tegla Loroupe, and Catherine Ndereba," she said. "I used to see the three of them winning races on television and I dreamed that one day I would follow in their footsteps. That is why I went to Iten."
Keitany's first "success" on the road came in the fall of 2006 in the Shoe4Africa 10K in Iten. Prizes were awarded to the first 20 finishers. Keitany finished 21st. While she didn't bring home any money, she did open the eyes of her coach, 2007 Eindhoven Marathon champion Philip Singoei, who saw potential for her at longer distances and outside of Kenya.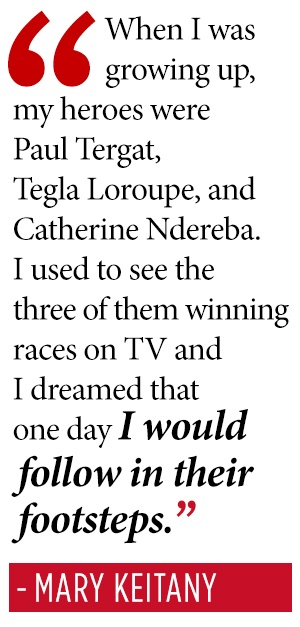 "With not many road races like 10K, 15K in Kenya in November, my only chance looked like it was at 21 kilometers," Keitany said. "My coach at that time
was asking me, 'Mary, what do you think? Should we leave this until next year so you get more races?' I didn't know, and when he asked the group they weren't sure. He told me, 'Maybe go and try one. I don't know if you will finish, but…'
"I told him, 'Because I pray hard, maybe He will let me finish.' I didn't think I would stop before 21 kilometers, and I've never done that."
In December of 2006, Keitany achieved her childhood dream and boarded an airplane, bound for Europe, for the first time... but not before a nightmarish experience.
"When I got to the airport in Nairobi and checked in, my passport was not yet mature so they told me that I couldn't leave," Keitany recalled. "I had never been on a plane before and didn't know what to do. I was crying a lot and trying to call somebody who knew about these situations to tell me what to do. They told me to stay in Nairobi but to comeback tomorrow because my passport would be ready for me to travel.
"Once I did get on the plane, I really enjoyed it. The whole time, I was just looking out the window thinking about how running was very much good to me and because of this I could say that I am now inside this flight and this plane that I had watched passing over me every now and then. I will never forget that."
Keitany flew to Spain for the Seville Half-Marathon on Dec. 17, 2006, and wound up winning the race in 69:06. Two weeks later, she ran the Olivais 10K in Portugal and earned another victory, in 33:06.
"I was very happy," Keitany said of the performances. "When my coach said he didn't know if I could finish, I thought the best I might run was maybe 72 or 71. Because it was my first race and I ran 69, that was a really quick time."



Not Half Bad
Keitany opened the 2007 season with a pair of half marathon victories; in Viana do Castelo, Portugal in 72:37, and in Almeria, Spain in 73:02.
Later that spring, her manager, Gianni Demadonna, opened an adidas training camp in Iten. Keitany joined the group and began working with coach Gabriele Nicola, who is the technical director for all of Demadonna's groups in Kenya.
In addition to being able to provide her with hands-on coaching and feedback, and much-needed physio treatment, Nicola built a training group that surrounded Keitany with the kind of talent he saw she needed to get to the next level.
Female training partners in the group included Peninah Arusei, the 2008 and 2009 Berlin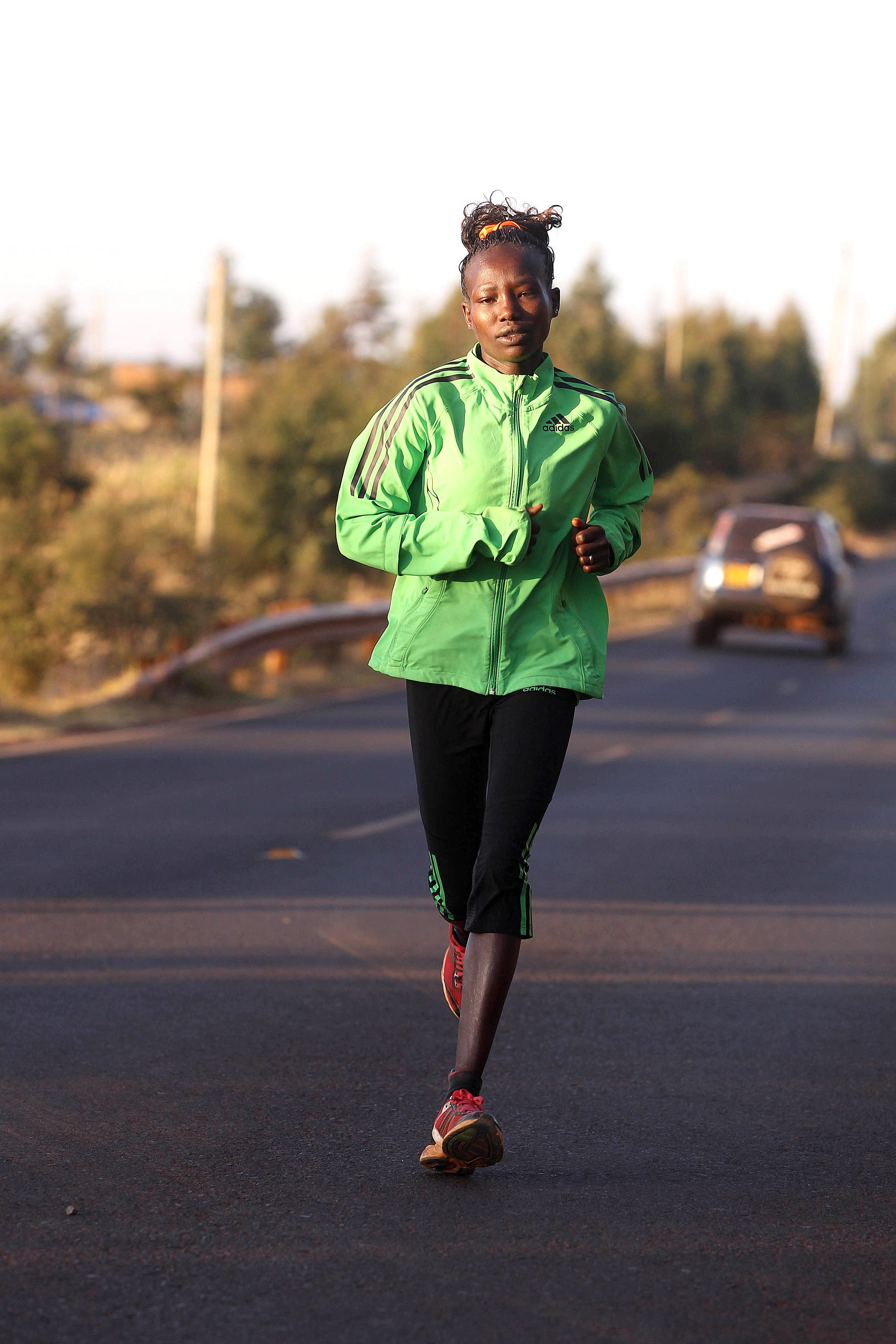 25K champion; and Helena Kirop, winner of the 2010 Prague, 2011 Venice and 2013 Rome Marathons. Nicola also introduced male training partners, including Charles Koech, a 27:56 10K and 61:27 half-marathon guy.
The higher level of training began paying dividends that spring, when Keitany was able to lower her half marathon PR to 68:36 in a win in Ivry-Vitry, France. The bigger breakthrough came on October 14 that year when Keitany finished second at the World Half Marathon Championships in Udine, Italy, running 66:48. Only Lornah Kiplagat, who clocked a then-world record 66:25, ran faster.
"My coach was telling me, 'Mary, you can do it,'" Keitany said. "Training for the half marathon was no problem, but that was the first time I showed the world that I was capable of running very fast."
In late 2007, Keitany married Koech and in June of the following year she gave birth to the couple's first child, a son they named Jared Kipchumba. After a year away from running, Keitany returned to training with the help of a hired nanny to look after Jared.
But she didn't ease her way back. In true Keitany fashion, it was pedal to the metal.
In her first race back, in May 2009, Keitany finished a close second to Ethiopia's Aselefech Mergia at the World 10K Championships in Bangalore, India, in a personal-best 32:09. Four months later, she won the Lille Half Marathon in France in 67:00. She followed that up by winning the World Half Marathon Championship in Birmingham in a race-record 66:36, becoming Kenya's first gold medalist since her idol Loroupe a decade earlier.
Keitany opened 2010 with an impressive win at the Abu Dhabi Half Marathon in 67:14 in January, and two big PRs in May, a 79:53 in the Berlin 25K and a 31:06 in the Bupa London 10K.
"When Mary began running again after her son was born, we set various goals," Nicola said in 2011 interview. "The first was to qualify for the World Half Marathon Championships in 2009 and to run well. The next goal was to win the Abu Dhabi Half Marathon and then we set our sights on breaking the world 25K record in Berlin. All went very well and she has achieved more than we had expected."
Taking On The Marathon
By the spring of 2010, anticipation for Keitany's eventual step up to the marathon had reached fevered pitch.
"Mary clearly has what it takes," former New York Road Runners President and CEO Mary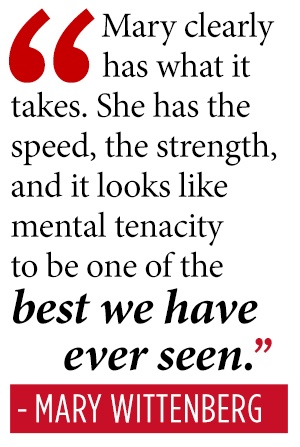 Wittenberg said after the World Half in 2009. "What she showed today was not only that she could run fast but that she can command a race. She has a dominant personality. It strikes me, on the field. She is out there directing other athletes in what to do. She has the speed, the strength, and it looks like mental tenacity to be one of the best we have ever seen."
Naturally, Wittenberg targeted and landed Keitany's marathon debut alongside that of American star Shalane Flanagan in November of 2010. The race unfolded slowly, with a group of 20 runners still grouped at the halfway point, which they hit in 75:47. Keitany and Flanagan traded surges to whittle that lead pack to three with two miles to go.
Flanagan tried to take command in Central Park, but quickly faded. Edna Kiplagat eventually broke Keitany and Flanagan to win the race in 2:28:20. Flanagan finished second in 2:28:40 with Keitany crossing third in 2:29:01.
"After I finished, I was saying that maybe I will not run another marathon," Keitany said. "My whole body was paralyzed. Both legs, my back, everywhere was feeling bad. I told Helena and all of my training men that would be the last marathon for me."
It was, in fact, the prelude to a record-breaking year.
In February 2011, Keitany destroyed the world record at the Ras Al Khaimah Half Marathon, winning in 65:50. It marked the first time a woman had run the distance in under 66 minutes on a non-aided course, and established world records en route for 20K (62:36), 10 miles (50:05), 15K (46:40), and 8K (24:30).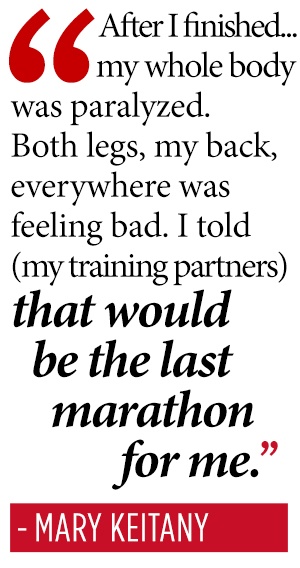 In April, Keitany toed the start line for her second marathon in London and hardly resembled the woman hell-bent on being one and done at the distance.
Rather than leaving the outcome until late, Keitany displayed a brilliant burst of speed, covering the 15th mile in five minutes and the next three all under 5:10 to open up a 30-second lead on defending champion Liliya Shobukhova of Russia en route to winning in 2:19:19, a time which equaled the fourth-fastest in history.
"I think I surprised myself in London because I was remembering how I felt in New York and I was running with the champion from last year and I was a bit scared," Keitany said. "But then I started to believe in myself that I could do it."
Speed Sandwiched By Disappointment
With newfound confidence in her ability, particularly, her finishing speed at the marathon distance, Keitany returned to New York City in November 2011 looking to for a more memorable finish.
It would be... just not how she envisioned.
Shortly after crossing the Verrazano Narrows Bridge, Keitany took off on what appeared, at the time, to be a solo assault on the course record. By the halfway point, she was 4:31 ahead of Margaret Okayo's split when she set the course mark of 2:22:31 in 2003, and flirting with a projected finish under 2:16.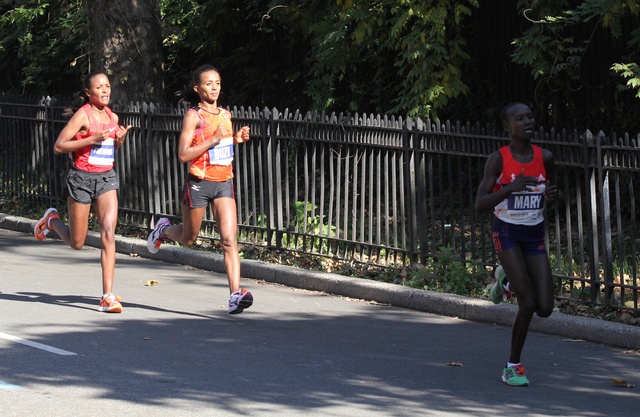 But that torrid early pace began to catch up with her. By the time she crossed the Queensborough Bridge, her low-five-minute pace had sagged by some 30 seconds. She covered the 23rd mile in 6:03 and slowed further to 6:20 on the 24th mile. By mile 25, Ethiopians Buzunesh Deba and Firewihot Dado passed her. It was all Keitany could do to hold on for third in 2:23:38.
After the race, Keitany was unapologetic about her tactics, saying, "If I come next year, I would run the same. I would not change."
It turns out that there was faulty technology, not just tactics, behind that meltdown.
"My plan was not to go out at sub-2:20 pace," Keitany explained last fall. "The day before the race, my coach and I planned for 3:21 per kilometer. However, after two kilometers my GPS stopped. I looked at the (mile) clock but could not do the splits. I was confused.
"When I realized my mistake, it was too late. I tried to follow my feeling and run to the end. I hoped the lead was enough to win but then (Deba and Dado) passed me in Central Park."
Keitany recovered from her New York City Marathon blunder with one of the great performances in the history of the marathon in April 2012.
In her London Marathon title defense, her speed once again proved to be devastating. After 35K, Keitany threw down consecutive miles of 5:07 and 4:59 to drop world champion Edna Kiplagat. For good measure, she clicked off her last two full miles in 5:02 and 5:03 and cruised to a repeat victory in 2:18:37, a Kenyan record and the third-fastest time ever.



"Like the last year, I felt strong in body so when I got to 35 kilometers I just decided to give it a go," Keitany said. "I was very happy because it had been a long time since Catherine Ndereba set the national record."
Fresh off that effort, expectations were high when Keitany returned to London four months later for the Olympic Games. For a long while, she looked fit to deliver on that promise. Running at or near the front throughout, Keitany's surge at 38K harken
ed memories of her late killer moves in the previous two London Marathons.
But two kilometers later, the humidity brought on by the heavy thunderstorm that hit 30 minutes before the start of the race, seemed to weigh Keitany down. When Ethiopia's Tiki Gelana picked up the pace at 41K, Keitany was unable to summon a matching gear and wound up finishing fourth in 2:23:56.
"What I can say is maybe I was not used to running in a rainy place," Keitany said. "In Kenya when it is raining, we stay in and then if the rain stops, we can go for the training. When it rained in London, it was harder for me to move on faster. The Olympics was just not my day."
Perhaps more difficult was explaining to her young son, Jared, why she didn't bring home the gold.
"He was crying and said, 'Mom, why were you not winning this game?'" Keitany said. "I told him it was very tough and I was very tired. I had to explain to him that cannot always win. He said, 'It's okay, but next time you must win.'"
Building Back To Redemption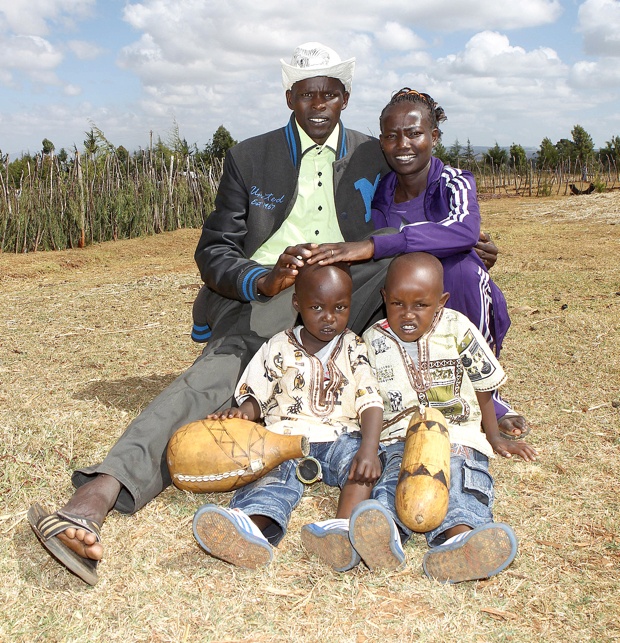 Disheartened after the Olympics, Keitany decided to take a break. She and her husband Koech focused on their family. In 2013, she gave birth to their second child, a daughter, Samantha Jerop.
Returning from a second maternity leave was a slower process – at first all she could manage were 30-minute walks – but has yielded similarly successful results.
In her first race back last year, she won the Ottawa 10K in a course-record 31:22. She followed that with a victory at the Bupa Great North Run in 65:39. Last November yielded that elusive victory in the New York City Marathon, where she pulled away from Jemima Sumgong in Central Park to cross in 2:25:07, just three seconds ahead of her fellow Kenyan in one of the closest finishes in race history.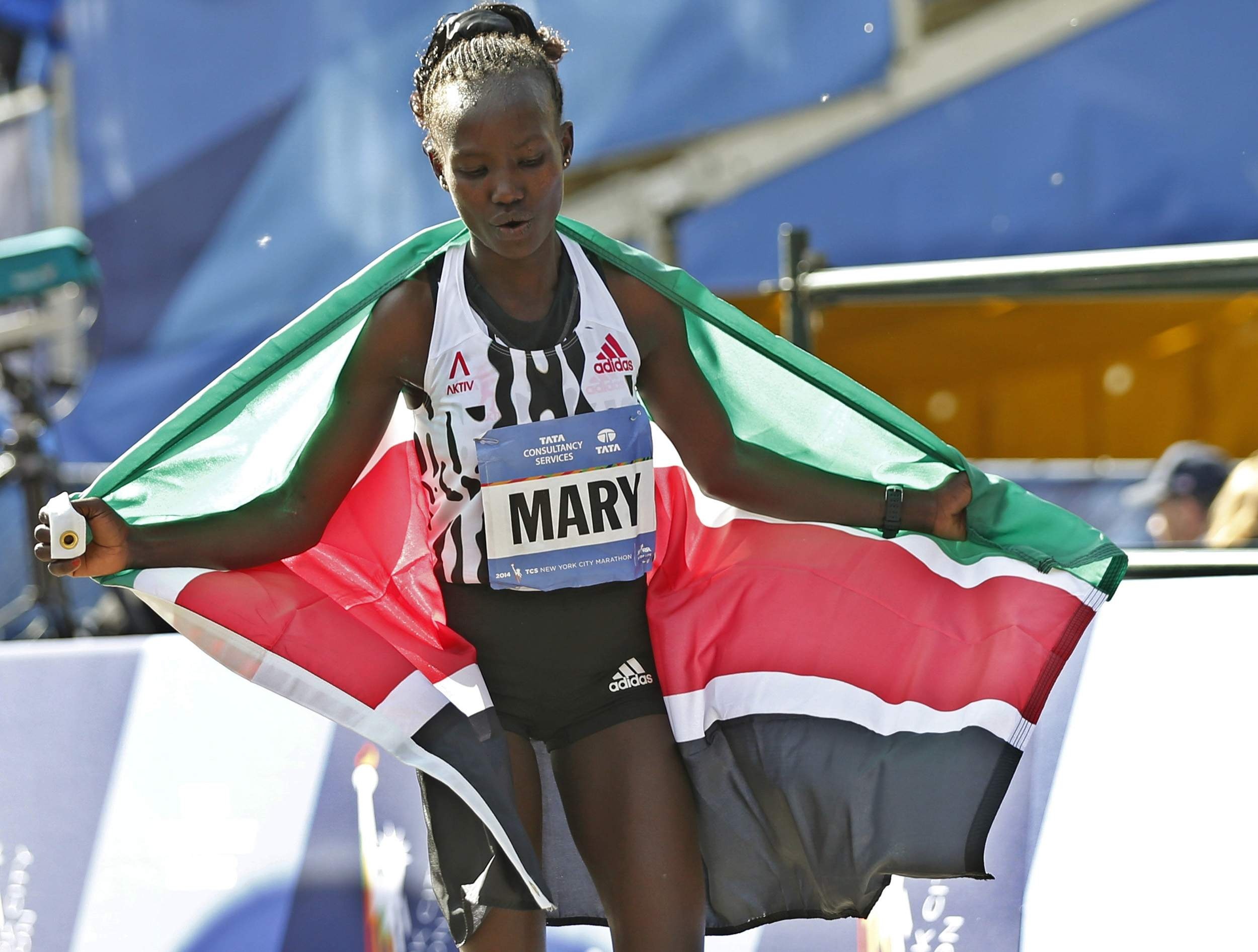 "I just tried my best and go ahead of Jemima," Keitany said. "It was God's will to end like that."
This passed April, Keitany was favored to win a third London Marathon title and put forth a gal
lant performance. In the end, she was unable to fight through damp conditions, bouts of pneumonia and malaria during her training, and Ethiopia's Tigist Tufa who won the race in 2:23:22, 18 seconds in front of Keitany.
"All I will say is that I was not 100 percent," Keitany declared.
While there would seem to be little left for Keitany prove, diehard marathon fans cannot help but wonder what the 33-year-old great can still accomplish on the perfect day and when she is in full command of her immense powers.
This week, will she have the fitness and sound strategy to make a smarter go at Okayo's course record in New York?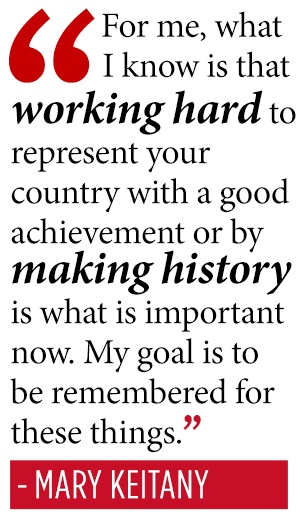 On a flat, fast course with ideal conditions and pacing could she take down Paula Radcliffe's world record of 2:15:25?
And should she be selected to a second Olympic Team this summer, can she earn a measure of redemption and become Kenya's first women's marathon gold medalist at the Rio Games?
Her coach has maintained for years that any and all of the above are possible.
"She is very talented, light, and has a big engine," Nicola told Runners World in 2011. "She is born to run fast. However, on top of this she has discipline and a very professional attitude. There is no secret. Talent alone is not enough. You must have all of these things (to succeed)."
Plus the desire to dream big, dare to fail, and reach for the sky.
"For me, what I know is that working hard to represent your country with a good achievement or by making history is what is important now," Keitany said. "My goal is to be remembered for these things."

Follow Joe Battaglia on Twitter @JoeBattaglia75