Q&A: Club XC Champion Amy Van Alstine
Q&A: Club XC Champion Amy Van Alstine
After over a year and a half of struggling with injuries, NAZ Elite's Amy Van Alstine experienced a huge breakthrough at the USATF Club Cross Country Champi
Dec 17, 2015
by Taylor Dutch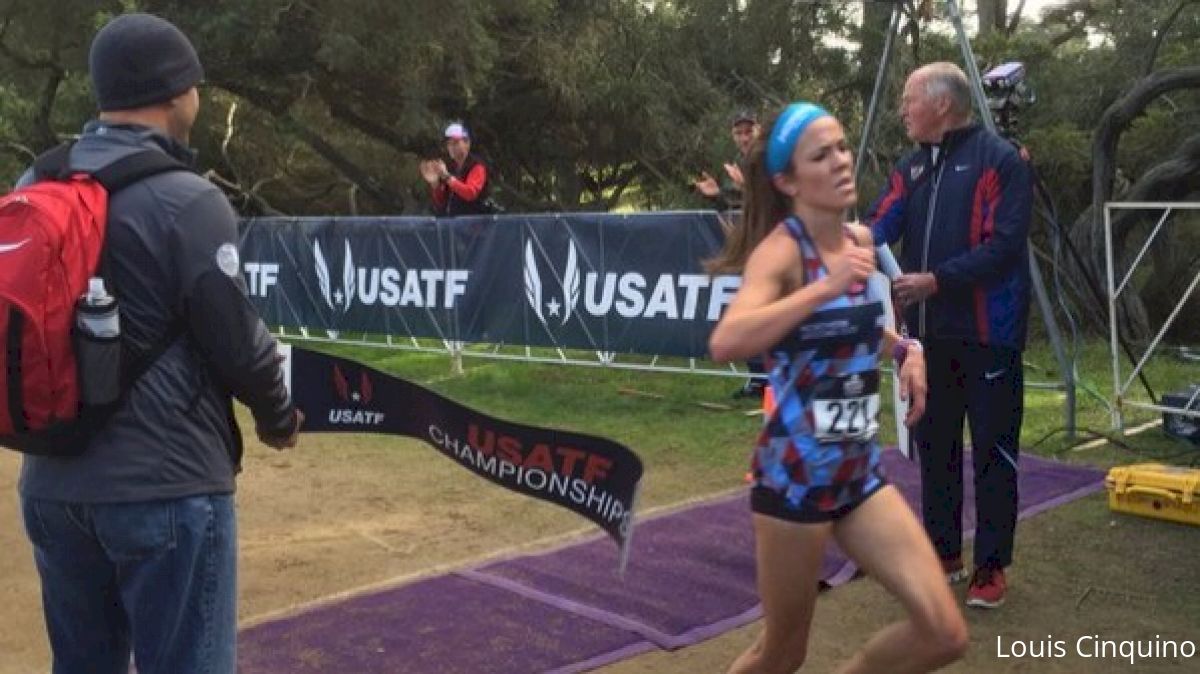 After over a year and a half of struggling with injuries, NAZ Elite's Amy Van Alstine experienced a huge breakthrough at the USATF Club Cross Country Championships last Saturday. In a tight battle with defending Champion Laura Thweatt, Van Alstine out-kicked the Boulder Track Club athlete for the individual title. The victory was a long time coming for the distance athlete who has now emerged on the other side of a rollercoaster year.
FloTrack caught up with Van Alstine days after her victory to talk about the mental aspect of returning from injury as well as the outside factors that help in the process.
Talk about your year a little bit. YouÂ've been struggling on and off with injuries. Talk about what that experience has been like.
Well, I had a really big injury back in 2014. It was actually right after the U.S. Cross Country Championships, but it was misdiagnosed for a while and I tried to continuing competing with it. Finally, I was diagnosed with osteitis pubis, which is a pelvic injury. I think itÂ's more common in soccer players, but itÂ's basically just from having weak hips and core. ItÂ's a stability problem from running on trails, cross country courses, and grass.
I went to the doctor and got a cortisone shot a week after U.S. cross. That worked for a short time, but didnÂ't resolve the problem. I started to strain muscles in my pelvic area. I was a mess, it was just really bad. Then I took off two months once I was finally diagnosed with that and I think that was October 2014. After that, I kind of just had a rough time coming back after that. Coming back after the two months off in October, I had an Achilles injury, just little stuff popping up that ended up causes hiccups in my training.
I started racing this past fall and I started out okay but I was having some foot pain on the bottom of my right foot. I was getting a blood blister in every race and I went to see a doctor about it and he felt it was related to my stride and hips and the whole pelvis issue I had the year before. I was sort of happy to run on a cross country course because for some reason my foot doesnÂ't hurt on the soft surfaces.
When was the last time you didn't feel any pain while racing?

I havenÂ't been feeling that great running in general, so itÂ's been a rough year. I just havenÂ't felt like myself at all. So I think IÂ'm getting my form back and getting stronger.
What was the diagnosis process like with the doctor?

One doctor thought it was osteitis pubis and a few others thought it was a stress fracture, but when I got the first MRI, there was nothing. A second MRI months later found inflammation and repetitive trauma at the pubic symphysis. ThatÂ's when they decided it was osteitis pubis. It wasnÂ't great and it was from the different movements. I would be on a run and I would jump over a rock and have really sharp pain in my pelvic area. It was a very strange thing, not fun to run on. CouldnÂ't really figure out what was going on.
That had to have been so frustrating.

Yeah, it was frustrating. But itÂ's getting better, IÂ'm getting stronger and IÂ've been doing a lot of rehab. I mean itÂ's not perfect, obviously, because my strideÂ's still a little off but IÂ'm happy I had a good performance finally.
This weekend had to have been special for you.

Yes, it was. In the fall, my race were okay. I didnÂ't run that badly but just comparing them to my old performances was kind of tough. I thought this is not where I want to be. The last mile in every race is when my foot would start hurting badly, so then the last mile of every race was pretty disastrous. My stride was all off, but going into this race, I was wondering if my foot would hold up. I didnÂ't know what was going to happen, but my goal was to try to get top six. I felt good from the start. The last race I did was Manchester [Road Race] and that race from the start I felt absolutely horrible and I had the blister too. This one [Club XC], I had more recovery and healing time for the blister, so I think I was more prepared.
So so so incredibly proud of this crew!!! @NAZ_Elite pic.twitter.com/cqvvkc3FbZ

— Ben Rosario (@BenRosario1) December 12, 2015
My race plan was just to stay in with the lead pack for as long as I could. And [I was] really hoping I didnÂ't die. We had two miles to go, and I was with Laura [Thweatt] and I was thinking maybe I shouldnÂ't be up here. My plan changed as the race went on and I began to think I had a shot since I was feeling strong. When I was 1k to go, I started to think instead of top 6, I could definitely be top 3. Then with 400 to go, I thought maybe I had a shot at winning.
Does this give you confidence going into indoor, outdoor and this Olympic year?

It definitely helps because I started out in the fall feeling pretty good about racing, but when the races werenÂ't going as well as IÂ'd liked, I started to have some doubts. Maybe getting back on the cross country course was what I needed. It really has given me a confidence boost. This race qualified me to be on the USA team for the Great Edinburgh Cross Country race in Scotland, so that will be nice putting on the USA jersey again. After that, I will probably do one or two indoor races. I haven't completely discussed it with my coach yet, but probably U.S. Cross Country Championships. Going into the spring season, IÂ'm most likely focusing on the 5k.
How long have you been with NAZ Elite and Coach Ben Rosario?

Since January 2014.
How has NAZ Elite been for you?

It's good. My team gets along really well, so we're always really good for each other — a lot of different distances, a lot of marathoners. I think Rochelle [Kanuho] and I are like the odd ones, we're shorter distances.
How do you feel this experience of coming back from injury has made you grow as a runner?

I donÂ't think it has helped me much, but injuries are part of the sport so you have to persevere. I think IÂ'm learning more about my body and what I need to do to stay injury free. I do look back on all my injuries and am happy I didnÂ't give up. There were many times I wanted to quit because it became really hard, not knowing what I would run in the future. I would say my best performances have made up for a lot of the injuries IÂ've had.
Cross country in particular seems like something youÂ've stood out in. Why do you think that is?

MT @danielpetty: Former UR track athlete Amy Van Alstine wins women's open 8K at #USXCChamps pic.twitter.com/4gUWgcmoFJ http://t.co/KJp7usBu1R

— University of Richmond (@urichmond) February 17, 2014
I didnÂ't go into this race with a lot of confidence and then during the race I was actually thinking, this is really fun and IÂ'm not in pain. This particular course was really cool and was a true cross country course in that it had a lot of variety. It made it more enjoyable for me. I think my other races, I was not happy since I was in pain. IÂ've always loved cross country though, and in some ways it seems easier on my body. I donÂ't seem to get as sore as I do on the track. There also arenÂ't a lot of cross country races post-collegiately, so when we do get to run them, I am usually pretty excited about it.
YouÂ've been running in Flagstaff for some time now. When did you go pro?

I was in New Jersey for almost a year after college but then I moved to Flagstaff. So I was just trying to find a group to join. March 2012 was when I started running professionally with Adidas McMillan Elite. I was running in New Jersey and nannying full time. When I came to Flag, I had a really good base and I hadnÂ't been injured in two years. I came in with a really good base and I had never run altitude before, but my transition was really good. I had run 16:06 in college and then I ran 15:42 with McMillan Elite after two months. I just really benefitted from the altitude and consistent training.
You mentioned that you nannied while living in New Jersey. Did you have to take a part-time job when you got to Flagstaff too?

It took me six months to find a part-time job that would work with me with my schedule. For a while, I was living off of my savings. I finally got a job in a natural health food store called Natural Grocers. I worked there for two years and I was working a lot at first and then as I started running faster, I would work a little bit less, like 15 to 20 hours a week. I finally decided to quit my part-time job when I was running pretty well before my injury.
I admire people who can work and train. ItÂ's definitely not easy.

ItÂ's very hard.
So you donÂ't have a part-time job now?

No, IÂ'm not working right now.
One of the perks of running fast I guess haha.

Sometimes I think itÂ's good, but I also think itÂ's good to have other things in your life going on besides running. ItÂ's good to have other plans for after running.
What else do you have going on?

IÂ'm taking pre-reqs for speech pathology at NAU. IÂ'm not the masterÂ's program yet, but IÂ'm taking the pre-reqs for it.
What got you interested in that?

My sister worked for the early intervention program with kids with developmental delays, so that made me look into similar programs and working with children with speech problems seemed like it would be a good fit for me. So now, IÂ'm about 4 classes in and still need to take 5 more to apply to the masters program.
Back to running. ItÂ's an Olympic year, what are some of your big goals?

IÂ'd love to run the 5K and make the team. One possible plan is to run some 1500Â's to help me get my speed back. I know it will be very difficult to make the team, but all I can is focus on trying to get as fit as possible by the trials. I think the key will be if I can get some consistent training and have some success to build my confidence in races.