2016 NCAA Indoor Preview: Men's Middle Distance
2016 NCAA Indoor Preview: Men's Middle Distance
There's a lot to get to here so I won't waste your time with an intro. 800mLast year's top half-miler Edward Kemboi may be gone, but the NCAA men's 800 will
Jan 6, 2016
by Lincoln Shryack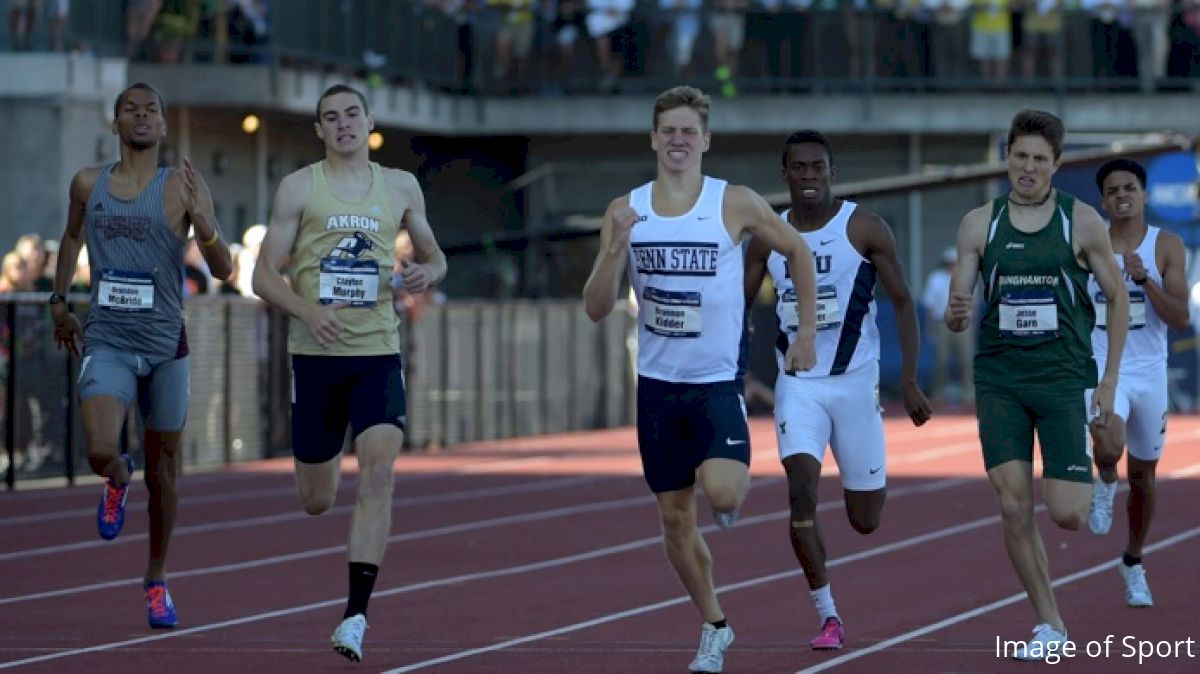 ThereÂ's a lot to get to here so I wonÂ't waste your time with an intro.
800m
Last yearÂ's top half-miler Edward Kemboi may be gone, but the NCAA menÂ's 800 will still be one of the deepest events in 2016. Everybody besides Kemboi is back from the outdoor final, and that number is only one less for the indoor race, as six of the eight finalists in Fayetteville are still around.
Honestly, this race will be even better than it was last year. Not included in the aforementioned six is either Penn StateÂ's Brannon Kidder or BYUÂ's Shaquille Walker, who each had their good reasons for not being in the 2015 final. But given that they were the two fastest in the event this past spring, their inclusion in 2016 seems inevitable.
Kidder focused on the mile (and DMR) last winter, but after a runner-up showing in the NCAA Outdoor 800m, it seems certain that heÂ'll opt for the shorter distance in 2016. Walker didnÂ't fully breakout until April, as the start of the 2015 indoor season came just six months after his two-year Mormon mission ended. But three 1:45s and a sixth place finish at USAs later, itÂ's safe to assume heÂ'll be a force to be reckoned with on the short track.
UTEP frosh Jonah Koech also deserves a shout despite having yet to make his collegiate debut on the track, as the 19-year-old boasts a 1:46 PR that he ran in Nairobi last February. The Kenyan quickly became a star this cross country season, with an 11th place finish in Louisville flashing his incredible range. Having that type of repertoire he could succeed in anything from 800-5k, but heÂ's never raced anything besides the 8 on the track, so I imagine that wonÂ't change. Plus, his coach at UTEP is 1988 800m Olympic gold medalist Paul Ereng.
Look at this. IÂ'm four paragraphs in and I havenÂ't mentioned anyone from the 2015 indoor final. Depth on DEPTH.
Of the 2015 indoor six coming back, two names stand out more than any others— Akron's Clayton Murphy and Mississippi State's Brandon McBride. I'll get to McBride in a minute, but first let's reflect on the season that Mr. Murphy had.
C-Murph was pretty much anonymous before last year as he hadnÂ't even cracked 1:50 yet, let alone qualify for the NCAA Championships. Then 2015 happened. The sophomore finished third in Fayetteville and Eugene, then he ran 1:45 back-to-back in the USA semis and final, the last one good for fourth. Just a kid from Akron.
He wasnÂ't done, though. Not even close.
He won Pan-Ams four weeks later, which OK, wasnÂ't the deepest field ever but still. It was his first ever international competition and he won it. Follow the trail two weeks after that and hereÂ's where things get really fun. Nick Symmonds wasnÂ't happy about USATFÂ's Terms and Conditions, and he was willing to give up his spot on the World Championships team to prove it. And that happened. And suddenly the kid from Akron was heading to Beijing for the World Championships. Sure, he didn't make the final but that would've been just too good to be true. Hell of a year, though.
Few people can say they had a better 2015 than Clayton Murphy. HeÂ'll enter 2016 as the NCAA favorite in my book based on the magical run he put together last summer, but again, this field is so deep that he doesnÂ't stand out much from the group.
McBride of Mississippi State was the half-mile king in 2014 as just a sophomore, winning indoor and outdoor. He also was a human wrecking ball at the Commonwealth Games that year, which isnÂ't relevant but I really wanted to include this video:
Anyways, B-Mac (BTW, IÂ'm just making up nicknames) had a down year by his standards in his title defense season, finishing fourth and sixth in Fayetteville and Eugene, respectively. He still ran fast, including a 1:46.80 indoor PR in February, but the event got so much deeper in one yearÂ's time that it made it seem like he was regressing. Not really the case at all. It was more that Kemboi finally ran up to his potential at NCAAs and a bunch of nobodies suddenly became somebodies.
Maybe now that McBride knows what heÂ's up against heÂ'll be better prepared. He still owns the fastest outdoor PR (1:45.35) of anyone, so donÂ't let what happened to B-Mac in 2015 cloud what he did in 2014.
IÂ've rambled on and on and forgotten several big names. Dylan Capwell was 2nd last year (he didnÂ't make the outdoor final though), so he deserves mentioning as do like 10 other people. But I only have so much room guys. I think you get the point, however. The menÂ's 800 will be keeping it EIGHT HUNNA.
Mile
So much depends on Cheserek. Everything depends on Cheserek, really.
If he runs the mile again in 2016, the defending champ/GOAT-in-training will win this again. If you disagree,
go watch last yearÂ's race
one more time for me.
[Waiting]
See what he did there? 2:19 last 1k, right? Glad we figured that one out.
We know heÂ's going to triple and cutting either the DMR or 5k makes more sense than ditching the mile since both events are so close on the schedule. So I say yes to the mile. He won by nearly two seconds last year.
2015 1500 champ Chad Noelle would be the first in line as potential challengers to the throne, as
he can do things like close in 52-seconds
as he did in Eugene. But it was in a 3:54 race. ThatÂ's still impressive, but I donÂ't think the replay is haunting Cheserek at night or anything.
Jordy Williamsz is one of those mythical creatures that has beaten Cheserek, and he did it in
one of the most memorable races of 2015
. IÂ've over-analyzed that race so much by now, and quite honestly IÂ'm not too keen on going down that road again. We know Williamsz has great closing speed, as does Noelle, but itÂ's not like a wacky 4xMile means the Aussie has a better kick than Ches. He has run 3:36/3:56 in the 1500/mile, however, so heÂ's a threat.
Williamsz didn't run the NCAA mile in '15 as he focused solely on the DMR, but he will in fact run the event in 2016.
IÂ'm gonna throw one more guy your way now. SyracuseÂ's Justyn Knight will run his first indoor season in 2016 and told us yesterday that heÂ's still deciding between the mile or 3k. Knight has been en fuego for almost a year now, and his fourth place finish at NCAA XC led Syracuse to their first National title in six decades. And of course, he ran 3:59 and 13:34 in 2015 as just a freshman. He also won ACCs with one shoe:
This guy can ball. But Cheserek better. Because Cheserek has run 3:36, 3:56, and 13:18.
Cheserek better. That seems to answer every question regarding the NCAA mile or any other race for that matter.
DMR
Again, CheserekÂ's potential entry in this race is the biggest difference maker. If he runs, Oregon is all but assured to repeat in the DMR. If he doesnÂ't, well, this race is up for grabs.
It definitely makes sense for him to focus on the mile, 3k, and 5k so as to collect 30 points for Oregon there and let somebody else like Blake Haney fill his role in the relay. If Ches does the same schedule as 2015 (DMR, mile, 3k), then the Ducks probably wonÂ't get anything in the 5k. Remember, the trio of Jenkins, Geoghegan, and Stinson are all gone, so Oregon would be leaving points on the table by keeping Cheserek on the 2015 plan.
Cheserek will not run the DMR in 2016. ThatÂ's what IÂ'm trying to say.
So that leaves us with just a handful of teams in my eyes: Villanova, Georgetown, and Oklahoma State.
Because 2015 second and third place teams, Penn State and Iowa State, lose critical pieces that take them out. Just in case you were about to kick and scream.
'Nova was just fifth in Fayetteville, but they wouldn't have even finished that high if it wasn't for a heroic anchor from Williamsz. A fall early in the race left his squad way behind when he got the stick, but Williamsz dropped a 3:55 leg that got them back in it. Without Cheserek and sans an untimely fall, I really like the Wildcats.
They only lose their lead-off guy Dusty Solis to graduation, and he can be replaced by 3:58 miler Rob Denault. A team book-ended with Williamsz (1200) and Denault (1600) ran the second-fastest time in the country last season (9:27.04), which was also #3 time in NCAA history (not counting times run on over-sized tracks). I think Williamsz is still the best option for the anchor, but you get the picture: this team is good.
Georgetown needs to find a new 800 leg since both of their options are gone: Ryan Manahan transferred to Ole Miss and Billy Ledder graduated. But otherwise, everyone else comes back for the 2015 fourth place finishers. The Hoyas can plug-in last yearÂ's lead off guy Cole Williams into the 800, and then have either Amos Bartlesmeyer or Ahmed Bile run the lead off or anchor. Both have run 3:58, so theyÂ're interchangeable.
Oklahoma State would be wise to have Chad Noelle anchor, which they didnÂ't do last year at NCAAs (he just ran the mile) as they plummeted to ninth. However, when Noelle closed it out for them at a race in January, the Cowboys ran 9:30 and beat Stanford. Oh, and Dave SmithÂ's group got a HUGE addition with 1:47 man TreÂ'tez Kinnaird transferring from Indiana, turning a weakness in their lineup into a strength.
For my money, Oklahoma State is the team to beat. Having two beasts like Kinnaird and Noelle in the final two legs will make a world of difference. ThereÂ's no doubt, however, that this one will be super close if Cheserek keeps his focus on the individual events.