2016 Prague Half Marathon
Viola Jepchumba Surprises With 65:51 Win At Prague Half Marathon
Viola Jepchumba Surprises With 65:51 Win At Prague Half Marathon
By Dave HunterOver the centuries, the citizens of Prague have borne witness to countless great performances. With today's 18th running of the Sportisimo Pra
Apr 2, 2016
by Joe Battaglia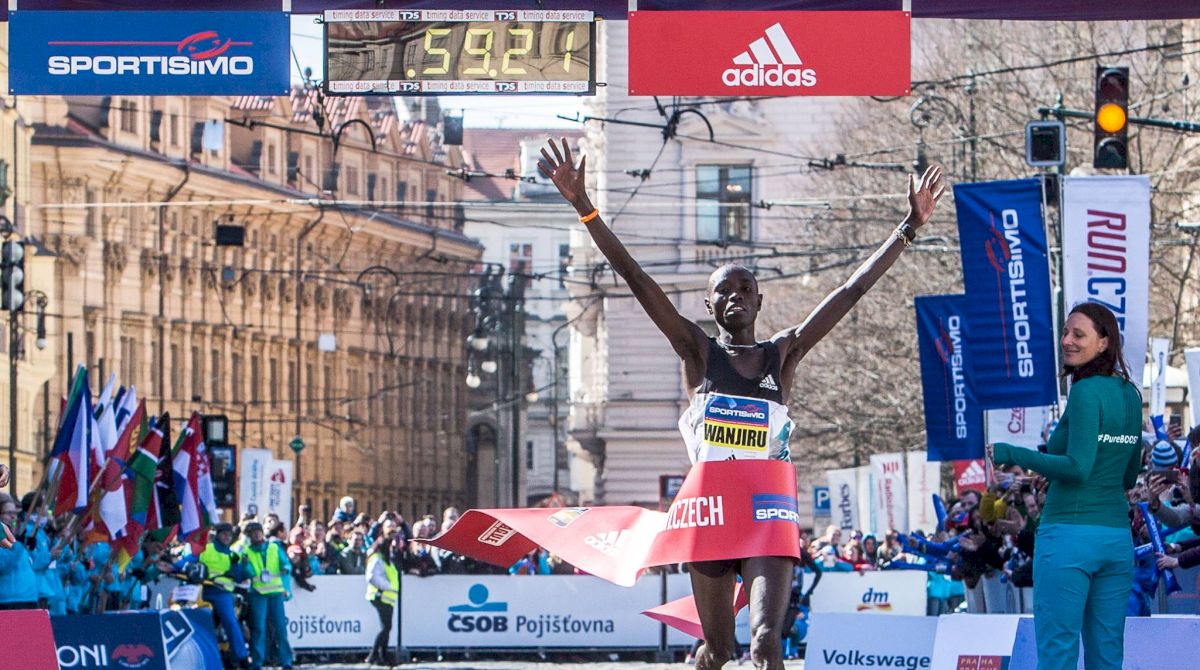 By Dave Hunter
Over the centuries, the citizens of Prague have borne witness to countless great performances. With today's 18th running of the Sportisimo Prague Half Marathon – held on a cool, dry, windless, and glorious early spring day – they were treated to several more.
Before the start, anticipation was in the air as athletes and knowledgeable fans realized that the meteorological gift of perfect race-day weather, a fast course and a deep and talented field would combine to create the perfect recipe for outstanding road racing.
The quality of this event was truly breathtaking as five men bested the one-hour barrier: Daniel Wanjuri (59:20); Barselius Kipyego (59:30); Adugna Takele (59:40); Nobert Kigen (59:42); and Peter Kirui (59:50 – a time that won the '15 race here). Furthermore, six women ran under 70 minutes: Violah Jepchumba (1:05:51); Workness Degefa (1:06:14); Gladys Yator (1:08:39); Lucy Karimi (1:08:43); Isabella Ochichi (1:09:03) and Risper Chebet (1:09:24).
The drama began to unfold shortly after some 12,000 runners took off from Jan Palach Square to race along the Vltava River as it flowed through the picturesque outdoor museum of Prague. After passing through 5K in 14:10 – slightly under one-hour pace – a crowded lead pack of a dozen East Africans soldiered onward. But after the seven-kilometer mark, disaster struck: a clipped heel sent last year's winner, Daniel Wanjiru, then young Kenneth Keter, reeling to the ground.
Unshaken by the spill, Wanjiru instinctively sprang to his feet, determined to get back in the battle. His quick reaction shrank the gap created by his tumble. Spectators lining the street cheered as Wanjiru, a crowd favorite running his fifth Prague Half, closed the gap quickly. Just like that, he was back in the game.
"When you are a sportsman, you expect the pain on race day," explained Wanjiru after the race. "It was my misfortune to fall down. But it happened."
The city, which centuries ago raved at the early performance of the "The Magic Flute" by a young Wolfgang Mozart, today exhorted on the fallen defending champion who just might have performed "The Magic Comeback."
[album albumId="450156"]
Wanjiru – somehow inexplicably renewed by the tumble and his scramble back to the lead – looked quite comfortable, almost serene, up front. Later, he would admit he was merely biding his time. After crossing 15K with a tightly bunched pack in 42:26, Wanjiru struck at the 18K mark as he shifted to a gear above his opponents. With a surging fourth 5K split of 13:53, the 23-year-old Kenyan discarded his challengers by sprinting one final time across the Vltava and stopping the clock in a personal-best 59:20. In doing so, he became the first man to successfully defend his title in the 18-year history of the race.
"I was confident in my finish," stated Wanjiru. "It was my personal best to date. And I am very happy with the race." Given his stunning road performance today, Wanjuri – who is studying to become a Kenyan policeman – may want to consider postponing that career.
In the women's race, lightly regarded Violah Jepchumba was composing a masterpiece of her own. While the other competitors cowed as Ethiopia's Workless Degefa, utilizing her husband as a race pacer, blasted through the first 5K in 15:05 [63:35 pace], Jepchumba did not hesitate to go with the defending champion. Boldly striding past not only Degefa but also her pacer, the 25-year-old Kenyan seized the lead after 5K and forged a 30-meter advantage by the time she split 10K in 30:29. With a prior personal best of just 1:09.29, Jepchumba knew she was sailing in uncharted waters, but she was confident.
"After we started at a fast 2:50 pace, I was still hopeful to be a leader," she said
The defending champion fought gamely, but Degefa could not close on the young Kenyan leader -- she was losing further ground. When Jepchumba passed 15K in 46:21, her gap over Degefa was nearly 70 meters. Flying past 20K in 1:02:24, Jepchumba's lead had stretched to 23 seconds. After crossing the Manesuv Bridge and swinging around Jan Palach Square, she hit the line in 1:05:51 – a new 2016 world-leading time and a clocking that makes her the No. 3 performer with the No. 4 performance of all-time.
At the post-race press conference, the tired but happy new champion was lighthearted about her surprising victory and pre-race expectations.
"I was hoping to run maybe 68," confided Jepchumba, who credited increased speed work for her breakthrough performance.
If I had a pace maker, I would have been able to run 65:10.
When asked if she would come back next year to defend her title, the young champion evoked laughter in the press room when she responded, "Yes, with a pace maker."
Unsuccessful in her title defense, Degefa was understandably disconsolate in defeat. She can take comfort in knowing that her PR clocking of 1:06:14 is No. 4 on the 2016 world list, No. 8 all-time, and establishes her as the new Ethiopian national record-holder.
Czech athletes also performed well in front of their countrymen. Bolstered by two months of winter training at altitude at Kenya's fabled Iten, Olympic hopeful Jiri Homolac sliced his half marathon PR by 1:51 when he finished in 63:50 – the first Czech finisher. Homolac needs a 2:15 clocking to earn a marathon berth on the Czech Olympic team and will aim for that mark at the Hamburg Marathon in two weeks.
Countrywoman Eva Vrabcova was the first Czech woman finisher in 1:11:06 – a PR improvement of 65 seconds. In five weeks, Vrabcova – a three-time Olympian in cross-country skiing – will return to Prague to run her first marathon race. A clocking of 2:35 or better will gain her a spot on the Czech Olympic team. If successful, she will become only the eighth global athlete in the modern era to compete in both the Winter and Summer Olympic Games.