2016 Boston Marathon & B.A.A. 5k/Mile
Ben True, Molly Huddle Return to American Record Streets for B.A.A. 5k
Ben True, Molly Huddle Return to American Record Streets for B.A.A. 5k
Entries have been announced for the 2016 B.A.A 5k and Invitational Mile to be held on Saturday, April 16 and features returning champions and American recor
Apr 13, 2016
by Meg Bellino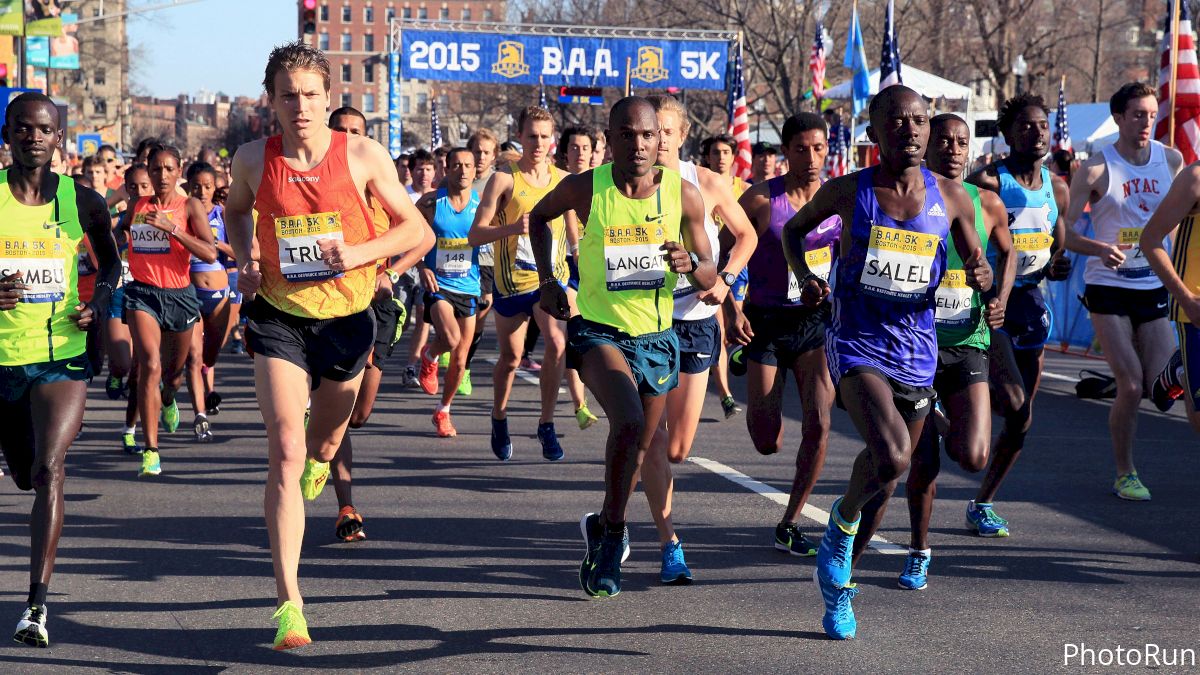 Entries have been announced
for the 2016 B.A.A 5k and Invitational Mile to be held on Saturday, April 16 and features returning champions and American record-holders Molly Huddle and Ben True.
Last year, Huddle held off Ethiopians Sentayehu Ejigu and Mamitu Daska to break the American 5k record with a blistering 14:50 on the roads. She'll attempt to win her third-consecutive title and face another former champion and current training partner Kim Smith, who is coming off a 15:32 at the Stanford Invitational. NCAA indoor 5k record-holder Emily Sisson, who also trains in Providence with Huddle and Smith, will make her 2016 season debut in Boston.
Hear Molly Huddle's reaction to breaking the American record in 2015

True, a three-time B.A.A. 5k Champion in 2011, 2012 and 2015 set the American record of 13:22 last spring, holding off Stephen Sambu over the final 150m. He'll face 2013 and 2014 winner Dejen Gebremeskel and an avenge-seeking Sambu. Gebremeskel, the 2012 Olympic silver medalist in the 5k, won the B.A.A. Invitational Mile in 2015.
Hear what Ben True had to say about breaking the American record in 2015

Last year's mile winner Dawit Seyaum returns after setting the event record of 4:35 in 2015. Seyaum is fresh off a silver medal in the 1500m at the IAAF World Indoor Championships, though U.S. road mile queen Heather Kampf could put up a fight. In the men's mile, Boston resident and 3:52 miler Chris O'Hare looks to be the favorite.
The B.A.A. 5k will begin at 8am ET on Saturday, with the men's and women's invitational mile following at 11:20am ET.

B.A.A. 5k - Men
Dejen Gebremeskel
Ben True
Stephen Sambu
Philip Langat
Diego Estrada
Tyler Pennel
Maverick Darling
Erik Olson
Joe Stilin
Jeffrey Eggleston
Lex Williams
Kennedy Kithuka
John Crain
Olle Wallerang
B.A.A. 5k - Women
Molly Huddle
Kim Smith
Buze Diriba
Carolina Chepkoech
Lineth Chepkurui
Diane Nukuri
Emily Sisson
Monicah Ngige
Sarah Pagano
Liz Costello
Rachel Hannah
Juliet Bottorff
Elvin Kibet
Elaina Balouris
Emma Bates
Mary Wangui
Joanna Thompson
B.A.A. Invitational Mile - Men

Chris O'Hare
Duncan Phillips
Julian Matthews
Matt Hillenbrand
Trevor Dunbar
Daniel Winn
Frezer Legesse
Kemoy Campbell
B.A.A. Invitational Mile - Women

Dawit Seyaum
Heather Kampf
Brook Handler
Christy Cazzola
Emily Lipari
Becca Addison
Megan Krumpoch