2016 Boston Marathon & B.A.A. 5k/Mile
Gebremeskel, Huddle Crowned 5k Champions; O'Hare, Handler Win Mile
Gebremeskel, Huddle Crowned 5k Champions; O'Hare, Handler Win Mile
BOSTON — It was a sunny but windy morning in Boston for the 2016 B.A.A. 5k and Invitational Mile as Dejen Gebremeskel, Molly Huddle, Chris O'Hare and Brooke
Apr 16, 2016
by Meg Bellino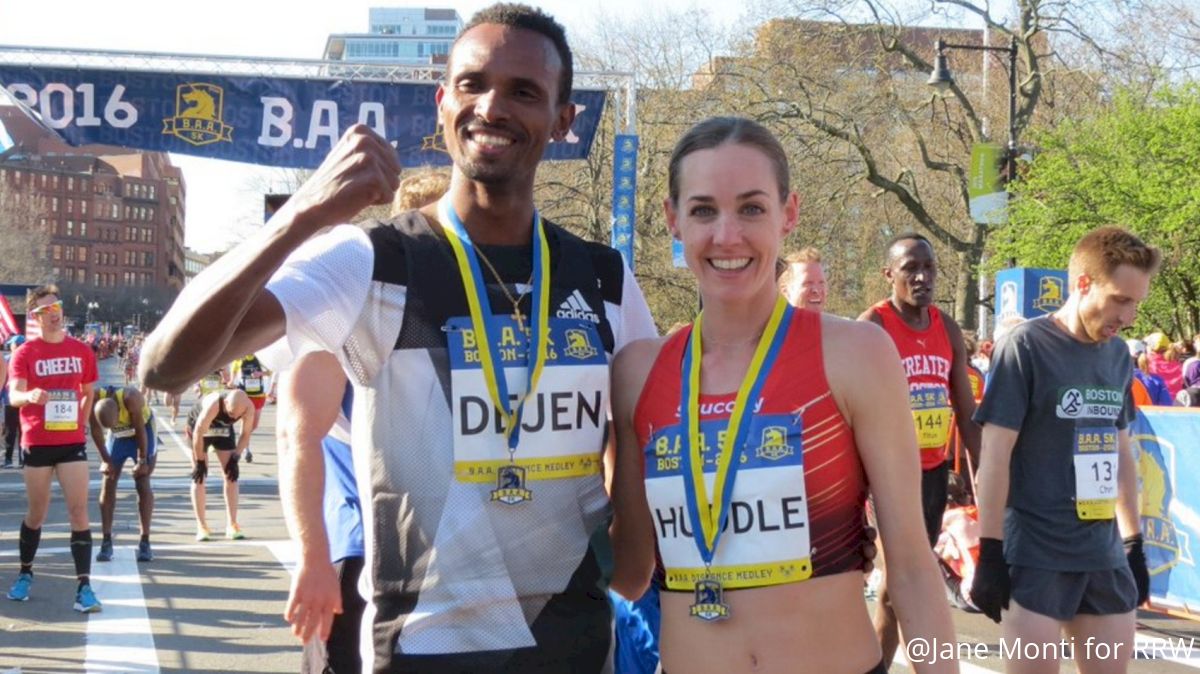 BOSTON — It was a sunny but windy morning in Boston for the 2016 B.A.A. 5k and Invitational Mile as Dejen Gebremeskel, Molly Huddle, Chris O'Hare and Brooke Handler each won titles.
Your 2016 #BAA5K Champions! pic.twitter.com/Os8drFhRgR

— FloTrack (@FloTrack) April 16, 2016
The men's 5k started off with a 4:25 mile, assisted by a gracious tailwind. Last year's winner and American record-holder True let Stephen Sambu do the leading, as they ran 4:29 for their second mile. When they entered back into the park, Gebremeskel had already overcome True and Sambu. The reigning Olympic silver medalist crossed the line in 13:39 to win his third BAA 5k.
Dejen Gebremeskel wins it 13:35 unofficially! Ben True second, Stephen Sambu third #BAA5K pic.twitter.com/FN9arrOSZz

— FloTrack (@FloTrack) April 16, 2016
Speaking with the media after the race, True was bummed to miss the victory but pleased that he felt no pain. He was forced to drop out of the New York City half marathon just a few weeks ago because of a hip injury.
Fresh off winning the NYC Half, Huddle remained as dominant as ever winning in 15:14, 8 seconds ahead of Ethiopia's Buze Diriba. Huddle took the race out in 4:52 through one mile and 9:45 at two miles. She said the brutal wind made for a much slower time than her American record run (14:50) in 2015.
Boston resident and 3:52 miler Chris O'Hare left nothing to chance by winning the B.A.A. Invitational Mile in 4:10, unofficially. It was a tactical affair until O'Hare kicked around the final turn and into the straightaway. Kemoy Campbell and Trevor Dunbar finished second and third, respectively.
.@chrisohare1500 takes it 4:10 unofficially! #BAAMile pic.twitter.com/7KqgW2ezIH

— FloTrack (@FloTrack) April 16, 2016
The women's field diminished before it began with the news of World Indoor silver medalist Dawit Seyaum scratching. Heather Kampf, the "Queen of the Road Mile," looked strong in the front of the pack throughout the first two loops of the course, establishing herself as the favorite. When the athletes made the final turn onto Boylston Street, Kampf was accompanied by University of Michigan alum Brook Handler. Kampf and Handler kicked into the finish with Handler breaking the tape.
.@brookycookie4 takes it!!!!! 4:49 unofficially!! #BAAMile pic.twitter.com/dotzycQEXz

— FloTrack (@FloTrack) April 16, 2016
After having a "terrible" indoor season, Handler grabbed her first professional victory in Boston. She credited former Michigan coach Ron Warhurst for giving her advice on when to make the move on the course.