Not Going Pro Cost Jacob Hernandez $550K
Not Going Pro Cost Jacob Hernandez $550K
Donavan Brazier is facing a crucial decision this week: whether to start his professional career or not. Eight years ago, Jacob Hernandez, the 2008 NCAA Out
Jun 20, 2016
by Dennis Young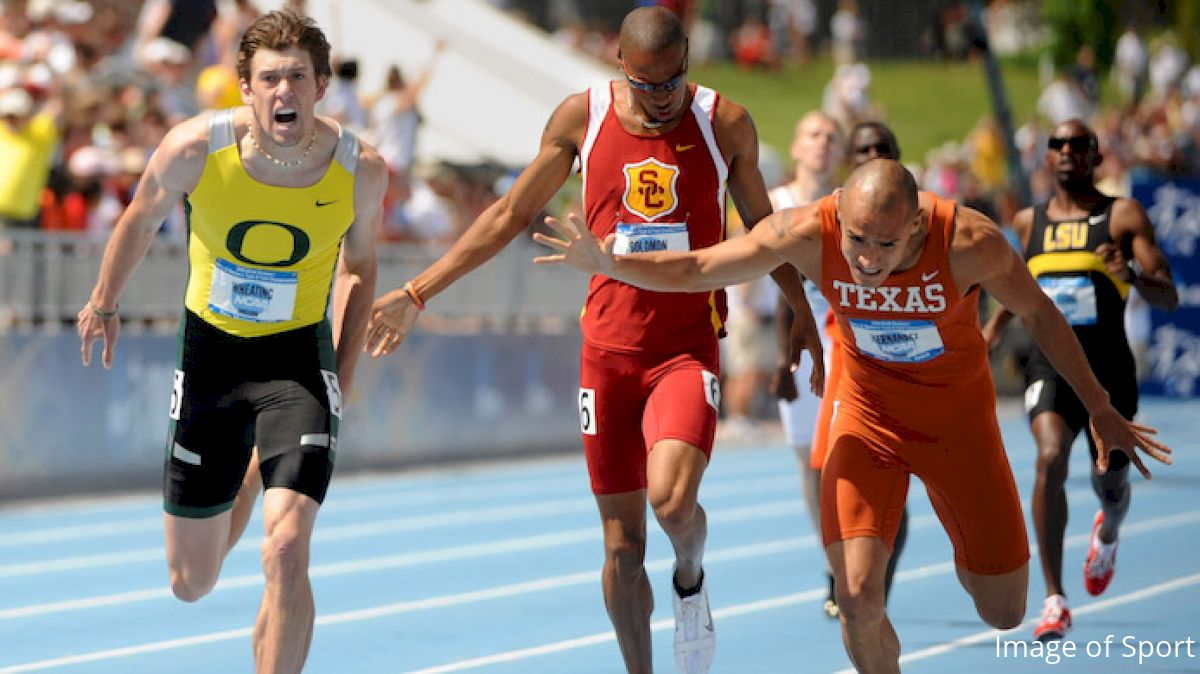 Donavan Brazier is facing a crucial decision this week:
whether to start his professional career or not. Eight years ago, Jacob Hernandez, the 2008 NCAA Outdoor 800m champion, found himself in a similar situation.
That year, Hernandez beat Andrew Wheating and Duane Solomon in a thrilling NCAA 800m final. Wheating went on to make the next two Olympic teams and Solomon became the second-fastest American of all time in 2012. But Hernandez, who was a junior at the time, never ran faster than the 1:45.31 he ran that day.
Texas A&M phenom Donavan Brazier is
worth roughly $400K
a year right now. But the Hernandez case demonstrates how incredibly time-sensitive that worth is—by not turning professional before the 2008 Olympic Trials, Hernandez's worth went from $150,000 to $40,000 a year.
It cost Hernandez at least $550,000 in earnings. Hernandez said a shoe company was ready to offer him a five-year contract worth $150K a year and FloSports co-founder Mark Floreani, a 2006 Texas track alum, said several agents and a shoe company executive told him the same thing that year.
But Hernandez didn't find out about it until late 2008—his Texas coaches heard of the possibilities, but never told him.
"The same information was relayed to the head coach at Texas," Hernandez said. "I don't know why that information never got to me. I don't think it was malicious—as a head coach or a distance coach, you have a kid that's scoring points, and that's your job."
Coaches often have bonuses in their contracts tied to individuals and teams winning conference and national championships.
In the most recent head coach contract we've seen from 2014
, there was a 12 percent bonus (on top of $175,000 yearly base pay) for finishing in the top four at a NCAA Outdoor Championship. In 2008, Texas finished fourth with 35 points, and Hernandez contributed 10 of those points to the team's podium finish. It's very possible that the team's finish was worth five figures to the head coach.
The next year, Hernandez won indoor NCAAs and then hurt his hamstring running the 4x400m relay at the Big 12 Outdoor Championships. As a result, he couldn't run the NCAA Championships and U.S. Championships that summer, which cratered his value. He was shocked to see how little money was out there just a year later: "My contract was for right about 40 thousand dollars a year. At the time, I was like, 'Why is there not money there still?' But all the money went towards the Olympics and Olympic Trials."
Hernandez knows better than most that when an athlete is at the peak of his earning powers, that time spent at the top can be short. When asked whether he thought Brazier should go pro, he said yes.
Hernandez wants Brazier to seize a rare financial opportunity, but he doesn't think Brazier should leave Texas A&M completely—he said, "I ran my best when I had a full schedule, had to study, had a girlfriend, and tried to be a normal human being. I really liked my time as a professional runner, but it kind of made me a weirdo. You're just sitting around in coffee shops.
"Brazier should be a young 19-year-old, stay in school, stay around teammates, do exactly what he did this year—and make money."
​Ryan Fenton contributed additional reporting.