2016 U.S. Olympic Team Trials
Kate Grace Wins Insane Trials 800m Final, Williams and Wilson Make Rio Team
Kate Grace Wins Insane Trials 800m Final, Williams and Wilson Make Rio Team
Eugene, Oregon — Two of the best 800m runners in American history crashed out of the Olympic Trials final with 125 meters to go, which cleared a path for Ka
Jul 5, 2016
by Dennis Young
Eugene, Oregon — Two of the best 800m runners in American history crashed out of the Olympic Trials final with 125 meters to go, which cleared a path for Kate Grace, Ajee Wilson, and Chrishuna Williams to make their first Olympic teams. Wilson was leading the race on the final curve when Brenda Martinez began to stumble and Alysia Montaño tripped over Martinez's feet. The contact completely knocked out Montaño (a seven-time U.S. champion) and effectively eliminated Martinez (the only American woman ever to medal at the world championships) from contention.
It was hard to watch Montano finish as she kept collapsing when emotions overtook her body #feelforyou #TrackTown16 pic.twitter.com/uxy8ojOqjq

— Ryan Fenton (@ryanmfenton) July 5, 2016
Montaño took the race out in a spicy 57.46 seconds, taking over Oregon sophomore Raevyn Rogers just before 200 meters into the race. At the bell, the 30-year-old had opened up a meter gap on a chase pack led by Rogers. On the backstretch, Wilson and Martinez took over the top two spots, with Montaño just outside Rogers in fourth and Martinez just outside Wilson in second. Grace (on the inside) and Molly Ludlow (on the outside) were a step behind.
Then, the crash happened. It feels passive to phrase it that way, and Martinez was looking better than Montaño right before they both went down. But having watched video of the tumble a few dozen times, the cause is still unclear. Martinez was stumbling, but upright; right before she went down, she tossed an arm in the air, and then Montaño hit her from behind.
The 800m ate two of its own, and the contenders for Rio were suddenly whittled from seven to five (Internet stud
Phoebe Wright
was a non-factor at this point). Here's what Montaño had to say after:
Post-crash, Wilson and Rogers looked like different runners. Grace seemed totally unaffected.
Grace powered away to a dominant win in the last 100 meters; behind her, three women frantically dashed for two Olympic spots. Wilson hung on for second, and Williams edged out Molly Ludlow for third place.
Your #TeamUSA in the women's 800m #TrackTown16 pic.twitter.com/lBlD0obwiU

— FloTrack (@FloTrack) July 5, 2016
Williams perfectly timed her dash for bronze. With 150 meters to go, she was two full meters behind the lead pack that included the three eventual Olympians, plus Montaño, Martinez, and Rogers: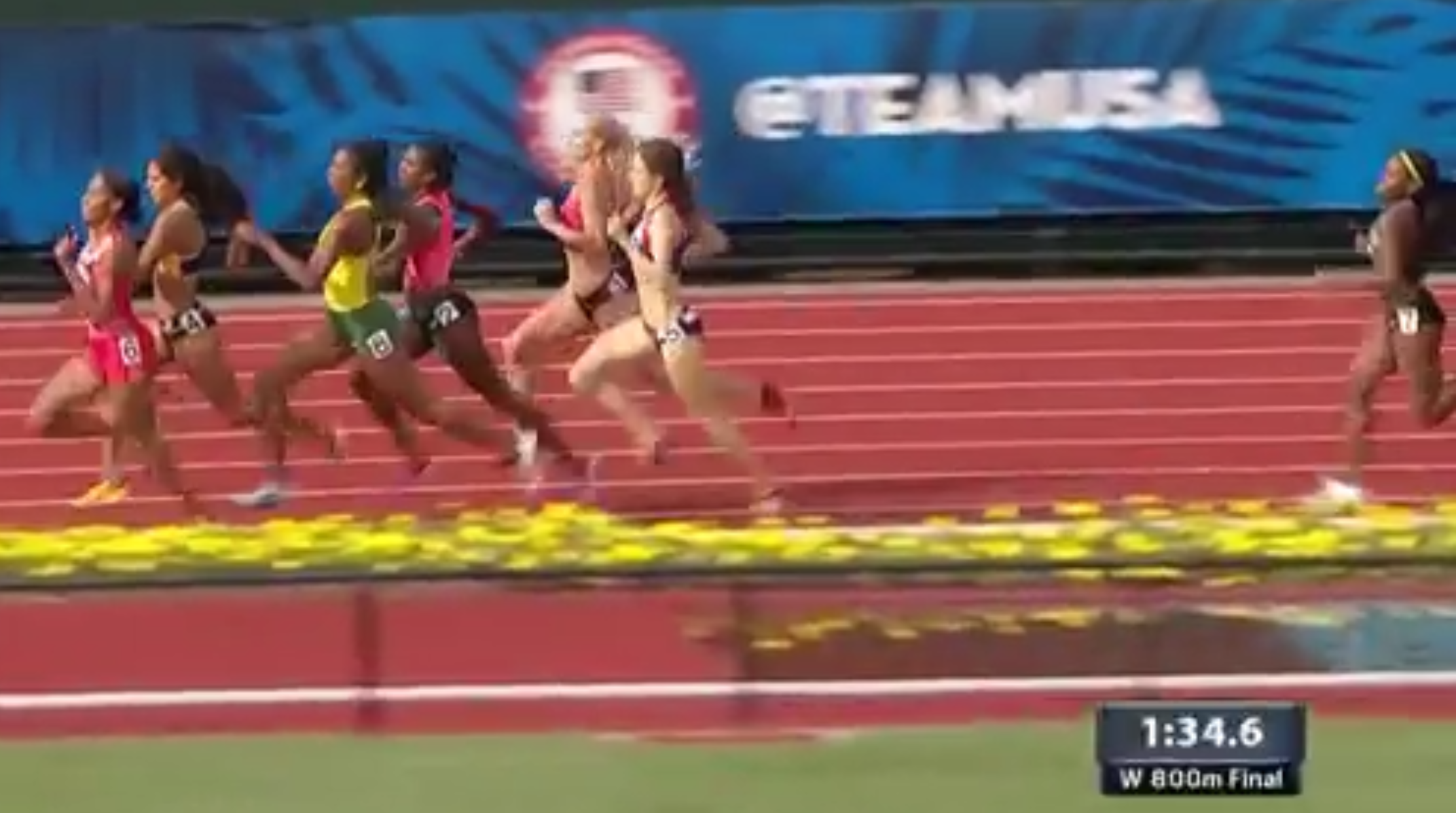 Screenshot courtesy of NBCOlympics (http://liveextra.nbcsports.com) and USOC


When the crash happened, Ludlow had to swing wide into lane three to avoid it, and that might have been the difference between an Olympic berth and fourth place. Williams hugged the rail the whole time, and surpassed Rogers on the inside while Ludlow overcame her on the outside at nearly the same time. Both almost caught a fading Wilson, but the finish line arrived right in time for the 22-year-old. In the end, Wilson ran 1:59.51, Williams 1:59.59, and Ludlow 1:59.63.


Ahead of that trio, Grace looked every bit the rightful heir to Montaño as U.S. champion. She stayed on the rail behind Wilson, Martinez, Rogers, and Montaño, and with 100 meters to go—four seconds after the crash—Grace went around Wilson. From that point on, there was no doubt who would win the race.

Second-place finisher Wilson has been rightly regarded as a generational talent since winning World Youth in 2011 and World Juniors as a high school senior in 2012. In 2013, her first year as a professional, she set the still-standing American junior record of 1:58.21. In 2014, she was ranked No. 2 in the world by Track & Field News in the 800m. Last year, she suffered an injury after finishing second at the U.S. Championships and scratched Worlds. Now, she's an Olympian. She may have fulfilled her potential into her 20s more than any American mid-distance teen prodigy since Mary Decker.

On either side of her in the results, Grace and Williams have much scruffier pedigrees. Grace made two NCAA 800m finals while running for Yale, and took seventh in 2010 and fifth in 2011. After college, Grace ran for Frank Gagliano's NJ*NY Track Club and went from a solid collegian to a world-class athlete by lowering her PBs from 2:03 and 4:20 (1500m) to 1:59 and 4:05.

In 2014, Grace left Gags for Lauren Fleshman and moved to Bend, Oregon. It, uh, didn't work. She got injured and only competed twice in 2015. So she left Oregon and moved to Sacramento to be coached by Drew Wartenburg. That worked! Three coaches in three years somehow translated to an Olympic berth for Grace, who's now the ninth-fastest performer in Olympic Trials history.

Williams's boulevard to Brazil may have been even more circuitous. She started as a 400m/200m runner at Arkansas as a freshman in 2012, and didn't even make her open 800m debut until 2014. Per TFRRS, she still was making occasional appearances on the Razorback 4x100m as recently as April 2015. And now she's a mid-distance Olympian. As recently as early May 2016, she was working as a part-time substitute teacher. Now, she's a member of the Olympic team in maybe the single toughest event at the U.S. Trials.