2016 Roy Griak XC Invitational
What's Behind Brenna Peloquin's Insane Improvement?
What's Behind Brenna Peloquin's Insane Improvement?
Brenna Peloquin lives for the pre-race talk with her coach, Corey Ihmels. Before she toes the starting line of every race, Boise State's head coach tells he
Sep 23, 2016
by Taylor Dutch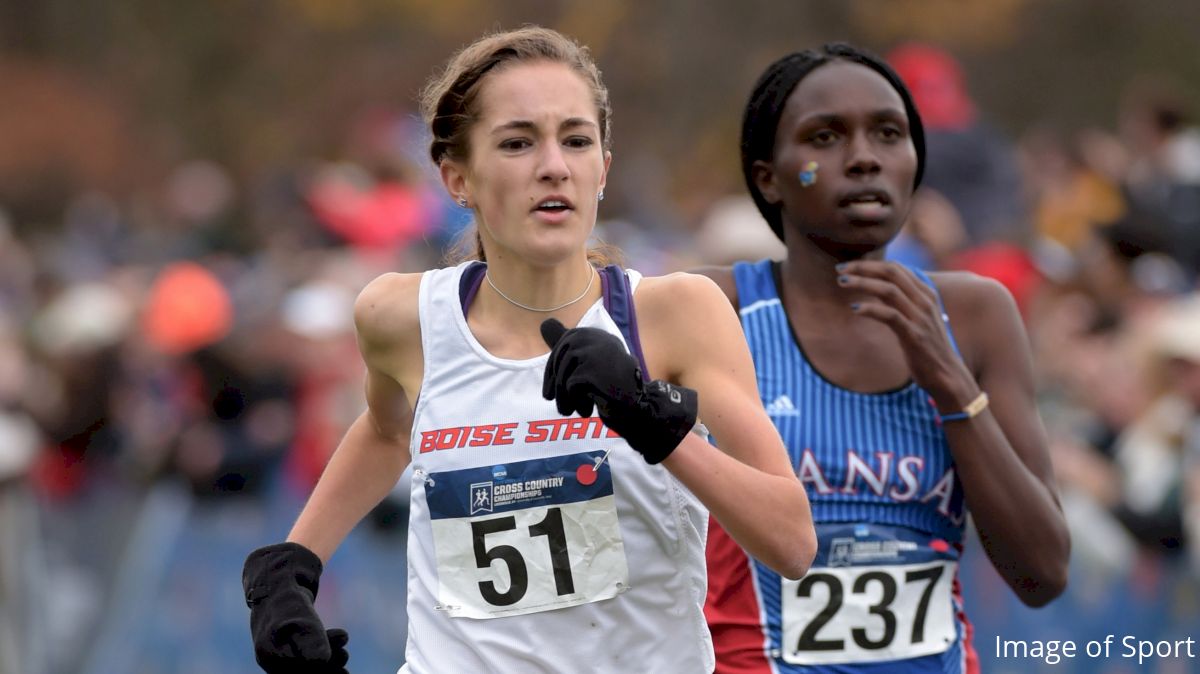 Brenna Peloquin lives for the pre-race talk with her coach, Corey Ihmels. Before she toes the starting line of every race, Boise State's head coach tells her where he thinks she is capable of finishing that day. She always either meets or exceeds that expectation.
"Every single race, no matter what he said, I went out and executed exactly as he said," Peloquin told FloTrack. "I'm not really a numbers person or a time person, but I think having him say, 'This is what you're capable of,' helped me go out there and achieve it."
WATCH: Roy Griak Invitational LIVE on FloTrack

Peloquin exceeded Ihmels' expectations the most at the 2015 NCAA Cross Country Championships. A true freshman at the time, Peloquin was told that if she had an exceptional day, she could finish inside the top 20. Peloquin accepted Ihmels' expectations, and far exceeded them when she finished a jaw-dropping ninth in the NCAA. Her teammate Allie Ostrander finished runner-up, which made them the only freshmen teammates to finish together inside the top 10.
"He was right [laughs], and I think I surprised him a little bit because he didn't say top 10, he said top 20. I think I pleasantly surprised him with a top 10," Peloquin said.
There was reason to be excited. Just one year earlier as a high school senior, Peloquin finished 50th at Nike Cross Nationals -- respectable, but nowhere near NCAA All-American territory in the eyes of most college coaches.
Most of the time, when an athlete has a drastic improvement such as Peloquin's, it is in large part due to staying healthy for the first time, stepping up with better competition, or undergoing a major shift in training. It's more than likely that one or all of these factors are at play with Peloquin, but in multiple interviews, she insisted her huge leap was due to others seeing the potential within her.
Ihmels saw potential when he recruited Peloquin from Gig Harbor, Washington. Peloquin believes his support helped her develop into an All-American in cross country and a double All-American on the track in her first year at Boise State. Peloquin finished eighth in the 5K and 10K at the NCAA Outdoor Championships last June.
"I don't think anyone saw me in high school and thought I'd be an All-American, but I think Ihmels believed in me. He saw the potential in me, and that's what made me believe in myself," she said.
Peloquin, whose parents and five brothers also run, didn't begin racing competitively until her freshman year of high school. Her athletic career started in kindergarten when she joined her local gymnastics program. She wanted to follow in the footsteps of her mother, who was an All-American gymnast at BYU.
"My parents are my number one fans. They always remind me that I could run awful, and they would still love me the same," Peloquin said. "It helps me to go into races fearless, because I know that if I fail, I know in the end that one race doesn't define me as a person."
When she started running at Gig Harbor High School, Peloquin didn't necessarily take off right away. An overuse injury in her hip sidelined her for much of her sophomore year. She said it was mostly caused by her gymnastics background, but she also wasn't used to the demands of running. Her initial reaction to the setback was "running hard all the time and ignoring any little aches and pains."
"When I got my hip injury, I think it was the result of first, going through a growth spurt that exposed some weaknesses in my body such as weak hip muscles and unequal leg lengths. But on top of this, I think I got my hip injury from pushing too hard and too fast when my body wasn't ready," Peloquin said.
"I believe that the reason I stayed consistent and healthy after my injury is because I finally learned that the real way to improve is through continual months and years of uninterrupted running, not short-term weeks of hard running. I stayed healthy by not pushing too hard and learning to listen to my body when it needed to rest," Peloquin said.
It wasn't until her junior and senior year that she really started to see results. She finished runner-up at the Washington state meet in the 1600m and 3200m her senior year, and notched personal bests of 4:55 in the 1600m and 10:33 in the 3200m.
"Running consistently without injury was a good starting platform, and by the time college hit, I was just ready to improve," Peloquin said.
After Peloquin arrived at Boise State, her progression continued at a rapid pace. She started the season with an 11th-place finish at Roy Griak, and continued her trend of success by taking 27th at the Wisconsin Invitational, ninth at Mountain West Conference, fourth in the tough NCAA West Regional, and finally ninth at NCAAs. In fact, the athlete who beat Peloquin at the Washington state meet, Lyndsey Bradley, finished 57th at the Pac-12 Cross Country Championships last year.
Peloquin wouldn't share her mileage progression or specific workouts she did in high school, but she did say Boise State's training philosophy closely matched her own.
"They [Boise State coaches] believed that training consistently without injury is what will make you good. All of the training and workouts our team does is about getting solid work in, but doing it in a way that keeps us all healthy," Peloquin said.
On Saturday, 10th-ranked Boise State will make its season debut at the Roy Griak Invitational, and Peloquin maintains that the Broncos' depth goes beyond Ostrander and herself.
"It's not just me and Allie, I think that we have a lot of talent on the team and that a lot of people are ready to break out and surprise people," Peloquin said. "I think we have a lot of hidden talent, and I'm excited to see what our entire team can do."
When asked about her goals for this year's NCAA championships, Peloquin wished to remain "mysterious."
"I do have a number goal in mind, but I don't like to tell people," she said. "So it's in my head, but I don't really like to say it out loud. I'd rather just see if I can get it."
Based on her track record of transcending predictions, she will probably hit it.
Watch Peloquin and the rest of Boise State race LIVE on FloTrack Saturday at the Roy Griak Invitational.