2016 DI NCAA XC Championships
NCAA Women's Individual Preview: Predicting The 40 All-Americans
NCAA Women's Individual Preview: Predicting The 40 All-Americans
FloTrack previews the 40 women's NCAA Division I XC All-Americans.
Nov 18, 2016
by FloTrack Staff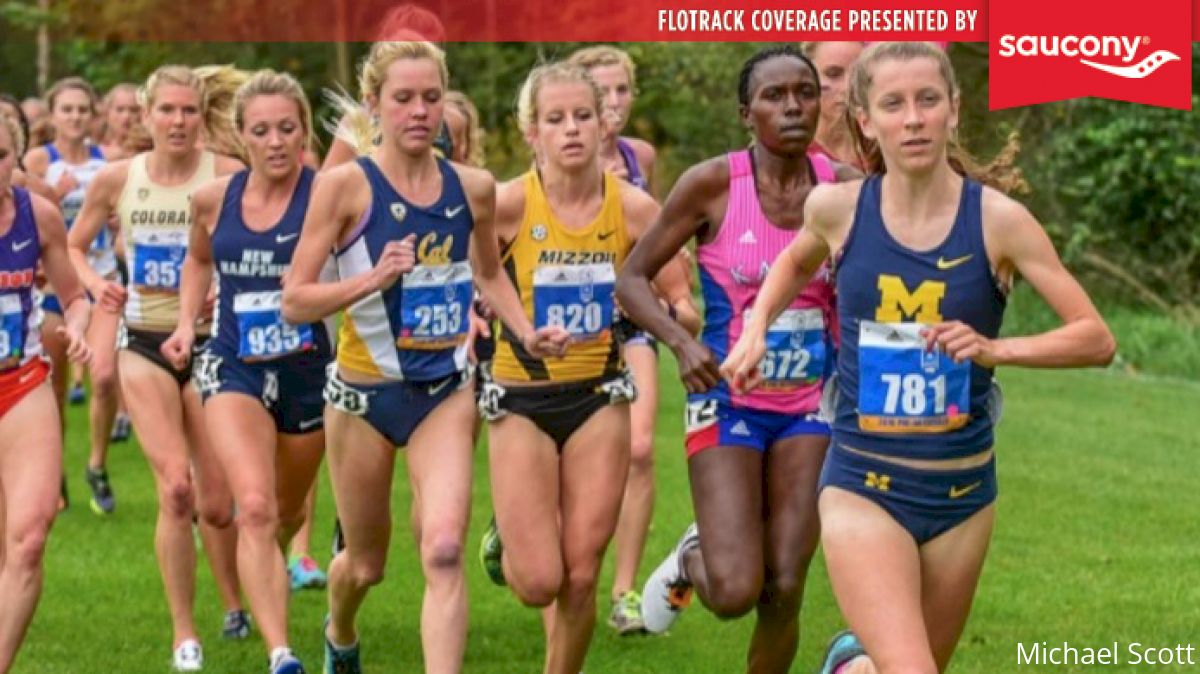 WATCH THE 2016 DI NCAA XC CHAMPIONSHIPS LIVE ON FLOTRACK -- SATURDAY 11/19!
By Taylor Dutch and Dennis YoungReturning All-Americans we picked to repeat
: Alice Wright (4th in 2015), Anna Rohrer (6), Brenna Peloquin (9), Sharon Lokedi (10), Erin Clark (11), Kaitlyn Benner (16), Erin Finn (19), Sarah Collins (20), Alli Cash (31), Tessa Barrett (38), Vanessa Fraser (40)
Returning All-Americans we didn't pick to repeat
: Alexis Wiersma (21), Regan Rome (25)
2015 All-Americans who didn't make it back
: Allie Ostrander (2), Allie Buchalski (7), Ednah Kurgat (12), Rhona Auckland (13), Natalie Schudrowitz (23), Caroline Pietrzyk (32), Samantha Jones (34), Karis Jochen (36)
2016 honorable mentions
: Christina Aragon, Lindsey Bradley, Hannah Miller, Taylor Werner, Veronica Eder, Aubrey Roberts, Perez Rotich, Brianna Ilarda, Judy Pendergast, Liz Chikotas, Jaci Smith, Katy Kunc, Grace Barnett
40. Elise Cranny, Stanford
39. Hope Schmelze, Northern Illinois
38. Rachele Schulist, Michigan State
37. Makena Morley, Colorado
36. Charlotte Prouse, Washington
35. Sarah Collins, Providence
34. Peyton Bilo, Cal Poly
33. Sarah Reiter, Eastern Washington
32. Maggie Montoya, Baylor
31. Jordann McDermitt, Eastern Michigan
Cranny, Stanford's NCAA 1500m runner-up, will be returning to compete after suffering a foot injury during pre-meet practice before the Pre-National Invitational. She had to sit out the team's third-place finish at Pac-12s and West Region victory.
Head coach Liz DeBole told FloTrack that Cranny will be running with Stanford's No. 5 scorer during the championship, but even a Cranny at 75 percent is more than capable of cracking the top 40 at the NCAA championship.
30. Kaela Edwards, Oklahoma State
29. Annie Bothma, Coastal Carolina
28. Bethan Knights, California
27. Katie Rainsberger, Oregon
26. Erika Kemp, NC State
25. Dani Jones, Colorado
24. Vanessa Fraser, Stanford
23. Alli Cash, Oregon
22. Jillian Forsey, West Virginia
21. Anne-Marie Blaney, Central Florida
20. Katherine Receveur, Indiana
19. Winny Koech, UTEP
18. Calli Thackery, New Mexico
The projected 18-30 All-Americans should be a battle between several talented runners. Oklahoma State's leader and NCAA mile indoor champion Kaela Edwards is on her return from a summer injury that sidelined her until September. She made her return to racing at the Big 12 championships where she finished 13th overall. She continued her comeback at the Midwest Region with a solid sixth-place finish. As she regains fitness, Edwards should continue to be even more deadly at NCAAs.
No. 2 NC State's team leader Erika Kemp is poised to finish within the top 30 after finishing second at the Southeast Region and seventh at the Wisconsin Invitational.
Oregon's duo of Alli Cash and Katie Rainsberger are more than capable of finishing in this range after clocking fifth and 11th-place finishes at the West Region, respectively. Cash has been on the rise since returning from injury and as a freshman Rainsberger has taken the reigns as a front-runner for the Ducks. She could produce one of the highest freshman finishes of the meet.
Annie Bothma, the South African runner from Coastal Carolina, should mix it up within the top 30 after winning the Southeast Region and Sun Belt Conference. She also famously races without shoes.
17. Kaitlyn Benner, Colorado
16. Isabelle Kennedy, Boston College
15. Devin Clark, Arkansas
14. Charlotte Taylor, San Francisco
13. Carina Gillespie, Air Force
12. Lauren LaRocco, Portland
11. Sharon Lokedi, Kansas
10. Erin Clark, Colorado
9. Tessa Barrett, Penn State
8. Elinor Purrier, New Hampshire
The No. 1 Colorado women should begin to roll through the finish line here, with lead runner Erin Clark poised to earn her third All-American honor in cross country. Clark has been leading the Buffaloes all season long with crushing team victories at the Pre-National Invitational, the Pac-12 championships, and the Mountain Regional. Based on the tight team spreads from regular season and championship competition, her teammates Kaitlyn Benner, Dani Jones, and Makena Morley have shown that they too are capable of All-American finishes on Saturday.
Last year, New Mexico claimed the team victory with just 49 points--finishing with five scorers in the top 24. It's unlikely that Colorado will pull off the same short spread, but no team has come close to dethroning them this season.
7. Brenna Peloquin, Boise State
6. Karissa Schweizer, Missouri
5. Amy-Eloise Neale, Washington
4. Courtney Smith, Harvard
Courtney Smith from Harvard has been on a tear this season after finishing sixth at Wisconsin, winning the Ivy League, and finishing runner-up at the Northeast Region championships.
Amy-Eloise Neale has been on a return from on and off injuries, and her fitness has shown with dominating victories--a kick to the finish at Pac-12 and a comfortable win at the West Region.
Karissa Schweizer recently led a massive team upset at the Midwest Region as the Missouri athlete won the individual title and guided her squad to a team title over Oklahoma State. With the exception of Pre-Nationals, Schweizer has won every race she's competed in this season.
Peloquin started the season strong with victories at the Roy Griak Invitational and the Wisconsin Invitational, catapulting her to the No. 1 ranking. But she hit a rough spot with a fourth-place finish at Mountain West and a third-place finish at the West Region. Peloquin has shown her strength in competitive races. Can she replicate the victorious performances from weeks ago?
3. Anna Rohrer, Notre Dame
2. Alice Wright, New Mexico
1. Erin Finn, Michigan
After winning all but one race this season, Michigan's Erin Finn is poised to finally become an NCAA champion. The six-time All American is fresh off of a dominant Great Lakes region victory and returning from a disappointing NCAA championship last year where she lost both spikes during the race in Louisville. Despite the shoe mishap, Finn toughed out a 19th-place finish last year. After finishing second to Molly Seidel in the indoor 3K and 5K, Finn is itching to finally put "NCAA champion" on her resume.
Alice Wright and Anna Rohrer will be Finn's biggest competitors on her way to the top. Wright finished fifth at last year's championship--making her the top returner--and is returning from two decisive victories at the Mountain West and Mountain Region. Rohrer is coming into her own as a rising sophomore after finishing second to Finn at great lakes and winning the ACC championships. One year ago, Rohrer finished sixth at the NCAA championships as a freshman. This year she is more experienced and faster than ever before.
The three have raced against each other periodically this season. Rohrer beat Wright at the Joe Piane Invitational in September. Finn has only lost to Brenna Peloquin this year and she hasn't finished within the top two of a race since winning the Wisconsin Invitational in mid-October. Since Wright returned at the Wisconsin Invitational and overtook Rohrer with a runner-up finish to Peloquin, and Finn beat Rohrer at the great lakes regional. Saturday will mark the first time that all three will face each other in the same race.
How To Watch The 2016 DI NCAA XC Championships
STREAMING:
Available only on FloTrack - $20 monthly or $150 yearly. Yearly FloPRO access is to ALL FloSports sites.
SIGN UP HERE
On TV:
Now available on
Roku & Apple TV 4