2016 DI NCAA XC Championships
Oregon And Karissa Schweizer Win Women's Titles In Stunning Upsets
Oregon And Karissa Schweizer Win Women's Titles In Stunning Upsets
Oregon and Karissa Schweizer won at the 2016 NCAA Division I Cross Country Championships.
Nov 19, 2016
by Dennis Young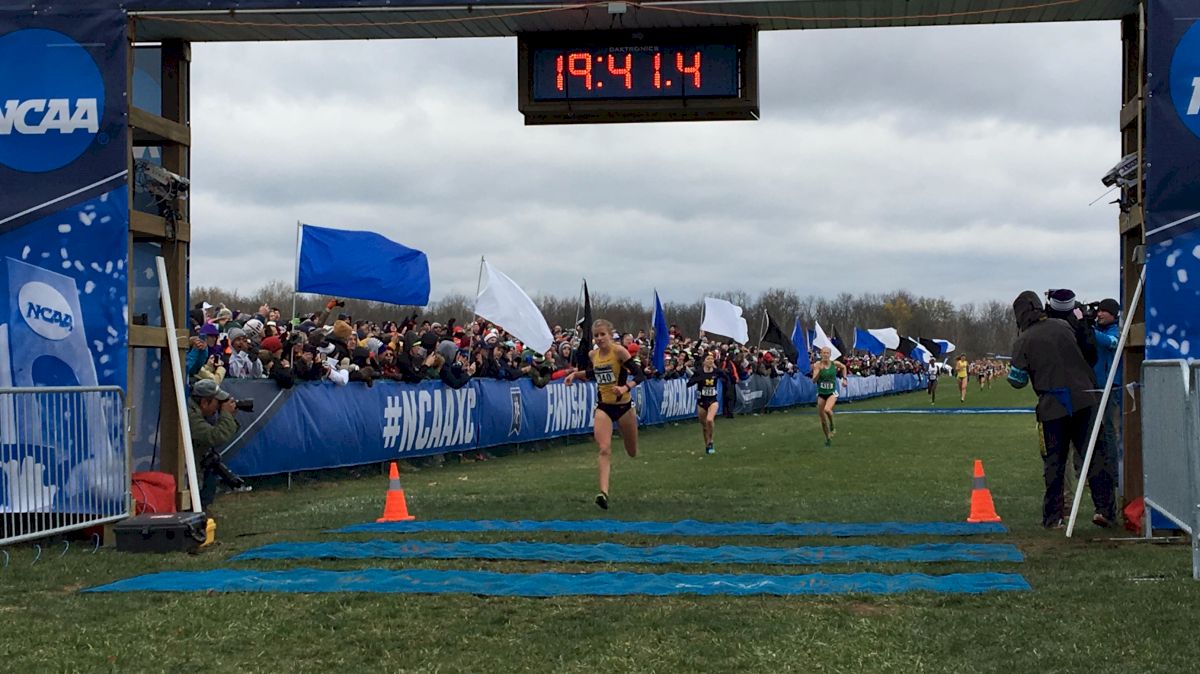 In a pair of shocking upsets, Karissa Schweizer of Missouri won the individual race and Oregon won the women's team title at the NCAA Division I Cross Country Championships.
COMPLETE RESULTS

Schweizer edging out Finn ended up being crucial in the team race. Oregon beat Michigan and Colorado 125-126-134. The Ducks finished second behind Colorado at Pre-Nationals, were fourth at Pac-12s, and were only ranked No. 9 coming into the meet. But an outrageously clutch performance by true freshman Katie Rainsberger in fourth place led the way, and two more of her teammates finished in the top 25.
Notre Dame's Anna Rohrer pushed the pace with a kilometer to go, but in a wild final 400 meters, she was overtaken by Michigan's Erin Finn and then Finn was overtaken by Schweizer. The Missouri junior won in 19:41.7, beating Finn by two and a half seconds. For Finn, her 19:44.3 was 0.4 seconds ahead of what she ran on the same course at Pre-Nats. Conditions were much, much different today. The cold wind was consistently blowing at 20 miles an hour, making any front-runner pay a heavy price. Finn said after the race that her only regret was that she maybe wishes she wore pants. Rohrer did most of the front-running, anyway.
On one level, Schweizer's win is stunning. She lost to Finn, Colorado's Erin Clark, and Cal Poly's Peyton Bilo at Pre-Nats. Finn and Rohrer came into the race with vastly superior credentials:
| Runner | 5K PR | Best NCAA XC | HS XC Nationals | Flo50 rank |
| --- | --- | --- | --- | --- |
| Erin Finn | 15:23 | 19 | 2nd at Foot Locker | 1 |
| Anna Rohrer | 15:32 | 6 | 2x Foot Locker champ | 3 |
| Karissa Schweizer | 15:58 | 155 | 47th NXN | 5 |
On another, maybe we shouldn't have been stunned. Despite her slow PB, Schweizer was third at outdoor NCAAs in the 5K--better than any major contender did this outdoor season.
Finn was part of a doubly heartbreaking day for Michigan, which also lost the team title by one point. But Michigan coach Mike McGuire was
upbeat after the race
, calling Finn the best runner in the history of the program, and saying that 1998 NCAA XC champ "Katie [McGregor] wouldn't disagree." He had reason to feel good, as Michigan probably goes into next year as the favorite. The Wolverines return everyone but Finn.
For the Oregon women, it will go down as an all-time great upset win. They were only ranked No. 9 in the Saucony Flo50, and are the
lowest-ranked team
in the history of the coaches' poll to win an NCAA cross country title. They didn't win a meet this year other than the Dellinger Invite, a glorified workout in early September. Their losses weren't even close, either! Washington beat them by 33 at the UW Invite, Colorado beat them by
61 at Pre-Nats
, they were fourth at Pac-12s behind Washington, Stanford, and Colorado (
55 points off first
), and fourth in the West Region behind Stanford, Washington, and San Francisco (
36 points off first
).
How did they do it? Head coach Maurica Powell certainly wasn't expecting to, saying that "We thought we could sneak in and get a [top-four] trophy today. I thought on a great day, we'd break 200 [points], barely. We just trained really hard for six straight weeks and put all our eggs in this basket. It was scary, but paid off."
The biggest component in the Ducks' win, though, was what happened to Colorado's Erin Clark. Mark Wetmore said the day before the race that the most important runner for him would be
whoever did best out
of his four inexperienced women, but they all knocked it out of the park. For Colorado, Dani Jones, Kaitlyn Benner, Mackenzie Caldwell, Sage Hurta, Tabor Scholl, and Makena Morley finished thirteen seconds apart. The first four of them were All-Americans and Scholl and Morley just missed, taking 42nd and 43rd.
Clark was ranked 10th in the
Saucony Flo50
, and was first, second, second, and seventh in her four races this season; she was 11th at NCAAs last year and 31st the year before. She was 133rd today. If she was just 30th, Colorado would have won by a point. After the race, Clark told FloTrack that
she simply didn't have a good day
.
Oregon wasn't just a passive beneficiary, though. Each of their top five runners exceeded expectations, except for maybe 14th-place finisher Alli Cash.
Let's start with fourth-placer Katie Rainsberger, who, like her team, finished higher at nationals than she did at Pre-Nationals, conferences, or regionals. Rainsberger was the first freshman and showed off the talent that won her an NXN title in high school. (That talent comes in part from her mother Lisa Rainsberger, who was the last American woman to win the Boston Marathon, and a Michigan alum.) In much worse conditions, Rainsberger ran 28 seconds faster than she did on the same course at Pre-Nats.
Cash was the only Oregon runner whose place wasn't incredible, and even in fourteenth, she outperformed her No. 21 Flo50 ranking. Samantha Nadel, in 21st, would probably say that she simply finally stayed healthy and ran to her ability. In 2013 and 2014 at Georgetown, Nadel finished 47th and 37th at nationals. But, again--Nadel finished higher at nationals than she did at conferences.
No. 4 runner Ashley Maton came through 4K in 13:26, which translates to coming through 5K in the high 16:40s--a gutsy run for someone who has never broken 16:40 on the track. And the simple hero is senior and No. 5 runner Maggie Schmaedick, who was credited with the same time as Michigan's Jaimie Phelan, but beat her by one place at the line. Sure, if Phelan and Schmaedick swapped places, Michigan wins the meet, but that isn't how meets are really won and lost--every point counts the same.