Emily Sisson Is Probably America's Next Great Road Runner
Emily Sisson Is Probably America's Next Great Road Runner
Only three American women have run a faster half marathon than the 68:21 that Emily Sisson ran on Sunday. But she has also been overshadowed for a few reasons.
Mar 21, 2017
by Dennis Young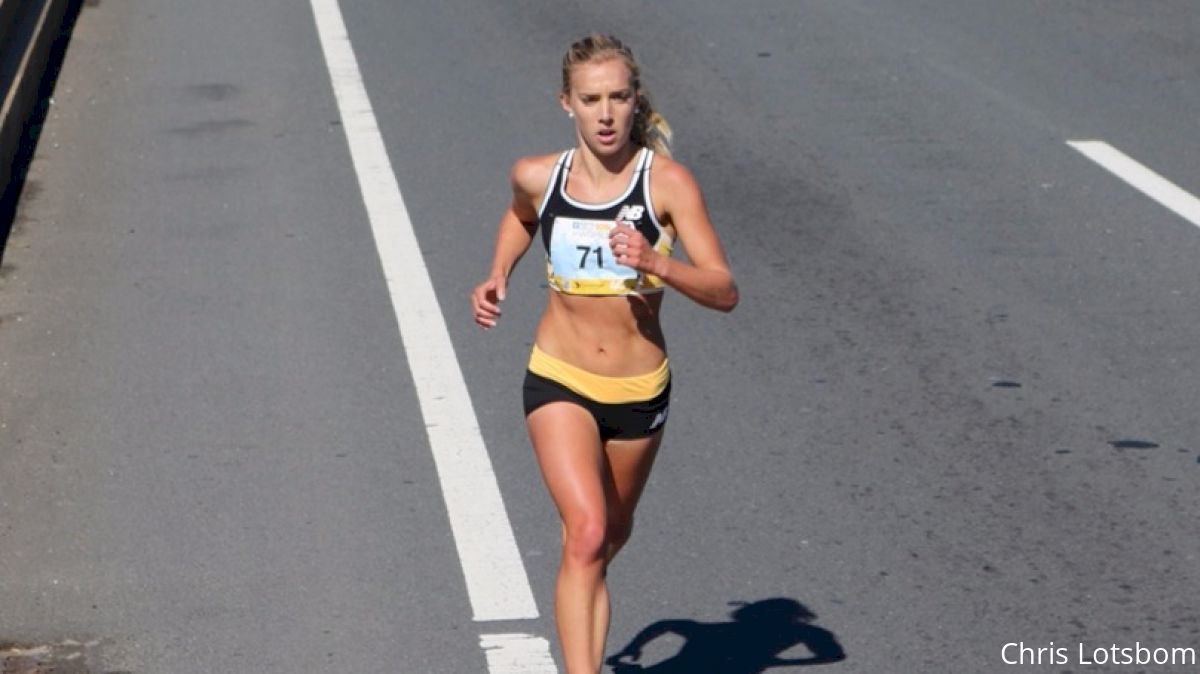 Three American women have ever run a faster half marathon than the 68:21 that Emily Sisson ran on Sunday. They're Deena Kastor, Molly Huddle, and Kara Goucher, and all three got rich and famous by being very good at racing long distances. Kastor has an Olympic bronze medal. Goucher has a world bronze, and Huddle has set an armful of U.S. records on the track and roads. And the four women directly below her on the American half-marathon list are Amy Cragg, Shalane Flanagan, Joan Benoit Samuelson, and Jordan Hasay. Cragg was ninth in the Olympic marathon. Flanagan has an Olympic bronze medal, and Samuelson has an Olympic gold.

If you tried to make the case that Kastor, Flanagan, Huddle, Goucher, and Samuelson are the five best American long distance (5K and up) runners ever, you would not be wrong. Sisson would have the fourth-fastest half-marathon PR in that room.

There will be, justifiably, tremendous hype around Hasay's marathon debut in Boston a month from now. Hasay is three weeks older than Sisson and was 0-4 against her on the roads last year.

The point here is, any American woman who has even run within a minute of what Sisson did in New York on Sunday is a superstar. But Sisson has been overshadowed for a few reasons.

First, she's never made a U.S. senior team on the track or in cross country--something Hasay did when she was just 21. Second, she is thriving right behind her training partner, Huddle, who has finished right in front of her in two all-time great performances this winter. In addition to beating Sisson by 1.81 seconds at the NYC Half, Huddle beat Sisson by 0.46 seconds in a 5K in Boston. Sisson's time there also makes her the No. 4 American ever in the indoor 5K.



Kastor and Samuelson are still racing unbelievably well for their ages, but Kastor is 44 and Samuelson is 59. Goucher is 38 and hasn't raced since the Olympic Trials last February; Flanagan is 35 and just pulled out of the Boston Marathon with a fractured back. Huddle has already taken up the mantle, finishing third in her marathon debut in New York last fall.

According to Providence coach Ray Treacy, who has coached Huddle for the last 10 years and Sisson for the last five, Sisson isn't quite ready to join Huddle in the marathoning ranks. Her main goal this year to make the U.S. outdoor 10K team this summer on the track. But when she does run her first marathon--maybe in the spring of 2018--it will be the biggest debut since at least Huddle's.

Huddle's time on top of the game might only last a few more years; she'll be 33 by the time of the 2018 Boston and London Marathons when Sisson may debut at 26. For a brief period, though, it seems likely that two women who train together in Rhode Island will be the two best road runners in the country. The bar for achievement by training partners is high, as Cragg and Flanagan went 1-3 in the Olympic Trials marathon last year. But Huddle and Sisson are well positioned to match them.