Report: Alberto Salazar's Off-Label Supplements Put NOP Athletes At Risk
Report: Alberto Salazar's Off-Label Supplements Put NOP Athletes At Risk
Alberto Salazar gave conflicting answers on his testosterone use as an athlete and had his Nike Oregon Project athletes use risky supplements, according to a USADA internal report.
May 23, 2017
by Dennis Young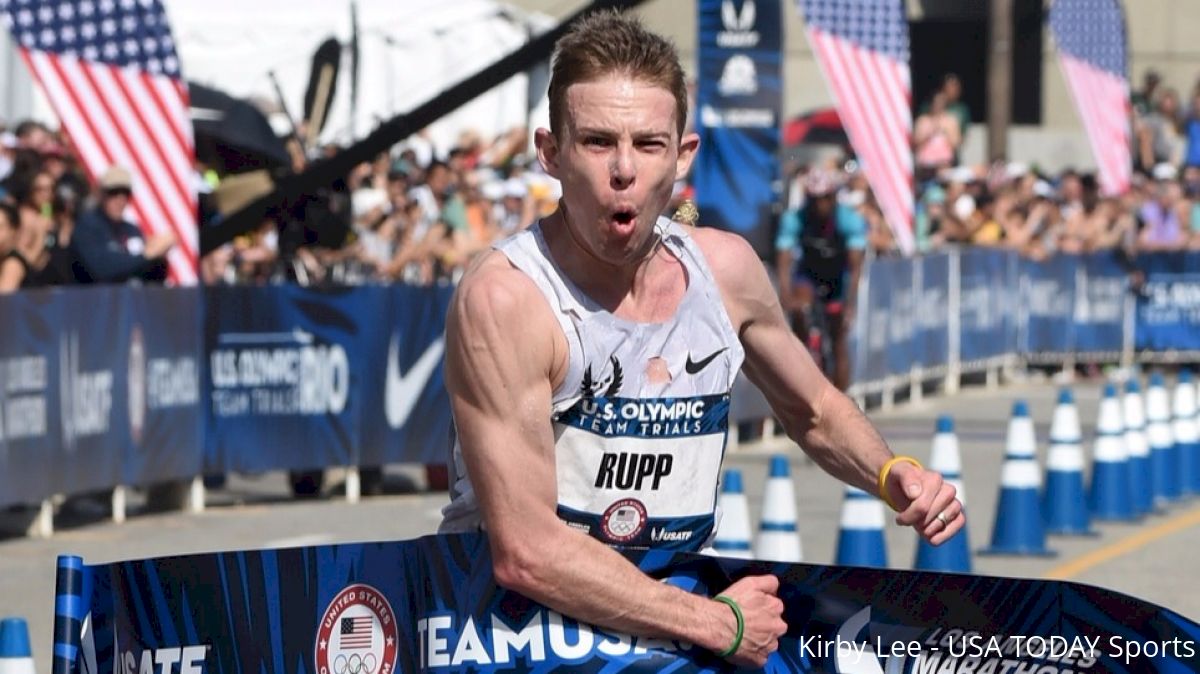 Editor's Note: FloTrack has obtained and published what appears to be the internal U.S. Anti-Doping Agency (USADA) report on Alberto Salazar, Dr. Jeffrey Brown, and the Nike Oregon Project that was recently reported on by the Times of London and New York Times, but not published. To verify the authenticity of the document, we reached out to USADA, and spokesman Ryan Madden told FloTrack that USADA could not comment on the status of any anti-doping investigations. The information in this post is based on the document.
"Is this some kind of joke? I have been taking this for the last four years!"
That was Dathan Ritzenhein's response when a Nike Oregon Project assistant coach told the team to stop taking a calcitonin nasal spray linked to increased cancer risk, according to an email used in what appears to be an internal
U.S. Anti-Doping Agency report
on Alberto Salazar's training group.
But despite the warning, medical records and doping control forms in the report show three-time U.S. Olympian Galen Rupp continued to use the spray, and four-time gold medalist Mo Farah continued to use it after receiving a diagnosis of excessive calcium in his urine and being told by a British doctor to stop.
Emails from the report show Salazar believed the supplement helped prevent stress fractures. In one addressed to Farah, Rupp, Ritzenhein, Lindsay Allen, Dawn Grunnagle, and Matt Centrowitz in March 2012, Salazar allegedly wrote, "you should make sure you get on the Calcitonen nasal spray to prevent stress fractures."
VIEW THE FULL REPORT HERE
Later that year, then-Oregon Project athlete Dorian Ulrey sent the coaches
research that showed calcitonin
was linked to increased cancer risk. As a result, assistant coach Pete Julian emailed the team in November instructing everyone to stop using the spray, and wrote that the Oregon Project staff would "look to explore some alternatives to managing good bone health." Seven minutes later, Ritzenhein sent his reply.
While Ritzenhein presumably stopped taking calcitonin after that, Rupp it appears did not. The report cites medical records from Rupp that show he filed for a calcitonin prescription in December 2012.
Conflicting interviews with Salazar on testosterone

The report delves deep into Salazar's personal testosterone use. Salazar and Rupp testified under a
proffer agreement
, which essentially protects those testifying against being prosecuted for what they say in that setting. In that setting, according to the report, "Salazar admitted using testosterone near the end of his competitive career in the mid-1990s." However, there is some contention on this point. Page 99 says that:
"Accordingly, USADA asked Salazar to rule out personal use of testosterone before the last major race that he won. Mr. Salazar, however, did not entirely dispel the possibility he used testosterone while he was competing, as he claimed to be unable to recall when he first used testosterone and refused to state that his first use of testosterone came after his participation in the Comrades Marathon, a race he won in late 1994."
Later, the report cites an interview in which "Mr. Salazar denied using testosterone while he was actively competing." A significant part of Salazar's refutation of a
2015 ProPublica story
was that he had testosterone cream for his own legitimate medical reasons, and not for his athletes.
The USADA report is skeptical of this, particularly after an episode in which Salazar asked Amy and Andy Begley to get a "package containing testosterone" from Dr. Brown in Houston and bring it back to Salazar in Portland: "Presumably, if Salazar had a prescription for testosterone he could have simply picked up Androgel by going to a pharmacy in Portland."
The report then speculates the reason Salazar needed testosterone from Dr. Brown and not a pharmacy is that Brown was "compounding" it--essentially making it undetectable to testers. It doesn't explicitly make this accusation, but considers with minimal evidence on page 95 the possibility that Salazar is rubbing undetectable testosterone into Rupp's body:
"Additionally, a number of Oregon Project athletes have reported to USADA that in advance of significant competitions Alberto Salazar has established a frequent practice of giving a massage to Galen Rupp...Salazar's massages of Rupp have been considered suspicious because Nike employs massage therapists but Salazar has insisted on personally giving the massages to Rupp. Certainly, if it were found that Salazar had received compounded testosterone from Dr. Brown the nature of these massages and the use to which the compounded testosterone was put would be highly relevant. Moreover, if the testosterone transported from Dr. Brown to Salazar for the testosterone testing program was in fact compounded testosterone, as is suggested by the fact that it had to be delivered to Salazar, this fact would cast further doubt on the rationale given by Salazar for the testosterone testing program."
USADA believed in March 2016 that Rupp committed an anti-doping violation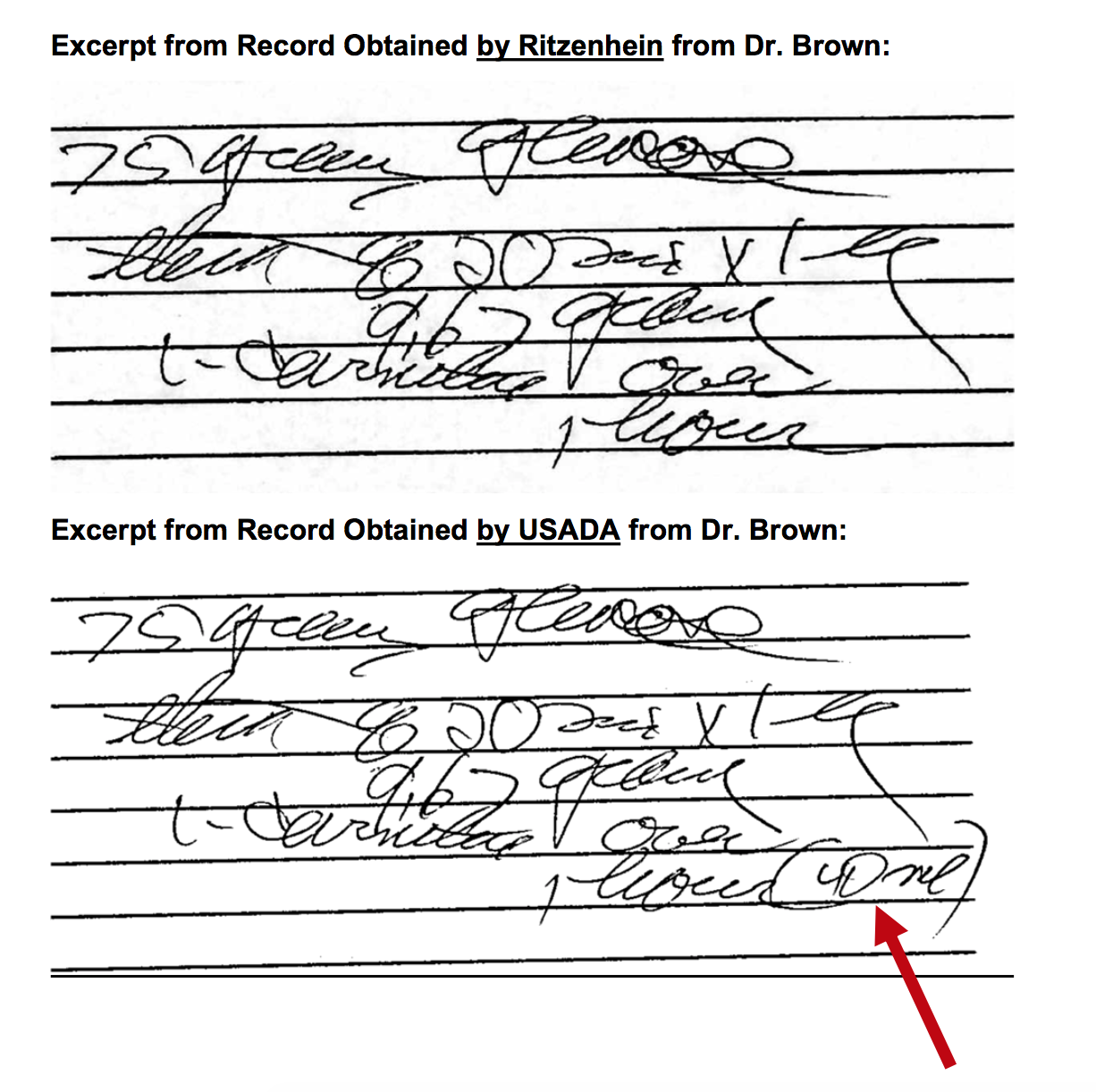 Much of the report, though, centers around proving a series of L-carnitine infusions that Oregon Project athletes allegedly received in 2011 and 2012 were of volumes greater than 50mL and therefore against anti-doping rules. The New York Times
has plenty of details
on why those infusions had to be greater than 50mL, despite Salazar and Brown's claims that they weren't. As the Times reported, Dr. Brown appears to have altered a record of Ritzenhein's infusion to add "40mL." The image to the right appears in the USADA report.
Several athletes went to Brown for infusions in late 2011 and early 2012, according to the document and other media reports. In part because of a document emailed from Rupp's lawyer to USADA (see page 187), the report concludes that all of these infusions were of greater than 50mL, and therefore anti-doping violations. It details infusions received by Ritzenhein, Rupp, Grunnagle, Allen, Steve Magness, Alvina Begay, and Tara Erdmann, whose former surname is misspelled as "Erdman" in much of the report. The Ritzenhein and Magness infusions are laid out in incredible detail, and have been previously reported.
The sections of the document covering the infusions for Rupp, Begay, Grunnagle, Allen, and Erdmann are all similar, and all end with some variation of "For the reasons set forth above, it appears highly likely that Galen Rupp received an L-carnitine infusion from Dr. Brown in excess of 50 mL in violation of the applicable anti-doping rules and in violation of Dr. Brown's duty to Galen Rupp not to cause him to violate the rules. USADA's investigation of Mr. Rupp's potential violation of sport anti-doping rules is continuing."