2017 DI NCAA West Preliminary Round
WATCH: Fred Kerley Destroys Collegiate 400m Record In 43.70
WATCH: Fred Kerley Destroys Collegiate 400m Record In 43.70
Fred Kerley ran 43.70 to crush the old collegiate record for 400 meters.
May 26, 2017
by Dennis Young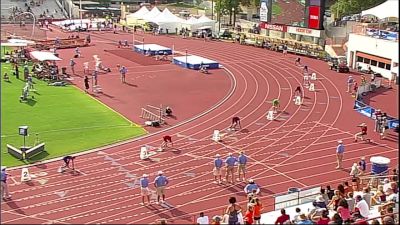 Texas A&M senior Fred Kerley ran 43.70 for 400 meters on Friday evening in Austin, crushing the old collegiate record by three-tenths of a second. The rest of the gap between Kerley and Quincy Watts' old collegiate record of 44.00 is as big as the gap between Watts and the No. 7 performer on the all-time list. (Watts did run 43.50 at the 1992 Olympics the summer after his senior year.)
Kerley was competing at the NCAA West Prelims. Watts had set the old collegiate record almost exactly 25 years ago, also in Austin, at the 1992 NCAA outdoor meet. The 22-year-old now has three of the nine fastest times in collegiate history, as Kerley ran 44.09 and 44.30 at the SEC meet two weeks ago.
This is Kerley's second year at Texas A&M. Last year, Kerley only ran 45.10, and didn't qualify for any NCAA finals. But it was clear indoors that he was on another level. He was part of a record-breaking quartet in the 4x400m relay, and won the 400m at NCAA indoors in 44.85, the No. 3 collegiate performance ever. Today's run marks Kerley as a contender for the 2017 senior outdoor world championship, though. The time makes him the sixth fastest American ever and the seventh fastest man ever on the planet, and the fastest in the world this year. (He was already the fastest in the world this year.)
The six men in history faster than him--Wayde Van Niekerk, Michael Johnson, Butch Reynolds, Jeremy Warner, Quincy Watts, and LaShawn Merritt--all have world and Olympic gold medals in the 400, though Reynolds's wins were indoors and on relays.
Complete results here.