2017 DI NCAA Outdoor Championships
NCAA Day 2 Recap: Charlotte Taylor Wins San Francisco's First Title
NCAA Day 2 Recap: Charlotte Taylor Wins San Francisco's First Title
Charlotte Taylor became the first NCAA track champion for the University of San Francisco in winning the 10K on Thursday night.
Jun 9, 2017
by Johanna Gretschel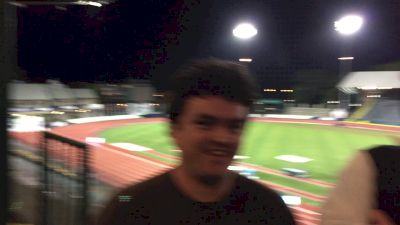 Charlotte Taylor claimed the University of San Francisco's first-ever NCAA title in track and field with a poised victory in the women's 10k. The senior crossed the line in 32:38.57, four seconds ahead of New Mexico's Alice Wright and Kansas' Sharon Lokedi, whom she pulled away from in a decisive move just before the bell lap.
This may or may not be the biggest athletic achievement of Taylor's life.
The native of Spalding, England won the U20 International Triathlon Union Olympic Distance World Triathlon Championship in 2013. She didn't focus on running until 2015, when she enrolled as a graduate student at the University of San Francisco. But Taylor quickly rose to the top of the NCAA, improving from 118th at the NCAA Cross Country Championships in 2015 to 10th in 2016. She qualified for the NCAA Outdoor Track & Field Championships last year in the 10K, where she placed 17th in the field.
In a year's time, she's chopped her PB down from 33:25.09 to 32:11.80, the 11th fastest time in NCAA history.
But even given her rapid improvement and historic marks, Taylor wasn't the favorite heading into Eugene. Notre Dame's Anna Rohrer had run faster this year, and she's younger: the redshirt freshman clocked No. 8 all-time 31:58.99 at the Stanford Invitational to overshadow Taylor's mark. Both Wright and Lokedi were returning All-Americans in the 10K.
Rohrer took the lead right away on Thursday night, as is her style, and took the field through 3200m in about 10:31. Wright grew impatient and took over leading duties just before 5K; she crossed halfway at 16:38.2 with Taylor and Lokedi in tow. Montana State's Alyssa Snyder was close by in fourth.
Meanwhile, Rohrer quietly ran backward into the teens, ultimately finishing in 33:56.64 for 16th place overall. She told reporters after the race that she
slipped a disc in her back two months ago and has had two epidurals to deal with the pain
.
Wright led the trio through 6K in about 19:42 and 8K in 26:17. With two laps to go, Lokedi moved to the outside past Taylor into second place behind Wright. It appeared as though the Kansas junior were positioning herself for her own bid for glory, but she couldn't quite get by Wright. As Wright continued to lead at 9500m, Taylor geared up and made a big move past both women just as the bell sounded for the final lap.
The senior quickly put about 10 meters on Wright and Lokedi, who were unable to respond. Her closing 400m was 1:08.09.
Charlotte Taylor becomes the first ever track and field champion for @DonsAthletics, she's the 2017 #NCAATF 10,000m champion! pic.twitter.com/meo6L33ABR

— FloTrack (@FloTrack) June 9, 2017
Snyder took fourth overall in 32:58.31. This is the sophomore's first appearance at an NCAA Championship, and, prior to today, her PB for 10K was 33:45.87. Her 5K PB is 16:32.56.
​Full results below: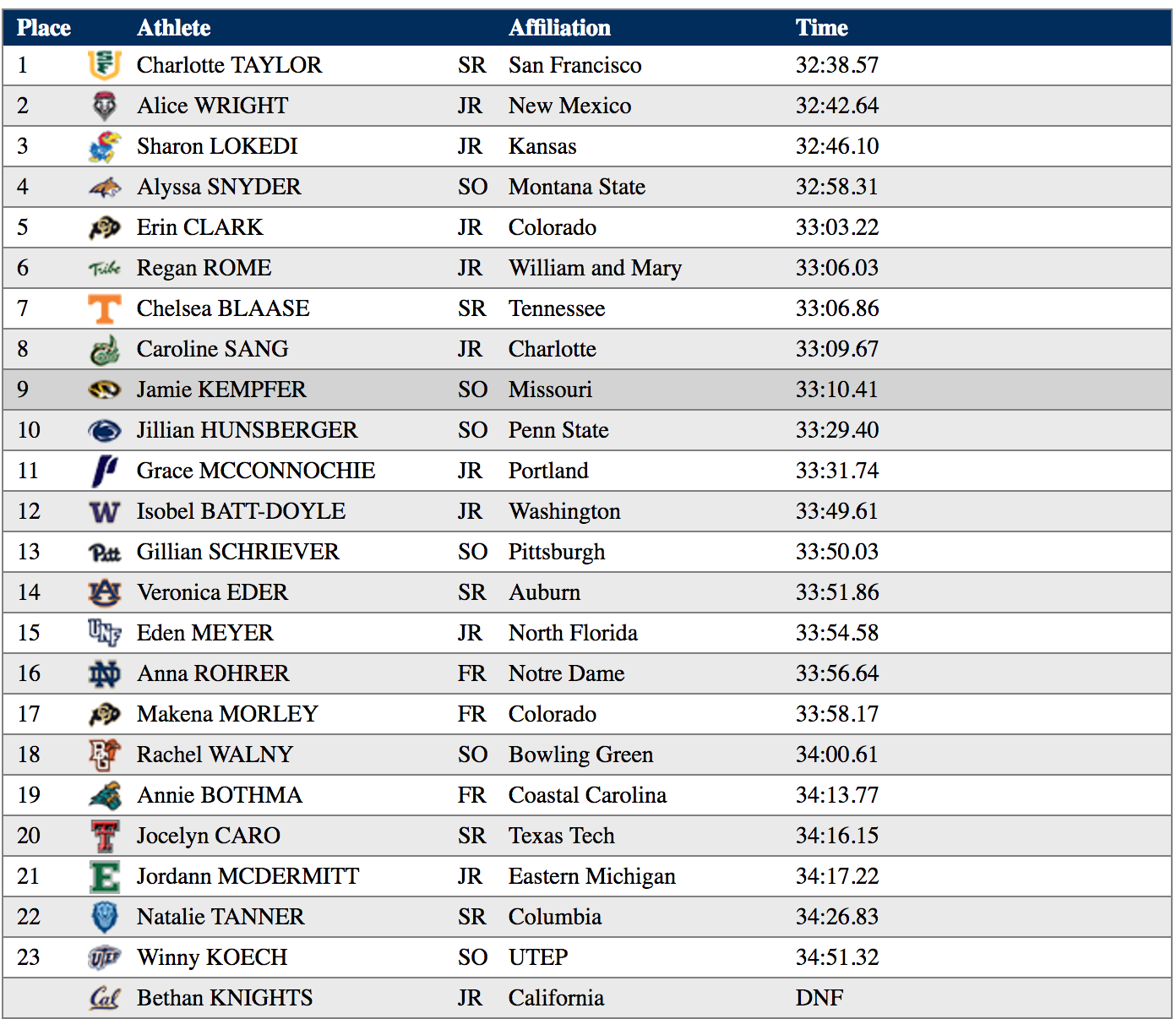 Also of note on Day 2 of the NCAA DI Outdoor Track & Field Championships:
-- Maggie Ewen of Arizona State broke the NCAA record in the hammer throw. The junior threw 73.32m (240-7) to improve her previous best of 72.81m (238-10), which was the No. 2 ranked throw in NCAA history. Ewen's mark bypassed the prior NCAA record of 72.94m (239-4), set by Jenny Dahlgren' of Georgia in 2007.
When you throw a COLLEGIATE RECORD! @SunDevilTFXC's Maggie Ewen launches the 240-7 (73.32) for a #ncaaTF Record. pic.twitter.com/pqtIrpMvSs

— NCAA Track & Field (@NCAATrackField) June 8, 2017
-- the University of Oregon women are widely believed to be the best program in NCAA history. They struggled a bit today, though: Olympians Deajah Stevens, No. 2 in the NCAA this year; and Ariana Washington, the defending NCAA outdoor champion, had to advance to the 100m finals on time. Stevens later earned her bid to the 200m finals by winning her heat outright, but Washington, also the defending NCAA champion for 200m, again advanced on time. Not a good look for two women who many considered capable of sweeping both the 100m and the 200m. There were a few other close calls for Oregon: NCAA 60m hurdles champion Sasha Wallace was the last one in on time to the 100m hurdles final, and Elexis Guster is the third-ranked quarter miler in the NCAA this year but had to wait out a time qualifier to the final.
Teahna Daniels takes heat two followed by Aaliyah Brown, defending champ Ari Washington and Deajah Stevens have to wait on time #NCAATF pic.twitter.com/e5jeD4Swhb

— FloTrack (@FloTrack) June 9, 2017
-- Georgia got some much-coveted points on the board with an impressive 1-2 sweep from freshman Kate Hall and junior Keturah Orji, who recorded best marks of 6.73m and 6.71m, respectively. Both women retained their placements despite fouling out on three of six attempts including their final attempts.
#RingTheBell #Dawgs MAXIMIZE pts in #NCAATF long jump with Hall & Orji going 1-2, giving #UGA 2 straight #NCAA titles in the event. #GoDawgs pic.twitter.com/8KPdGyqvnO

— Georgia Track&Field (@UGATrack) June 9, 2017
-- The above developments helped the Bulldogs narrow the gap between themselves and the Ducks. Saturday's finals just got a little more interesting...
After Day 2 #NCAATF women's team projections:
72.0 @OregonTF
62.2 @UGATrack
47.0 @USC_Track_Field
42.2 @RazorbackTF
35.0 @GatorsTF

— FloTrack (@FloTrack) June 9, 2017
-- In a year that saw both the University of Oregon and LSU women set the NCAA record in the 4x100m, neither team will win the NCAA title. In fact, neither team will even make the NCAA final! At least LSU advanced past the Prelims. Oregon switched their line-up at the West Prelims to account for missing star Hannah Cunliffe, and
were disqualified due to running out of their zone on the second exchange
. Today, LSU was disqualified in the prelim after running out of the first exchange zone.
OFFICIAL #NCAATF women's 4x100m qualifiers -- LSU, Texas A&M + Miami DQ'd. Neither collegiate records Oregon, LSU will win the 2017 title. pic.twitter.com/wYHpV92jFV

— FloTrack (@FloTrack) June 9, 2017
-- Kaela Edwards was a major casualty in the women's 1500m semi-final. The senior at Oklahoma State placed sixth in her heat in 4:19.4, one spot out of advancing automatically. She was one of four NCAA champions entered in the 1500m this weekend; the four-time All-American won the 2016 NCAA indoor mile title and set the NCAA record for 1K this year in 2:40.79.
-- Jazmine Fray of Texas A&M did not advance to the 800m final. The NCAA indoor record holder led the third heat through the fastest splits of the day (27.4, 59.57), but Oregon's Brooke Feldmeier broke the field open with a potent kick in the final curve and Fray lost her grip behind Hanna Green of Virginia Tech, Shea Collinsworth of BYU and Courtney Clayton of Vanderbilt. Fray was the third woman out by time, with her time of 2:05.70. The sophomore was fourth indoors at NCAAS this year, but has never made an outdoor final. She set the indoor record at 2:00.69 at a Clemson meet in early February.
-- Lexi Weeks, who became the third-best pole vaulter in NCAA history last year as a freshman and qualified to the Olympic Games, again settles for less than a win. She improved on her seventh-place performance from indoors but couldn't quite seal the deal in a jump-off vs. Kentucky's Olivia Gruver. The fellow sophomore was third at indoor NCAAs, but no heighted at this spring's SEC Championships. She improved her PB from 4.49m to 4.50m to take the win over Weeks, who cleared 4.45m for second.
Read more event by event updates here.